Make ahead breakfasts continue to be one of my favorite ways to tame the crazy of weekday mornings at my house, and these Easy Freezer Waffles are an honest-to-goodness breakfast staple for us.
I literally make a big batch of these simple waffles every single week, and they are definitely nice to have on hand as an option for a warm breakfast…or dinner, depending on the course of day. Just pop them in the toaster, top them with a little drizzle of maple syrup and voilà…breakfast is served!
This sort of convenience is hard to beat somedays, y'all.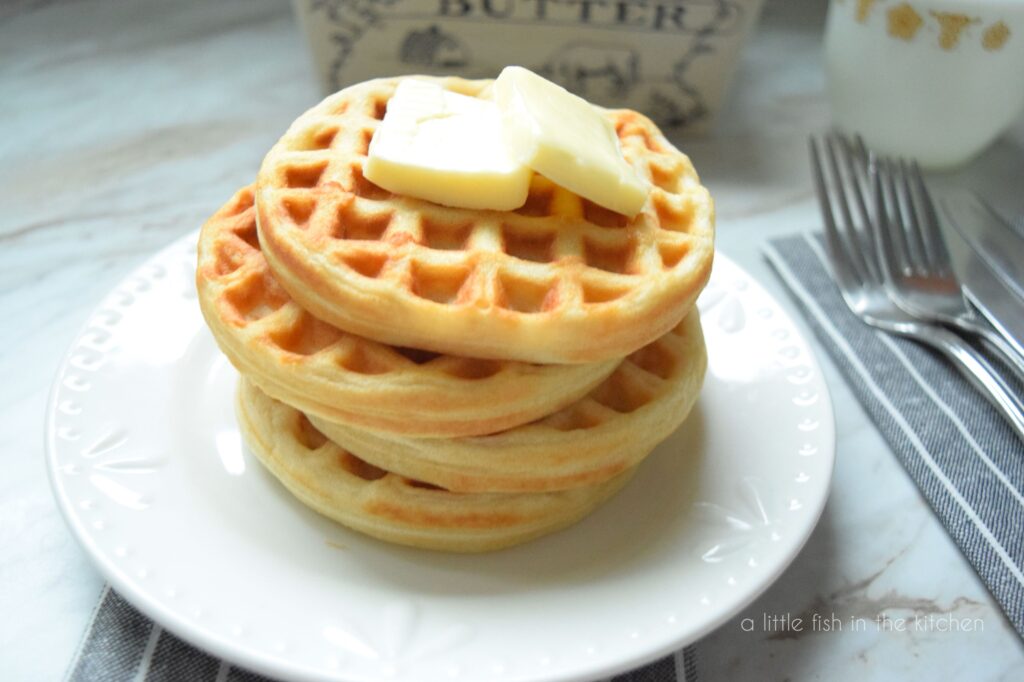 When it comes to breakfast on-the-fly, there are certain mornings that my kids want something extra simple like buttered toast and yogurt or even just a quick bowl of cereal. My kids love the old-fashioned frosted corn flakes and an organic peanut butter puffs cereal sold by our favorite grocery store (it's their in-store brand, and we think it's good stuff!). We always have those two cereals in our pantry, just to cover all the bases.
Now that my kids are much bigger, I don't fuss too much about their morning meal choices as long as they are somewhat reasonable. The most important part breakfast for me as mom is that they get a little fuel in their systems to help keep their moods in-check (that 10-year-old-girl is just brimming with sass!) and maintain some mental focus throughout their long school mornings.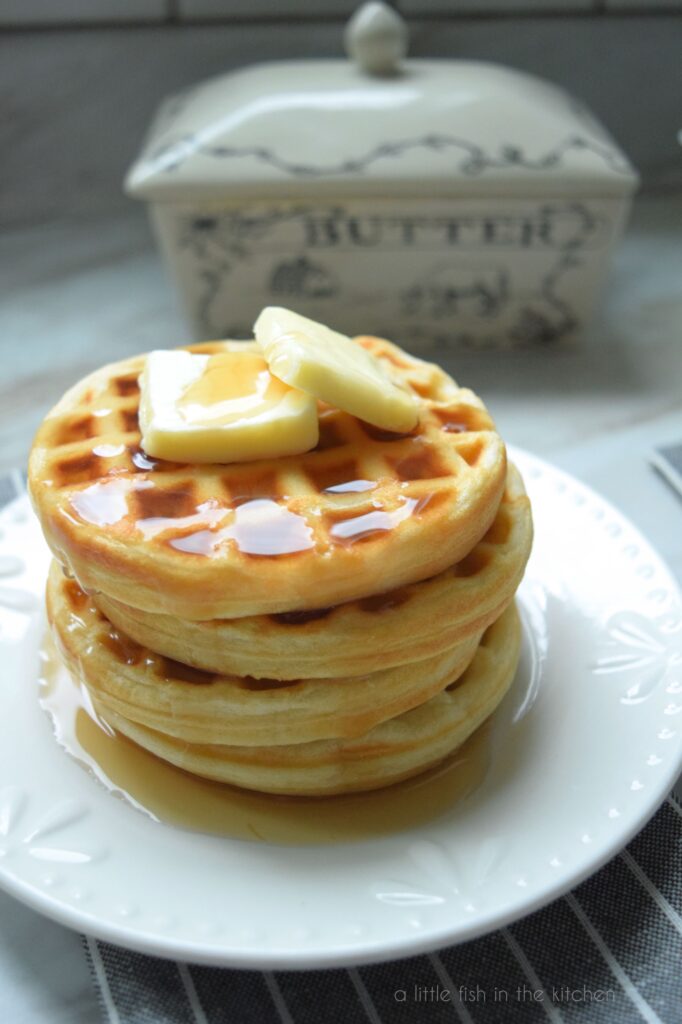 If you don't already have one, I highly recommend purchasing a mini-waffle maker and I have been using this Dash brand mini-waffle maker for nearly two years, and I just love it! I'm very likely going to purchase this heart-shaped version, just because it can make so many mini-waffles at once and those petite, heart-shaped waffles are just so darn cute.
I also highly recommend Rodelle Baker's Extract for making pancakes and waffles. I use pure vanilla extract for almost everything else, but this baker's extract is an absolute must for pancakes and waffles, in my opinion. It has magical notes of chocolate, cream as well as rich vanilla mixed into it. If you've been looking for way to make your homemade waffles and pancakes taste more like your favorite fragrant, diner version this extract is the ticket!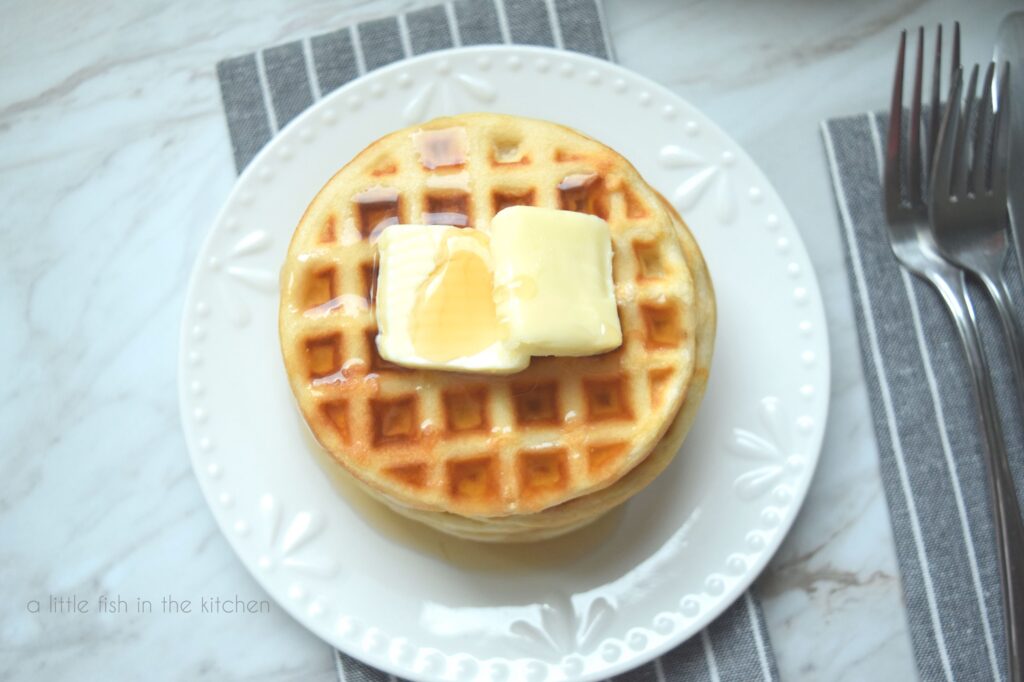 This is not a sponsored post at all, but I love recommending products to you all that have made a huge difference in the quality and taste of my own homemade meals. I don't recall exactly when or why I purchased this baker's extract for the first time, but it's a recent addiction for me. This Rodelle product may have been all I could find during the pandemic, or I may have had coupon for it and I tried something new with this product. But, I'm so glad I discovered it, and it's made such a delicious difference in my scratchmade breakfast treats. I love having it available in my cupboard.
I've listed my full, easy waffle recipe as well as my freezing suggestions in the recipe card below for you! Remember, sharing is caring!
I hope you enjoy these homemade Freezer Waffles, and happy griddling, y'all! xo – M
Here's a few make ahead breakfast suggestions that we all enjoy, so feel free to check these recipes out too:
Pin this recipe!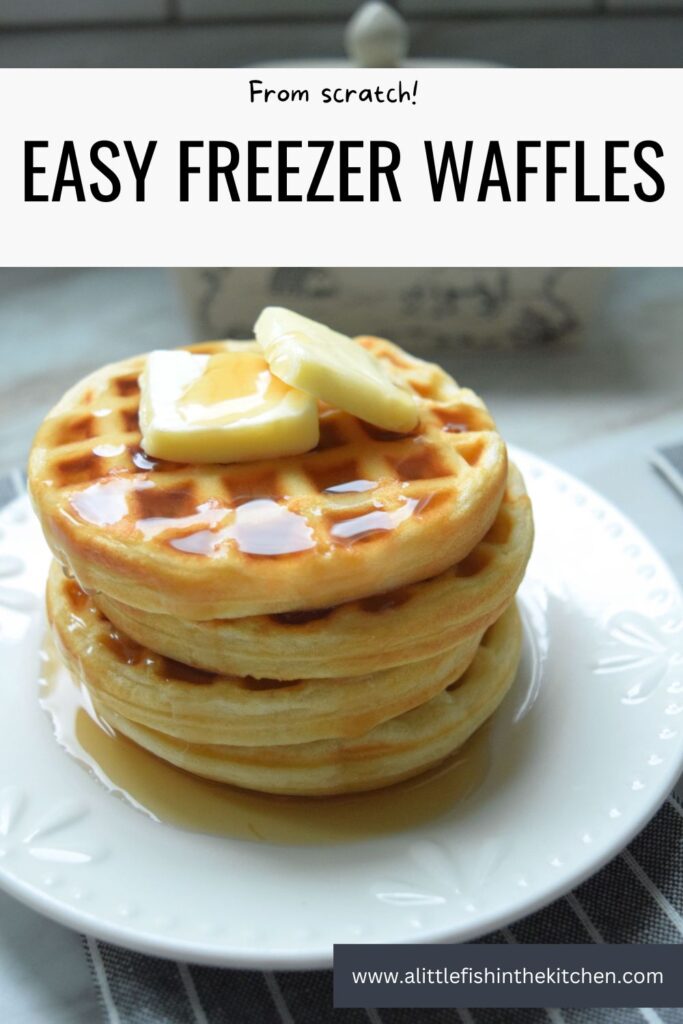 Watch one one of my latest recipe videos and subscribe to my YouTube channel for more recipes and live streams!
Enter your email address here so all of my new posts will be sent straight to your inbox! Subscribe now and never miss a post or an update!
Easy Freezer Waffles
Course: Breakfast, Brunch, Dinner
Cuisine: American
Difficulty: Easy
Easy Freezer Waffles will save you some time and money during the week! These quick vanilla waffles are delicious and don't have all the undesirable preservatives and additives that those freezer aisle waffles do! This is a weekly staple recipe I serve to my family, I hope you and yours enjoy it too.
Ingredients
Special equipment needed for this recipe : a mini-waffle maker

2 cups self-rising flour

3 tablespoons sugar

2 large eggs, beaten

1 + 3/4 cup milk

1/2 cup vegetable or canola oil or unsalted butter

1-1/2 teaspoons pure vanilla extract (I highly recommend Rodelle's Baker's Extract for pancakes and waffles)
Directions
In a large bowl, combine the flour and sugar. Stir to combine and set the bowl aside. In another medium-size bowl, combine eggs, milk, oil and extract and mix well with a fork or a whisk.
Make a well in the center of the dry ingredients and pour in the egg mixture. Use a wooden spoon to mix ingredients just until a thick batter forms. Next, use a whisk to break up any large lumps that may be visible in the batter, the really small lumps will break up as the waffles cook. Be careful not to over mix the waffle batter.
Pre-heat your mini-waffle maker and lightly prepare the cooking surface with non-stick cooking spray. Use 1/4 cup of batter for each waffle. Allow each waffle to cook for 3 minutes and then remove with a fork or a small silicon spatula. Repeat the process until all the batter is used.
Store waffles in the freezer for up to one month. (My recommended method for freezing waffles is shared below)
Prepare frozen waffles in the toaster to your desired toastiness level (we like 2 or 3) . Serve warm waffles with maple syrup, fresh fruit or whipped cream… or a little bit of each! Enjoy.
Equipment needed for freezing waffles
You will need wax paper and a rectangular, medium-size (8 -10 cup capacity) freezer safe container with a lid. I do not recommend freezer bags for freezing waffles. They can lose their shape if stored in a floppy bag and be difficult to place in a toaster slot while frozen.
Method for freezing waffles
Allow cooked waffles to cool completely. Make stacks of waffles to a height that works with your chosen container. Wrap each stack in waxed paper to store. (*see notes below and please refer to the recipe video below to watch me do this if you need guidance) I make stacks with 8 waffles each in them as that works with the height of my container, but your needs may differ depending on your container!
Place lid on container and freeze waffles. A batch of these Homemade Freezer Waffles will be at their best quality for up to one month stored in the freezer … but I doubt they will last that long 🙂
Recipe Video
Notes
Wrapping the stacks of waffles in wax paper will help keep moisture out and aid in preventing or reducing freezer burn. You can also place a small square of wax paper between each waffle in the stack for easier release once the waffles are frozen.
Recipe from A Little Fish in the Kitchen blog at www.alittlefishinthekitchen.com. All content is owned by Marcelle G. Bolton. Please contact the author for permission to republish