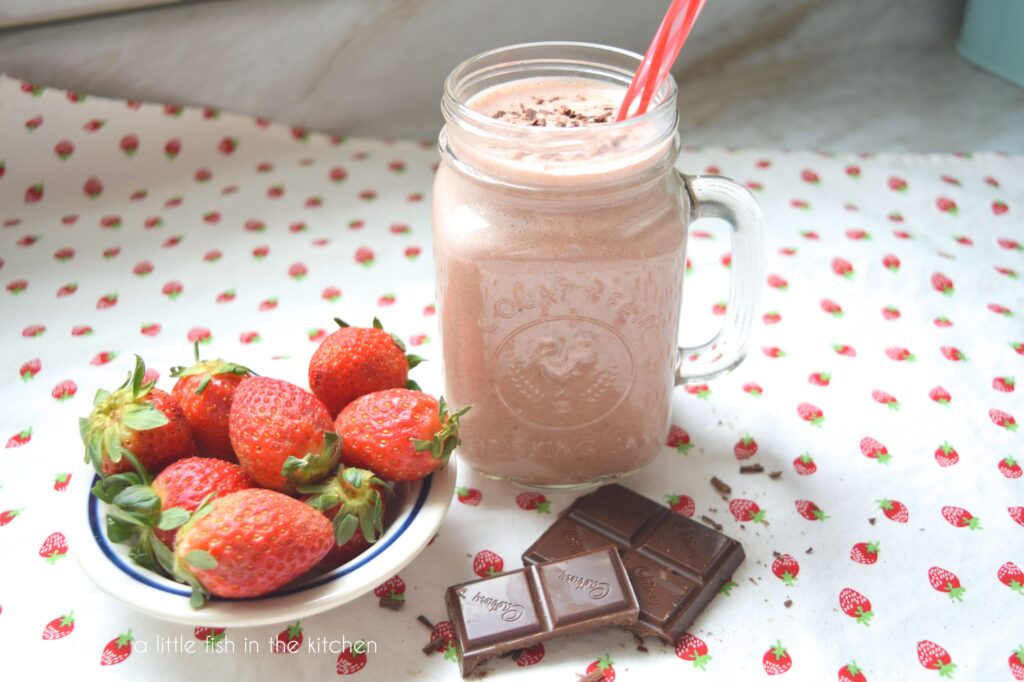 Lately, I've been making a lot of protein smoothies for myself. In fact, I probably replace one meal a day with one or I choose a smoothie when I'm craving something sweet later in the evening. Well, that is… on the nights when I'm trying to be a little good!
However, it's really not that challenging to pass up a piece of cake or pie when a smoothie tastes as good as this Chocolate-Covered Strawberry Protein Smoothie. It's honestly very tasty, and the decadent flavor combination of chocolate and fresh, ripe strawberries really makes this creamy drink feel like a special treat.
It also truly satisfies a craving for something sweet, when the mood to munch strikes me!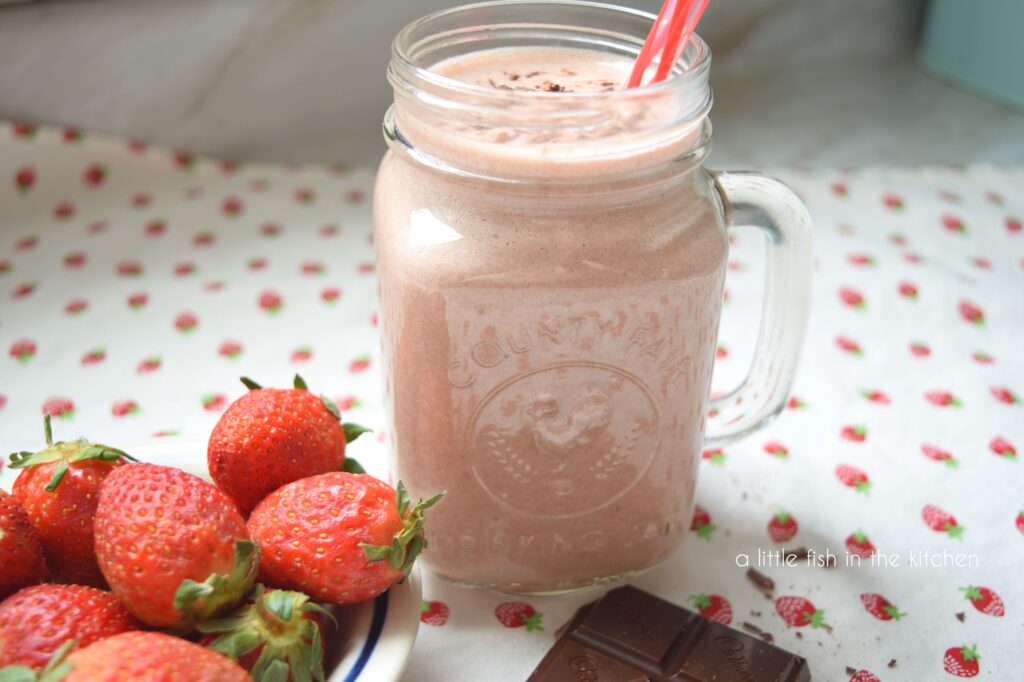 Given the combination of flavors, I think this simple Chocolate-Covered Strawberry Smoothie is especially kid-friendly, and I also think it's a great choice for a breakfast treat to serve loved ones on Mother's Day, Valentine's Day or even Christmas morning, y'all…because I will totally serve this on those special occasions (please act surprised, beloved family!)
Or if you're like me, taking a few minutes to whip up this smoothie for myself is grand refreshment on a hectic Wedneday afternoon.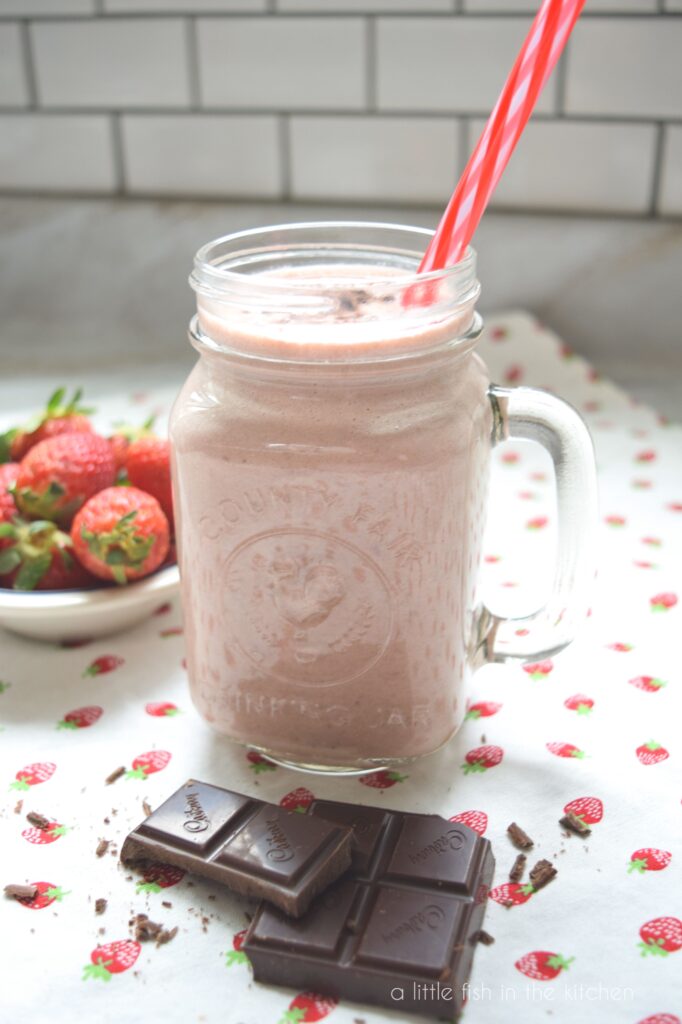 Y'all, I was looking through old posts on this blog recently and I have to admit, I was reminded by some of my old content that I've been a smoothie-lover for quite a long time… longer than I really remembered. In fact, this old post from 2016 with the recipe for this healthy Kale-Banana Protein Smoothie was a pleasant little trip down memory lane for me 😊
In the past, I used peanut butter as a main source of protein in all the smoothies I made at home, but in the last year I've been using protein powder instead. I prefer the taste and texture whey protein powders compared to plant-based powders, and I keep one container of each flavor, chocolate and vanilla, in my pantry these days.
I've been able to reduce the calories and increase the protein intake in every smoothie I make by doing so, and I believe it's been good ingredient switcharoo.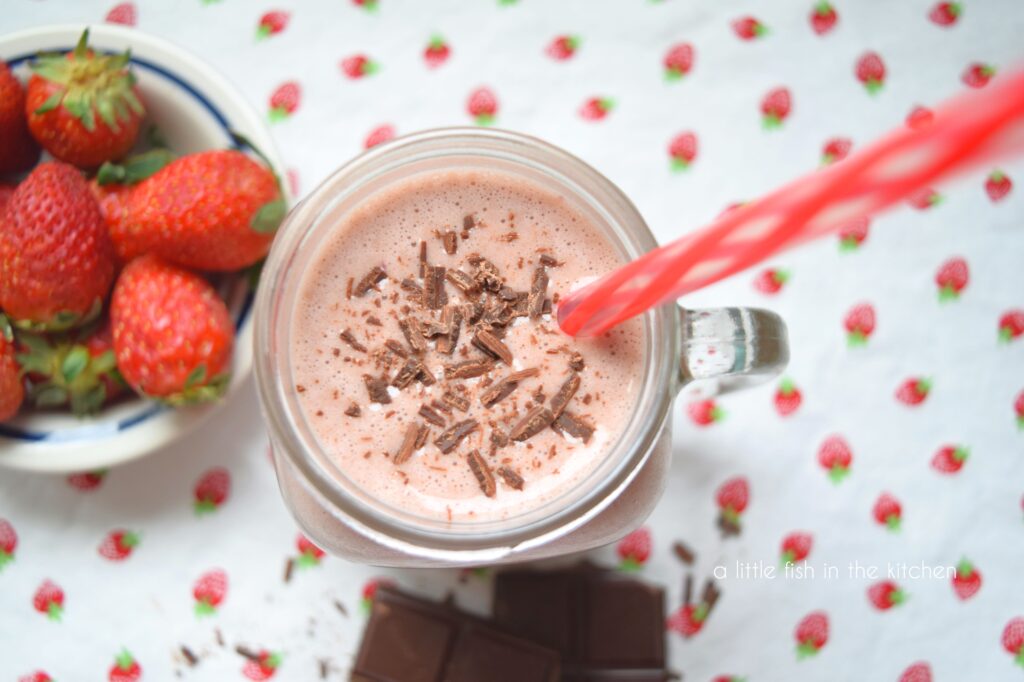 Finding that old 2016 post was also a reminder for me regarding several older blog posts that still need to be updated! 👀 I need to cut and paste them into the new format that I've been using since the move over to Word Press a few years back. 😆 My bad. I will get to them in time, but for now that old print function still works, and f.y.i. I will never update my old pictures on this website.
The memories these posts and pictures hold for me are as important as any delicious recipe one of my amazing readers can print.
This blog is a place that's preserved many special memories for me personally in the last decade, including my evolution in food photography. I certainly still have room to improve, but I've come a long way since I began with an old point and shoot camera in 2011!! 😉 I'm happy to be back after a little break in posting, I had to recharge my blogging batteries.
I sure hope you all enjoy this delicious Chocolate-Covered Strawberry Protein Smoothie recipe!
Happy blending, y'all! 🍓🍫
Other Smoothie Recipes You Might Enjoy:
Check out one of my recent recipe videos and subscribe to my You Tube channel for more recipes and live streams!
Share this recipe on Pinterest!!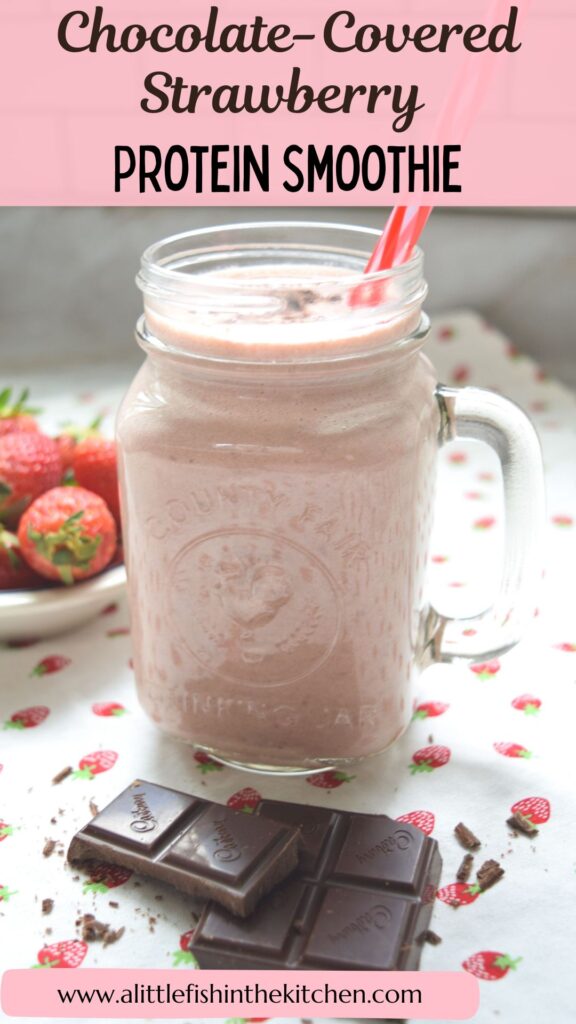 Chocolate-Covered Strawberry Protein Smoothie
Course: Breakfast, Drinks
Cuisine: American
Difficulty: Easy
This rich, chocolatety protein smoothie is made even more decadent with the flavor of sweet, ripened strawberries swirled in. This Chocolate-Covered Strawberry Protein Smoothie will be your new favorite breakfast, afternoon treat or healthy dessert!
Ingredients
1/3 cup fresh or frozen sliced strawberries

1/2 half of a medium banana

1 cup milk of choice (I used unsweetened almond milk)

1 scoop chocolate protein powder

1-2 teaspoons sweetener of choice (I used sugar free maple-flavored syrup)

1/2 teaspoon vanilla extract

1/4 cup ice

dark chocolate shavings for garnish, if desired

finely chopped strawberries for garnish, if desired
Directions
Place all ingredients in the jar of a blender and blend until creamy and smooth.
Transfer to a glass to serve, garnish as desired. Enjoy!
Recipe Video
Notes
Recipe from A Little Fish in the Kitchen www.alittlefishinthekitchen.com. All content is owned by Marcelle G. Bolton. Please contact the author for permission to republish.