Welcome to day three of the fourth annual #FallFlavors! We have 21 bloggers sharing over SIXTY recipes using fall ingredients like squash, apples, maple, pecans, and many more. Follow #FallFlavors to see all the delicious recipes on social media.
This delicious Easy Apple Pie Cake has made it possible for me to refuse to make a choice between two of my absolute favorite fall desserts. It's a my attempt at a cross between two autumn dessert classics: flavorful apple cake and a scrumptious Dutch apple pie!
My family jokingly calls this dessert a "Franken-cake", and really they aren't altogether wrong in that description. It is a bit of a Franken-cake. And I do believe it's frightfully good.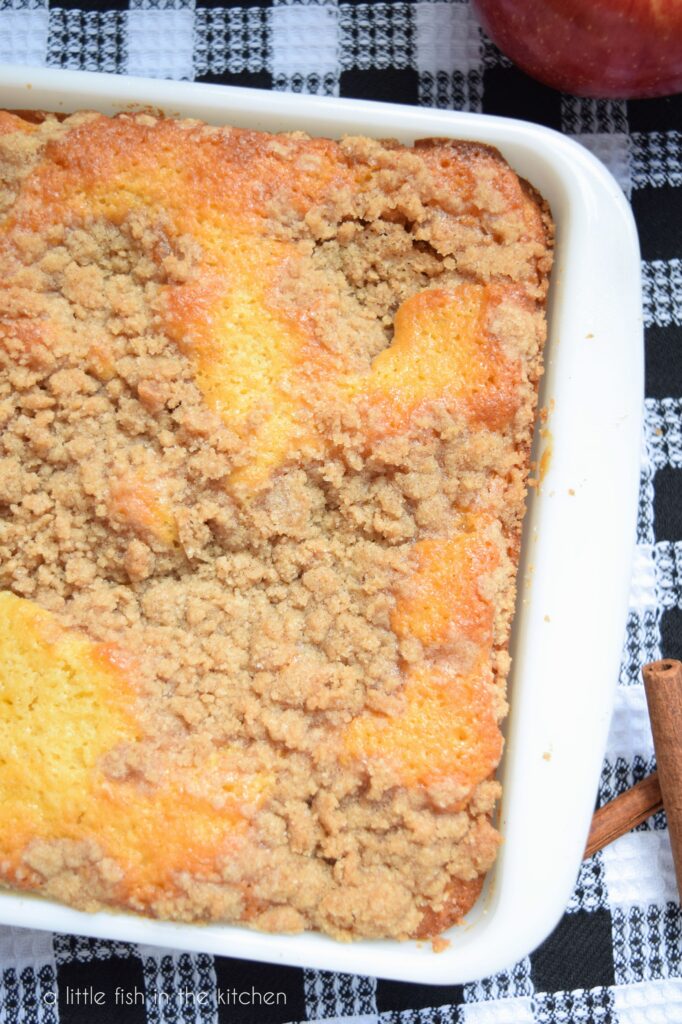 How to make an easy apple pie cake
This simple cake is made with layers of prepared cake batter, apple pie filling, and it's topped with a rich, homemade crumble topping, and we think it's a real treat!
At first glance, someone may mistake this cake for one of those really popular apple dump cakes, but while this is an easy recipe, it's not exactly as easy as that. A box of yellow cake mix and a can of store-bought apple pie filling on the ingredients list will make this recipe familiar to a lot of folks. But, the preparation method is a little bit different for this dessert.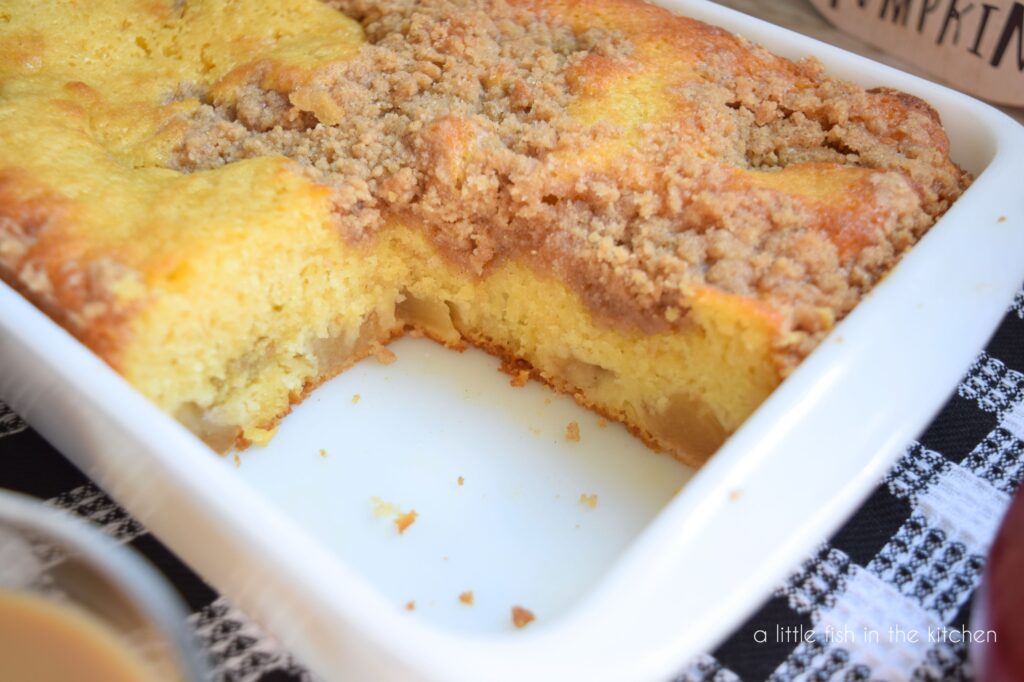 This Easy Apple Pie Cake is made with three layers of deliciousness: 1) prepared yellow cake batter, 2) prepared apple pie filling, and lastly 3) it's topped with a homemade cinnamon streusel topping. Also, there is a bit of hands-on baking involved with making this cake; it's not just a dump and go kind of deal with this recipe.
You've got to stick around to get this one just right!
However, this recipe is very simple and it's absolutely easy enough to make on a weeknight. Nevertheless, I'm willing to bet this Easy Apple Pie Cake will impress your guests no matter the occasion as it's really big on warm, autumn-inspired flavors.
The flavors of apple, cinnamon, butter and brown sugar shine through in every bite of this Easy Apple Pie Cake making it a cozy and comforting dessert for fall. Or, it could be a cozy and comforting dessert for a Tuesday night in July… whatever works!
I just hope you all give this a try and enjoy this tasty dessert recipe as much as we do. 🍏🍎🍂
I my opinion, this cake is rich and quite sweet and it doesn't need anything more added to the plate. However, if you really wanted to be a bit extra, feel free to top your slice of cake with a scoop of vanilla ice cream, sweetened whipped cream or even a drizzle of vanilla glaze!
Happy (almost) fall and happy baking, y'all! xo- M
🌻🍂🎃 More autumn-inspired recipe you might enjoy:
Be sure to share this with your friends and family on Pinterest!!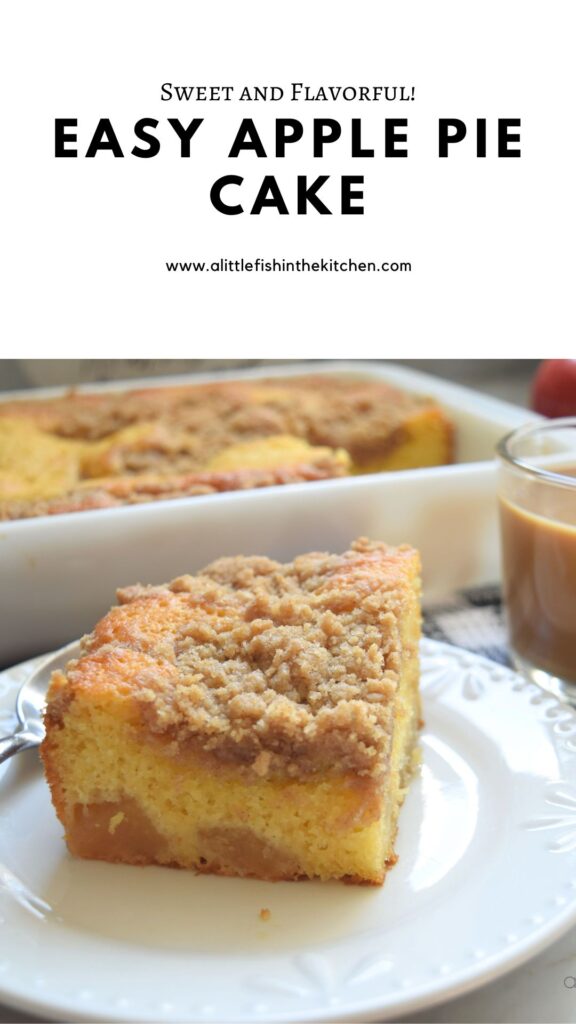 Please watch one of my latest videos on YouTube and Subscribe to my channel for more recipes and live streams!
Enter your email below to have all of my new posts sent right to your inbox! It's a free service!! Subscribe now so you'll never miss a recipe or an update!
Please check out all the delicious autumn-inspired recipes by our bloggers!
Wednesday #FallFlavor Recipes
Beverages
Breakfasts and Breads
Mains and Sides
Desserts
Follow the Favorite Fall Recipes Facebook group and follow the Favorite Fall Flavors Pinterest board for more fall inspiration!
Easy Apple Pie Cake
Course: Dessert
Cuisine: American
Difficulty: Easy
This moist, flavorful cake is a wonderful fusion of two classic desserts; buttery yellow cake is layered with cinnamon-spiced apple pie filling and then finished with a scrumptious crump topping. I guarantee you will want a second slice!
Ingredients
for the crumble topping

3/4 cup all-purpose flour

1/3 cup sugar

1/3 cup light brown sugar

1 heaping teaspoon ground cinnamon

6 tablespoons salted butter, chilled

for the cake

1 box yellow cake mix

1 teaspoon vanilla extract

1 can apple pie filling
Directions
Preheat the oven to 350°. Grease a 13×9 inch baking dish and set it aside.
In a medium size bowl, mix both sugars, flour and cinnamon together. Using a pastry blender, cut the chilled butter into the dry mixture until it's coarse and crumbly. Set the bowl aside.
Make the cake batter according to package directions and stir in the vanilla extract. Transfer the cake batter to the prepared baking dish. Using a spoon, evenly arrange the apple pie mixture evenly over the top of the cake batter (*see recipe video below for full recipe tutorial).
Bake the cake mixture in the oven for 20 minutes and then remove to a rack. Evenly the distribute the crumble topping over the top of the cake. Return the baking dish to the oven for another 30-35 minutes (*see notes below) of bake time or until a toothpick inserted into the middle of the cake comes out clean.
Serve cake warm or room temperature and enjoy!
Recipe Video
Notes
More bake time may be required for the cake to bake through because of the wet apple pie filling added into the center of the cake. It's honestly a little different everytime I make this cake. Just add more bake time in 5 minutes increments or until a toothpick inserted in the center comes out clean.
Recipe from A Little Fish in the Kitchen blog at www.alittlefishinthekitchen.com. All content is owned by Marcelle G. Bolton. Please contact the author for permission to republish.