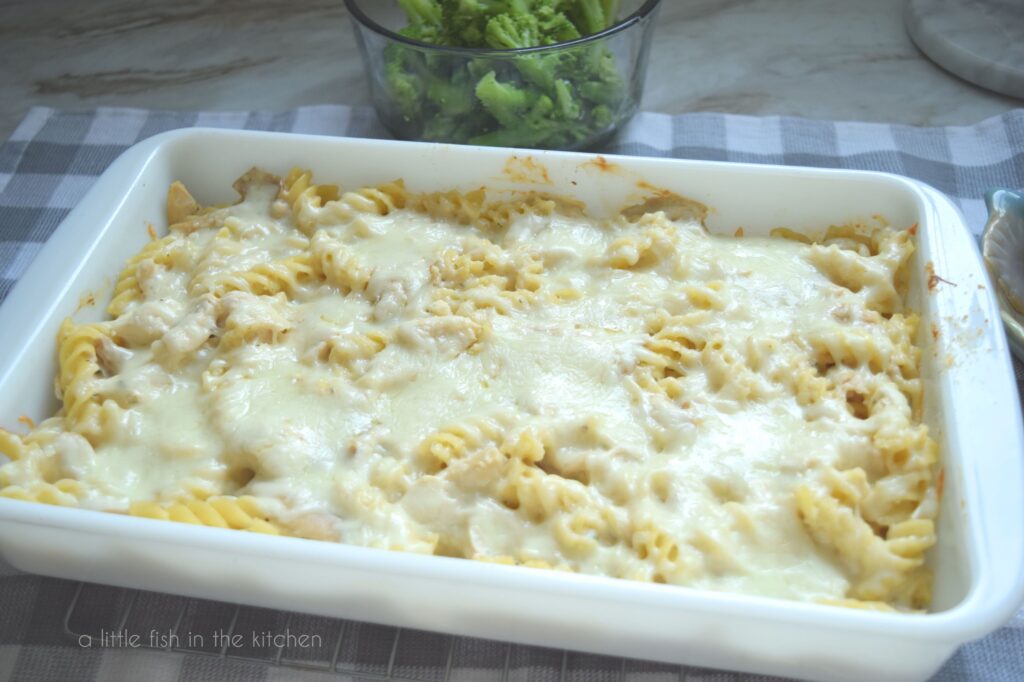 While most teenagers enjoy pizza and burgers, my teenage son has become obsessed with rich pasta dishes like lasagna, baked Ziti and his absolute favorite thing in the world right now is fettucine Alfredo with grilled chicken. The love is real, y'all. In fact, if that dish is on the menu at any restaurant we visit, it's become easy to predict what he will order for himself.
Also, every Saturday afternoon I ask him if there is any dish he'd like to see on our weekly menu without hestitation he shouts: "Chicken Alfredo!"
What's more is that during the summer months this year, he even challenged himself to make Alfredo sauce from scratch, and he made a big fat mess in the kitchen but I'm all about watching my kids be motivated to make anything for themselves! Unfortunately, he burned the sauce on the first go round, but he tried again, right away and got it just right. The smile on his face that night as we ate dinner was proof he was gobbling up victory and loving every bite of it.
He definitely earned a big ol' E for effort on that occasion!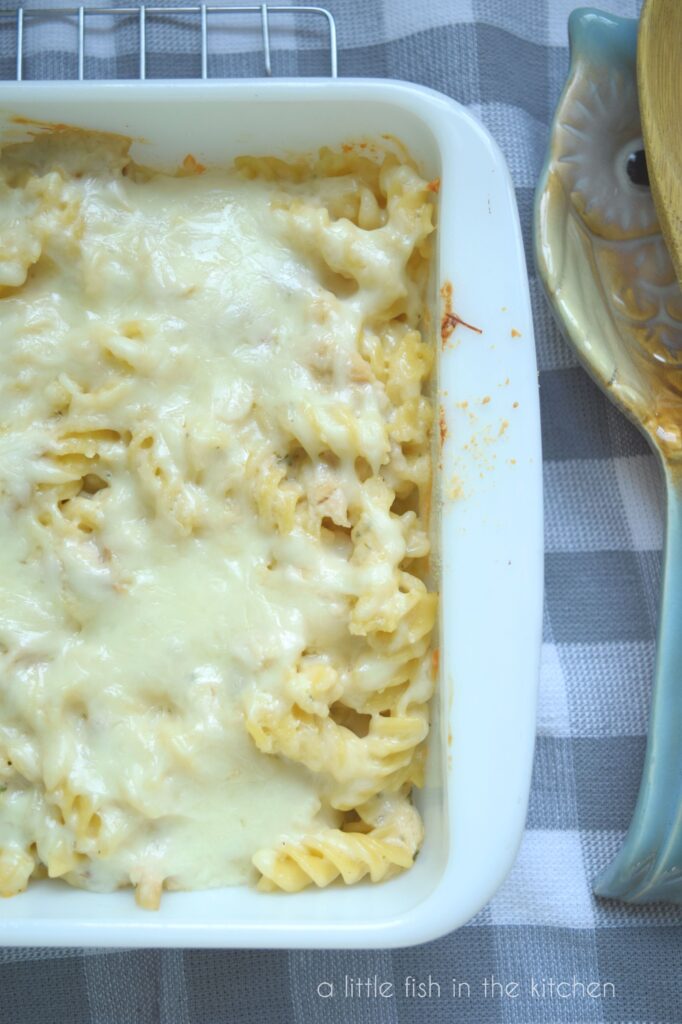 Well, the school year is in full swing and with that comes the afterschool extracurriculars like soccer practice and guitar performances = long days for our crew. Which in turn means I spend more time driving than anything else! I've learned to depend on my weekly meal plans and my weekend shopping trips to keep us out of the drive thru lines. I'm not the most organized person all of the time, but having everything I need on hand to whip up a quick, hot meal has become an amazing source of comfort for me during the busy weeks.
Also, when it comes to those meal plans, I have to say the fewer dishes we dirty up to get a hot meal on the table, the better! Easy casseroles like this one world for us at the moment, and this Easy Chicken Alfredo Bake has become a dinnertime sensation.
It take 30 minutes to get this dish ready to serve, and it's been a wonderful way to give my little family those rich, Alfredo sauce flavors they love, but without any big fuss… or a lot of mess.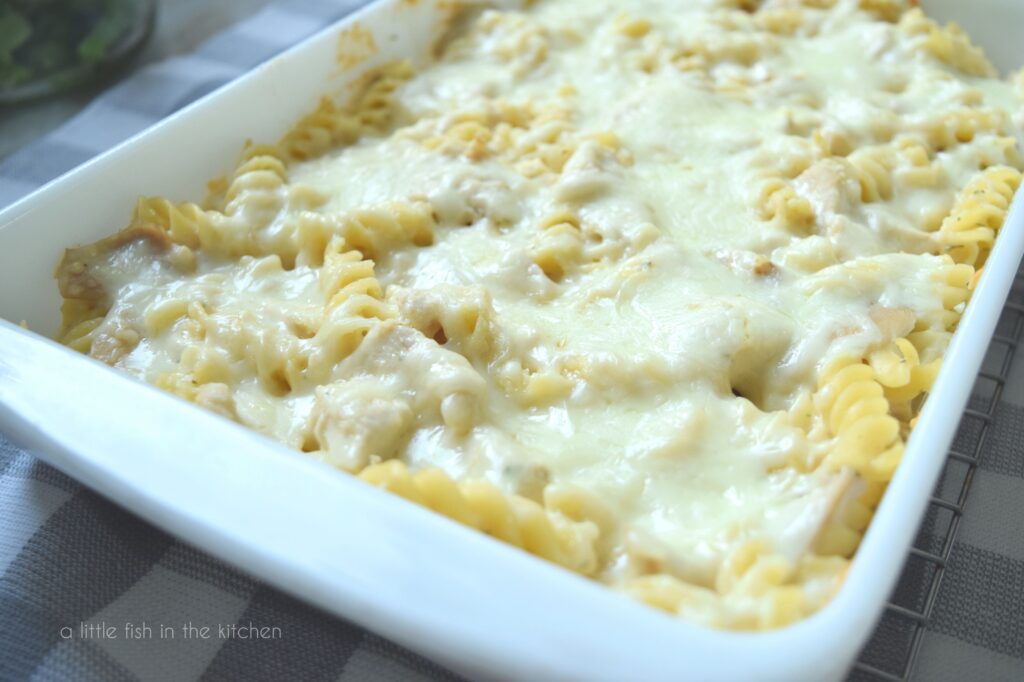 I keep this casserole simple and quick by using a quality, prepared jar of Alfredo sauce, and a warm rotisserie I pick up from the store. If you have more time, feel free to make this your own by roasting or grilling chicken using your favorite method and/or whipping up your favorite recipe for decadent, homemade Alfredo sauce.
However you choose to make this recipe your own, I hope you enjoy this satisfying dish as much as we do!
Spoiler alert: Next week, I'll be sharing a low-carb, veggie-loaded version of this same dish that Evan and I enjoy!!
Be sure to share this recipe on Pinterest!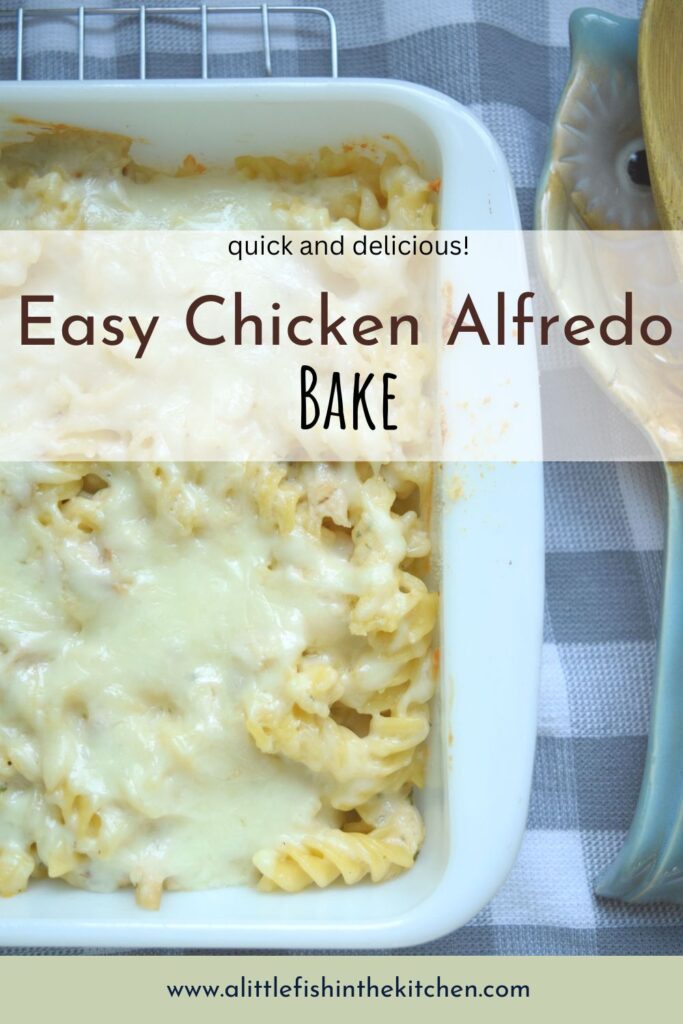 Please watch one my latest videos on YouTube and be sure to subscribe to my channel for more easy recipes and livestreams!
Enter your email address below to have all of my new posts sent directly to your inbox! Never miss a new recipe or an update, subscribe now!
Easy Chicken Alfredo Bake
Course: Main
Cuisine: American
Difficulty: Easy
This Easy Chicken Alfredo comes together in a snap and is full of rich, comforting flavor. Serve with a steamed green veggie and buttery garlic toast to make it a well-rounded meal!
Ingredients
3 cups rotini pasta, cooked according to package directions and drained

2 cups cooked chicken, shredded or coarsely chopped (*see notes below)

1 jar (15 oz) Alfredo sauce or garlic Alfredo (or substitute in two cups of homemade Alfredo sauce, if you prefer it)

1 heaping teaspoon dried parsley

1/2 cup grated Parmesan cheese (I used Kraft in the green can)

1 cups shredded mozzarella cheese
Directions
Preheat the oven to 350°. Lightly grease a 9×13 inch baking dish with non-stick cooking spray and set it aside.
Place cooked chicken and cooked pasta together in a large mixing bowl. Pour the prepared Alfredo sauce over the chicken mixture and stir until the chicken and pasta are evenly coated with sauce. Mix in the dried parsley.
Transfer chicken Alfredo mixture to the prepared baking dish and spread evenly into the bottom of the dish. Evenly sprinkle the top of the casserole with the grated Parmesan cheese. Now top the casserole evenly with the shredded mozzarella.
Bake for 20 minutes or until the casserole is warmed through and the cheese is melty. Enjoy!
Recipe Video
Notes
Use a store-bought rotisserie chicken to keep this recipe quick and easy!
Recipe from A Little Fish in the Kitchen blog at www.alittlefishinthekitchen.com. All content is owned by Marcelle G. Bolton. Please contact the author for permission to republish.