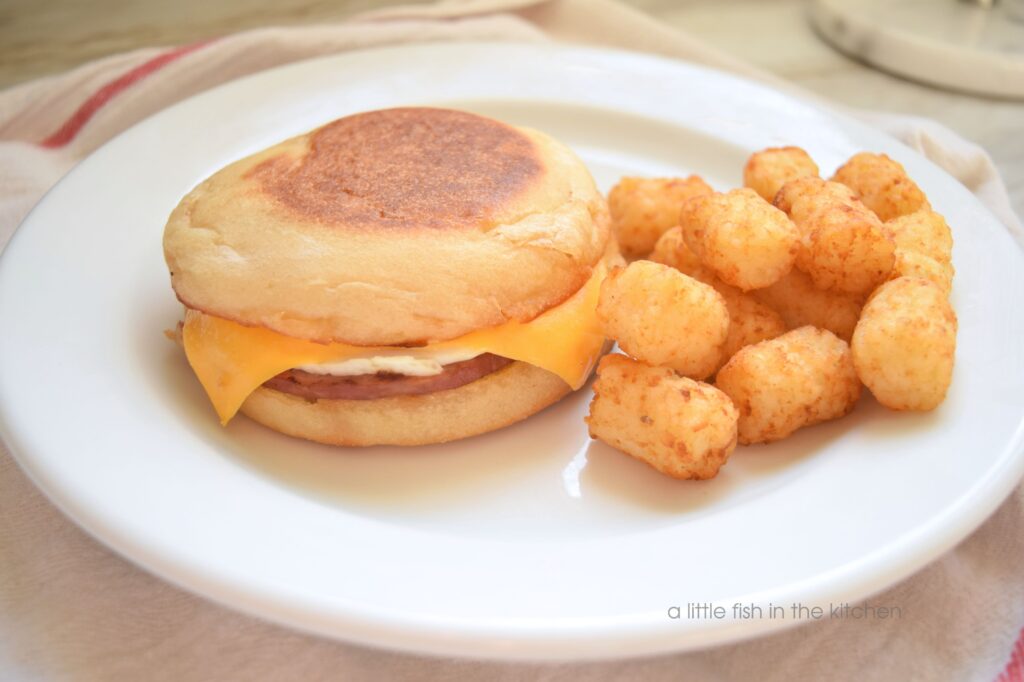 The Egg McMuffin from McDonald's is undoubtedly the world's most recognizable breakfast sandwich. As the world's very first fast food breakfast sandwich, there's no way it couldn't be iconic. On the off chance someone reading this post has never eaten an Egg McMuffin, I'll take a step back here and briefly describe this classic American breakfast sandwich: it's hot sandwich served on a buttery, toasted English muffin and stuffed with Canadian bacon, a steamed egg and melted American cheese.
That's a super basic description, but there's no way that combination couldn't be good! Nowadays, there are other versions of the McMuffin on the Mc Donald's restaurant menu, like the Sausage McMuffin and those tasty, maple-y McGriddles. But, the original will always be my favorite.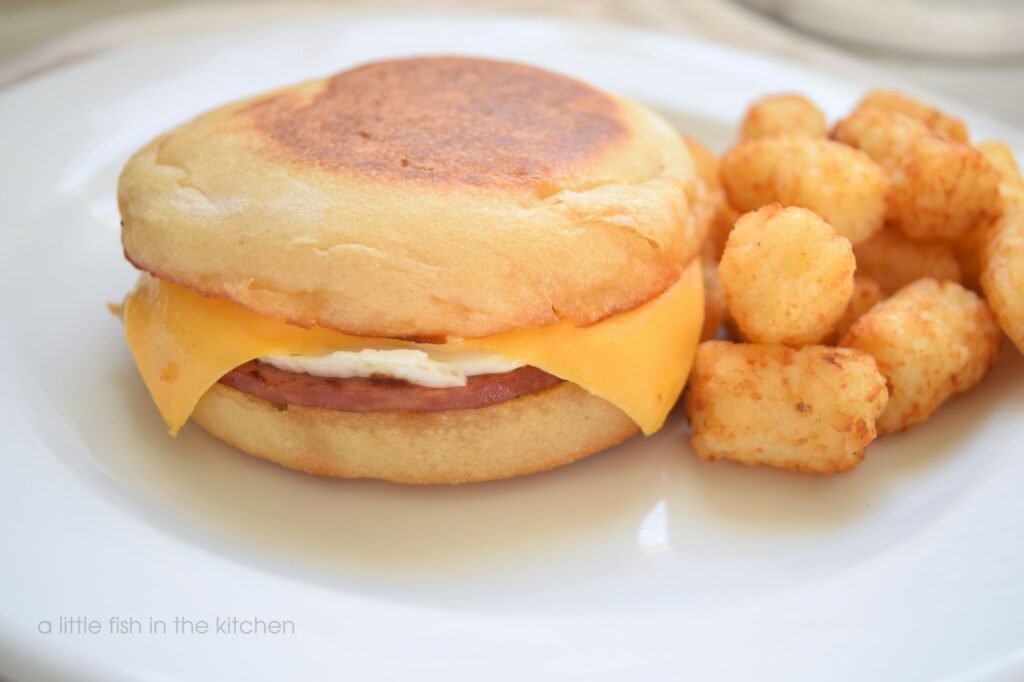 Since we took the plunge last year and relocated to a house that's way out in the country, we are no where near a Mickey D's these days. Sure, there's a couple of the restaurants in our little town, but those establishments are over 15 miles away from us now.
Honestly, we are never organized enough in the mornings to have time to sit in a drive through line anyway, it wouldn't even matter if the restaurant was right next door! For personal sanity purposes, restaurants are for the weekends only. We make breakfast at home during the week.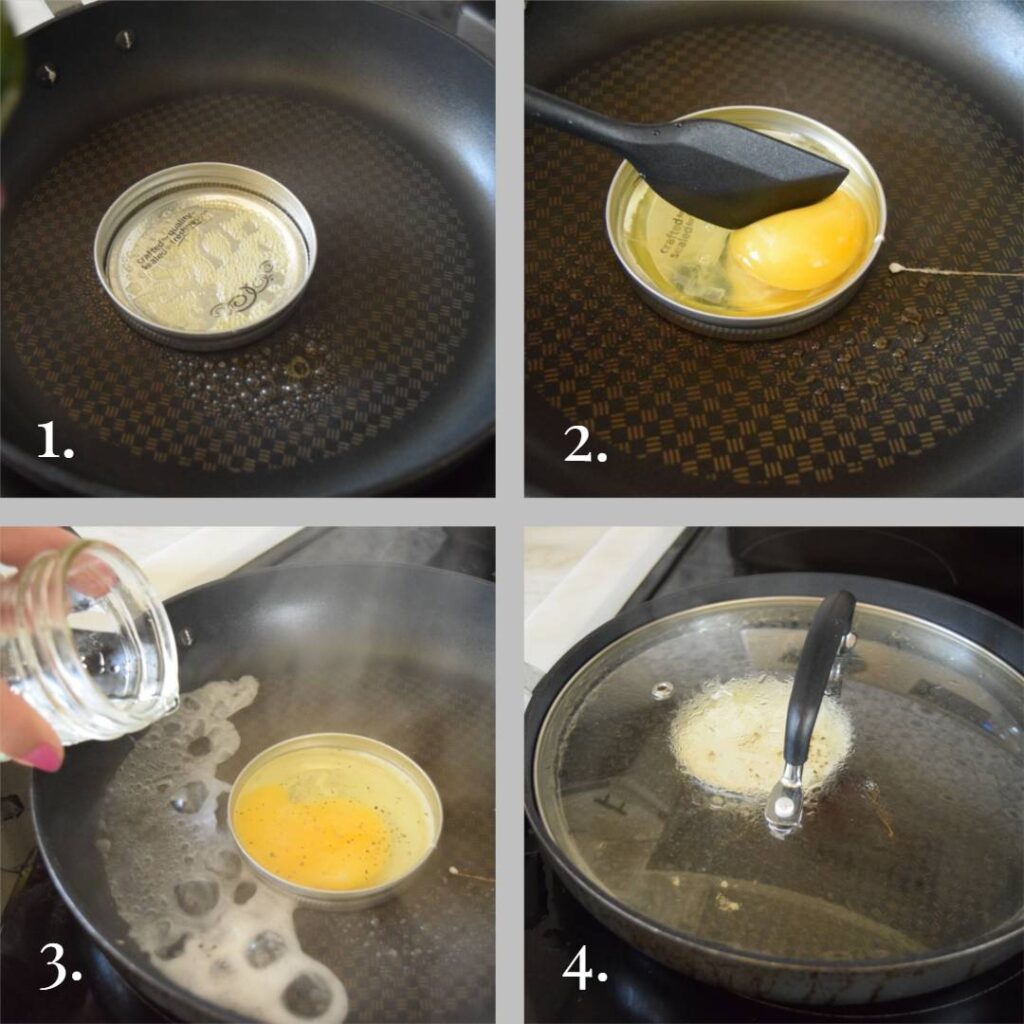 For several years now, I've been making breakfast sandwiches for the family using toasted English muffins and I've made eggs in a few different ways to serve with them. I often make buttery scrambled eggs, fried eggs or a folded, omelet-style egg to stuff breakfast sandwiches with. Whatever the egg looks like, it's always topped with warm Canadian bacon and American cheese to give it all the McMuffin feels.
For familiarity's sake, I've always called homemade breakfast sandwiches "McMuffins" and they always make for a satisfying morning meal. However, in reality I've never, ever hit the mark with creating a true copycat for wrapper-worthy Egg McMuffin. Until recently, I couldn't even pinpoint what was lacking in the breakfast sandwich formula.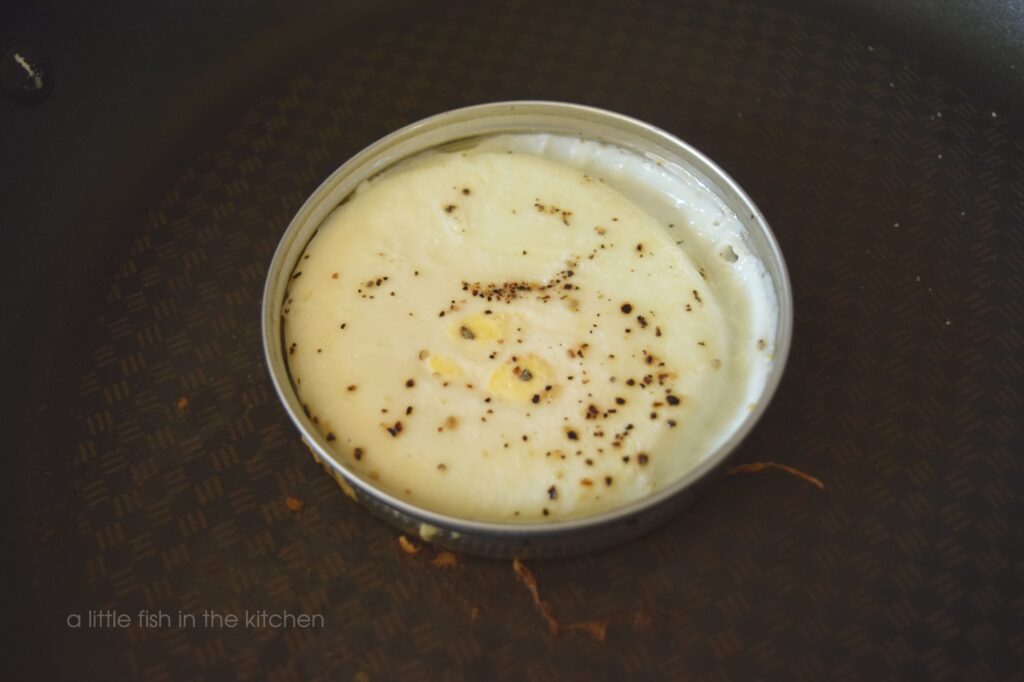 But, as it turns out, creating a Copy Cat Egg McMuffin depends completely on egg cooking technique. In my opinion, what makes a Mc Muffin a MCMUFFIN is that unmistakable soft, steamed egg. And, thanks to a unsolicited suggestion for steaming eggs on the stovetop that popped up in my Pinterest feed one morning, our breakfast sandwich dilemma is solved!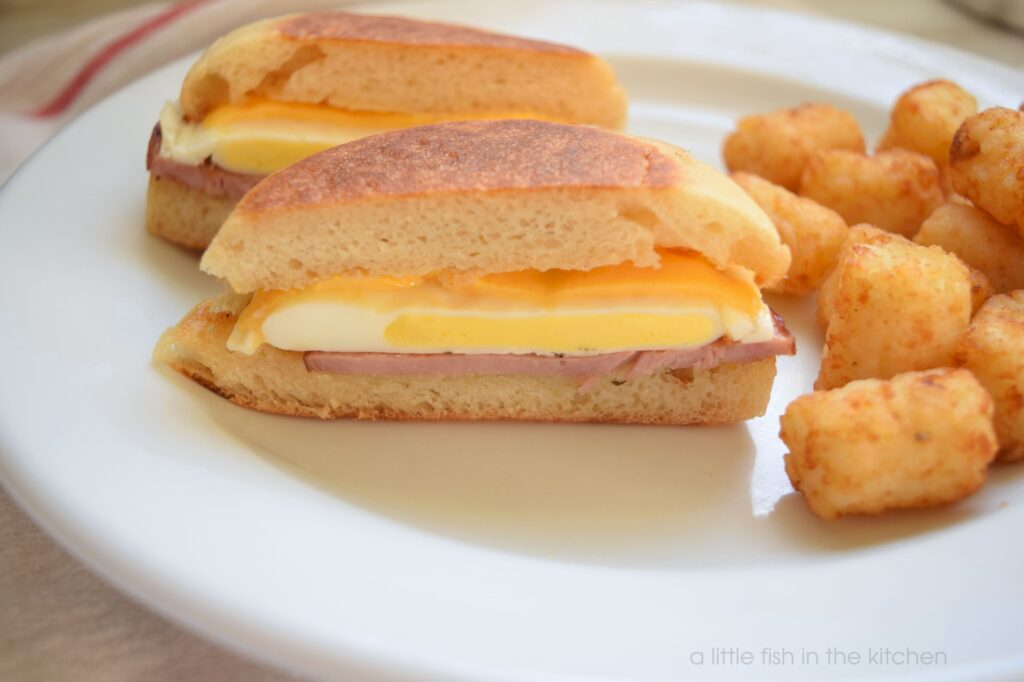 I was going to spend money on egg rings, but as it turned out I had everything I needed at home to make perfectly round, steamed eggs on the stovetop. All that is required to do this is a wide-mouth mason jar ring, a matching lid, a skillet and about a 1/4 cup of water and, of course, one large egg.
It's a genius hack that I can't take credit for, but I'm sure enjoying it in practice. Perhaps you will too! What will you make first, the classic McMuffin or the Sausage McMuffin?
Happy cooking, y'all -M
Other breakfast recipes you may like:
Enter you email address below and have all of my new posts sent right to your inbox! Subscribe now and never miss a recipe or an update!
Share this recipe on Pinterest!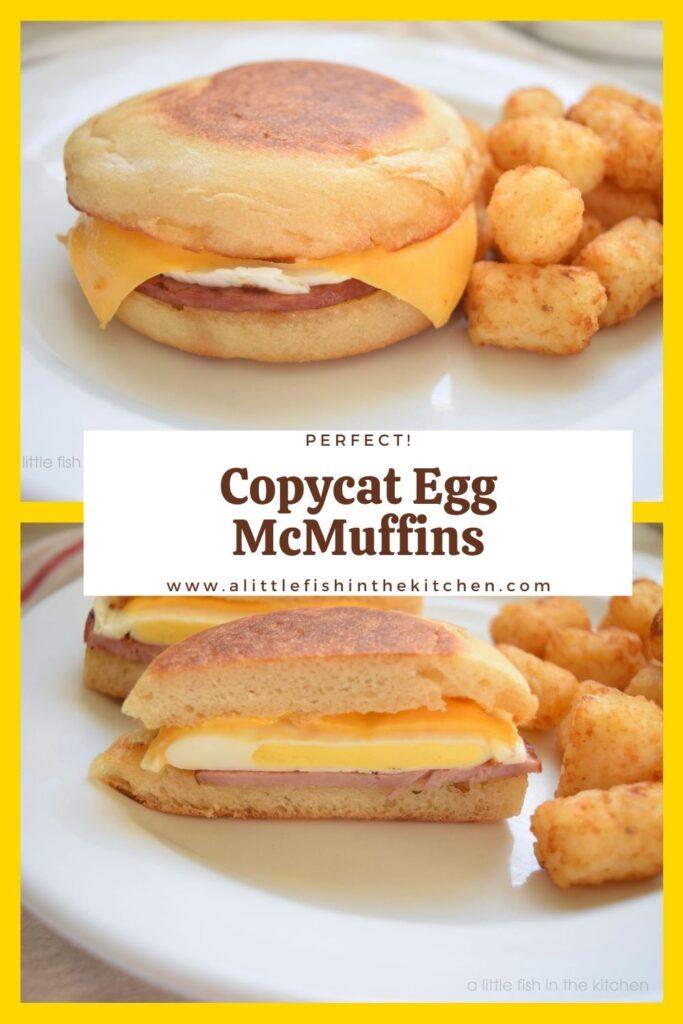 Check out one of my latest cooking videos and please subscribe to my YouTube channel!
Copycat Egg McMuffins
Course: Breakfast
Cuisine: American
Difficulty: Easy
This is a copycat recipe for one of America's favorite breakfast sandwiches! Making these with an easy stovetop steamed egg makes this breakfast sandwich taste like the real deal!
Ingredients
1 tablespoon + 1 teaspoon salted butter

1 English muffin, sliced in half

1 slice Canadian bacon
(I used turkey Canadian-style bacon)


1 slice American cheese

1 large egg

Special equipment needed

1 wide mouth mason jar lid

1 wide mouth mason jar ring
Directions
Melt one tablespoon of butter in a skillet over medium heat. Once the butter is sizzling slightly, place the English muffin halves, cut sides down, in the pan. Press the English muffins halves down gently so they absorb some of the melted butter and begin to brown. Flip them and allow them to brown/toast lightly on the other side. Transfer the toasted muffin to a plate.
Melt the remaining teaspoon of butter in the warm skillet and brown the Canadian bacon on both sides. Transfer browned bacon to the bottom half of the toasted muffin. Wipe the skillet out with a paper towel to remove any excess or browned butter.
Place the mason jar lid inside the ring with the shiny metal side facing up and place in the dry skillet. Spray the lid and ring generously with non-stick cooking spray. Crack one egg into the mason jar ring and then gently break the yoke with the spatula or a fork. Pour 1/4-1/3 cup of water into the skillet (on the outside of the metal ring) and cover the skillet. Set a time for 2 minutes and allow the egg to steam. Refer to recipe video for a demonstration, if needed.
When the timer is finished, use a spatula or a small set of tongs to remove the ring/lid and steam egg from the pan, allow to drain on a paper towel-covered plate, if necessary. Pop the lid out of the ring and place the steamed egg directly onto the Canadian bacon and the English muffin.
Top the egg with a slice of American cheese. If the cheese needs help melting, return the sandwich to the warm skillet and toast on both sides until the cheese is slightly melted (or you can just zap it in the microwave for 30 seconds!)
Serve with crispy hash browns, tater tots or fresh fruit and a hot cup of coffee. Enjoy!
Recipe Video
Notes
I use a large mouth mason jar and ring as a mold for steaming eggs, please refer to the recipe video above for a demonstration. Of course, you can use an egg ring for this step instead if you already have one or prefer to purchase one.
Recipe from A Little Fish in the Kitchen blog at www.alittlefishinthekitchen.com. All content is owned by Marcelle G. Bolton. Please contact the author for permission to republish.