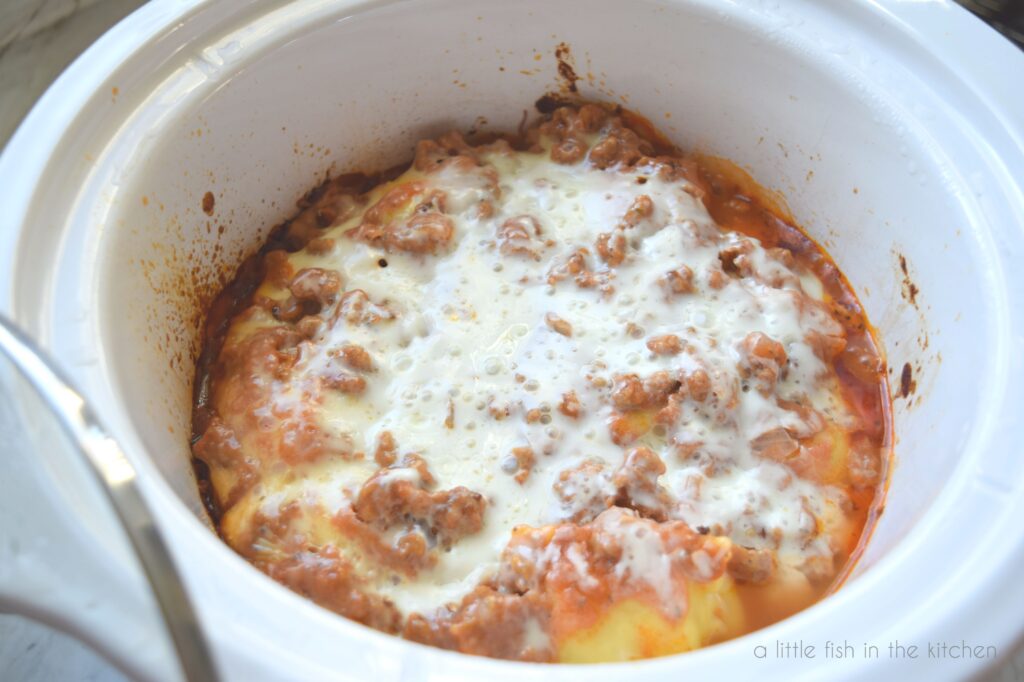 If there is one kitchen appliance that has been historically underutilized in my house it is, without question, my slow cooker. I wish so much that I had warmed up to it much earlier on (all puns intended), and I lament over how much time I could have saved on some tasty weeknight dinners back in the day.
This Slow Cooker Ravioli Lasagna is a tried and true family favorite and it's a supper that is consistently met with rave reviews from my little clan whenever it's on the menu. I will make this dish in every season, or when the mood strikes us, but this recipe is traditionally one of our fall and winter favorites.
In fact, this no-fuss lasagna ranks right up there with chili for us when it comes to the warm, hearty dishes we we crave on a blustery, cold day.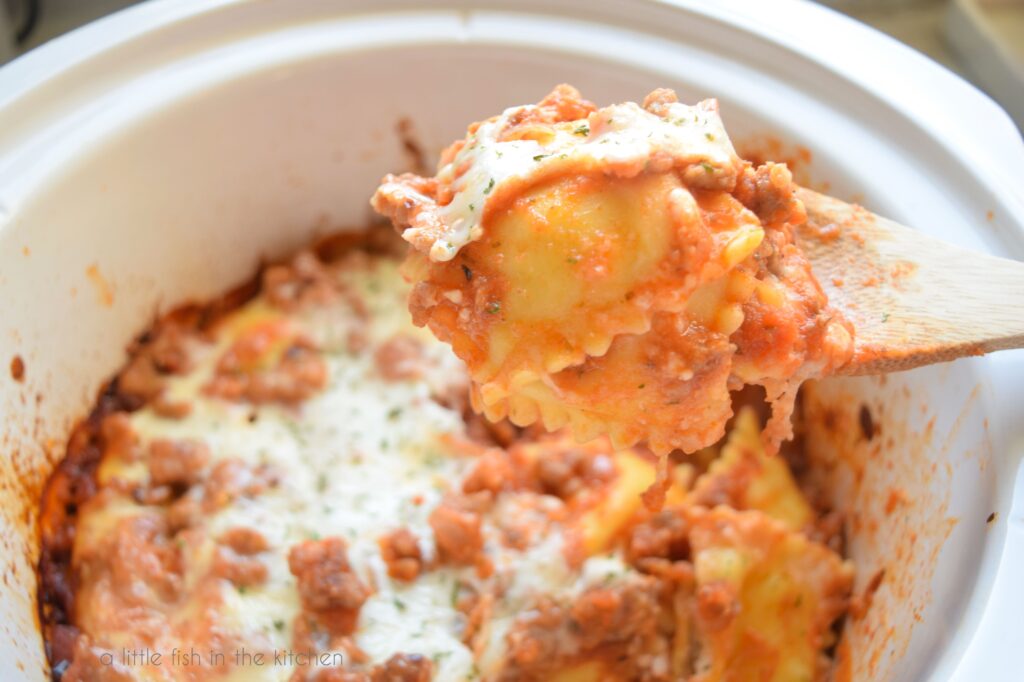 Although I am still actively building a slow cooker supper repertoire, this particular recipe is one of my favorites to make because it's seriously a cinch to throw it together. Also, this dish is packed with rich, wonderful flavors and familiar ingredients that my whole family loves. Generally, this recipe was also very easy on the pocket book (also a popular quality for recipes in my kitchen!), but rising prices have recently caused bulk sausage and our favorite convenient, frozen ravioli to go up in price a little bit. However, this recipe does make a whole bunch of food and it's a recipe that we can stretch for a couple of meals, so I don't worry too much about spending a few more pennies to make it.
Thankfully, this Slow Cooker Ravioli Lasagna keeps well in the fridge for a few days and it reheats very well too. So, the four of us will typically make meals from this ravioli lasagna for supper over 2-3 days, and/or some portions will be packed into Evan's work lunches that are taken from home.
We really try hard not to waste much food around here, and this dish is so tasty that no one fusses too much about any leftovers… which is not the case with some other dishes that I enjoy that make a big batch.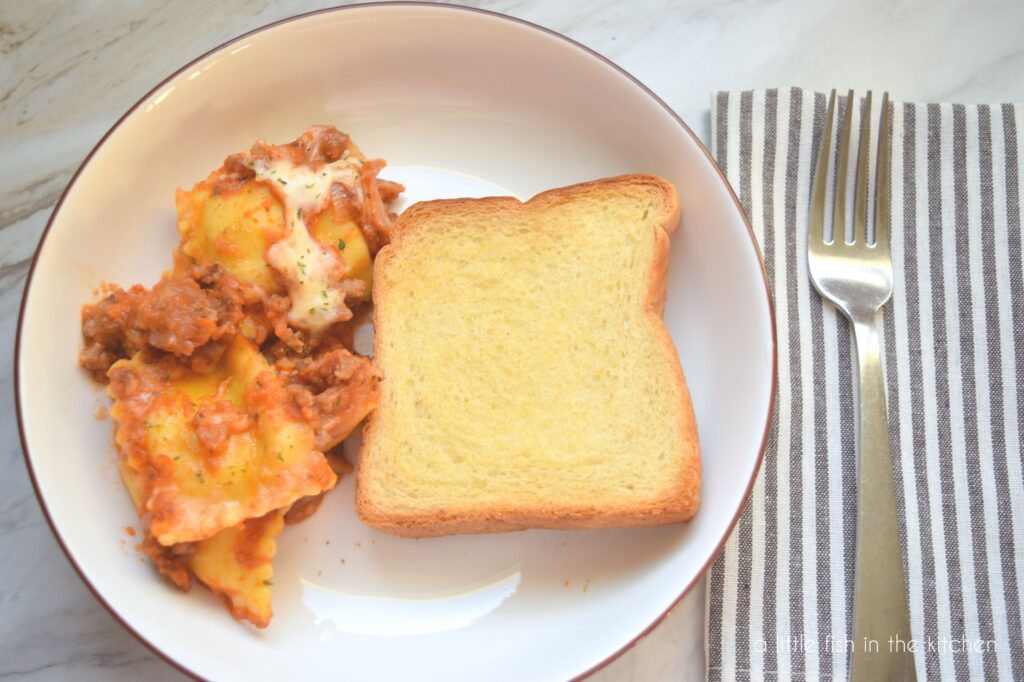 I typically pair this Slow Cooker Ravioli Lasagna up with garlic toast and a crisp, green salad just to keep it simple. However, any kind of crusty bread that you prefer and a steamed green veggie would be perfect sides to round out a meal starring this easy ravioli lasagna. I hope you enjoy this simple supper as much as we do!
A few more delicious slow cooker suppers will be shared soon, and I'm excited about it! One of my blogging resolutions for 2023 is to build up the category of slow cooker recipes on Little Fish!
Happy crocking, my amazing friends! -xo M
Pin this recipe!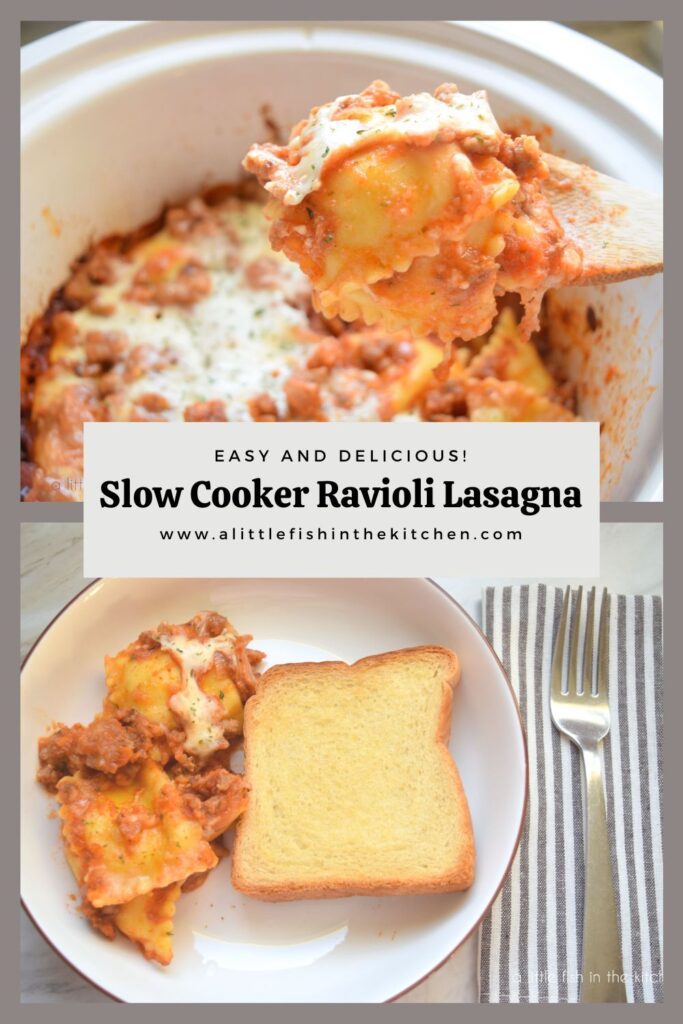 Check out one of my latest cooking videos and subscribe to my YouTube channel for even more recipes and live streams!
Enter your email address here so all of my new posts will be sent straight to your inbox! Subscribe now and never miss a post or an update!
Slow Cooker Ravioli Lasagna with Sausage
Course: Main
Cuisine: American
Difficulty: Easy
This slow cooker Ravioli Lasagna delivers all the comforting flavors of a traditional lasagna, but without all the fuss! This is a hearty meal that's perfect for any day of the week or any month of the year. Serve this with a crisp, green salad or a steamed green veggie. Don't forget the garlic bread sticks!
Ingredients
1 pound (16 oz) mild Italian sausage (if using links, remove meat from the casings)

1/3 cups coarsely chopped onion

1 jar (25 oz) marinara sauce

1/4 – 1/2 teaspoon crushed red pepper (optional)

1 package (19 oz) frozen cheese ravioli

1/2 cup grated Parmesan cheese (I used the stuff in the green can)

1-1/2 cups shredded mozzarella or Italian blend cheese
Directions
Heat a medium-sized skillet over medium heat. Add the Italian sausage cook, stirring often for 2 – 3 minutes. Drain off any excessive drippings and then add the chopped onions. Continue to cook until the meat is slightly browned and the onions are translucent. Add the marinara sauce to the skillet and stir well. Remove the skillet from the burner and set the pan aside.
Add 1/2 cup of prepared sauce (or just enough to cover the bottom) to the crock of a slow cooker. Next, add one half of the bag of frozen ravioli to the crock in one even layer. Sprinkle 1/4 cup Parmesan cheese and then 3/4 cup of shredded mozzarella. Repeat the layer with remaining ingredients.
Cover the slow cooker and allow it too cook on high for at least 3 hours, but it can simmer for up to 4 hours, if necessary.
Serve warm and enjoy!
Recipe Video
Notes
Recipe from A Little Fish in the Kitchen www.alittlefishinthekitchen.com. All content is owned by Marcelle G. Bolton. Please contact the author for permission to republish.