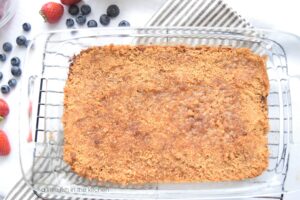 If you are an oatmeal fan, the recipe I'm sharing in this post is guaranteed to be added to your oatmeal-making rotation. Baked oatmeal is one of our favorite make-ahead breakfast dishes and this spiced brown sugar oatmeal version is a certified family-favorite in my house.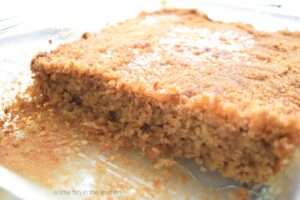 What is Baked Oatmeal?
Baked oatmeal is a breakfast casserole that is generally made with a combination of quick-cooking or regular oats, cream or milk, eggs, and sugar. This basic baked recipe oatmeal is an extremely forgiving and customizable dish. If necessary, nut milk can be used in place of the dairy ingredients and non-sugar sweeteners can replace any measure of sugar in a recipe. Flavors can be changed up in a pan of baked oatmeal according to preference, or seasonally by adding in whole fruit or fruit puree, and spices. And there are a number of delicious toppings and combinations of toppings that would be delicious served with it!
Baked oatmeal has been compared to bread pudding in several blog posts I've read, but my kids always refer to this breakfast casserole as breakfast CAKE when I make it! I would definitely liken this dish more to a breakfast cookie bar, a soft breakfast cookie, or indeed a breakfast cake rather than bread pudding, truthfully. It retains much more texture than bread pudding does in my opinion due to the nature of the oats.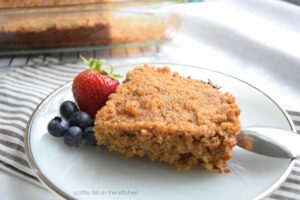 We like to eat slices of baked oatmeal warm, served on its own with a side of fresh fruit (especially summer berries). However, I also enjoy eating a slice of baked oatmeal served in a bowl and nestled in a shallow pool of creamy, ice-cold milk! Warm, spiced oatmeal, and milk is just such a comforting combination!
This recipe makes a large 9×13 in pan full of this delicious breakfast treat. We like to bake this on a Sunday morning and have it around in our fridge to make our mornings easy for the next few days. You could also slice this into individual food containers to food prep for busy mornings on the go. It keeps beautifully in the refrigerator for up to 7 days!
Happy eating, my friends!
Other Little Fish oatmeal recipes you might like:
Pan-Toasted Cranberry-Almond Muesli
Creamy Vanilla-Orange Overnight Oats
Wouldn't you like to stay awhile? Sign-up here to receive all of my new posts in your inbox! Subscribe now and never miss a recipe or an update!
You will definitely want to Pin this recipe for later, y'all!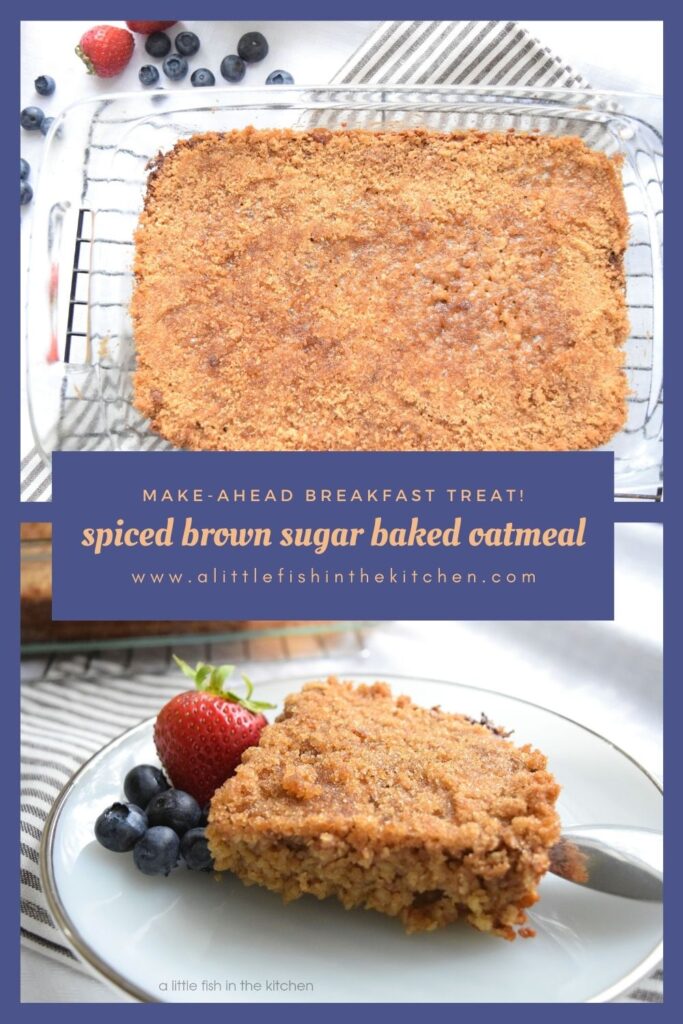 One of my latest videos!
Spiced Brown Sugar Baked Oatmeal
Course: Breakfast, Brunch
Cuisine: American
Difficulty: Easy
Ingredients
3 cups quick-cooking oats

1/2 cup light brown sugar

2 teaspoons baking powder

1/4 teaspoon salt

2 teaspoons ground cinnamon

1/2 teaspoon ground nutmeg

1/2 teaspoon ground ginger

2 large eggs. beaten

1/2 cup milk

1 teaspoon vanilla extract

1/2 cup heavy whipping cream

1 stick (1/2 cup) salted butter, melted and cooled slightly

For the brown sugar topping

1/4 cup salted butter, room temperature

1/3 cup brown sugar
Directions
Pre-heat oven to 350° In a large mixing bowl combine the dry ingredients: oats, brown sugar, baking powder, and spices. Stir well and set aside.
In another small bowl combine beaten eggs, cream, milk, cooled butter, and vanilla extract. Pour wet ingredients into dry ingredients and stir until the mixture is moistened and well-combined. Spray a 9×13 inch baking dish with non-stick cooking spray, spread oatmeal mixture evenly into the greased baking dish.
Bake for 15 minutes and then remove from the oven to apply brown sugar topping (instructions below) Once topping ingredients are added to the baked oatmeal, return the baking dish to the oven to complete bake time.
Remove brown sugar baked oatmeal from the oven and cool slightly on a rack. Serve warm or room temperature. Enjoy!
For the brown sugar topping
Spread butter on top of partially baked oatmeal and then sprinkle brown sugar over the tops evenly. Return pan to oven.
Recipe Video
Notes
Recipe from A Little Fish in the Kitchen blog at www.alittlefishinthekitchen.com. All content is owned by Marcelle G. Bolton. Please contact the author for permission to republish.