Welcome to day five of the fourth annual #FallFlavors! We have 21 bloggers sharing over SIXTY recipes using fall ingredients like squash, apples, maple, pecans, and many more. Follow #FallFlavors to see all the delicious recipes on social media.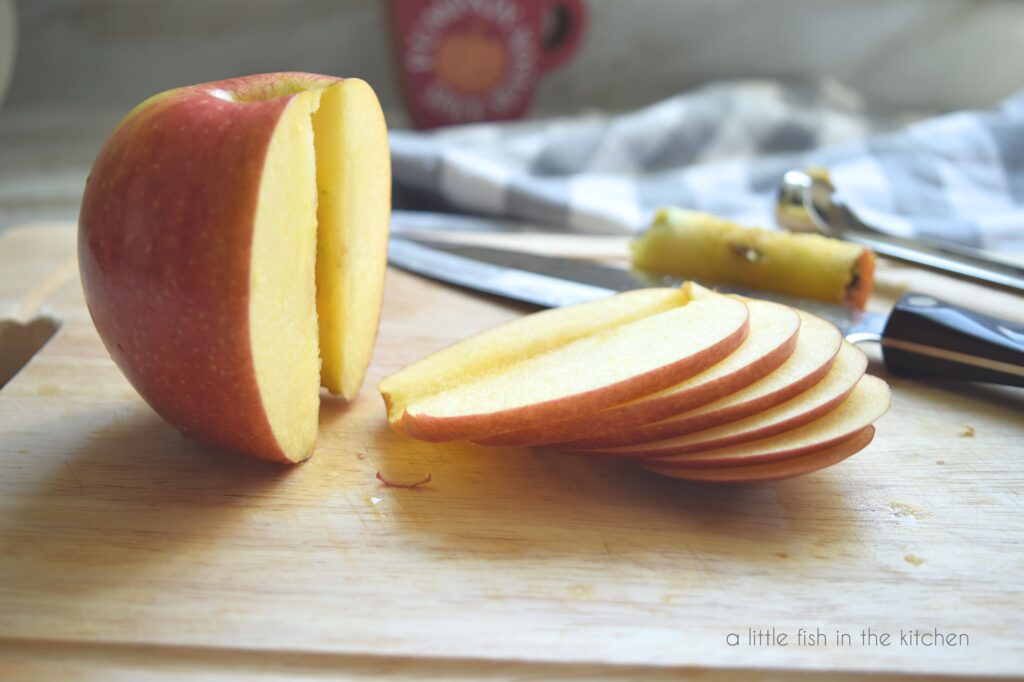 In my kitchen, quesadillas have always been one of my go-to's for a quick and tasty meal any time of the day. We actually eat a lot of them for after school snacks or for a protein-packed dinner on-the-fly. Even on the worst days, I at least have cheese and tortillas on hand! However, my kids love simple, toasty quesadillas stuffed with chicken (rotisserie chicken from the store is a life-saver!) and cheese or refried beans and cheese. Evan and I really enjoy these flavorful and Spicy Two-Bean Southwestern Quesadillas as a main dish, and we often pair up them up with a bowl of this comforting Sopa de Fideo, to make it a more of hearty meal.
Another thing I love about quesadillas are how versatile they are, and lately we've been experimenting with breakfast quesadillas as well as other recipes that, at times, have us straying far from our Tex-Mex roots.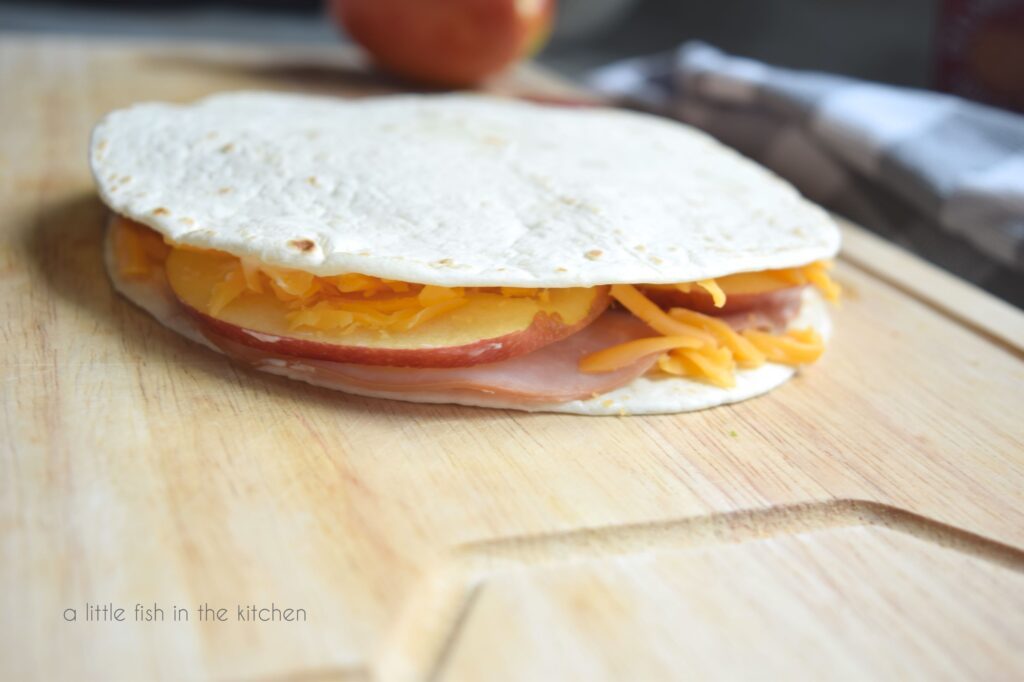 One of our favorite experimental flavor combinations so far has come around in the form of these simple Ham, Apple and Cheddar Quesadillas. A melty ham and cheddar quesadilla is a kid-approved favorite and standard fare around our house; but that simple combination became oh-so-elevated with the addition of some crisp, sweet slices of apple into those stacked tortillas.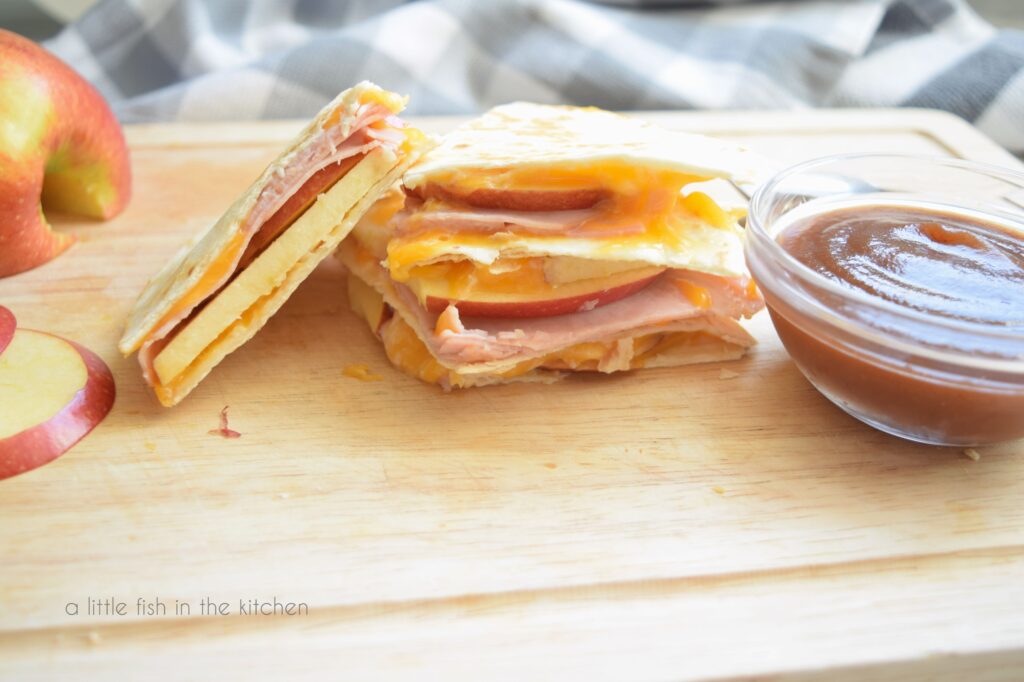 How to make ham, cheddar and apple quesadillas
I like to make these Ham, Apple and Cheddar Quesadillas using low-carb tortillas, a smear of tangy apple cider vinegar salad dressing or honey mustard dressing, deli-sliced honey ham, and thin slices of a crisp, medium sweet apple.
Please do try my homemade Creamy Apple Cider Vinegar Salad Dressing if you make these quesadillas and any other recipes you see fit to go with it. I make it all year round, and it's honestly one of my favorite salad dressings recipes of all time!
The first time I made this recipe, my picky 9-year-old girl, shuddered at the thought of apples mixed in with her ham and cheese. However, ham, cheddar and apple work together as a perfectly balanced mix of sweet and savory flavors. It's a popular combination in many other sandwich recipes too. There's a good reason for that…it's delicious!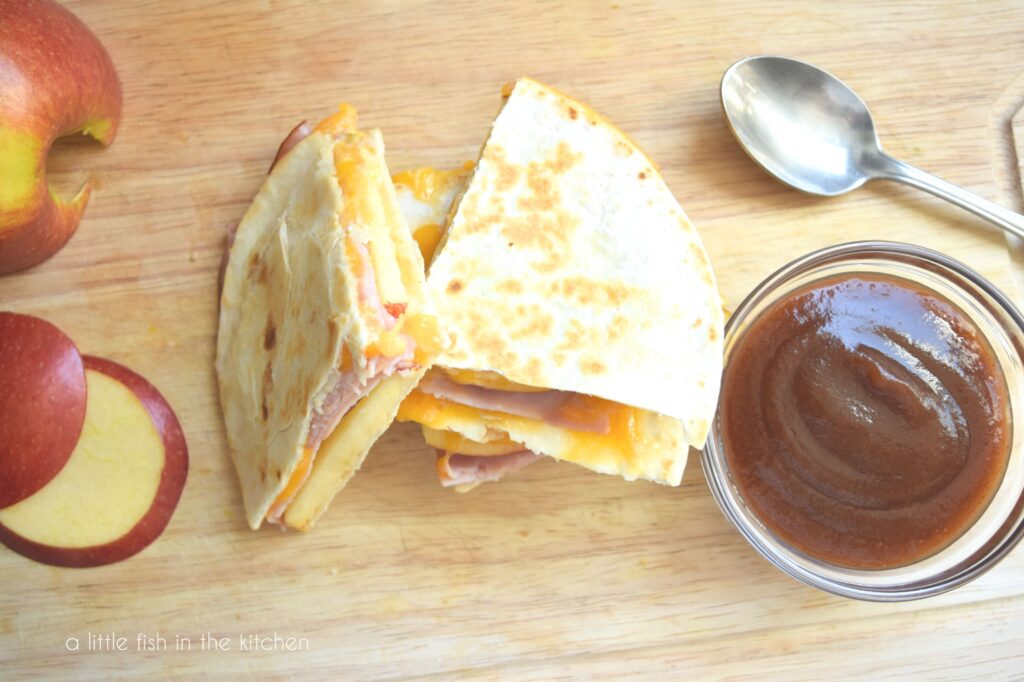 When it comes to quesadillas, I love to dip them. With our usual Tex-Mex, meat and cheese combos, I just have to have a bit of salsa, guacamole and sour cream on the side. However, with this flavorful, sweet-salty Ham, Apple and Cheddar version, I serve a side of homemade apple butter (recipe to be posted very soon!) or a dollop of fig preserves enjoy with them. We think either topping is a delicious match with the fantastic fall flavors in this toasty sandwich!
Think you'll still be hungry? Well, pair the melty quesadilla up with a bowl of soup, fideo or a crisp green salad to make it more satisfying meal! 
I hope y'all enjoy this simple recipe and celebrate the flavors of the season with some good food, family, friends and fun! xo – M
🌻🍂🎃More autumn-inspired recipes you might enjoy:
Save this recipe on Pinterest!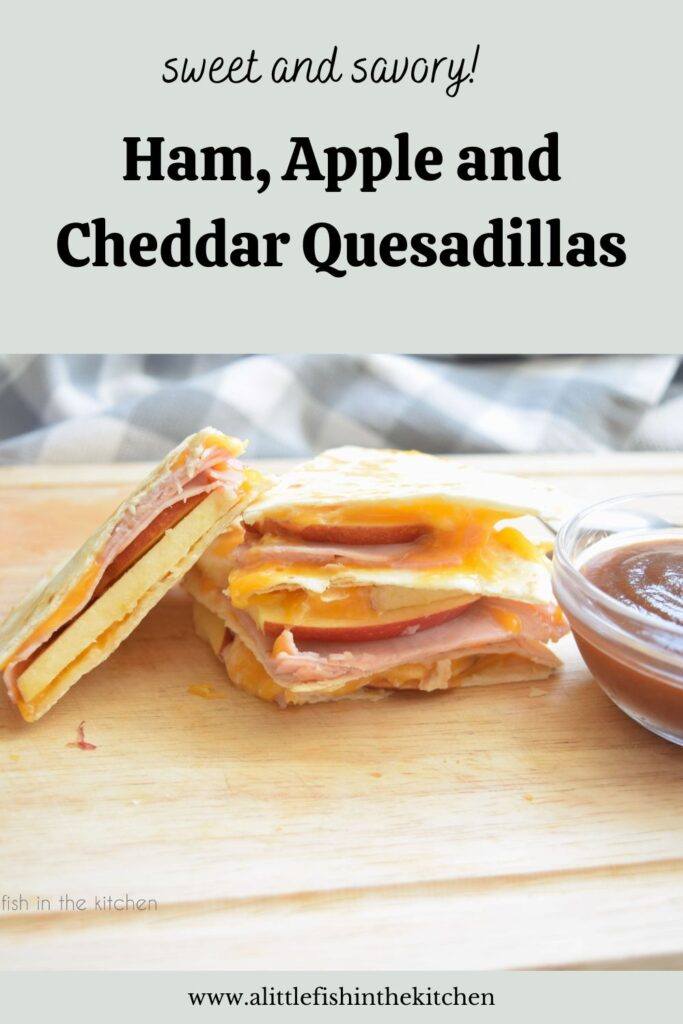 Please check out one of my latest videos and subscribe to my YouTube channel for more recipes and livestreams!
Enter your email address below to have all of my new posts sent directly to your inbox! Never miss a new recipe or an update, subscribe now!
Please check out all the delicious recipes below from some of my talented food bloggers friends and Happy Fall, y'all! 🎃🌻🍂
Friday #FallFlavors Recipes
Appetizers and Beverages
Breads
Sauces
Mains Dishes
Desserts
Follow the Favorite Fall Recipes Facebook group and follow the Favorite Fall Flavors Pinterest board for more fall inspiration!
Ham, Apple and Cheddar Quesadillas
Course: Main, Lunch
Cuisine: American
Difficulty: Easy
This Ham, Cheddar and Apple Quesadilla is a quick and simple way to celebrate the flavors of fall. It's also a quick and delicious after school snack!
Ingredients
2 flour tortillas, (I used low-carb tortillas)

1 tablespoon creamy apple cider vinegar salad dressing or honey mustard salad dressing

4 slices of thin-sliced, deli honey-ham

1/2 cup shredded sharp cheddar cheese (I used 2% sharp cheddar)

4 slices of a crisp, medium sweet apple (I used an Envy apple, but Honey Crisp or Pink Lady apples would also work well with this recipe)
Directions
Lay tortillas flat on a cutting board or another work surface. Spread a very thin layer of salad dressing on each tortilla.
Spread 1/4 cup shredded cheese on one tortilla and then layer the apple slices and ham on top of the cheese. Top layers with the remaining 1/4 cup of shredded cheese. Place the the second tortilla on top of the stack, dressing side down.
Warm a skillet over medium heat. Carefully transfer to the prepared quesadilla to warm skillet. Toast for 3-4 minutes or until a light golden brown and then use a spatula to flip it over. Toast for 3-4 minutes more.
Use a spatula to transfer the ham, apple and cheddar quesadilla to a plate. Use a pizza cutter to cut it into wedges. Serve with apple butter or fig preserves!
Notes
Recipe from A Little Fish in the Kitchen blog at www.alittlefishinthekitchen.com. All content is owned by Marcelle G. Bolton. Please contact the author for permission to republish.