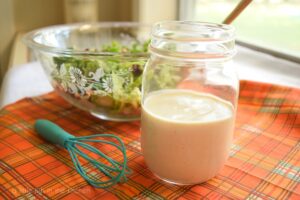 There's a salad for all seasons
I know most people think of salads being best on the menu just for spring and summer, but there are some scrumptious and hearty salads I looking forward to making in the fall. I love to make a variety of autumn-themed salads that feature colorful ingredients like crunchy pepitas, roasted chickpeas, roasted sweet potatoes, toasted pecans, shaved brussel sprouts, as well as a few tasty others. When it comes to pairing a salad dressing with my favorite fall salads, there is just no better choice than this homemade creamy apple cider vinegar salad dressing!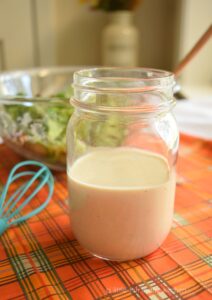 How to make apple cider vinegar salad dressing
A couple of months ago, when I decided to make some apple cider vinaigrette at home, of course I searched for recipes online. I found several recipes for apple cider vinaigrette already out there on the web, so I dabbled with the most common ingredients listed in all of those recipes to make my own. It turned out that I had everything on hand to give this luscious dressing a go right away.
All that was needed for a little batch of dressing was mayonnaise, Dijon mustard, apple cider vinegar (of course!), honey or maple syrup, salt and pepper. There are also plenty of apple cider vinaigrette recipes that only use olive oil and no mayonnaise, posted on various websites out there too. However, given my love of rich salad dressings, I wanted to make the creamy version of this classic dressing with mayo!
After just a few attempts, I finally nailed down my favorite combination of the ingredients to make up this recipe and I'm sharing it with you all today!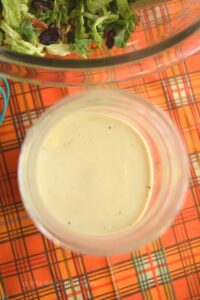 Without a doubt, this is the most popular salad dressing at my place at the moment and for good reasons! This creamy apple cider vinegar salad dressing has a distinctive flavor, it's slightly sweet with a perfect bit of tang from the apple cider vinegar. It also has a lovely champagne color and it's crazy easy to make!
For a long time, we kept a bottle of commercially made apple cider vinaigrette in our refrigerator. However, when it comes to salad dressings these days, I truly prefer to make them myself as often as I can. I'm just really put off by those intimidating mystery ingredients listed on the labels of so many bottled dressings. Now, I suppose I could research all of those additives to figure out if I'm good with them or not, but I just won't make time to do that. I'd rather spend time my time searching for a recipe to make it myself. My priorities are showing, I guess y'all.
My hope is that you'll enjoy this flavorful, creamy apple cider vinegar salad dressing as much as we all do!
Be sure to check out the You Tube video for this recipe below! You can watch me make this entire recipe for you! In the video, I get a little help (and little comic relief) from my daughter. Don't forget to subscribe to my channel when you visit! Can't wait to see you there!
Happy eating, y'all!
Another homemade salad dressing you might enjoy is this recipe for my homemade Buttermilk Ranch Dressing!
MY LATEST VIDEO!
You'll definitely want to Pin this one for later, y'all!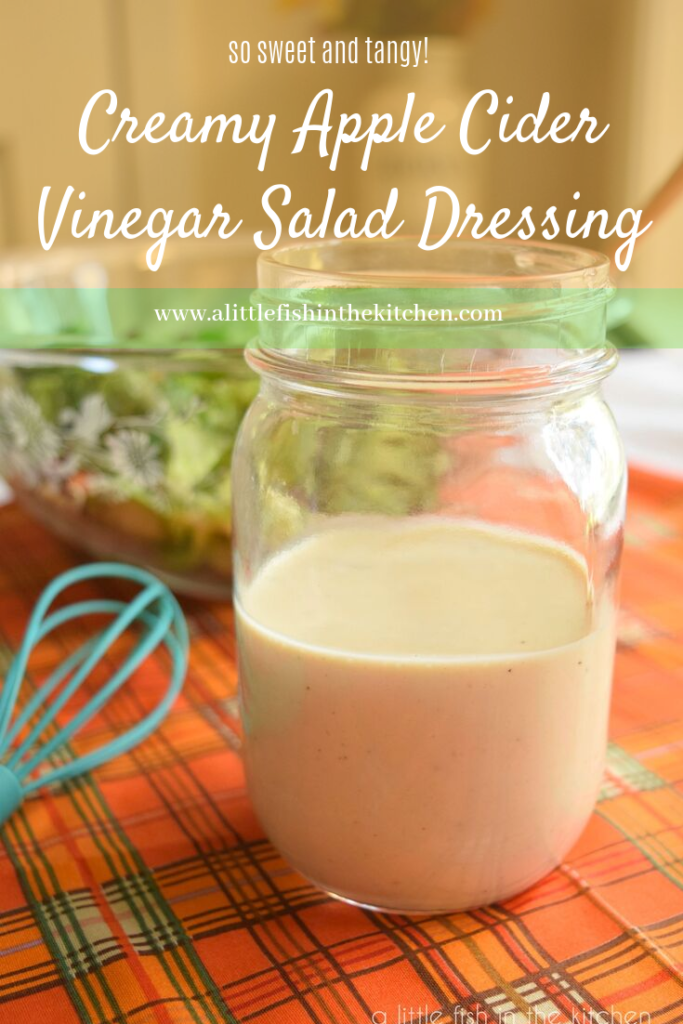 Be sure to sign up here for my free email list so you'll never miss a post! I'm also working up a newsletter that will be sent out exclusively to my email subscribers, don't miss the fun. Sign up! 🙂
Creamy Apple Cider Vinegar Salad Dressing
Course: Salads
Cuisine: American
Difficulty: Easy
This silky apple cider vinaigrette has a one-of-a-kind sweet and tangy flavor. This will become a family favorite salad dressing! This recipe will yield roughly 3/4 cup of vinaigrette.
Ingredients
2/3 cup mayonnaise

4 tablespoons Dijon mustard

4-5 tablespoons real maple syrup or honey (to taste)

4 tablespoons apple cider vinegar

1/4 tsp salt

good pinch of ground black pepper
Directions
Combine mayonnaise, mustard and syrup or honey in a small bowl and stir. Mix in the cider vinegar, salt and pepper to taste.
Chill for 20- 30 minutes be serving, if desired or you can use it immediately.
Enjoy!
Recipe Video
Notes
Recipe from A Little Fish in the Kitchen www.alittlefishinthekitchen.com. All content is owned by Marcelle G. Bolton. Please contact the author for permission to republish.