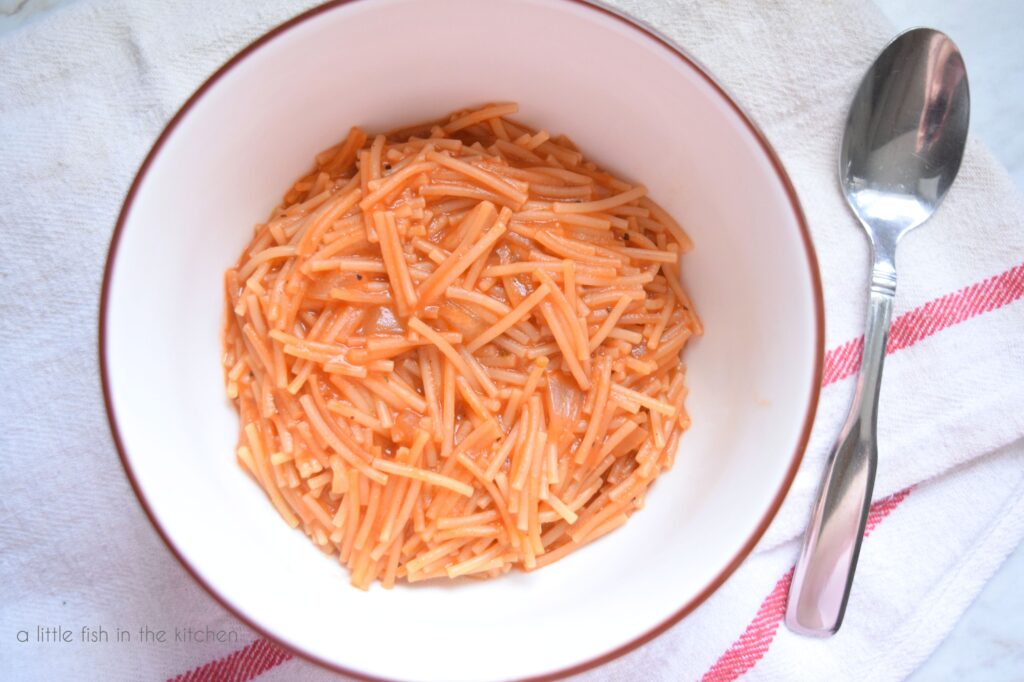 Sopa de Fideo is a popular comfort food recipe here in South Texas. The dish is more commonly known as simply "fideo"and how it's prepared varies from kitchen to kitchen and from family to family.
I grew up eating the uncomplicated version I'm sharing about today and it wasn't common for other ingredients to be mixed into the pot to bulk up the soup itself. We pretty much ate it simmered just like this, although some nights, my mom did not want the smoky spices added in and the soup was a bit more bland (gimme all the spices, y'all!). However, a pot of fideo was often served alongside some variety of simple soft tacos to round out the meal for us.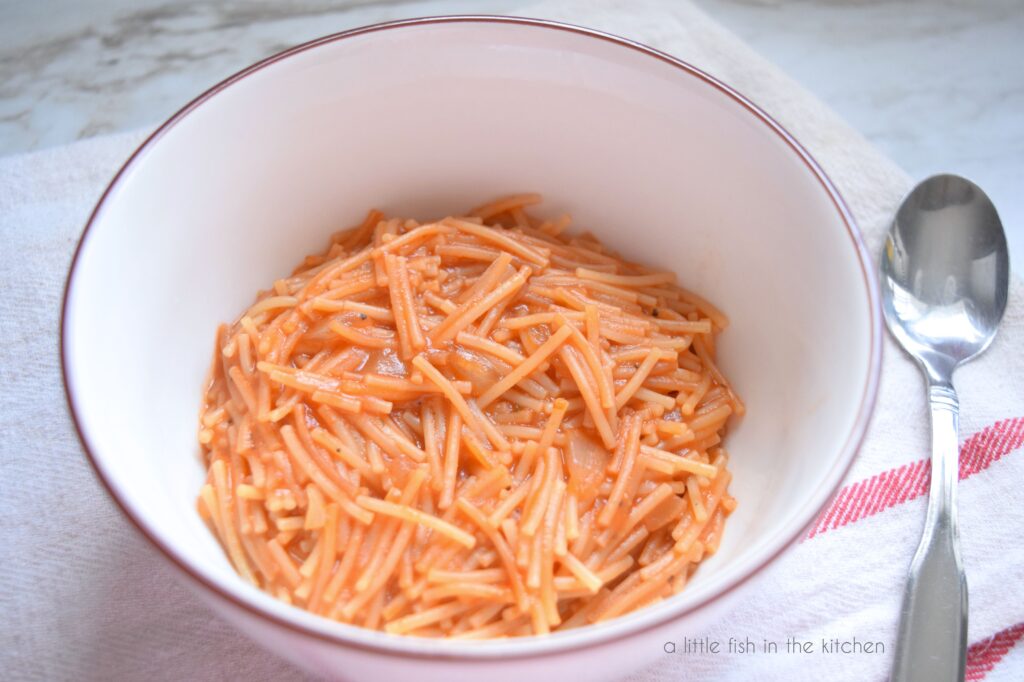 To this day, a warm bowl of fideo served up with a beef soft taco or a bean and cheese taco (another kid-friendly food staple) is a combination that ranks right up there with the likes of tomato soup and a grilled cheese or cornbread and chili! In my opinion, this is comfort food gold.
How to make fideo
This basic recipe for Mexican Noodle Soup, or fideo, is a traditional, go-to, budget-friendly recipe in my neck of the woods. It's commonly made using pantry staple ingredients, such as pasta, tomato sauce, and chicken broth. It's also simply seasoned with onion powder, cumin, chili powder, garlic or garlic powder or any combination of those spices.
Interestingly, fideo is also known as what is referred to as a "dry soup" (yes, it's a thing). Once the pan is removed from the heat and as the dish sits, the pasta will eventually absorb all of the broth, making it become "dry". If you prefer a more brothy sort of fideo, you will have to add a cup or two more of broth or water to offset the absorption process.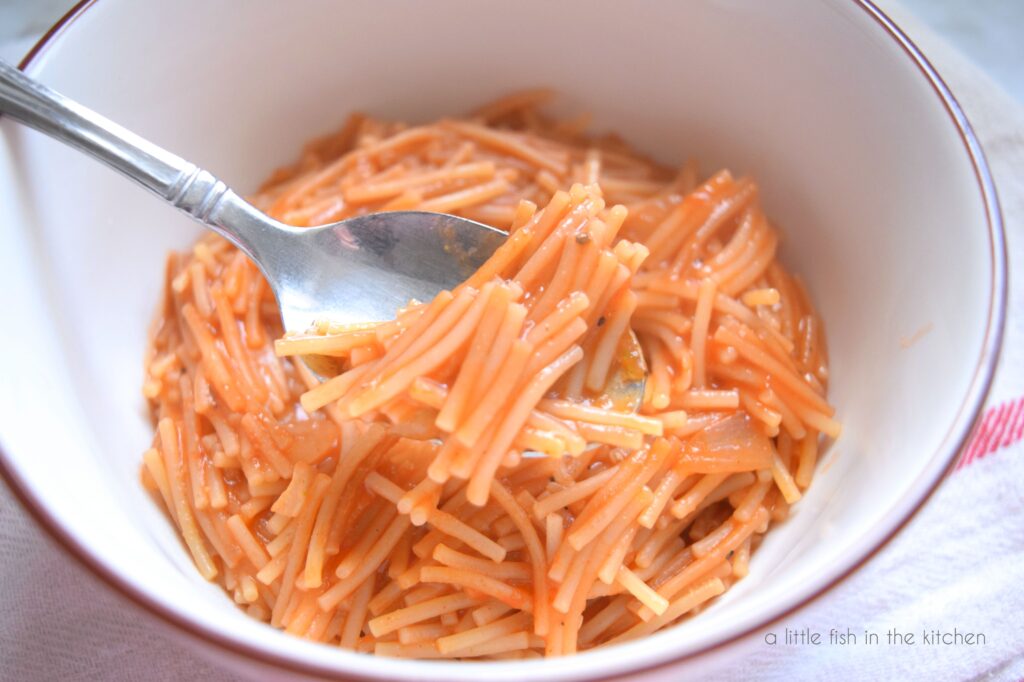 Fideo is still one my favorite dishes to serve my family. It's ready to serve in just minutes, so it's a great quick meal for busy nights. It's also really tasty so it nourishes our hearts and souls and satisfies our tummies. And, perhaps best of all, the ingredients used to make it are all inexpensive, so it's a good recipe to have around for those weeks where the grocery budget is a bit lean.
In fact, this recipe for simple fideo is among the staple cheap eats that basically nourished me through my desperate college years. At that time in my life, I also depended heavily on the stereotypical cases of ramen noodles as well as millions of scrambled eggs and buttered white toast! Anyhow, I'll always have a soft spot in my heart for this type of super simple, but delicious home cooking.
I hope you all enjoy it if you try it. If you wanted to add-in other ingredients to bulk up the fideo, a cup or two of cooked, chopped meat (chicken or ground beef are good in this!), bell peppers, onions and jalapenos are all great ingredient choices for doing that!
Please check out one of my latest videos and subscribe to my YouTube channel for more recipes and livestreams!
Enter your email address below to have all of my new posts sent directly to your inbox! Never miss a new recipe or an update, subscribe now!
Be to Pin this recipe for later!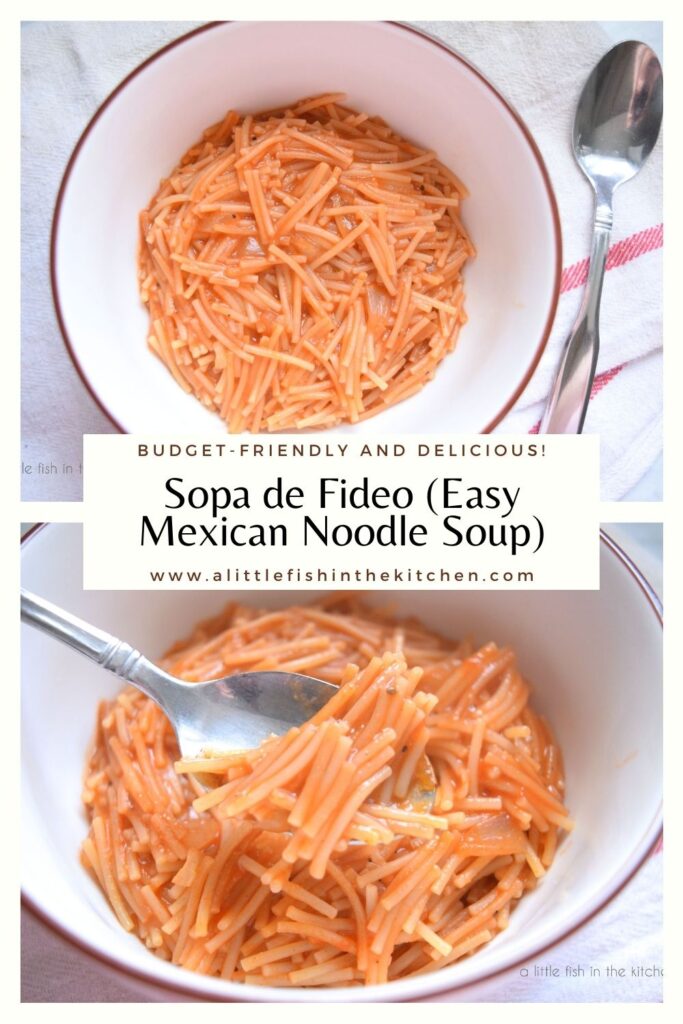 Sopa de Fideo (Easy Mexican Noodle Soup)
Course: Main
Cuisine: Mexican
Difficulty: Easy
Sopa de Fideo or "fideo" as it's commonly known, is a popular, budget-friendly main dish in Texas. This is my favorite version of the basic recipe for the dish. Feel free to add in a measure of chopped, cooked meat, bell peppers or other vegetables to bulk up the dish as you prefer!
Ingredients
2 tbsp olive oil

1 (5-7 oz) package fideo vermicelli or 7 oz. thin spaghetti broken into 1-inch pieces

1/4 of a medium onion, coarsely chopped

1-2 teaspoons ground cumin (to taste)

1/2 – 1 teaspoon chili powder (to taste)

1/4 teaspoon garlic powder

1/2 teaspoon onion powder

1/2 teaspoon ground black pepper

1 bay leaf (optional)

2-1/2 cups chicken broth
or 2-1/2 cups water with appropriate amount of chicken-flavored bouillion

1 (8 oz) can tomato sauce
Directions
In a large skillet, combine the oil and the uncooked pasta. Saute the pasta over medium heat, stirring very often, until it's golden brown.
Add the chopped onion and spices to the skillet and stir to mix. Stirring constantly (don't let the dry pasta burn) allow the onion to saute for about 1 minute. Add the broth (or water and bouillion) and the can of tomato sauce to the pan. Stir well to mix. Bring the liquid to a boil and then reduce the heat to a simmer.
Allow the pot to simmer uncovered for about 10 minutes or until the pasta is tender. Remove the bay leaf, if used in the recipe and then remove the skillet from the heat.
Serve soup immediately (*see notes). Garnish individual servings as desired and enjoy!
Recipe Video
Notes
*The sauce/broth will continue to absorb into the noodles as the pan sits, so it's known as a dry soup. Add 1-2 more cups of broth or water to offset the absorption process, if you prefer to keep more liquid in the soup.
Recipe from A Little Fish in the Kitchen www.alittlefishinthekitchen.com. All content is owned by Marcelle G. Bolton. Please contact the author for permission to republish.