Quesadillas have been all the rage at my place lately… well, truthfully quesadillas are all the rage, all of the time at my place. They are a quick and tasty snack that can easily transform into a full meal when served with a side salad or a simple side of rice. My kids love to snack on a comforting, melty quesadilla and they like theirs in an authentic-style and prefer just cheese between their toasted tortillas. Believe me, they are both sticklers on this cheese-only preference!
While the kids enjoy their cheese, Evan and I typically like to add in some chopped up chicken or beef fajitas along with some sauteed onion and green peppers for a heartier quesadilla.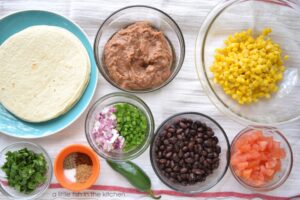 For this week's #MeatMainDay post I'm sharing one of my favorite recipes for a satisfying, veggie-loaded quesadilla. This spicy two-bean Southwestern quesadilla is just teeming with colorful ingredients, melty cheese, hearty beans and flavor! I guarantee you will not miss the meat when you make this as a protein-packed main dish.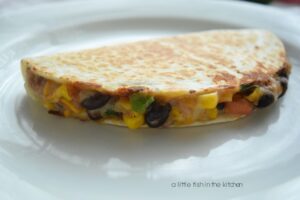 How to make a spicy two-bean Southwestern quesadilla.
This spicy two-bean Southwestern quesadilla starts with a tortilla that is filled with a few layers of satisfying ingredients. These include vegetarian refried beans, a zesty veggie mixture of corn, black beans, fresh jalapeno, red onion, tomatoes and cilantro! And lest we forget cheese, y'all! Of course, there is a good measure of cheese layered into this colorful, vegetarian quesadilla.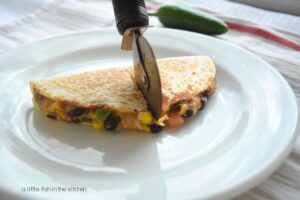 We pulled out all the stops when we served this loaded quesadilla and paired it up some simple Spanish rice as well as fresh guacamole, sour cream and salsa! This was definitely one of our favorite fast feasts. I hope you enjoy it too!
How do you like your quesadillas?
Here's on of my latest YouTube videos! Be sure to subscribe to my channel for even more recipes and live streams!
You'll definitely want to Pin this recipe for later, y'all!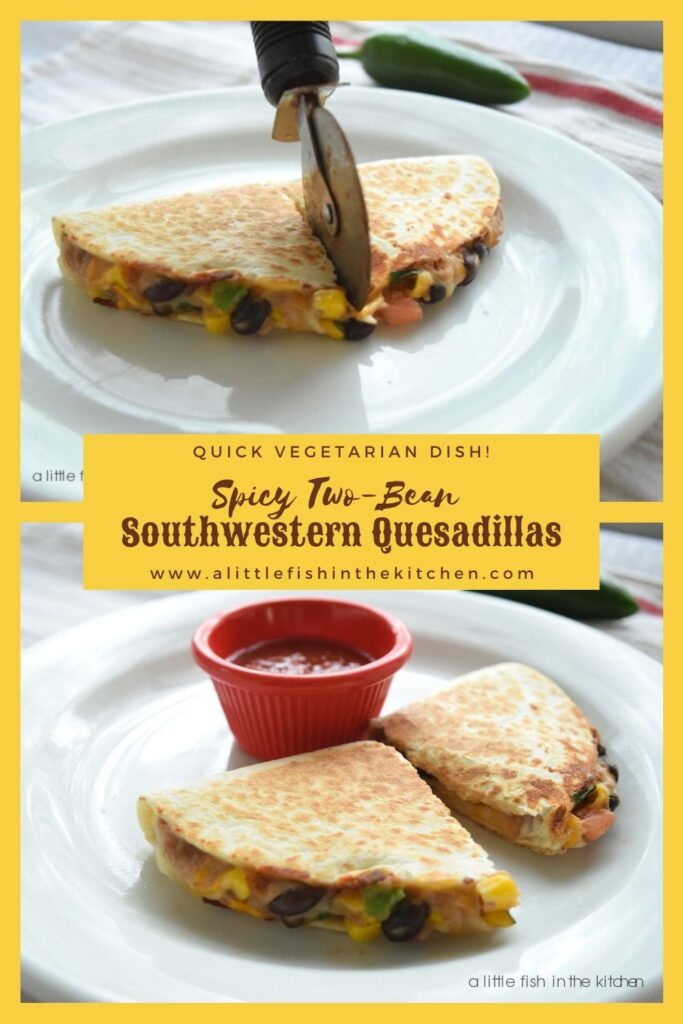 Wouldn't you like to stay awhile? Sign up here to receive all of posts right to your inbox! Subscribe now and never miss a new recipe or an update!
Spicy Two-Bean Southwestern Quesadillas
Course: Main
Ingredients
1 cup cooked black beans

1 cup corn kernels

one half of a large, fresh jalapeno, seeded and finely chopped

one half of a large tomato, seeded and coarsely chopped

2 tablespoons of red onion, finely chopped

1/2 cup fresh cilantro, coarsely chopped

1/4-1/2 teaspoon salt (to taste)

1/2 teaspoon ground black pepper

1 teaspoon cumin

1 teaspoon chili powder (to taste)

Tortillas, store-bought or homemade

1 can (15 oz) vegetarian refried beans

1-1/2 cups cheddar or Mexican blend cheese, shredded
Directions
In a medium-size bowl, mix black beans, corn kernels, jalapeno, red onion, cilantro and spices together. Set bowl aside.
Pre-heat a dry skillet over medium heat.
Spread 2 tablespoons of refried beans on one half of a whole tortilla and top with 2 tablespoons shredded cheese. Top with 2 – 3 tablespoons of black bean and corn mixture. Add another 2 tablespoons of shredded cheese.
Fold the tortilla over to close the quesadilla and place into the warm skillet. Once it is in the pan, gently press down with a spatula so it will hold it's shape. Allow to toast on side for 1 -2 minutes and use the spatula to carefully flip the quesadilla over onto the other side. Allow to toast for another 1 – 2 minutes or until cheese is melted and the filling is warmed through.
Transfer the warm quesadilla to a plate and use a pizza cutter to cut it into two pieces, if desired.
These spicy two-bean Southwestern quesadillas are terrific served with guacamole, sour cream, salsa and a side of Spanish-style rice!
Recipe Video
Notes
Recipe from A Little Fish in the Kitchen at www.alittlefishinthekitchen.com. All content is owned by Marcelle G. Bolton. Please contact the author for permission to republish.