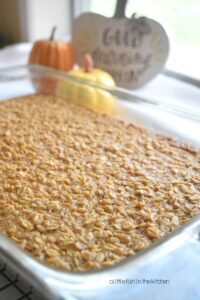 This pumpkin pie baked oatmeal is a hearty, comforting breakfast casserole that's excellent served cold, although I prefer to eat my slice warmed up and served with milk or yogurt. It's also nice when eaten with some fresh fruit on the side. When I feel like being a little extra (which is mostly all the time), I'll top mine with a generous dollop of sweetened whipped cream and a sprinkle of extra cinnamon and sugar.
It's seriously like having dessert for breakfast!
In general, I think baked oatmeal is a fantastic choice for a make-ahead breakfast to get you through hectic weekday mornings. This pumpkin pie baked oatmeal recipe makes a large pan of this sweet breakfast casserole and depending on how you slice it, it makes 8 or more servings. It will keep in the refrigerator for up to 5 days, but this probably won't be an issue because it probably won't even last that long!!
The large serving size is also perfect for feeding a crowd. This is a fantastic menu choice for breakfast in a bustling kitchen on a holiday morning or to bring to an office pot luck party.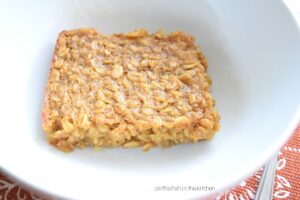 How to make pumpkin pie baked oatmeal.
This recipe is essentially a serving of hearty oats baked into a traditional pumpkin custard filling! The simple pumpkin pie custard is made with pumpkin puree, pumpkin pie spice, eggs, milk, maple syrup, and vanilla extract. To the oats, you will add a few common baking ingredients such as baking powder, salt, and brown sugar.
Generally, I use quick-cooking and old-fashioned oats interchangeably when I make any recipe for baked oats. My kids have a preference for the soft texture that results from using quick-cooking oats in recipes like this one, and I have a preference for the more firm texture of the old-fashioned oats. So, we take turns on which type of oats we add into morning casseroles like this one when we make them. However, we all enjoy the end result no matter what sort of oats are chosen.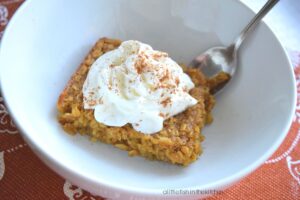 Today is the last day of #PumpkinWeek 2020 and so this is my last recipe contribution for this year! I hope you've seen some new recipes to try this week, I know I have! Please keep scrolling and check out today's recipes from our talented bloggers.
Wouldn't you like to stay awhile? Sign-up here to receive all of my new posts in your inbox! Subscribe now and never miss a recipe or an update!
You'll definitely want to Pin this recipe for later, y'all!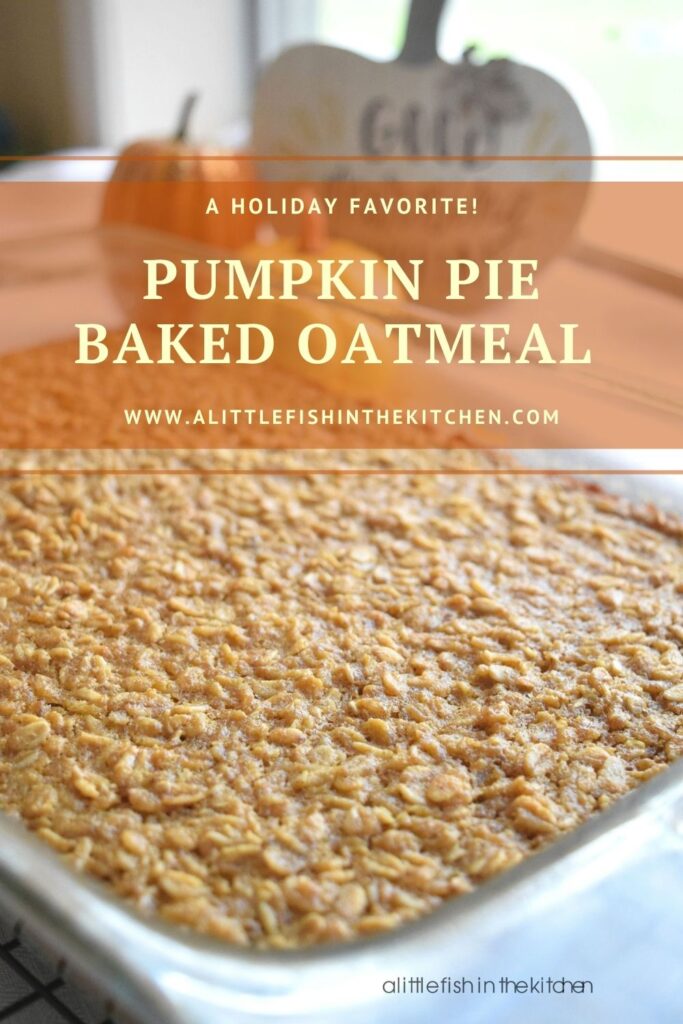 Check out one of my latest videos!
Pumpkin Pie Baked Oatmeal
Course: Breakfast, Brunch
Cuisine: American
Difficulty: Easy
This pumpkin pie baked oatmeal is like having dessert for breakfast! Top it with sweetened whipped cream for an extra special breakfast treat!
Ingredients
3 cups old-fashioned or quick cooking oats

1 teaspoon baking powder

3 teaspoons pumpkin pie spice

1/2 teaspoon salt

1/2 cup light brown sugar

1/2 cup (1 stick) salted butter, melted and slightly cooled

1 cup pumpkin puree

1/2 half cups milk

2 large eggs, slightly beaten

1 teaspoon pure vanilla extract

2 tablespoons pure maple syrup
Directions
Preheat the oven to 350° and grease a 9×13 inch baking dish then set it aside.
In a large bowl combine the oats, baking powder, pumpkin pie spice, brown sugar and salt. Stir well and set the bowl aside. In another medium-size bowl, combine the pumpkin puree, eggs, cooled butter, milk, vanilla, and maple syrup. Stir well.
Pour the pumpkin mixture into the large bowl with the oat mixture and stir until well mixed. Pour the oat mixture into the prepared baking pan. Bake for 30 minutes or until a toothpick inserted into the center comes out clean.
Cool on a rack for 15-20 minutes before serving. Serve warm with milk or yogurt. For an extra special breakfast treat, top with whipped cream and an extra sprinkle of cinnamon!
Recipe Video
Notes
Recipe from A Little Fish in the Kitchen blog at www.alittlefishinthekitchen.com. All content is owned by Marcelle G. Bolton. Please contact the author for permission to republish.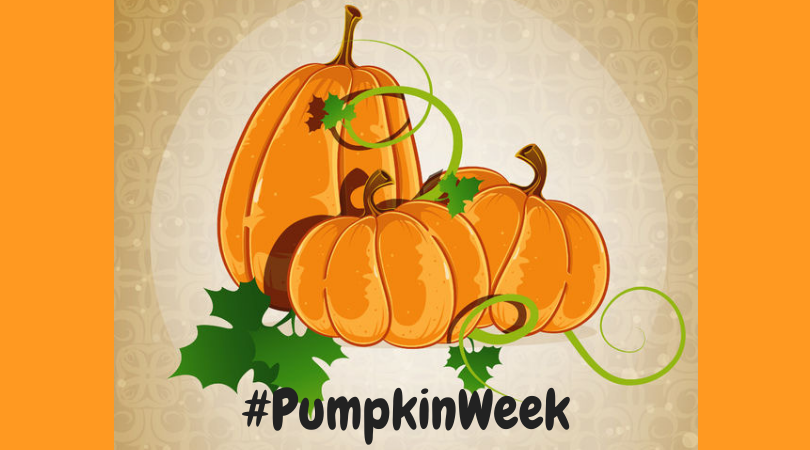 Pumpkin season is here, and we are celebrating our love of pumpkin with #PumpkinWeek hosted by Terri from Love and Confections and Christie from A Kitchen Hoor's Adventures. All week-long 26 bloggers will be sharing over 80 pumpkin-filled recipes for all your Autumn celebrations, including breakfasts, baked goods, savory pumpkin recipes, desserts, and drinks.
Drink Recipes
Breakfast and Baked Goods
Savory Recipes
Dessert Recipes