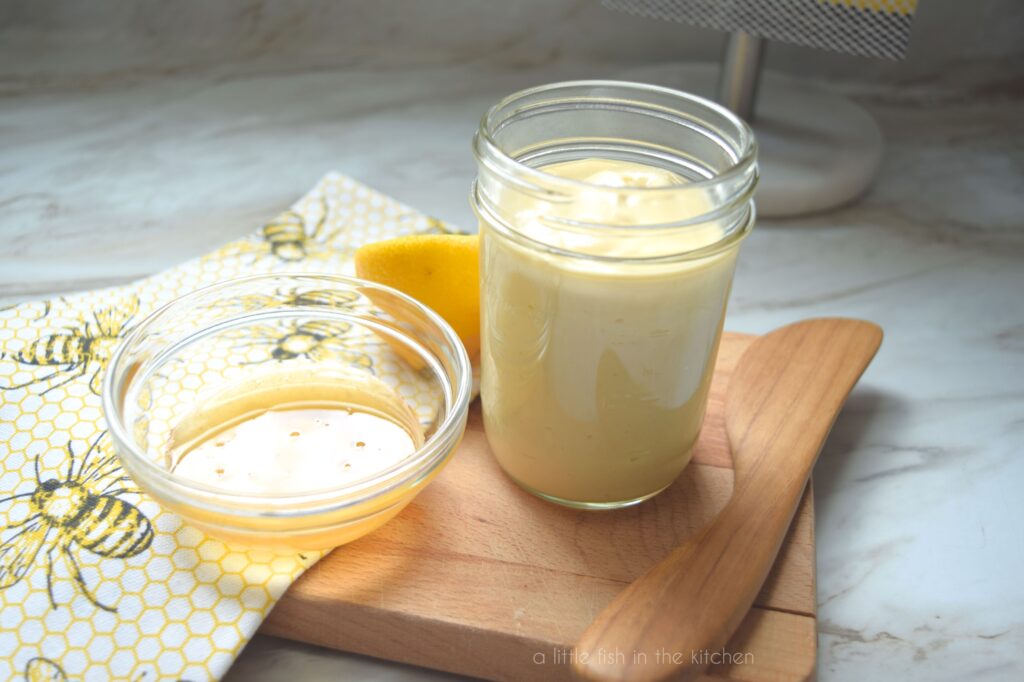 My family's love for the flavors of a sweet and tangy honey mustard sauce is well-documented in older posts on this little food blog. I've previously shared here about four recipes that feature some version of a honey mustard sauce as a seasoning base, salad dressing or dipping sauce. Seeing as how we adore the stuff, I will continue to share more ways to love it!
I still make all of the previously published recipes at home from time to time, especially these Crispy Honey Mustard Chicken Tenders. They are a tried and true, family favorite main dish.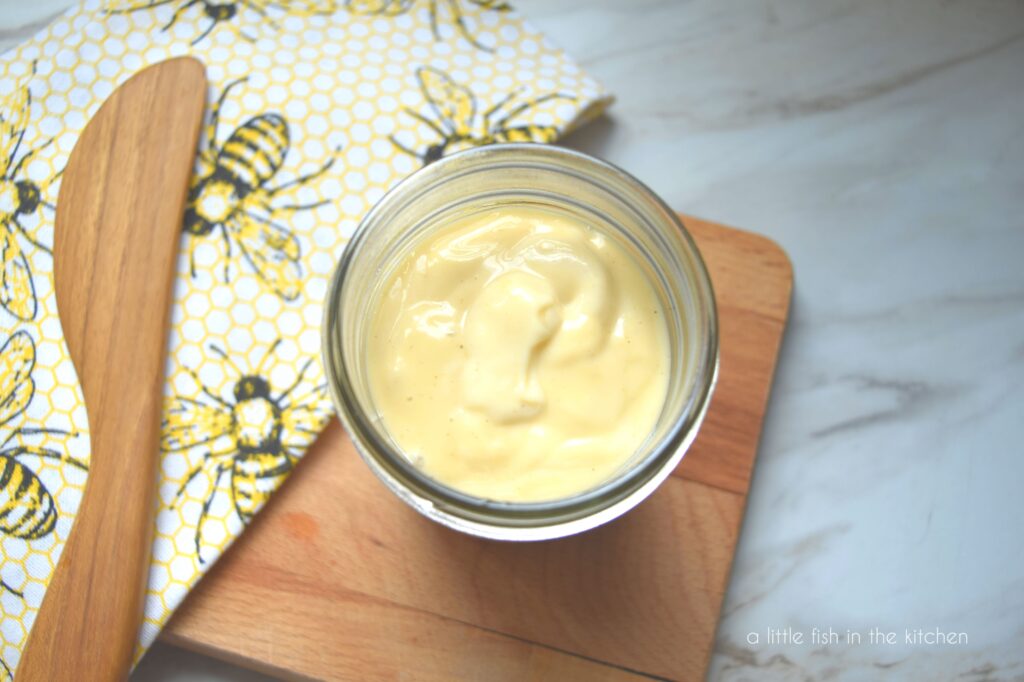 I seriously make this Creamy Honey Mustard Salad Dressing all of the time as it's Evan's favorite salad dressing evarrrr. He requests it by name, and requests for homemade goodies in any category always makes me feel happy.
I had to giggle at myself when I realized that I've never shared my best-loved recipe for this classic salad dressing on the blog before now.
In fact, I had to check my recipe index twice, because I just really couldn't believe I hadn't posted it!
Sometimes it feels like the obvious just escapes me when it comes to sharing recipes lately. I guess things we do or make very often in everyday life don't seem like the most exciting tidbits of information to share. However, as of today this recipe index is updated to include this gem of a tasty, old school salad dressing recipe for anyone who wants to make it!
Honestly, it's about time I finally got this done. I feel accomplished for the day now, y'all. 😆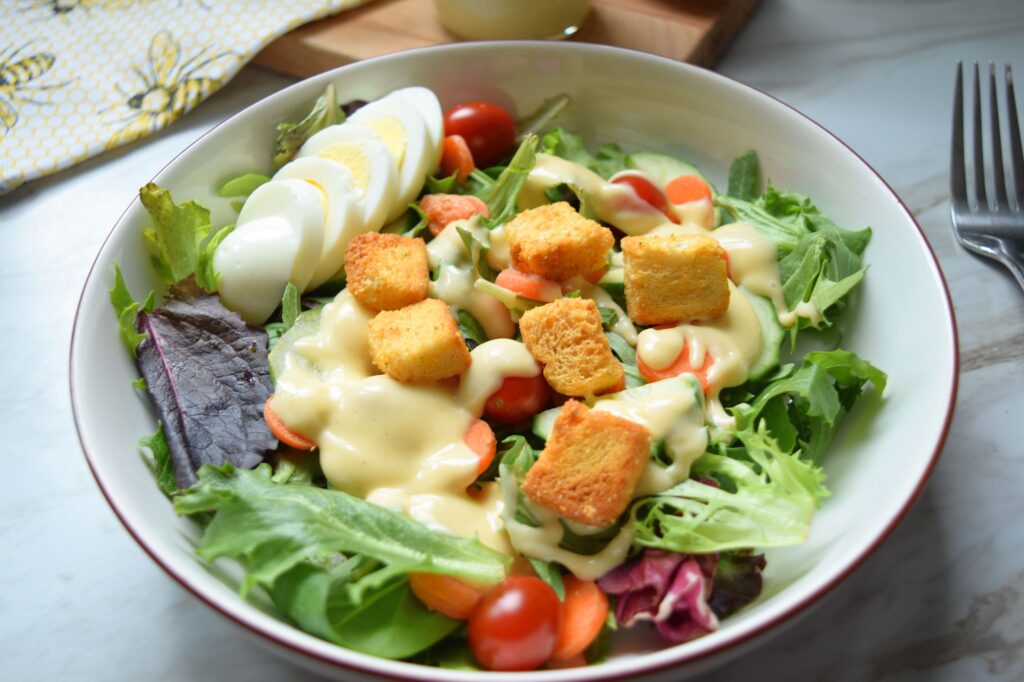 This version of a zesty honey mustard salad dressing is a staple for us and even though it's very simple, it's very good stuff. We hope you thinks it's a keeper too.
Happy eating, my friends! 🥗🧡
🍯Other recipes featuring honey mustard dressing and sauce you might enjoy!
Save this recipe on Pinterest!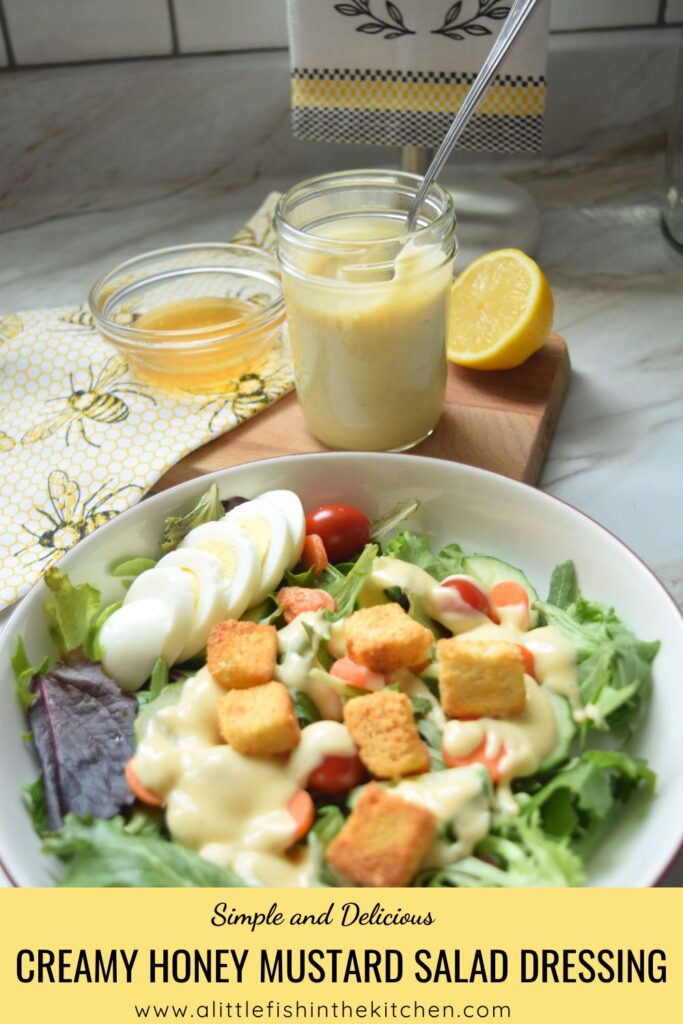 Please check one of my latest videos and subscribe to my YouTube channel for more recipe and live streams!
Please enter your email address below to have all my new posts sent right to your inbox! Subscribe now and never miss a recipe or an update!
Creamy Honey Mustard Salad Dressing
Course: Salads
Cuisine: American
Difficulty: Easy
You may be surprised at just how easy it is to make this Honey Mustard Salad Dressing at home. This creamy version of the classic is cinch to make and it's delicious!
Ingredients
1/2 cup mayonnaise

2 – 2-1/2 tablespoons honey (to taste)

2 tablespoons Dijon mustard

1 teaspoon lemon juice

generous pinch of ground white pepper
Directions
Place all ingredients together in small mixing bowl and stir until well combined. Serve immediately or transfer to a mason jar to store.
Store homemade salad dressing in the refrigerator for up to two weeks.
Enjoy as a dressing for crisp, green salads or as a dipping sauce for chicken tenders and fresh veggies.
Recipe Video
Notes
Recipe from A Little Fish in the Kitchen blog at www.alittlefishinthekitchen.com. All content is owned by Marcelle G. Bolton. Please contact the author for permission to republish.