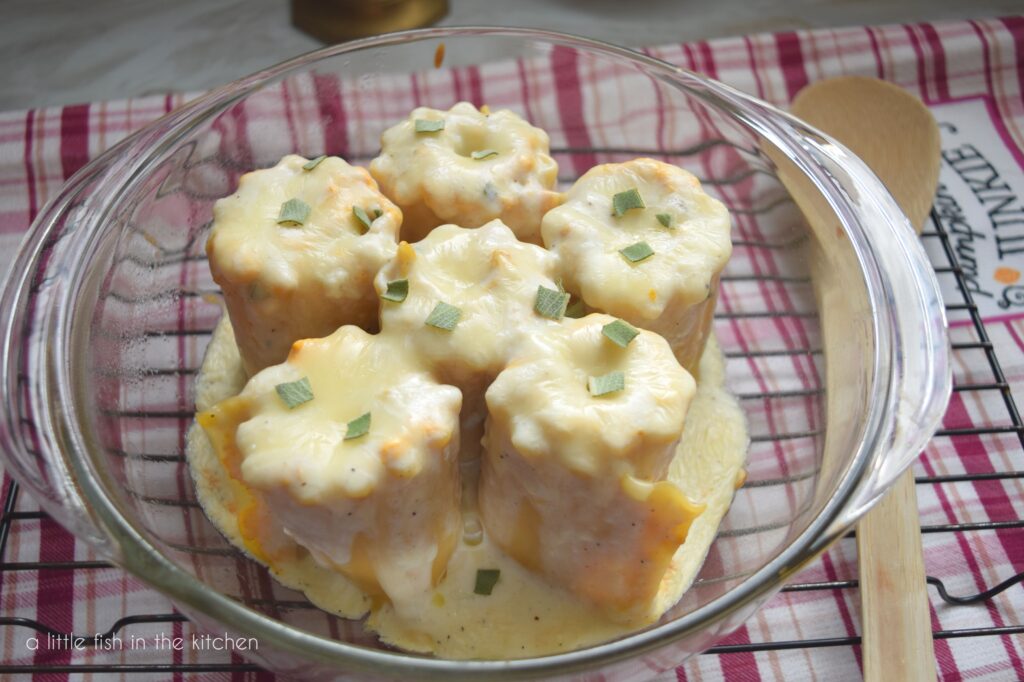 I love to bake with pumpkin, it's a wonderfully earthy ingredient and as everyone on the planet knows, it pairs up perfectly with all the warm spices. We have a few favorite pumpkin desserts at my house, but a vintage Pumpkin Upside Down Cake has a permanent place at the top of list! It's easy enough to make during the week, but scrumptious enough for a holiday party.
Also, you can't go wrong with a delightful Pumpkin-Apple Muffin and a hot cup of coffee, any time of the day.
I also have a handful of favorite recipes for cooking savory dishes with pumpkin, at least one of which I honestly make all year round. This tasty Low-Carb Pumpkin Chili is a dinnertime treat at my house, it's a great weeknight meal I serve often because it's so easy to make. A bowlful of pumpkin chili is so comforting on a chilly night, but it's also really good on a hot dog at a summer bbq! I love that the addition of pumpkin adds a bit of extra nutrition into a pot of chili and my kids never fuss about it… just another reason to love that recipe!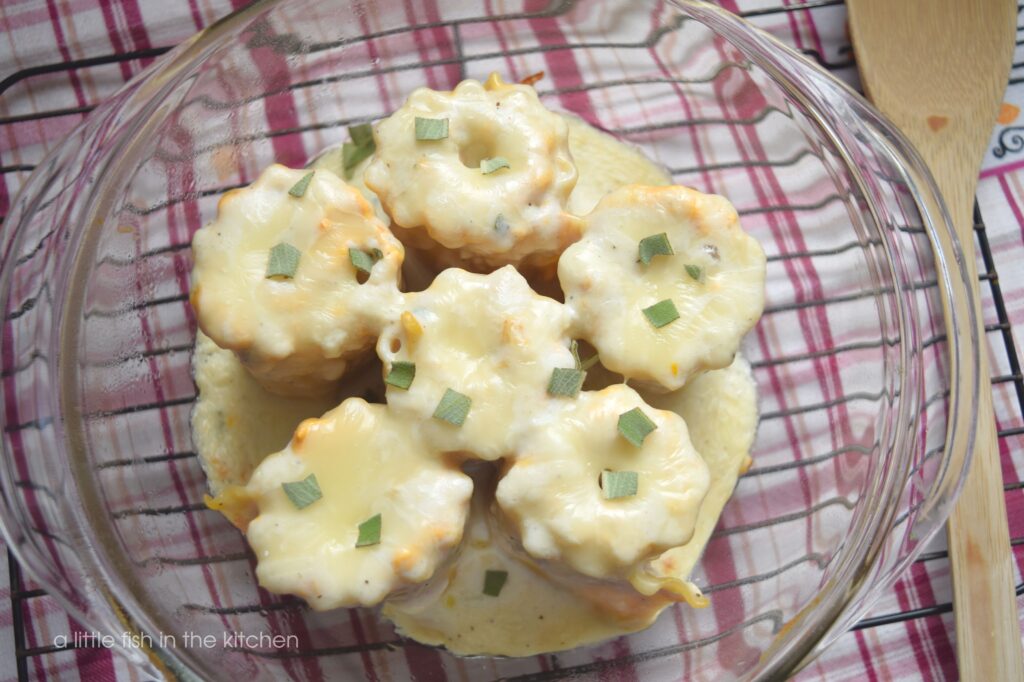 These easy Pumpkin Lasagna Rolls are another way I like to use pumpkin to cook up a comforting autumn supper.
This is one dish I tend to make seasonally in the fall and winter months. However, if I wanted a hearty vegetarian dish for dinner any other time of the year, I would definitely consider whipping up a batch up these delicious lasagna rolls.
They're certainly craving worthy!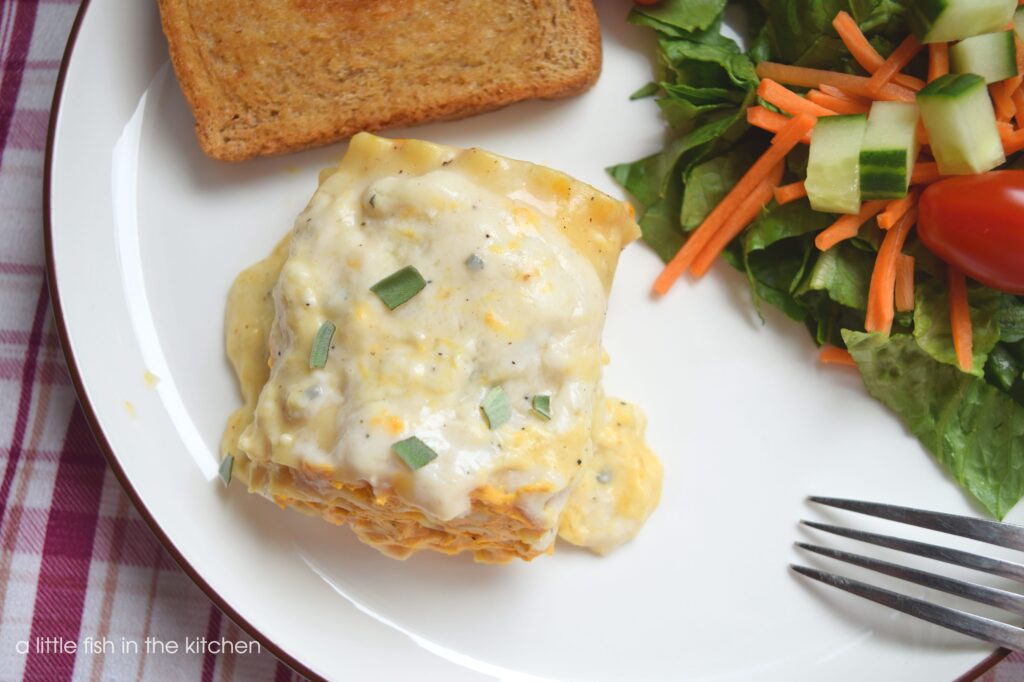 How to make pumpkin lasagna rolls
These lasagna rolls are filled with a creamy mixture of pumpkin puree, reduced fat cream cheese, shredded mozzarella cheese, fresh sage, dried parsley, cayenne pepper and salt. They're smothered in a lightened up bechamel sauce that uses reduced fat milk, flour, fresh sage, and black pepper and then baked until warm and irresisitible.
I use lighter ingredients such as Neuchaftel cheese and 1% milk to control the calories in the recipe just slightly. I also don't add any butter or fat into the bechamel sauce. No worries though, because this flavorful dish still presents it's self as a rich, indulgent, drool-worthy main course. I also tend to keep this recipe vegetarian, but if I wanted to add meat I think crumbled Italian sausage or simply seasoned ground turkey would work deliciously in this mix.
For an extra pop of veggies and nutrition, mixing in some fresh spinach would be a tasty addition to this recipe as well.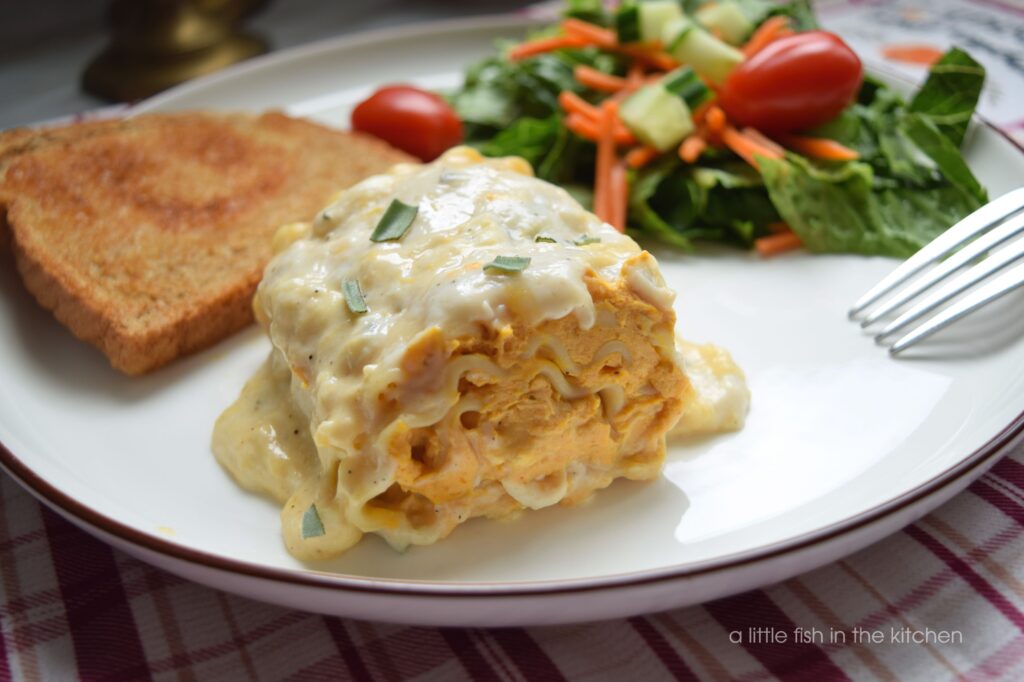 If you'll be entertaining this fall, or you're simply on the hunt for some new and exciting ways to cook with pumpkin this season, these savory pumpkin lasagna rolls are a gorgeous choice for your next meal plan! It's truly an easy dish, but it's eye-catching enough to make for any occasion.
I also love the portion control aspect of lasagna rolls in any form or flavor, and I think having individual servings built-in to this recipe helps to keep things simple at dinner time.
I hope you love this simple, savory pumpkin recipe as much as I do!
Happy eating, y'all! 🧡🎃🍁
Save this recipe on Pinterest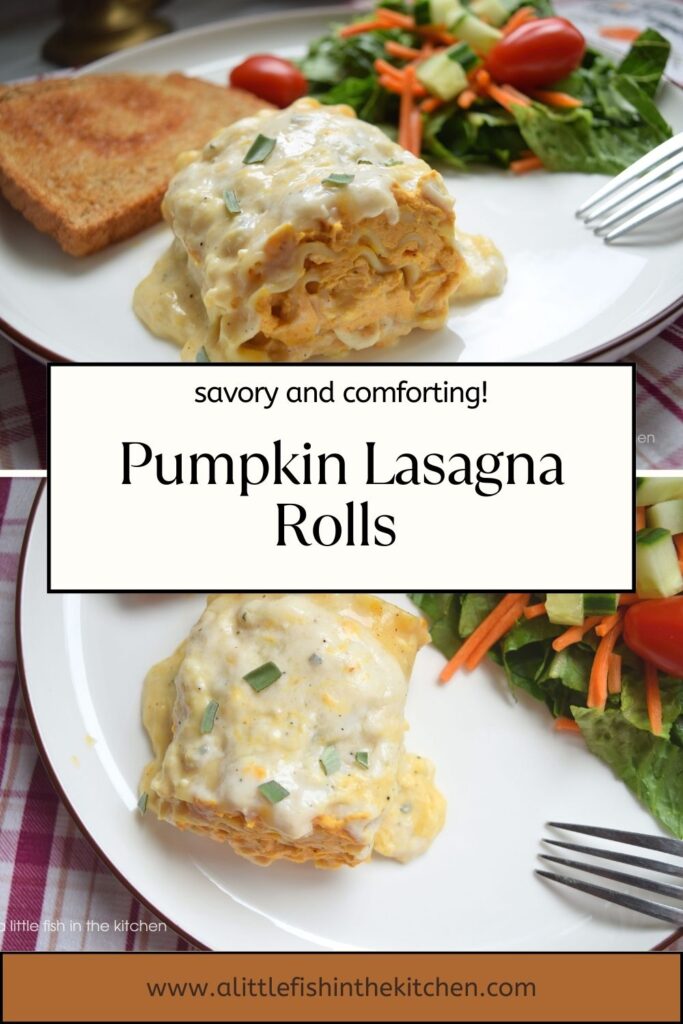 Enter your email address below to have all of my new posts sent right to your inbox! Subscribe now, for free and never miss a recipe or an update!!
Pumpkin season is here, and we are celebrating our love of pumpkin with #PumpkinWeek hosted by Christie from A Kitchen Hoor's Adventures. All week-long 11 bloggers will be sharing over 30 pumpkin-filled recipes for all your Autumn celebrations, including breakfasts, baked goods, savory pumpkin recipes, desserts, and drinks.
More #PumpkinWeek Recipes Below:
Pumpkin Lasagna Rolls
Course: Main
Cuisine: American
Difficulty: Easy
If you'll be entertaining this fall, or you're simply on the hunt for some new and exciting ways to cook with pumpkin this season, these savory, vegetarian pumpkin lasagna rolls are a gorgeous choice for your menu! It's truly an easy dish, but it's eye-catching enough to make for any occasion.
Ingredients
For the lasagna rolls

8 lasagna noodles, cooked according to package directions

1 ( 8 oz) package reduced fat cream cheese, room temperature

1-1/4 cup pure pumpkin puree

1 cup shredded mozzarella cheese

1 teaspoon minced fresh sage

1 teaspoon dried parsley

1/4 teaspoon salt, or to taste

dash ground cayenne pepper

For the sage cream sauce

1-1/4 cup reduced fat milk (I used 1% milk)

2 tablespoon all-purpose flour

1 small clove garlic, minced

1/2 teaspoon minced fresh sage

1/4 – 1/2 teaspoon salt, or to taste

1/4 teaspoon ground black pepper
Directions
Preheat oven to 375°. Lightly coat a 2-quart round baking dish with non-stick cooking spray.
In a medium-size mixing bowl, combine the cream cheese and pumpkin puree and mix until mostly smooth (a whisk will help with this). Fold in 3/4 cup shredded mozzarella cheese, 1 teaspoon minced sage, parsley, salt, cayenne pepper. Mix ingredients well and set the bowl with pumpkin filling aside.
In a medium-size sauce pan, combine the milk and flour and whisk until smooth. Add the minced garlic and sage to the milk mixture and bring pot to a simmer over medium-high heat. Allow pot to cook for 4 -5 minutes, stirring often, until it is thickened. Remove pot from the heat, cover and set it aside.
Evenly spread the pumpkin and cheese mixture onto one side of each cooked lasagna noodles. Roll the noodles up into log shapes. Transfer the prepared lasagna rolls to the baking dish, stand rolls vertically.
Pour creamy sage sauce over the pumpkin rolls and sprinkle remaining shredded mozzerella cheese over the tops. Cover the baking dish (use matching glass dish cover or foil) Bake pumpkin lasagna rolls for 20 minutes. Remove cover and bake another 10 minutes or until cheese us melted.
Remove baking dish from the oven and allow rolls to cool on a rack for 10- 15 minutes before serving. Enjoy!
Notes
Recipe from A Little Fish in the Kitchen blog at www.alittlefishinthekitchen.com. All content is owned by Marcelle G. Bolton. Please contact the author for permission to republish.