This post was originally posted on September 29, 2021. It was updated with new images and typos in the recipe were corrected on November 2, 2022.
Pumpkin season is here, and we are celebrating our love of pumpkin with #PumpkinWeek hosted by Terri from Love and Confections and Christie from A Kitchen Hoor's Adventures. All week-long 13 bloggers will be sharing over 40 pumpkin-filled recipes for all your Autumn celebrations, including breakfasts, baked goods, savory pumpkin recipes, desserts, and drinks.
When it comes to new twists on old favorites, this Pumpkin Upside Down Cake is my absolute favorite of them all. Ironically, this heavenly dessert has been around for a while, but it was brand new to me as of two months ago.
As many of you know, especially if you follow my YouTube vlogs, we are packing up to move to our newly built home out in the country soon. I started packing up "unnecessary items" weeks ago to get a head start on things. My expansive cookbook and recipe collection takes up a few book shelves and it was one of the areas I chose to start decluttering first. Many of my cookbooks are vintage and I keep them for nostalgia, for love, and as family heirlooms (I also could possibly be a sorta kinda cookbook hoarder, but we're not gonna talk about that as long as they can all find a shelf to live on!).
However, I'm sure you know how it goes when you start packing up a house. Old things that haven't caught your attention in a while become new again… and one must stop to flip a few pages in old recipe books!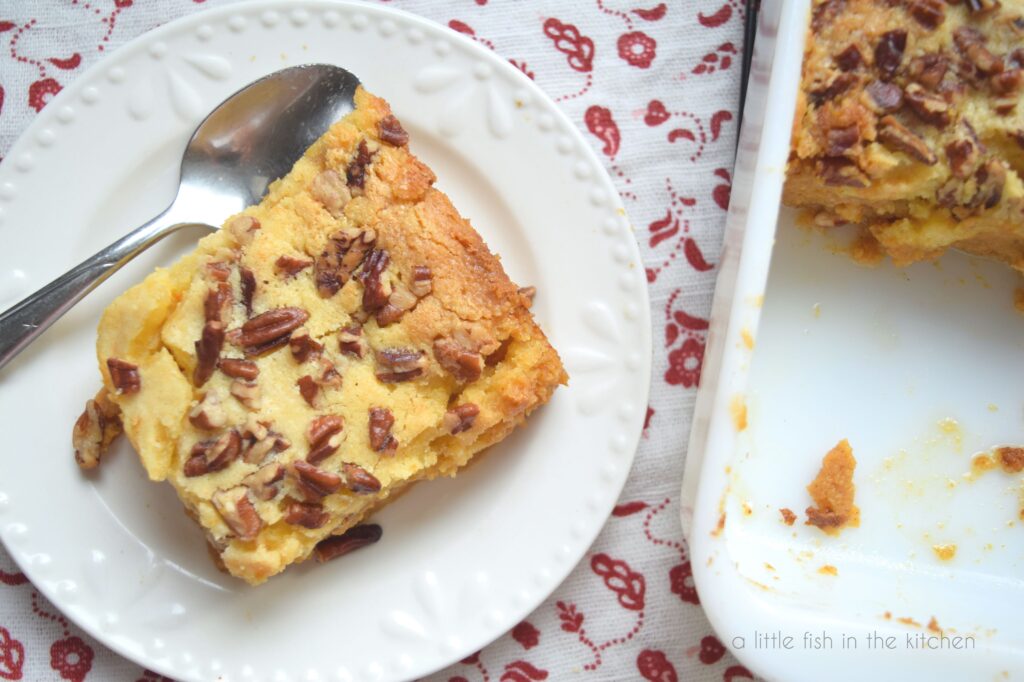 I also have a few large binders that are essentially recipe scrapbooks from years passed. I didn't create any of these old recipe scrapbooks, they've all been given to me by friends and family who wanted to pass them on. They know I'm the person to call when it comes to old recipe collections that they no longer have an interest in… and that I'll likely take them off of their hands!
The old recipes in my binders have been clipped from food packaging and various local and national foodie magazines. They are literally from all over the place. Homemade "cookbooks" like these are my favorite as they usually have so many unique recipes (=treasure). I think they are the some of the most awesome things in the world, and I can look through the pages of clipped recipes for hours on end.
And when I say these clippings are old, I mean they are old. I don't even know which family member or friend passed this particular notebook on to me, but the majority of the clippings are definitely from the 70's and 80's, in my opinion.
Anyhoo, the recipe clipping for this amazing Pumpkin Upside Down Cake was taped into one of those fantastical old binders and I kept going back to it after I came across it (it was like a magnet!!) It just sounded so darn scrumptious. In fact, I was so intrigued by the recipe that I made special trip to the store to buy the ingredients to make a Pumpkin Upside Down Cake that very evening.
It was so good, y'all and we enjoyed it topped with whipped cream very much. Well, the hubs and I did anyway, the kids won't eat pumpkin pie or anything resembling it (weirdos!).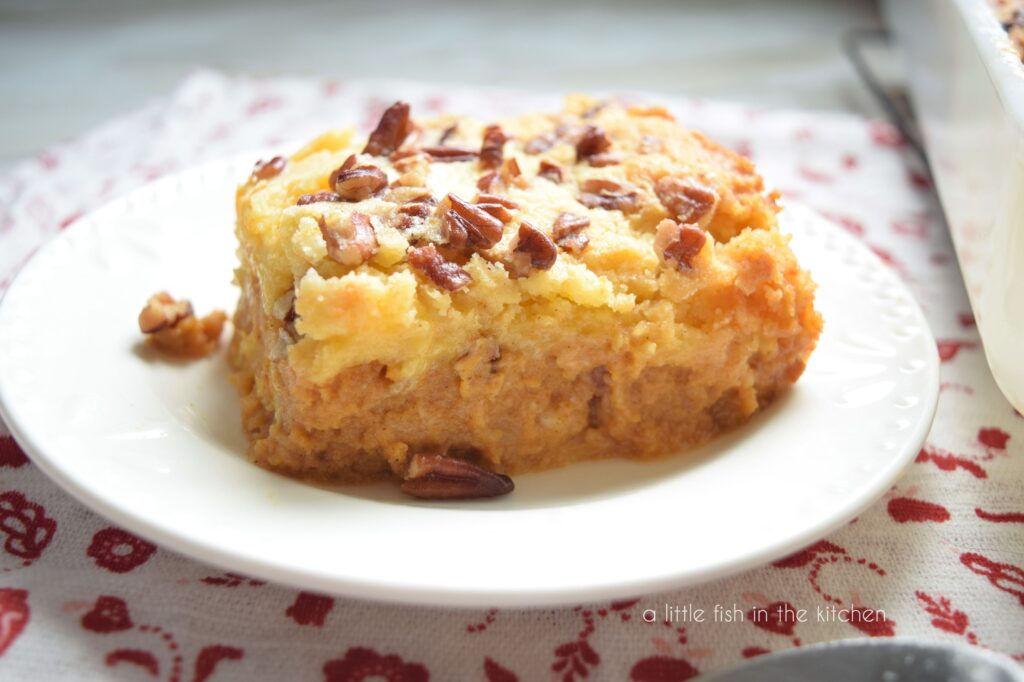 Of course, I had to check online to see if anyone else had discovered this gem of a vintage autumn dessert before me. As with most crazy delicious dessert recipes, it's absolutely been posted about before and a few versions of this recipe are out there on several websites. The recipe is also called pumpkin cobbler and pumpkin dump cake, but it's essentially the exact same recipe, whatever it's been named.
I adapted this old recipe for Pumpkin Upside Down Cake very slightly by using a combination of pumpkin pie spice and a teaspoon of extra cinnamon. I also added in a bit of light brown sugar to suit our taste. We love brown sugar and cinnamon, y'all!
As usual, I'm the least trendy person on the web and I'm late to the Pumpkin Upside Down Cake party, but I'm happy to have finally arrived!
I hope this is a new and exciting way for your family to celebrate pumpkin-everything season too!
Enjoy! – M
Save this recipe on Pinterest!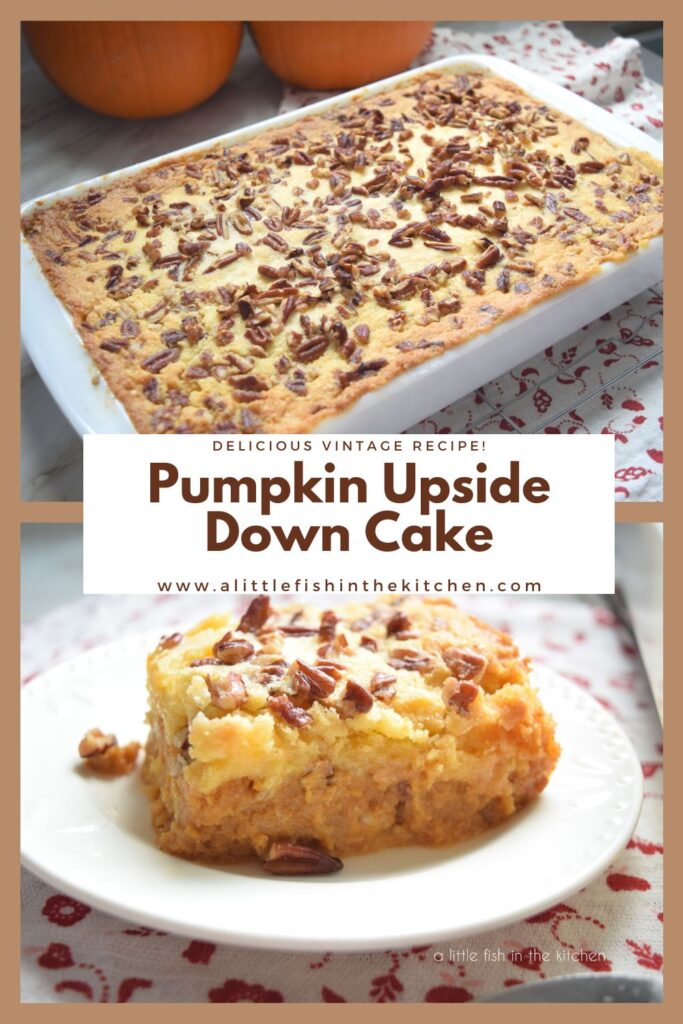 Be sure to check out one of my latest cooking videos and subscribe to my YouTube Channel for more easy recipes and live streams!
Be sure to subscribe below so you'll never miss an update or the latest recipe!
Pumpkin Upside Down Cake
Course: Dessert
Cuisine: American
Difficulty: Easy
A traditional pumpkin pie filling is combined with a buttery cake topping to make this sensational Pumpkin Upside Down Cake. Serve this vintage dessert with a healthy dollop of whipped cream!
Ingredients
For the filling

3 large eggs

2 cans (15 oz) pumpkin puree

2 teaspoons pumpkin pie spice

1 teaspoon cinnamon

3/4 cup light brown sugar

1/2 cup sugar

1 can (12 oz) evaporated milk

For the topping

1 box yellow cake mix

3/4 cup melted salted butter

3/4 cup pecans, coarsely chopped
Directions
Preheat the oven to 350º. Grease a 13×9 inch baking dish or cake pan with non-stick cooking spray and set it aside.
Prepare the filling. In a large mixing bowl, lightly beat the eggs. Add in the pumpkin puree, spices, sugars, and the evaporated milk. Stir until all ingredients are well combined.
Pour the filling mixture into the prepared baking dish. Sprinkle the dry cake mix evenly over the top of the pumpkin filling. Drizzle all of the melted butter over the top of the cake mix and use a spoon to gently work the butter into the dry mix as well as possible (see notes below).
Bake the cake for 40 minutes and remove from the oven. Sprinkle the chopped pecans evenly over the top of the cake and return to the oven for 20 more minutes or until the top is golden brown.
Remove from the oven and allow the cake to cool completely on a rack. Serve with whipped cream or vanilla ice cream and enjoy!
Recipe Video
Notes
At the 40 minute mark, if any dry cake mix is visible on top of the cake, lightly spray those parts of the topping with non-stick cooking spray before returning the cake to the oven.
Recipe from A Little Fish in the Kitchen blog at www.alittlefishinthekitchen.com. All content is owned by Marcelle G. Bolton. Please contact the author for permission to republish.
Check out these delicious #Pumpkin Week recipes below!
Beverages
Breakfast and Breads
Mains, Salads, and Sides
Desserts
Did you miss a recipe? Head to the Pinterest board to find all the #PumpkinWeek recipes shared this week.