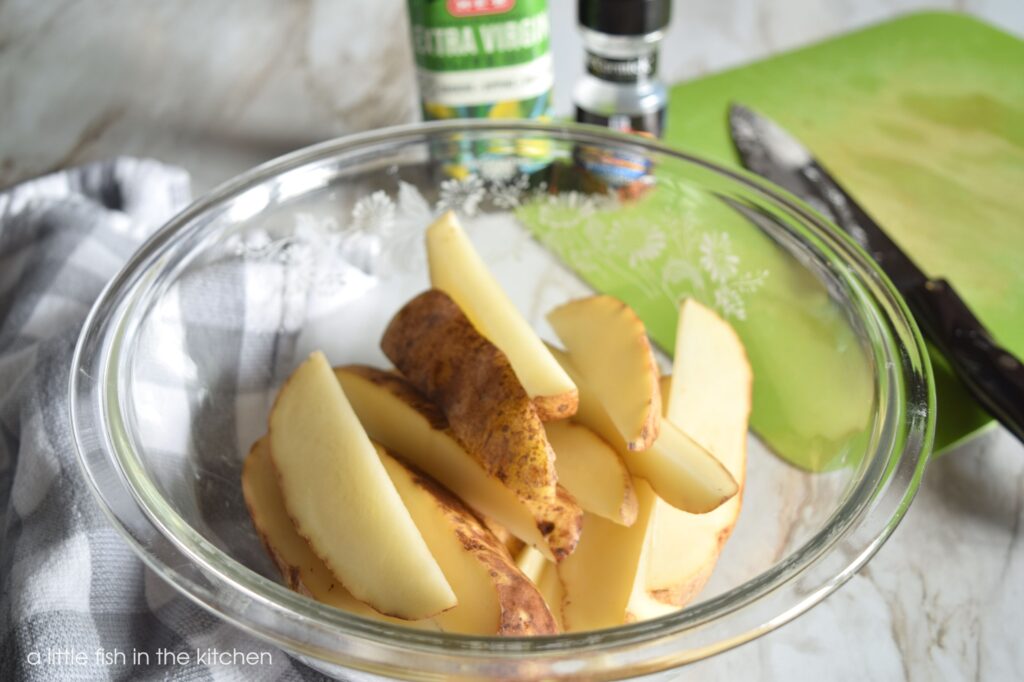 It's good to try new things, y'all.
I found the recipe for these simple, but scrumptious Pigskin Potatoes in a Rachael Ray cookbook over the weekend, and I just knew they would be good. The book is a classic Rachael Ray cookbook from 2006 titled The All-Occasion Cookbook and these Pig Skin Potatoes are included in a menu suggested for sports fans, hence the odd-sounding name.
I've roasted my share of potatoes through the years, but I've never seasoned them like this before.
In her recipe, she combines sliced potatoes with evoo (extra virgin olive oil), and seasons them with Montreal Steak Seasoning. It's truly a super simple recipe, but the use of the Montreal Steak blend made these roasted potato wedges new for me.
We actually love the McCormick brand of this seasoning blend and we use it often to season meat, it's so good for that! It's a very peppery spice mix however, and before I found this recipe it's doubtful I would have ever thought to use it to season potatoes.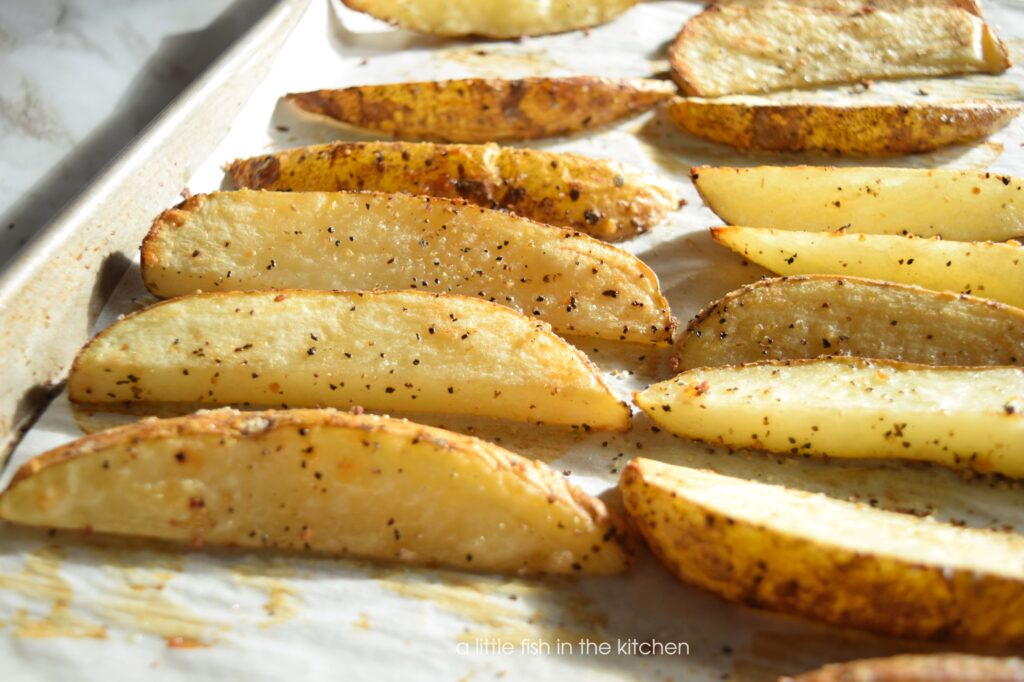 I'm so glad to have made these simple, yet zippy potatoes as they were an instant hit with everyone in my house. The "test" batch was gobbled up in a jiffy, and then everyone proceeded to name a dish they thought would pair up well with them.
Burgers were mentioned specifically, as were baby back ribs and sloppy joes! All excellent suggestions, but I actually quite like them all on their own, and I can see them being part of an appetizer table with other hearty, warm foods like queso and chips, and pigs-in-a-blanket.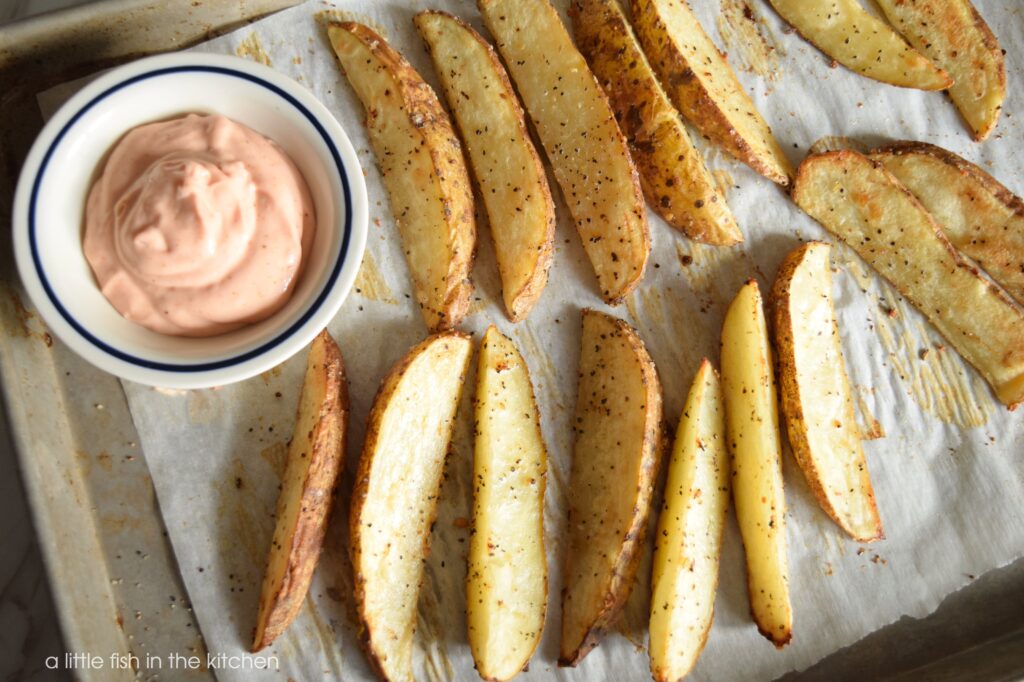 Thanks so much to my friend, Jolene, from the food blog Jolene's Recipe Journal for inviting me to be a part of her National Cookbook Month recipe sharing event today!
I purchased this book at a thrift store several months ago and I haven't taken much time to peruse it's pages, and I'm so glad I finally did. I found a few other tasty dishes I plan to try soon too.
A few of my very talented blogging friends are sharing recipes today too, so be sure and check out their posts as well, I just know you'll be glad you did!! The list of fresh recipes is posted just below.
Save this recipe on Pinterest! 🏈🌻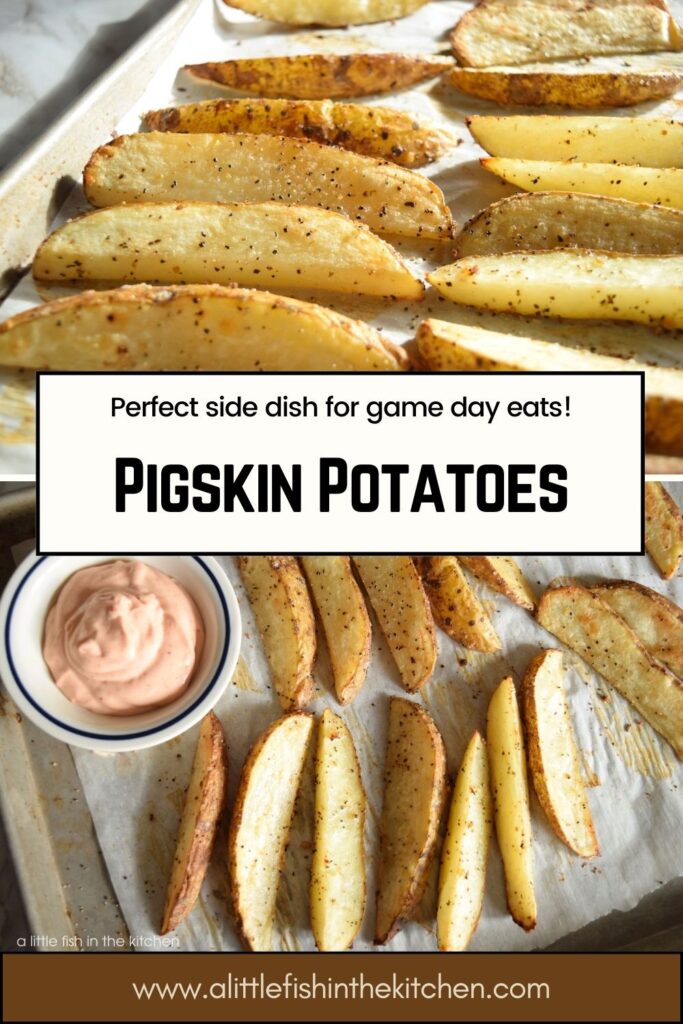 Please check out on my latest cooking videos and subscribe to my YouTube channel for more easy recipes and live streams.
Enter your email address below to have all of my new posts sent right to your inbox! Subscribe now, for free and never miss a recipe or an update!!
More #NationalCookbookMonth Recipes!!
Pig Skin Potatoes
Course: Appetizers, Sides
Cuisine: American
Difficulty: Easy
These zesty Pigskin Potatoes are delicious and they're perfect as a snack on their own, or served with an array of warm appetizers. Be sure to serve them with a bowl of your favorite spicy french fry sauce. They also make a wonderful side dish for any type of hot sandwich or any thing from the grill!
Ingredients
2 large Russet potatoes, skins-on and scrubbed

Extra-virgin olive oil (evoo)

Montreal Steak seasoning (McCormick Brand)
Directions
Preheat the oven to 425°F. Cover a cooking sheet with parchment paper and set it aside.
Slice potatoes lengthwise into thin wedges and place them in a large mixing bowl.
Coat potatoes with a little olive oil (evoo) and sprinkle generously with steak seasoning. Transfer potato wedges to prepared cooking sheet.
Roast potatoes wedges for 20 minutes or until brown and crisp. Enjoy!!
Notes
Recipe from A Little Fish in the Kitchen blog at www.alittlefishinthekitchen.com. All content is owned by Marcelle G. Bolton. Please contact the author for permission to republish.