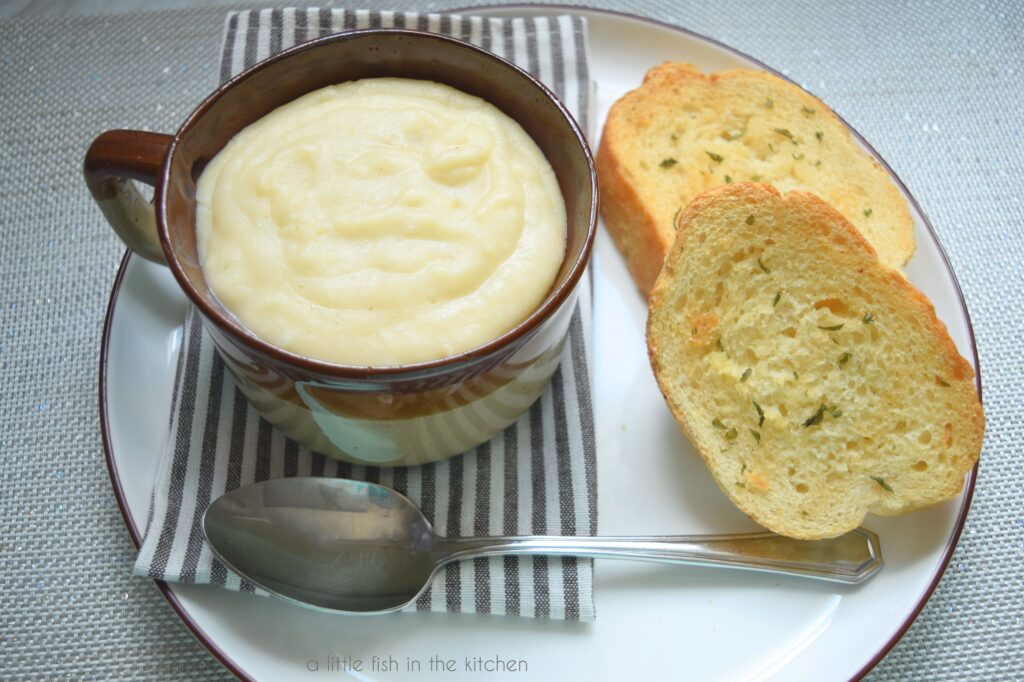 Y'all, my family's love of potato soup is well-documented in the pages of this food blog. I've previously shared four posts about versions of potato soup that we still love, like This Old-Fashioned Potato Soup. That's the potato recipe my mom used to make for us when were growing up, and I'll always love it. It's an uncomplicated, comforting soup that's perfect for any night of the week and any time of the year.
Old-Fashioned Ham and Potato Chowder smells like heaven while it's simmering away on a chilly afternoon. I always make a pot of this soup after Christmas as it's one of my favorite ways to use up leftover holiday ham.
I've also shared about this flavorful,vegetarian Potato and Bean Chowder and this delicious Tuscan Sausage, Potato and Bean Soup. I don't make these two recipes as often as the ones I've noted above, but when I do they are always dinnertime treats.
Today I'm adding this simple, but delicious Slow Cooker Creamy Hash Brown Potato Soup to my list of potato soup love!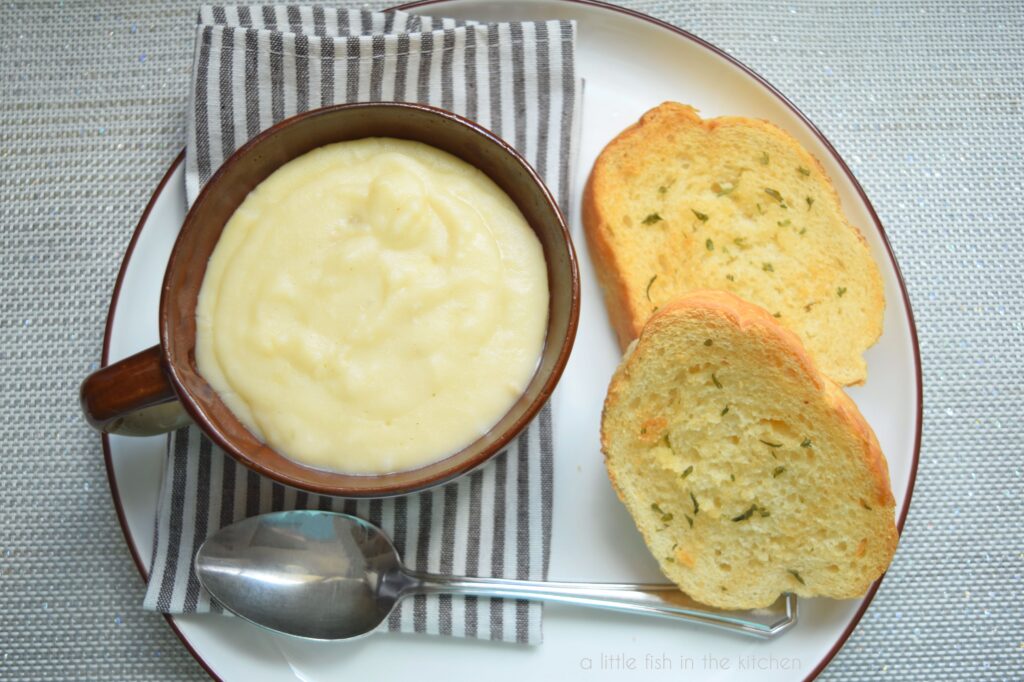 I have to share with y'all that this Creamy Hash Brown Potato Soup is THE potato soup recipe for my kids. They both honestly love this soup and they'll ask for it by name… and often! My son likes to top his serving with cheese and bacon bits most days, but my daughter likes hers plain jane. However, both kiddos like garlic bread served on the side, but crackers will do in a pinch!
How to make creamy hashbrown potato soup
To make this creamy hashbrown potato soup, you'll need a bag of convenient frozen, diced potatoes (also known as Southern-Style Hashbrowns), cream of chicken soup, chicken broth or water and chicken-flavored bouillion, diced onion, onion powder, white pepper and cream cheese.
There is no need to thaw out the frozen potatoes beforehand and this is a fix-it-and-forget-it recipe when a slow cooker is used for cooking it. This soup can be made on the stove-top, however using a slow cooker is highly recommended for it's convenience factor. This hashbrown potato soup needs to simmer for at least 4 hours!
True story: last week was the third consecutive week this slow cooker soup made my meal plan, and I adore this recipe for being something everyone one in my house agrees on with that level of enthusiam. It's big deal, y'all!
Peace, love and unicorns at dinnertime is the best!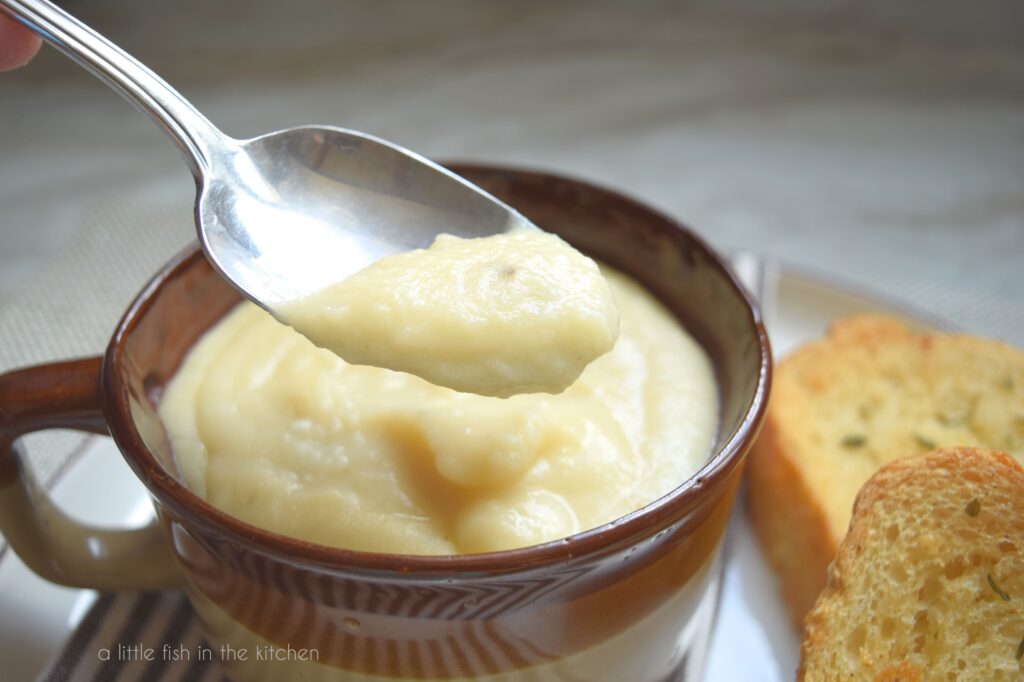 We are a household of very opinionated, reasonably frank people who will let you know about it… whatever it is. It's not always possible to please everybody at dinnertime here, but learning to appreciate and enjoy foods that aren't favorites is a good thing too.
Anyhow, I will give this family favorite recipe a rest for a while now, afterall I don't want it to lose it's rockstar status with the crew. It's next appearance on our menu plan will likely be on our first chilly weather day and that day is typically sometime toward the end of October.
I'm so excited for that day to arrive, I can hardly stand it… please bring on the chilly nights Mother Nature!!
We are ready for the change.
When it comes to cozy, slow cooker soups that are perfect for a cool, crisp, breezy fall day, we think this one is tough to beat! It's truly simple and delicious.
I hope your family enjoys this easy potato soup recipe as much as mine does!
🍂🍁🧡🥣🍲 Happy fall, y'all!!
Please check out one of my latest recipe videos and subscribe to my YouTube channel for more easy recipes and live streams!
Save this recipe on Pinterest!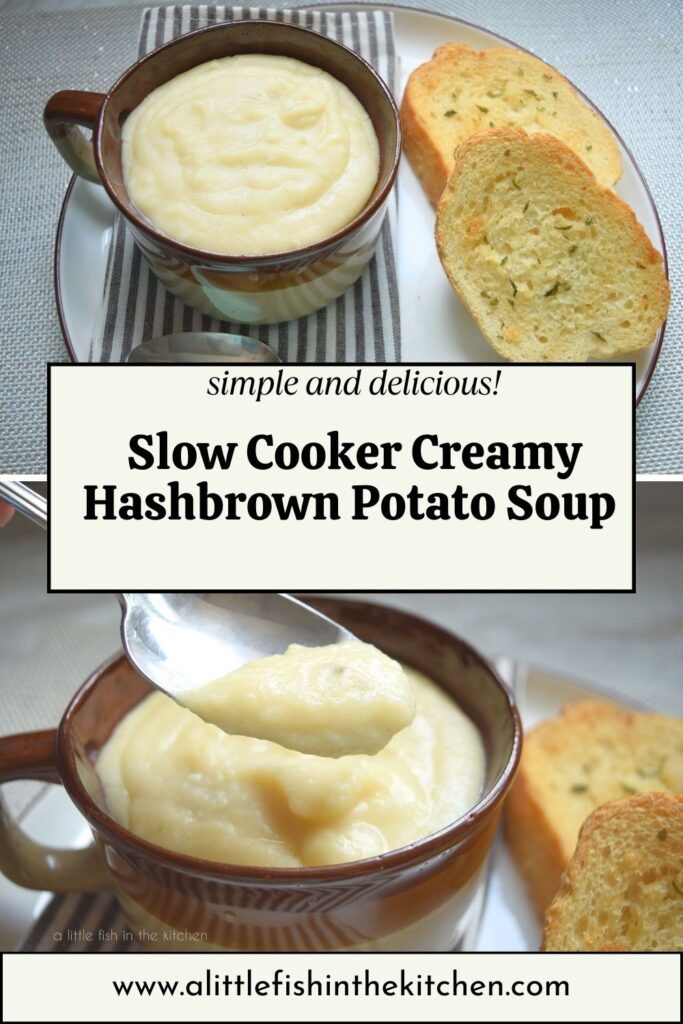 Please enter your email address below to have all of my new posts delivered right to your inbox! It's a free service, sign up now and you'll never miss a recipe or updates!
Slow Cooker Creamy Hashbrown Potato Soup
Course: Lunch, Dinner
Cuisine: American
Difficulty: Easy
This simple Slow Cooker Creamy Hash Brown Potato Soup is flavorful and comforting… and it's sure to be a dinnertime sensation! Letting the slow cooker do most of the work will make this a favorite recipe for busy families. This potato soup is extra delicious with a slice or two of buttery garlic bread on the side!
Ingredients
1 (32 oz) bag frozen Southern-Style hashbrowns or frozen diced potatoes (no need to thaw them out)

1/2 cup diced onion

1/2 teaspoon onion powder

generous 1/4 teaspoon ground white pepper

4 cups chicken broth or 4 cups water and appropriate amount of chicken-flavored bouillion powder (I almost always use water + bouillion, y'all)

1 (10.5 oz) can cream of chicken soup

4 oz cream cheese, cut into small cubes

Optional toppings for individual servings

shredded cheddar cheese

bacon bits

sliced green onion

diced pickled jalapenos

a few dases of hot sauce (such as Tabasco, Evan puts it on everything lol)
Directions
Place the first six ingredients (not the cream cheese) into the crock of a 5-quart slow cooker and stir to combine.
Place the cover on the slow cooker and allow ingredients to simmer for 3 – 4 hours, as you prefer. After 3 – 4 hours of cook time, the potatoes will be very soft and they will break down as the soup is stirred with a wooden spoon. However, you can use a handheld whisk to break them down to your desired texture.
Add the cream cheese into the soup and allow the soup to simmer for another 30 minutes. Once again, use a whisk to make sure cream cheese is completely incorporated into the soup. Taste the soup and adjust the seasonings, before serving. If necessary, add another 1/2 teaspoon more of bouillion powder and/or another dash of pepper.
Remove crock from the heating element and place on a cooling rack. Allow the hash brown potato soup to cool slightly to thicken (about 20 minutes).
Ladle warm Creamy Hash Brown Potato Soup in to serving bowls. If desired, top soup with grated cheese, bacon bits, sliced green onions, jalapenos or any others that you prefer. Enjoy!
Recipe Video
Notes
Recipe from A Little Fish in the Kitchen blog at www.alittlefishinthekitchen.com. All content is owned by Marcelle G. Bolton. Please contact the author for permission to republish.