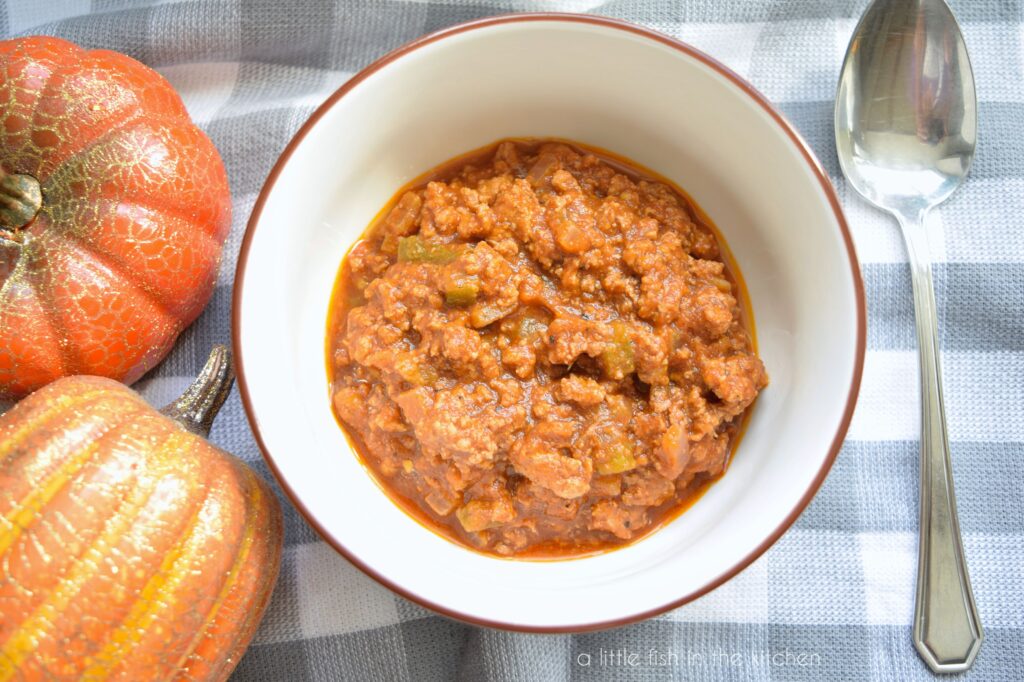 Y'all, I've been a card carrying member of Team Pumpkin-Spice-Everything for as long as I can remember. If you've been here with me on Little Fish for a while, you know how much I look forward to fall and fall-inspired dishes every year. The pumpkin recipe madness as well as cooler daily tempertures make mid-October one my ultimate happy places. Not to overstate the obvious, but seeing as how we are in mid-October, I'm so, so happy to be right here, right here now!! 🎃🍁✨
To celebrate the season, I've recently made some of my go-to autumn dishes like this Pumpkin Pie Baked Oatmeal and these crazy-delicious Pumpkin-Apple Muffins for family breakfasts. We love those recipes a whole bunch and it's become traditional for us to make them at this time of the year.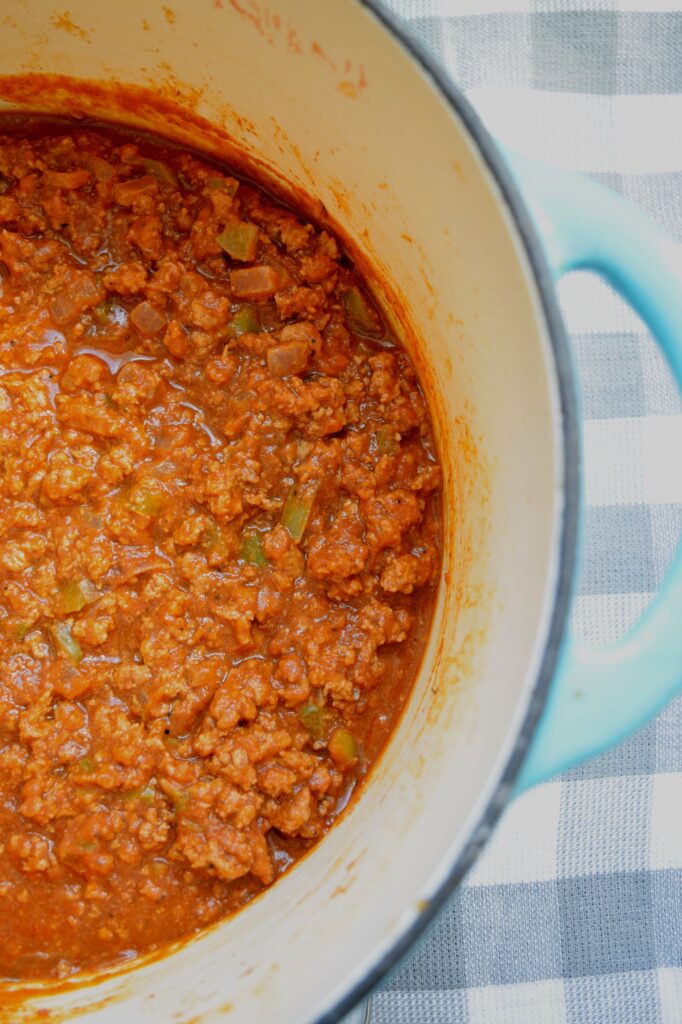 However, I love savory pumpkin dishes as well as sweet, and this Quick Low Carb Pumpkin Chili is also one of my favorite seasonal recipes evarrrr. It's delicious and nutritious!
How to make quick low carb pumpkin chili
To make a pot of this simple but tasty pumpkin chili, I use a measure of canned pumpkin puree (but use homemade pumpkin puree, if you prefer it), as well as ground turkey, onion, garlic, bell peppers, fresh jalapeno, canned tomato sauce, tomato paste, and a number of pantry-staple spices. Comforting smoky and warms spices are featured in this easy recipe: onion powder, ground cumin, ground cinnamon as well as two types of chili powder create a rich and spicy flavor profile in this dish.
I recently found a bottle of Chipolte Chili Powder on the shelves at Walmart and I was immediately intrigued by it as had never seen this spice before (I know, I don't slow down to look around much, obviously. 🙄Plus, I'm usually accompanied by an entourage of two hungry and/or bickering kids who make me rush through most shopping trips!! No time to smell the spice aisle roses!! ). I always have a big bottle of mild, basic chili powder in my spice pantry as it's a spice I use several times a week. However, Chipolte Chili powder was new for me and I❤️ Chipolte chilies so I had to try it!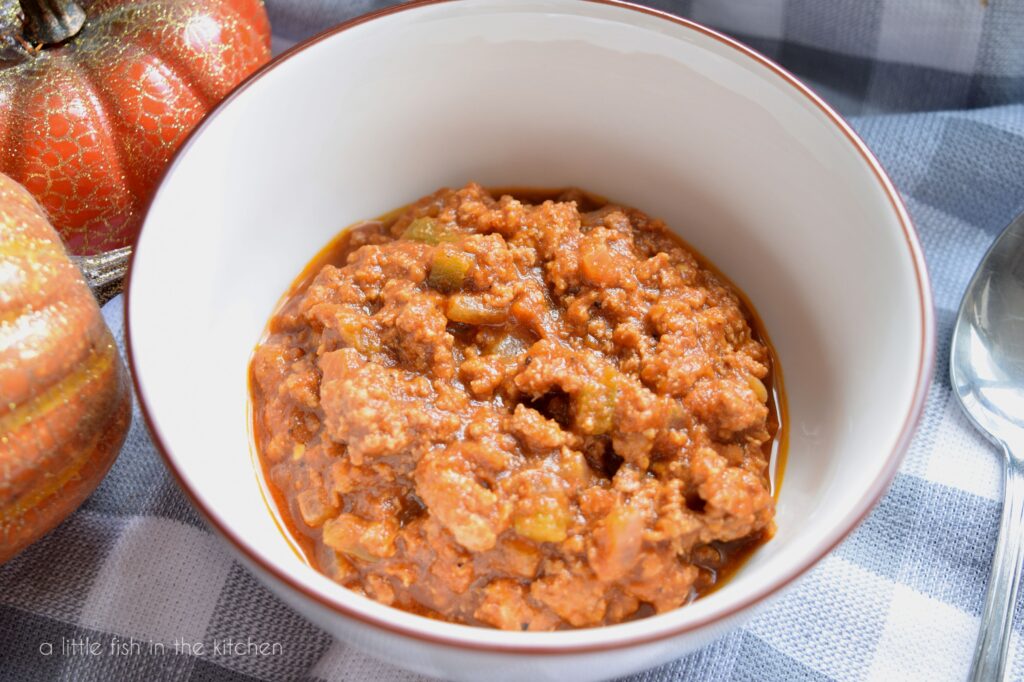 I'm so glad I did, it's become one of my absolute favorite spices. It adds such great flavor and spice into to so many dishes I've made lately and the chipolte chili flavor is distinctive. Chipolte chili powder is now right up there with smoked paprika… which is at the very tippy top on my favorite spice list!
That being said, chipolte chili powder is also considerably spicier (hotter) than it's generic counterpart. So, just keep that in mind if you use it, and know a little will go a long way if you are not a huge fan of hot and spicy food. If you want to keep this pumpkin chili very mild, just use two tablespoons of regular chili powder instead.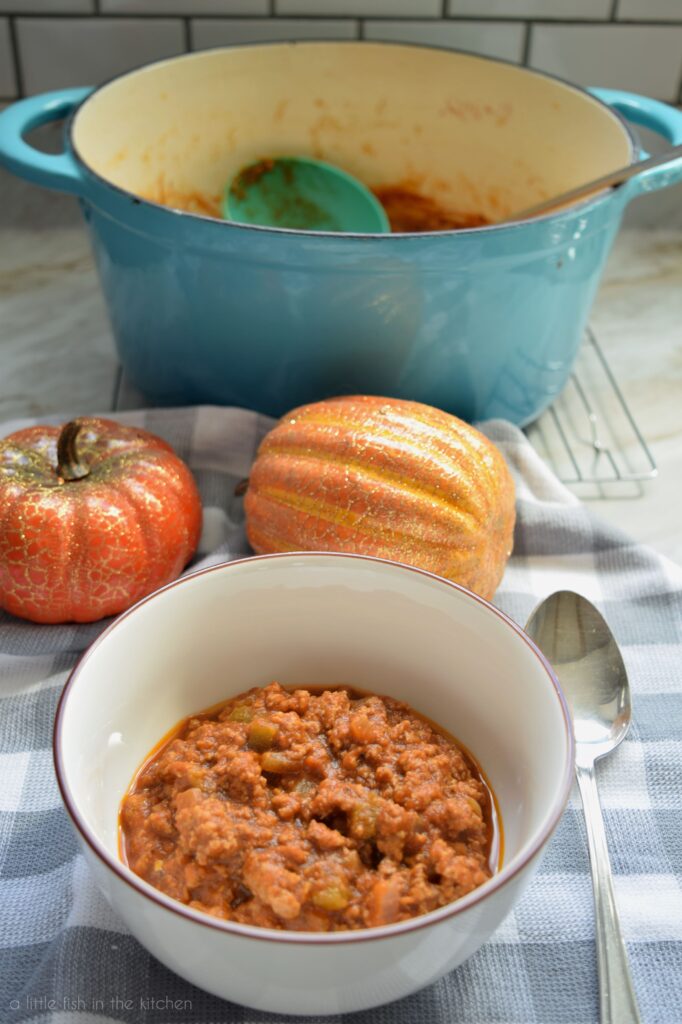 In case anyone is wondering why they should add pumpkin into their chili, I think adding pumpkin into the pot adds some comforting richness and a lovely dark orange color to a pot of chili. Also, pumpkin is packed with nutrients, including fiber, potassium, as well as vitamins A, C and E. I adore recipes like this one that are totally delicious and allow me to sneak an extra serving of veggies into my family (especially the picky nine-year-old girl!!) It would take alot of persuading to get my kids to try sauteed pumpkin (which I LOVE), but they love the heck out of this flavorful pumpkin chili.
A batch of this Quick Pumpkin Chili is also low in carbohydrates, gluten-free, packed fantastic flavors and quick to get on the table. I mean, there's just not much not to love about all that jazz, y'all.
I serve this chili with homemade corn bread and/or homemade saltine crackers which seals the deal for my kid. Chili and corn bread are a pretty irresistible combination for my family! If you need to keep the whole meal low carb at your table, a mixture of crisp fresh veggies (think zucchini slices, celery and fresh tomato slices) as well as sliced cheddar cheese make good company for a bowl of this Quick Low Carb Pumpkin Chili.
Happy eating, y'all – xo M
Be sure to share this recipe on Pinterest!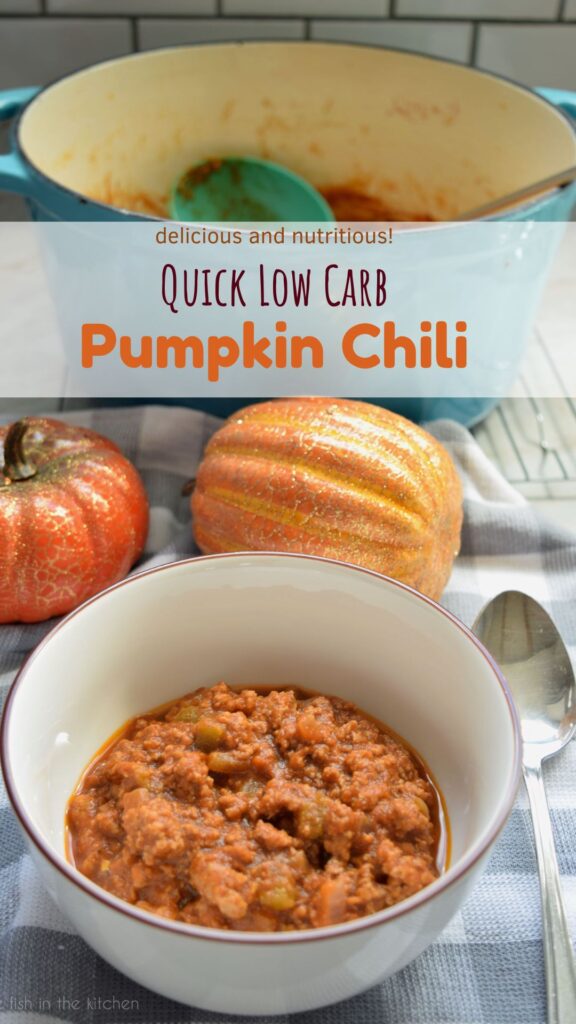 Please watch one my latest videos on YouTube and be sure to subscribe to my channel for more easy recipes and livestreams!
Enter your email address below to have all of my new posts sent directly to your inbox! Never miss a new recipe or an update, subscribe now!
Quick Low-Carb Pumpkin Chili
Course: Main
Cuisine: American
Difficulty: Easy
This Quick Low Carb Pumpkin Chili is a delicious and nutritious choice for a chilly autumn supper! Serve with crisp vegetables and sliced cheese on the side. Or, if you don't need to keep things low carb at your table, fresh baked corn bread and/or crackers are fantastic served with a bowl of this rich pumpkin chili!
Ingredients
2 tablespoons olive oil

1/2 of a large red or green bell pepper, coarsely chopped

1 large fresh jalapeño pepper, seeded and finely chopped (optional)

1/3 of a large onion,coarsely chopped. I used red onion, but use what type you prefer

1-2 large cloves of garlic, minced (to taste)

1 lb ground turkey, beef or chicken (I most typically use ground turkey)

1/2 teaspoon salt

1/2 teaspoon ground black pepper

1 teaspoon ground cinnamon

1 tablespoon Chipolte chili power

1 tablespoon chili powder

1 teaspoon cumin

1 cup chicken broth or 1 cup of water combined with appropriate amount of chicken-flavored bouillion

1 cup pumpkin puree

1 small (8 ounces) can tomato sauce

2 tablespoons tomato paste
Directions
In a large Dutch oven, heat the olive oil over medium heat. Add the onion, bell pepper, jalapeno (if using it) to the pot and saute the vegetables for 1-2 minutes. Next, add in the ground meat and stir the pot well. Cook for another 3-4 minutes, stirring often, or until the meat is starting to brown slightly.
Add all of the spices and stir. Next add in the chicken broth, tomato sauce and finally the pumpkin puree. Stir the chili mix well and turn up the heat so the pot comes to a boil. Reduce the heat and allow the chili to simmer for 10 minutes.
Add in the tomato paste, and stir well to combine. Simmer the chili for another 10 minutes. Remove the pot from the heat.
Ladle Quick Pumpkin Chili into individual serving bowls, serve hot and enjoy!
Recipe Video
Notes
Recipe from A Little Fish in the Kitchen blog at www.alittlefishinthekitchen.com. All content is owned by Marcelle G. Bolton. Please contact the author for permission to republish.