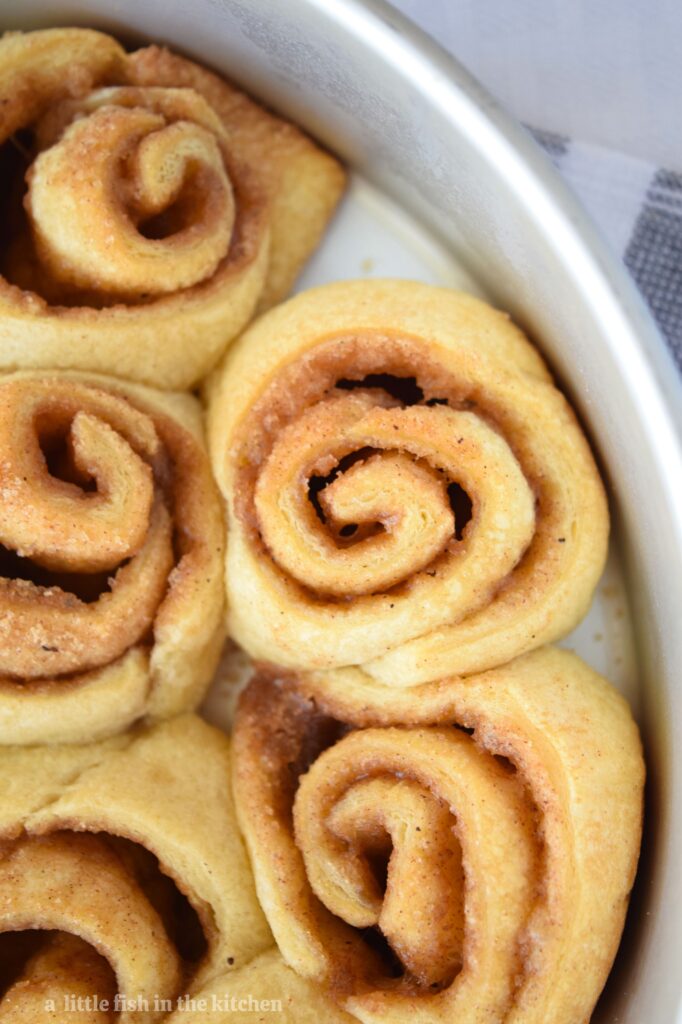 When it comes to quick and easy sweet treats, these easy crescent roll cinnamon rolls take the proverbial cake in my house.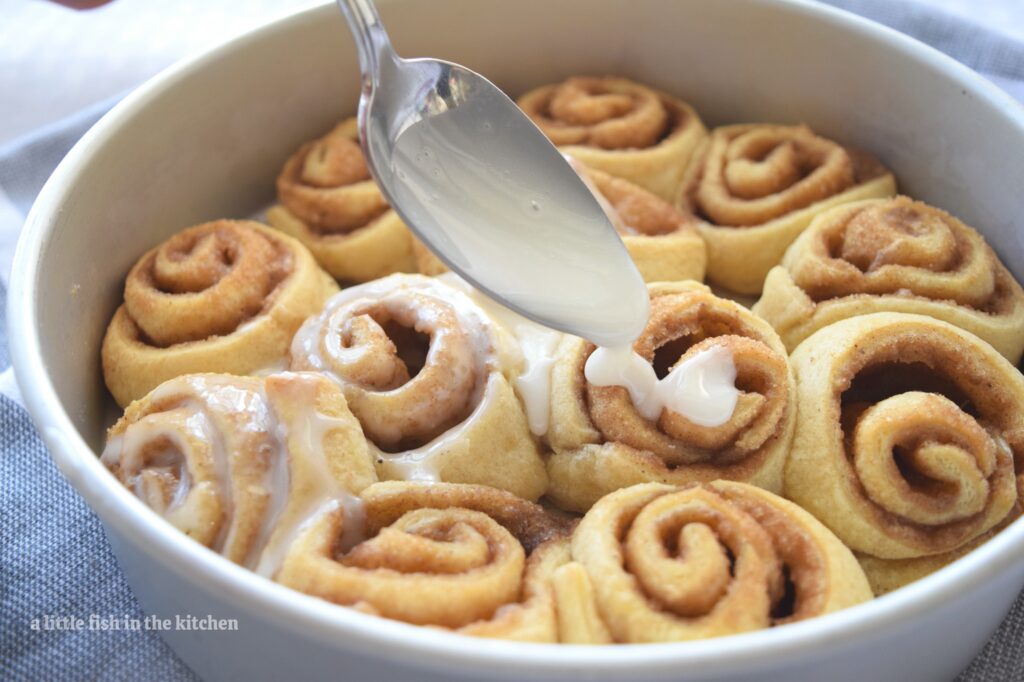 I know most people associate cinnamon rolls with breakfast, but we have been making these at any time of the day the mood strikes us.
Yep, and we are pretty unapologetic about when we decide to whip a batch of these easy sweet rolls together too. Morning, noon, or night it's all fair game when it comes to this easy sweet roll recipe!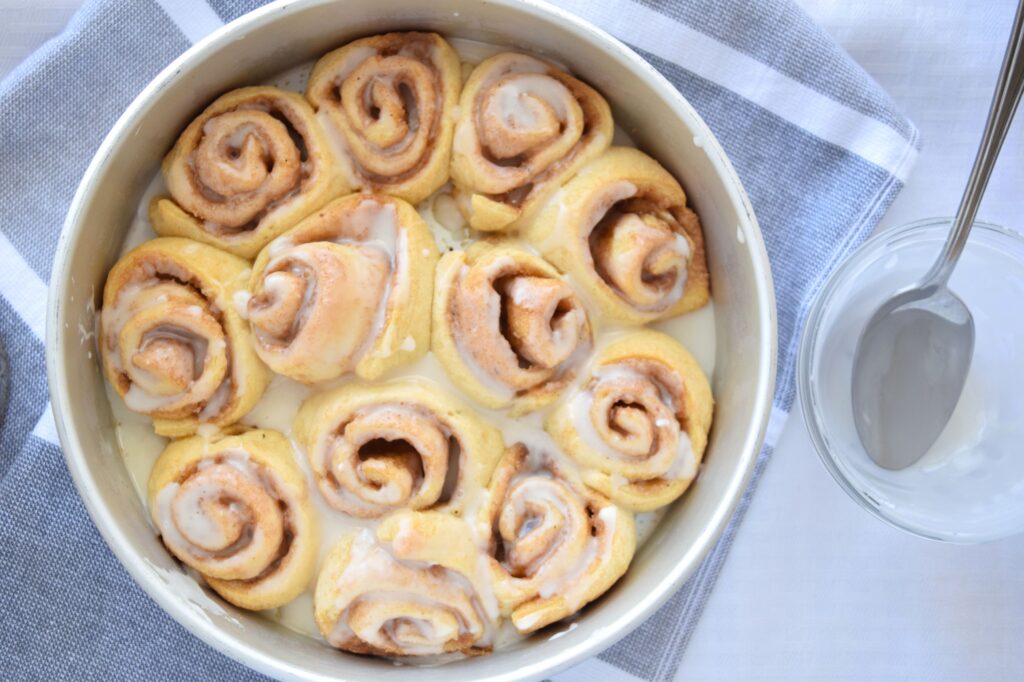 Y'all, sometimes a girl just needs a warm, icing-slathered cinnamon to take the edge off of a long day …but, doesn't want to make a lot of effort to bake some. I have a feeling other folks have felt the same way at times too. Using convenient crescent roll dough as a shortcut in this recipe makes a heavenly pan of cinnamon rolls possible in under 30 minutes!
If you are prone to random sweet roll craving like I am, believe me, this recipe is a keeper! Happy baking y'all!
Pin this recipe for later!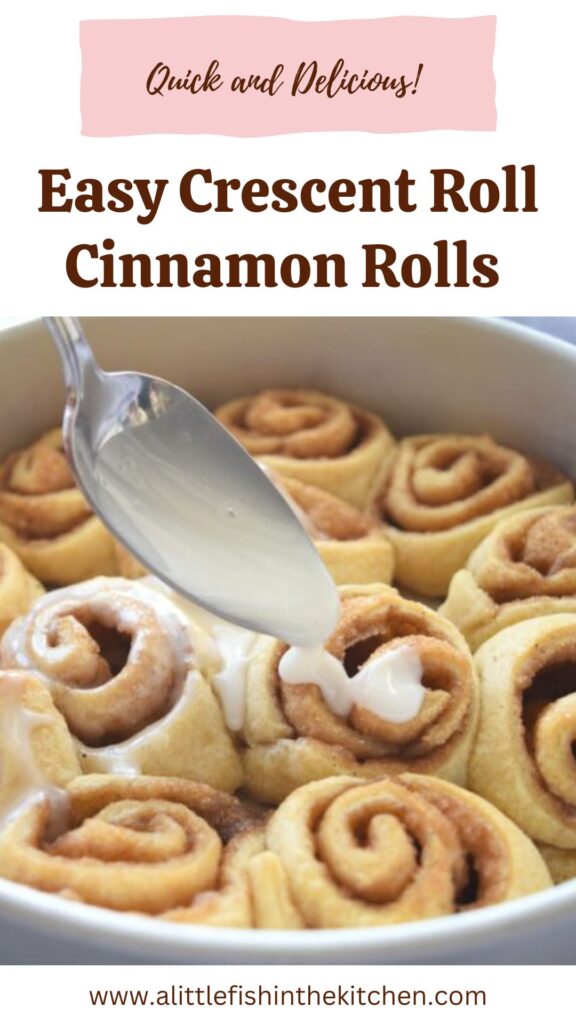 Check out one of my latest videos! Please subscribe when you visit, I post new recipe videos weekly!
Never miss a post or new recipe! Sign up here to have all of of my new posts delivered right to your inbox!
Easy Crescent Roll Cinnamon Rolls
Course: Breakfast, Dessert
Cuisine: American
Difficulty: Easy
Ingredients
1 (4 oz) crescent-shaped refrigerated rolls

3 tablespoons of all purpose flour, to prepare work surface

1-2 tablespoons salted butter, room temperature

1/4 cup light brown sugar

2 teaspoons all-purpose flour

1 teaspoon ground cinnnamon

For the glaze:

1/3 cup sifted powdered sugar

1- 2 teaspoons milk (use less milk for a thicker glaze)

1/2 teaspoon pure vanilla extract
Directions
Preheat the oven to 350°. Light coat an 8-inch round baking pan with non-stick cooking spray and set it aside.
Lightly flour your work surface and remove the crescent roll dough from the container. Working carefully not to separate it, lay out the crescent roll dough as well as you can into a rectangle. Gently flatten the dough slightly with your hands and as well as you can pinch the pre-cut seams together.
In a small bowl, mix the brown sugar, cinnamon and two teaspoons of flour and set it aside.
Using a pastry brush, evenly spread the softened butter over the surface of the crescent roll pastry. Use the entire two tablespoons of butter. Evenly sprinkle the brown sugar mixture over the the top of the dough.
Slowly roll the dough into a log. Keep the roll as tight as possible and just pinch any seems that start to come apart back together as you roll it up. Use a sharp knife to cut the roll into 8-10 cinnamon rolls and place them into the prepared pan.
Make for 12-15 minutes or until rolls are lightly browned and look done. Place the pan on a rack to cool. All the rolls to cool for 15-20 before glazing.
While the rolls are cooling, prepare the powdered sugar glaze. *see notes below
Evenly drizzle the glaze over the warm cinnamon rolls and serve!
Recipe Video
Notes
Be sure to cover the glaze if you make it in advance as it will start to harden up when exposed to the air.
Recipe from A Little Fish in the Kitchen at https://alittlefishinthekitchen.com. All content on this website is owned by Marcelle G. Bolton, please contact the author for permission to republish.