Hi. It's been a little while, I know.
I hope everyone had a wonderful, memorable Thanksgiving! We just did a small thing at home for the holiday, just the four of us. It was a genuinely relaxing day around the house that we all needed. We didn't prepare a traditional whole bird, that would have been way too much to serve for just little ol' us. Instead, we marinated and grilled some turkey cutlets and that worked out much better for our small party.
For side dishes, we made a pan of our favorite spicy tamale-cornbread dressing, sauteed some fresh, green beans, baked some fresh skillet dinner rolls! For dessert, I made a peanut butter sheet cake and a pumpkin pie. It was a simple, but tasty, little feast.
I only made two desserts for our Thanksgiving meal, but we certainly ate them all up over the next few days. In fact, I may have gone a bit overboard with my sweets consumption that week (Okay, I definitely did!) O.M.Geee, y'all, that peanut butter sheet cake… it's a luscious, addictive, family favorite. It's rich, very sweet and delicious. And is it really a pumpkin pie if it's not buried under a mountain of sweetened whipped cream? I think not.
Oh boy, I've not even mentioned my daughter's 7th birthday yet, which falls during the week of Thanksgiving each year, and the huge, store-bought ice cream cake we enjoyed for that celebration!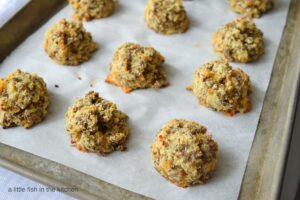 Before all the indulgences of Thanksgiving week happened, I had a pretty successful, three-week-long run on a reasonable, low-carb diet. I lost a little over six pounds and I was feeling like a million bucks. So, before all the madness of the Christmas Eve/Day festivities begin and the calorific eggnog starts flowing, I'm taking a step back again. I'm actually looking forward to a few more weeks of being more conservative with what I eat.
These low-carb sausage, egg and cheese bites are a fantastic, make-ahead breakfast or snack and for me, they have been diet life-savers! Lately, I've been making a double batch on Sunday and I store them in my fridge in an airtight container for as long as they last. Evan likes to grab two and go on workday mornings and for me they are a quick fix for when hungers strikes midday. Having a batch of these sausage, egg and cheese bites prepared and on-hand has helped to keep me honest while I'm watching my carb intake.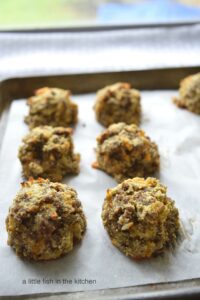 These savory, little treats may not look like much, but they are packed with protein and actually really satisfying. Even if you aren't watching your carb intake, this recipe makes for a fun twist on an egg breakfast and it's worth it to note that since they are made with coconut flour, they are gluten-free.
I have also made a few batches of these with maple-flavored breakfast sausage and they were a huge hit with my kids! These easy sausage, egg and cheese bites have seriously become one of my favorite, easy, low-carb dishes and I hope you enjoy them too if you give them a try.
And y'all, just because I'm watching my carbs for a few weeks doesn't mean I'm not ready to celebrate the season! You know I can hardly keep my baking addiction in check. I've got some posts with all new recipes for Christmas sweets that will be published over the next few days!! In the meantime, have a look at these these older posts with some of my favorite holiday treats (Please note, that I'm still working on updating older posts with the new, fancy recipe card format since I moved over to WordPress this summer. The older posts may look a little different, but the print function still works as it is for now!)
Check Out These Oldies But Goodies!
Watch me make a batch of these low-carb sausage, egg and cheese bites for you all! Please subscribe to my YouTube Channel while you are there! More recipe videos are coming up soon.
Low-Carb Sausage, Egg and Cheese Bites
Course: Breakfast
Cuisine: American
Difficulty: Easy
These tasty, low-carb breakfast bites are a no-fuss, make-ahead breakfast. Make a batch and have a satisfying breakfast ready to grab and go for the week!
Ingredients
4 oz cream cheese or Neufchatel cheese, room temperature

1 lb pork breakfast sausage, cooked and drained on paper towels (be sure to read the notes below for special instructions for this ingredient!)

1/3 cup coconut flour

1 teaspoon baking powder

1 cup shredded cheddar cheese ( or I sometimes use a colby jack blend or a pepper jack blend!)

1/2 teaspoon ground black pepper

1/2 – 1 teaspoon dried sage (to taste)

3 large eggs, beaten
Directions
Prepare a cookie sheet with parchment paper and set aside. Preheat oven to 350°. In a large bowl, use a wooden spoon to combine cooled, crumbled breakfast sausage with softened cream cheese. Next, mix in the coconut flour, and shredded cheese.
Stir in the baking powder, spices, and beaten eggs. Stir well to combine, mixture will be thick. Use an ice cream scooper to divide mixture on to prepared cookie sheet.
Bake for 18 – 20 minutes and place baking sheet on a rack to cool. Serve warm.
Notes
These are a great make ahead breakfast for the week, just heat and eat on the go! Refrigerate the leftover sausage, egg and cheese bites in an airtight container for up to 5 days.
Make sure your breakfast sausage is completely cooled before you begin preparing this recipe as hot sausage will cook the eggs as you stir them in! Also, don't skip draining the breakfast sausage on paper towels! Too much moisture will cause the sausage bites to turn out flat, and more like cookies as they bake.
Recipe as published on A Little Fish in the Kitchen at www.alittlefishinthekitchen.com. All content is owned by Marcelle G. Bolton. Please contact the author for permission to republish.
Sign up here for my email list and receive all of my posts straight to your inbox! Subscribe and never miss a post!!