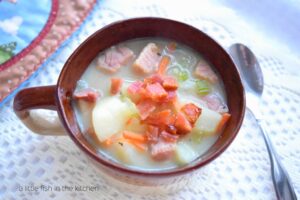 This simple, old-fashioned ham and potato chowder is a comforting meal on a chilly night. This is a tried and true family favorite recipe and we have certainly enjoyed it over the years.
My kids gobble the first serving of this soup up and typically ask for seconds! That's how I know this recipe is a keeper.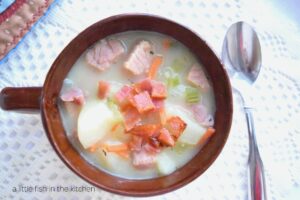 This is also a great way to use up leftover holiday ham… the holidays will be here before we know it! So, be sure to bookmark this one or Pin it for later! Please share this recipe with your family and friends!
The recipe video for this chowder is below for you, be sure to stop by my YouTube Channel and catch up on the latest news and dishes! Happy eating, my friends! xo
Check out one of my latest videos!
Wouldn't you like to stay awhile? Sign-up here to receive all of my new posts in your inbox! Subscribe now and never miss a recipe or an update!
Old-Fashioned Ham and Potato Chowder
Course: Lunch, Dinner
Cuisine: American
Difficulty: Easy
This old-fashioned soup will warm your soul on a cold winter's day! It's also a delicious way to use up any leftover holiday ham!
Ingredients
2 tablespoons olive oil or butter

3 medium Russet potatoes, peeled and cut into bite-size pieces

2 cups smoked ham, cut into bite-size pieces

1/2 yellow onion, coarsely chopped

2 medium stalks of celery, rinsed and coarsely chopped

1-1/4 cup matchstick carrots or 2 medium carrots peeled and diced

2 teaspoons dried parsley

1 teaspoon dried thyme

1/2 teaspoon ground white pepper

2 tablespoons cornstarch

6 cups chicken broth or 6 cups water with appropriate amount of chicken flavored bouillion.

1/2 cup half and half or heavy cream

crumbled bacon bits or chopped fresh Italian parsley for garnish, if desired
Directions
In a Dutch oven, heat the olive oil or butter. Add in the potatoes, onions, celery, carrots and ham and cook for about 4 minutes, stirring often to coat with the oil.
Add in the cornstarch and coat the vegetable mixture well. Next, add in the broth or water with the bouillion cubes. Stir well and cover the pot.
Bring the pot to a boil and then reduce the heat to medium. Cover the pot and allow the soup to simmer for 20 minutes, or until the potatoes are tender.
Add in the half and half or cream and bring the pot back just to a boil. Finally, remove from the heat.
Enjoy!
Recipe Video
Notes
Recipe from A Little Fish in the Kitchen blog at www.alittlefishinthekitchen.com. All content is owned by Marcelle G. Bolton. Please contact the author for permission to republish.