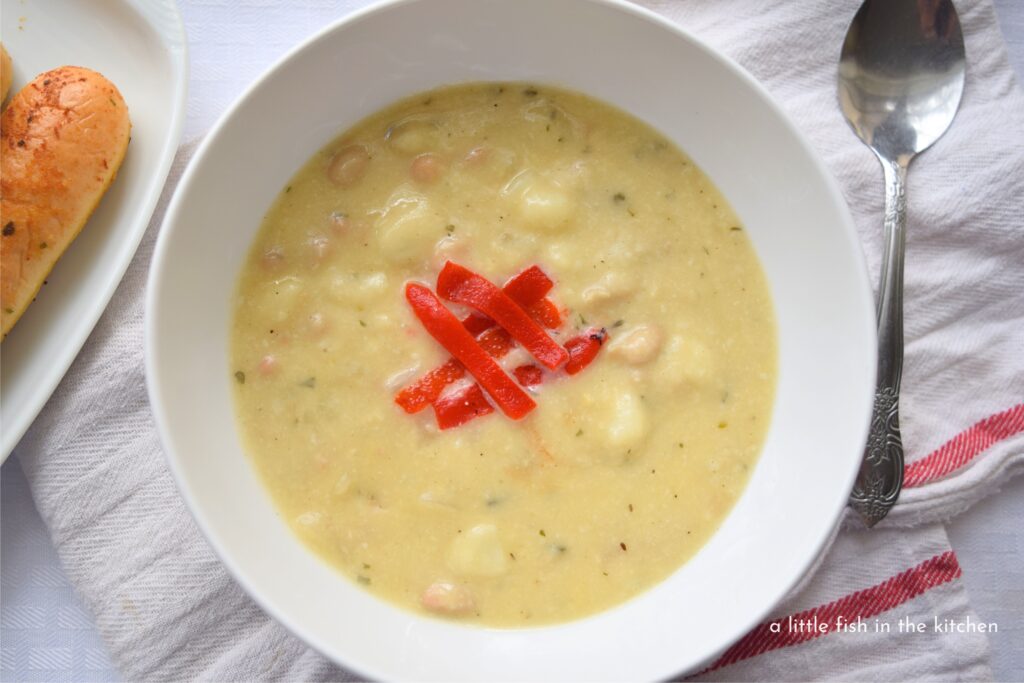 I'm starting this post off with a food blogger confession: I honestly did not expect any human being under the age of 18 in my household to eat this creamy potato and bean chowder. Seriously, once I decided to make it, I fully expected to be eating the entire pot of it all by my little lonesome over the next few days! It's was an easy commitment to make because this chowder is so darn tasty!
This is a recipe for a vegetarian chowder and as you all know, Evan prefers meat served with a side of meat and my kids, well, dishes of first impression are always hit or miss. This one has (gasp!) beans in it, so I mostly expected "a miss", especially with the dramatic, 7-year-old girl. To my absolute surprise, it was a big hit with my entire family…way bigger than I initially expected!
This joyous eating occasion didn't come around by complete happenstance, however. I think true love for another family-favorite soup recipe paved the way for my finicky kids even considering having a taste of this hearty vegetarian chowder.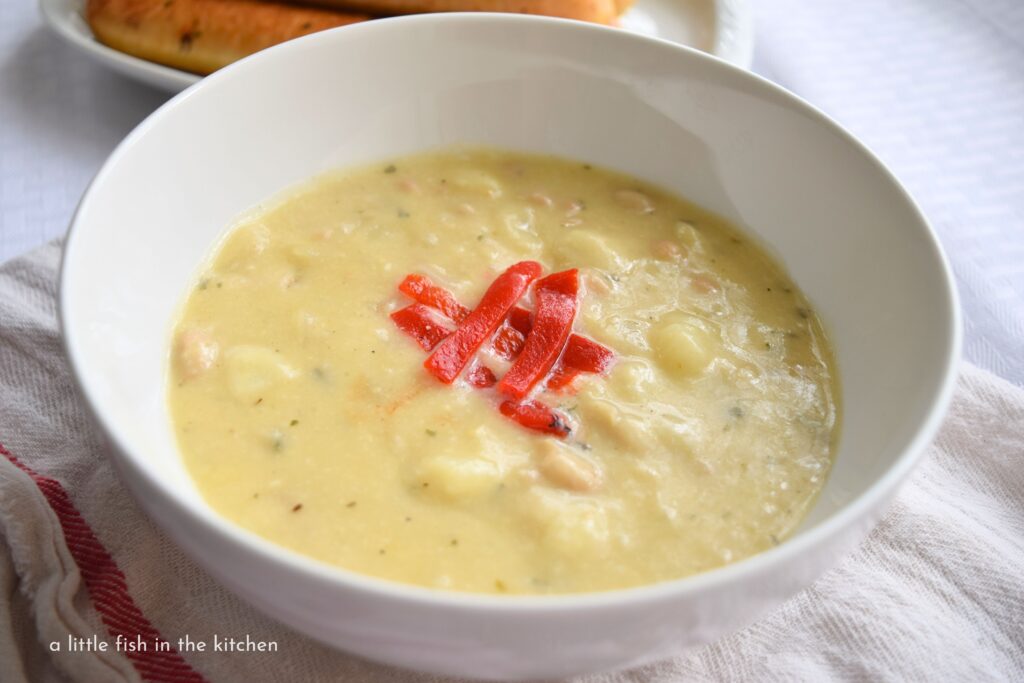 You see, my kids love my old-fashioned potato soup . They literally cheer when I make a pot of that stuff (it's so weird!). At first glance, a pot of this creamy potato and bean chowder resembles that traditional, chunky potato soup a whole bunch. So, based on appearance alone, my two minions kept an open mind about eating a bowlful of this creamy goodness!
Once I realized that this cheesy chowder had piqued their interest, I served it with fresh baked, garlic breadsticks… another food item they find completely irresisitible! This was meant as an added incentive for having a bowl of new-to-them soup, and I do think it helped. Is it even possible to be around a bread stick and not dunk it in soup? I don't think so, people!!
All food bribery aside, they ate every bite of the chowder in their bowls so, I know they were happy that they tried it.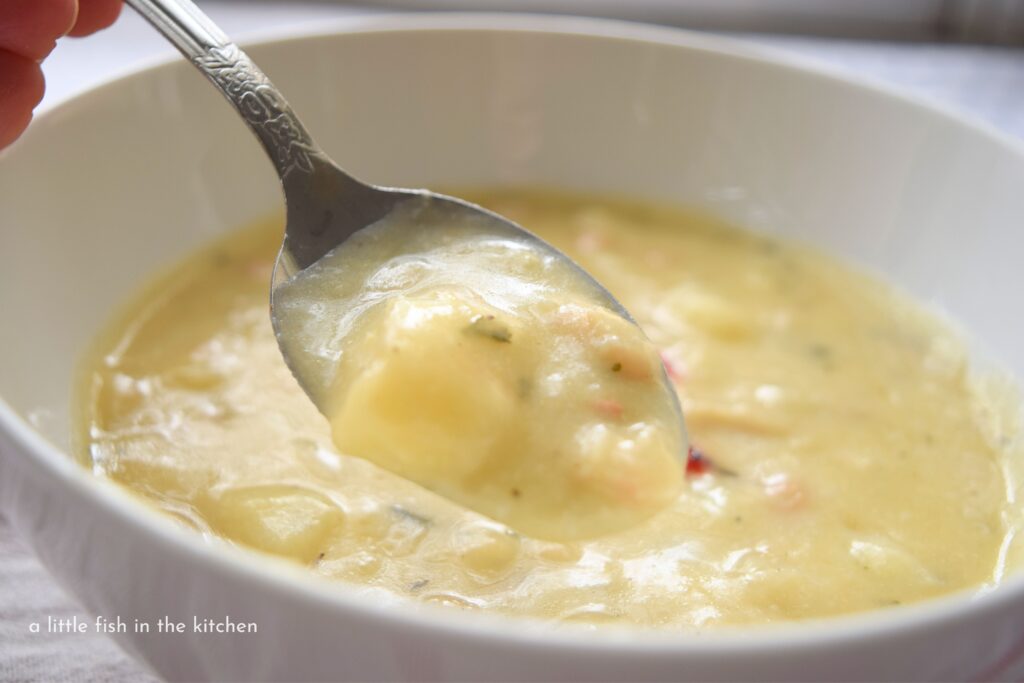 Cream-based soups like clam chowder, potato soup, or corn chowder are my personal favorites, and I often make them with extra meaty ingredients like bacon and chicken broth. However, I definitely wanted post number two in my #MeatlessMainDay series to be a hearty, luscious vegetarian chowder.
So, I'm sharing my recipe for this satisfying and super simple creamy potato and bean chowder and this recipe is definitely inspired by my favorite rich, milky soups. But, there's absolutely no meat on the ingredient list for this one. Believe me, you'll never miss the animal protein as you'll be good and full after a serving of this rich, flavorful chowder that's chock full of hearty canellini beans, healthy potatoes!
Happy eating, y'all! xo – M
Check out one of my latest recipe videos!!
Be sure to Pin this recipe for later!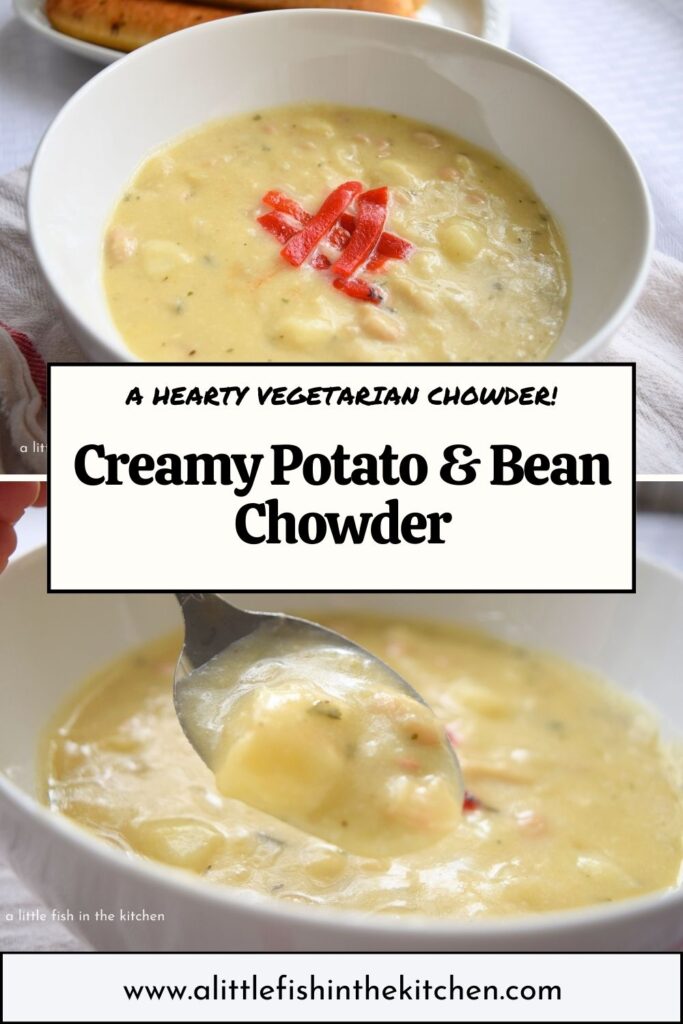 Wouldn't you like to stay a while? Sign up here to receive all of my posts right to your inbox! Subscribe now and never miss a new recipe or update!
Creamy Potato and Bean Chowder
Course: Main
Cuisine: American
Difficulty: Easy
Delicious and satisifying, this cheesy chowder is chock full of hearty cannelini beans and healthy potatoes! You'll never miss the meat!
Ingredients
3- 4 large Russet potatoes, peeled and diced in large pieces (4 cups diced potatoes)

1/2 yellow onion, coarsely chopped

2 tablespoons extra virgin olive oil

1/2 teaspoon of salt

1 teaspoon ground white pepper

1/4 teaspoon dried oregano

1/2 teaspoon dried thyme

1 teaspoon dried parsley

32 oz vegetable broth (see notes)

1/3 cup all-purpose flour

1-1/2 cups shredded Swiss cheese

2 cups milk

1 can (15 oz) canellini beans, drained and rinsed

1 jar roasted red peppers, for garnish, if desired
Directions
In a large Dutch oven, heat the olive oil over medium heat. Add the potatoes and onions to the pot and saute for 3 minutes. Add in the spices and saute for one more minute. Pour in the vegetable broth and bring the pot to boil. Reduce the heat and allow the pot to simmer for 10 minutes, or until the potato are tender.
In a medium-size bowl, mix in the flour in with the shredded cheese. Add the milk to the cheese mixture and stir well. Add the milk and cheese mixture to the Dutch oven and stir well. Bring the pot back to a boil and then reduce to a simmer.
Add in the beans and adjust the seasoning to your preference. Allow the pot to simmer for 5 more minutes. Remove the pot from the heat. Pour soup into individual serving bowls.

Garnish: take a roasted red pepper (as many as needed) from the jar and slice. Top each bowl with a few slices of roasted red pepper for color and extra flavor.
Serve and enjoy! See notes for serving suggestions
Recipe Video
Notes
While it's not vegetarian, chicken broth can be used in place of veggie broth in the same amount, if that is what you have on hand.
This potato and bean chower is excellent served with a simple side salad and garlicky bread sticks!
Recipe as published on A Little Fish in the Kitchen at www.alittlefishinthekitchen.com. All content is owned by Marcelle G. Bolton. Please contact the author for permission to republish.