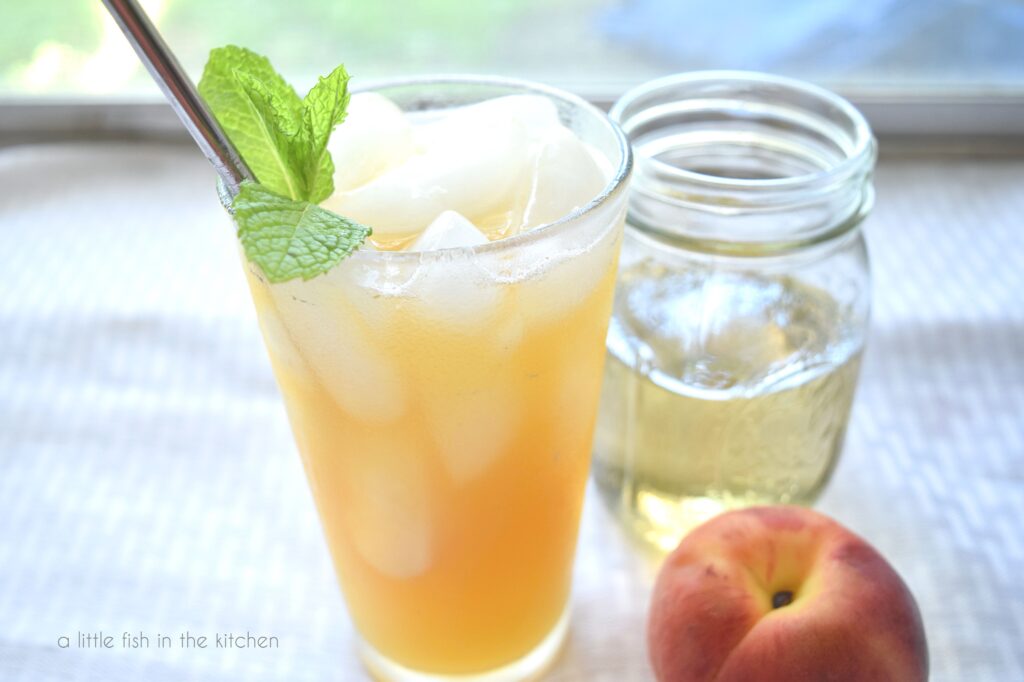 Ice-cold, fruity drinks are so comforting to me and the rest of the world, on scorching summer afternoons. I will always and forever welcome a tall glass of homemade lemonade in middle of a heat wave. It's the best!
However, lately this Minty Peach Cooler has been a delightful addition to our summertime beverage menu. The vibrant peach color in this tasty drink is eye-catching, and the flavors are bright and delicious.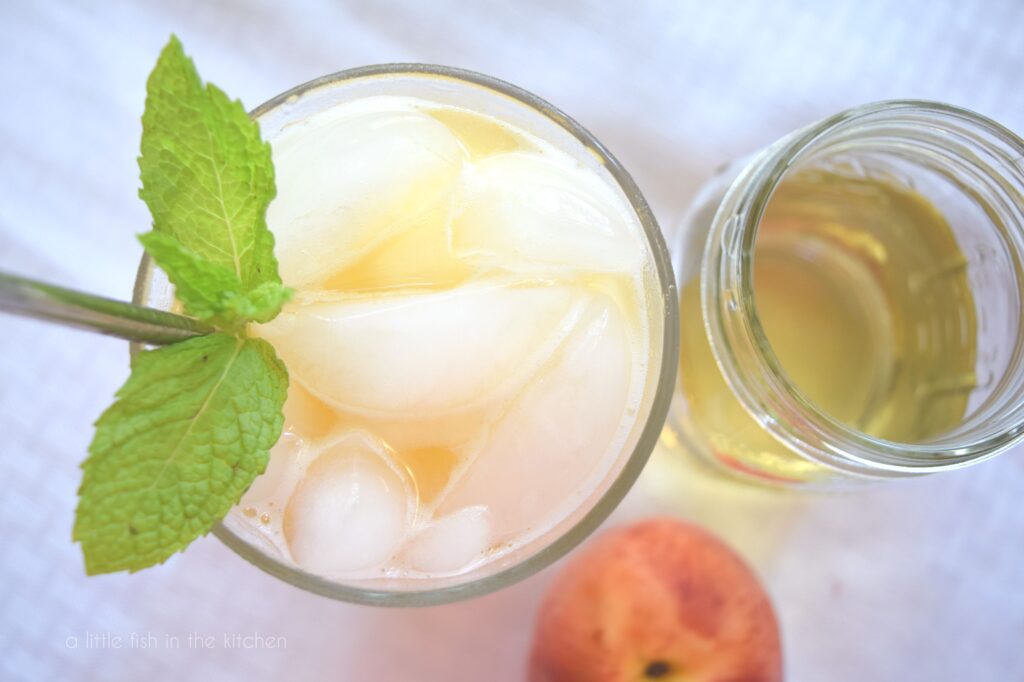 This thirst-quenching Minty Peach Cooler is also super easy to make. I use a can of peach nectar, splashes of both lime and lemon juice, and a measure of homemade mint simple syrup to sweeten it up.
I share my simple method for making homemade mint syrup in this drink recipe, and it's really a very easy task. Be sure to watch my video for a full tutorial on this recipe. In the video, I demonstrate how to use an electric kettle to make simple syrup. I love making syrup this way because it helps me avoid heating up the kitchen.
Honestly, the hardest part of this drink recipe is waiting for the simple syrup to cool down!!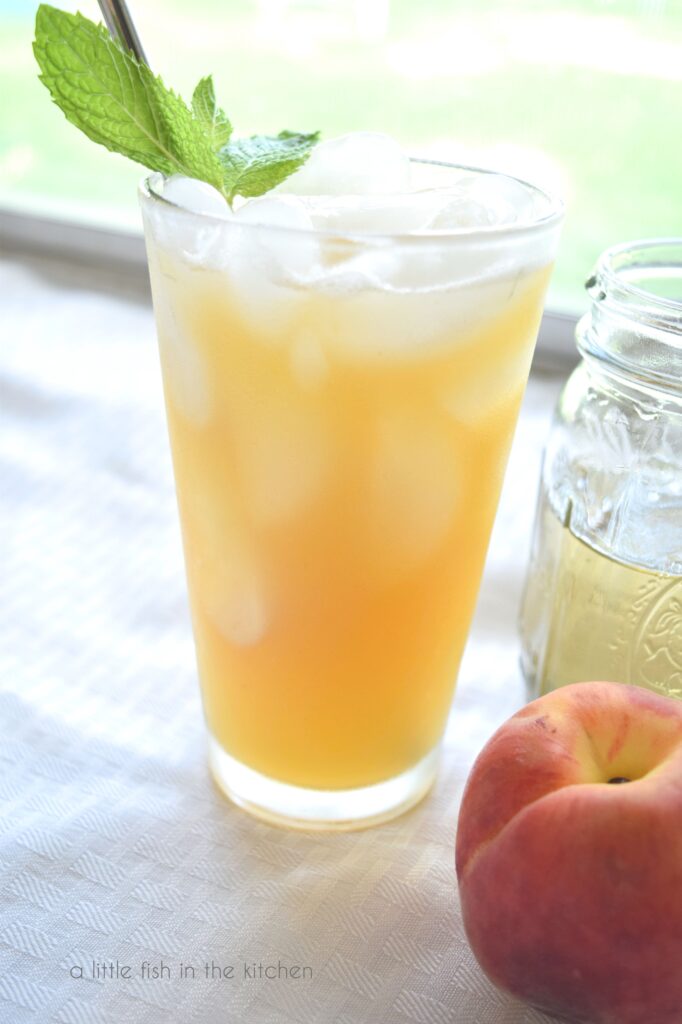 However, if you want to make this drink even less fussy than it is, you can always by a premade mint-flavored syrup to use in this cooler instead. I have not personally tried this one, but this Sonoma County Mint-Infused Simple Syrup looks like it might be a suitable replacement for homemade mint syrup. Many of the other less pricey versions used spearmint leaves which would not give the same milder mint flavor profile to this Minty Peach Cooler.
Be sure to use any leftover mint simple syrup to flavor your next pitcher of iced tea, lemonade or even homemade vanilla or chocolate ice cream shakes. I can't share enough how much I truly love mint syrup, it's a refreshing change up for so many tasty beverages.
Happy sipping, y'all!! 🍹🍨
Save this recipe on Pinterest!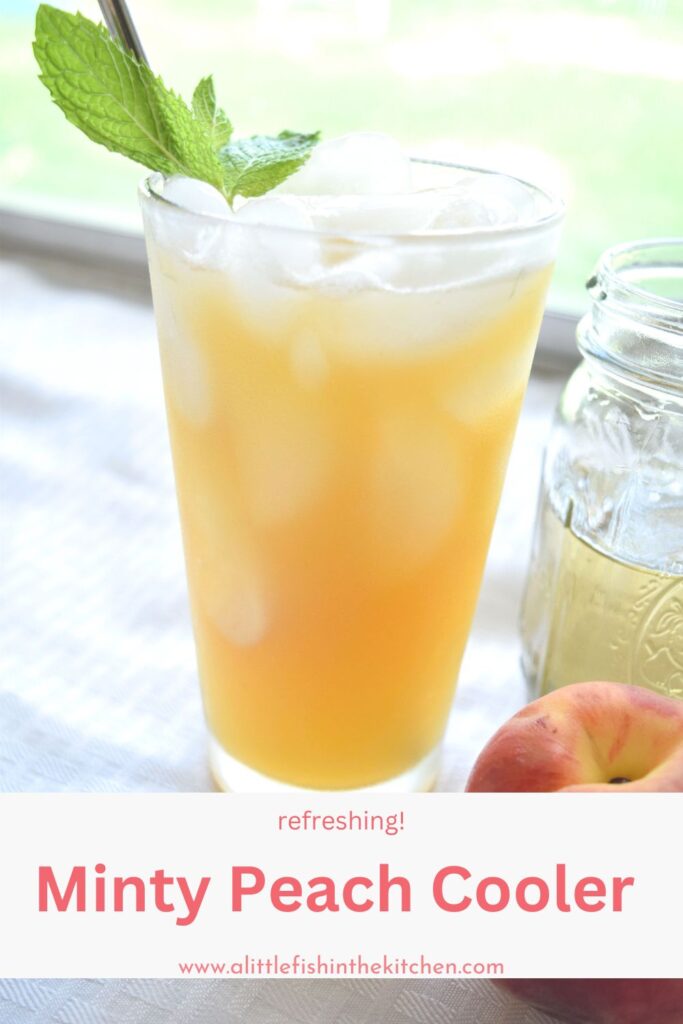 Other summer recipes you might enjoy!
Please enter your email address below to have all my new posts sent right to your inbox! Subscribe now and never miss a recipe or an update!
Minty Peach Cooler
Course: Drinks
Cuisine: American
Difficulty: Easy
This Minty Peach Cooler is a refreshing way to beat the heat this summer! This simple drink is sweeted with homemade mint simple syrup, it's so easy and inexpensive to make. Use a mason jar to store leftover mint syrup in your refrigerator for up to one month. Be sure to try mint syrup in your next glass of iced tea!!
Ingredients
1 can (11.3 oz) peach nectar

lime juice

lemon juice

Ingredients for mint simple syrup

20 fresh mint leaves, coarsely chopped

1 cup sugar

1 cup boiling water
Directions
Make the mint simple syrup
In a medium size bowl, mix fresh chopped mint leaves and sugar together. Add boiling water to the bowl and stir the liquid rapidly until the sugar is dissolved. Set mint simple syrup aside and allow it to cool completely.
Once simple syrup is cooled, fill an 8 oz glass with ice. Add two tablespoons of mint syrup to the glass. Next, shake the can of peach nectar and then open it. Fill the glass 3/4 up with peach nectar. Add a splash of both lemon and lime juice, stir well.
Garnish with a sprig of fresh mint and fresh fruit pieces, if desired. A wedge of fresh peach, or a lemon or lime wheel would be perfect complements to the refreshing Minty Peach Cooler.
Enjoy!
Recipe Video
Notes
Recipe from A Little Fish in the Kitchen blog at www.alittlefishinthekitchen.com. All content is owned by Marcelle G. Bolton. Please contact the author for permission to republish.