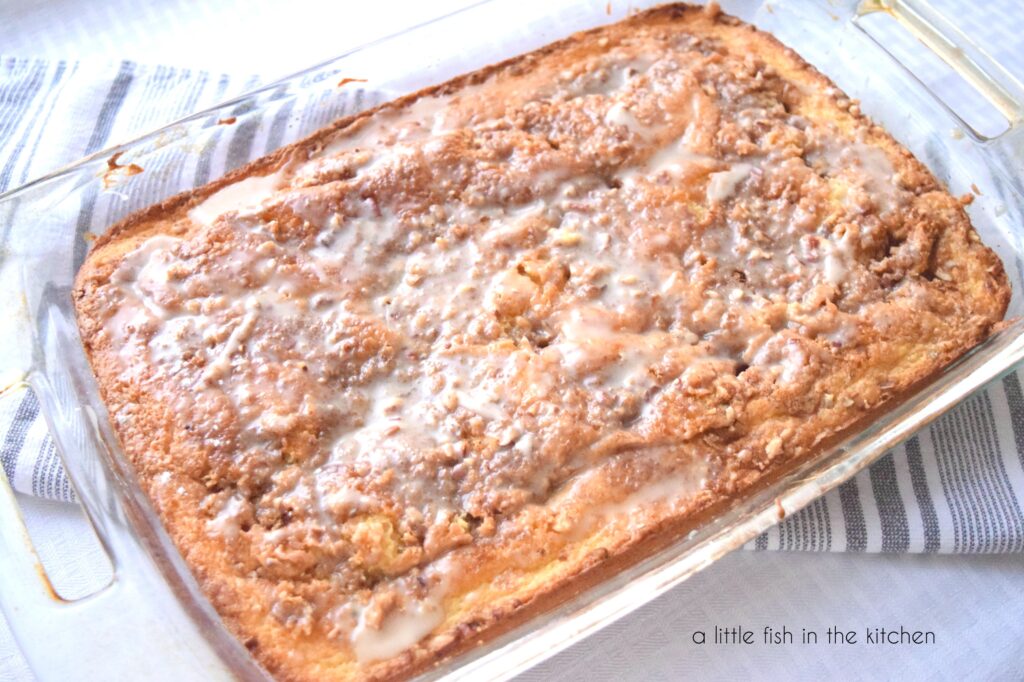 If you are a fan of the donut shop classic sweet rolls often called honey buns, I'm willing to bet this Old- Fashioned Honey Bun Cake will be your new favorite dessert! Honey buns are cherished for their butter-rich, rolled bun that is filled with a comforting spiced brown sugar-pecan mixture. Lastly, no honey bun is complete without a drizzle of (or a dip in) a simple powdered sugar glaze. The dried glaze gives each donut an irresistible, glossy finish and it's also what gives these famous rolled buns their signature sticky sweetness.
I'm happy to report that those classic flavors are unmistakable in this Old-Fashioned Honey Bun Cake!
I found my original recipe for honey bun cake in an old Southern Living cookbook years ago, and it quickly became one of my go-to dessert recipes . This luscious cake never fails to be the star of any dessert table it's placed on, and the recipe immediately comes to mind when I want to serve a delicious and comforting dessert to my family and friends.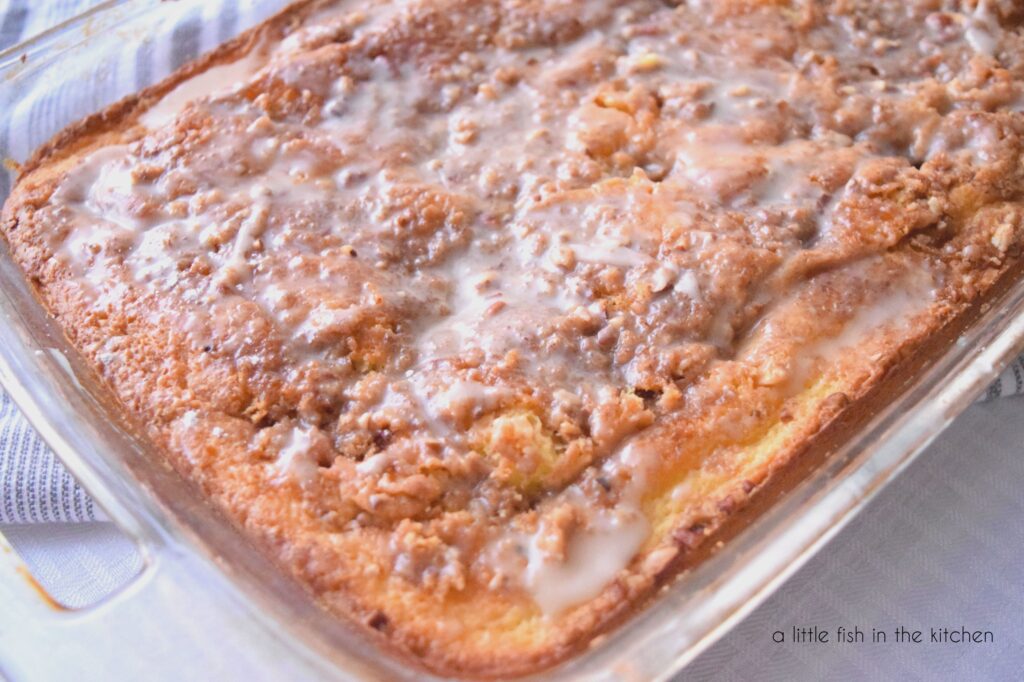 Decadent, sweet, and simple are three words that come to mind when I think about this Old-Fashioned Honey Bun Cake, and this is honestly one of the most impressive cakes I've ever made by doctoring up a storebought box of yellow cake mix!
How to make a honey bun cake
Four eggs and a cup of cool sour cream are added to the cake batter to give this eye-catching cake a boost of texture and richness in every bite. However, the flavors really get kicked up a notch when a nicely spiced brown sugar and pecan filling is swirled throughout the batter. I've only mildly adapted the original recipe to suit our tastebuds by adding a bit of vanilla extract into the batter and I also increased the amount of the brown sugar filling that is used in the recipe (because you all know I just have to be a little bit extra!).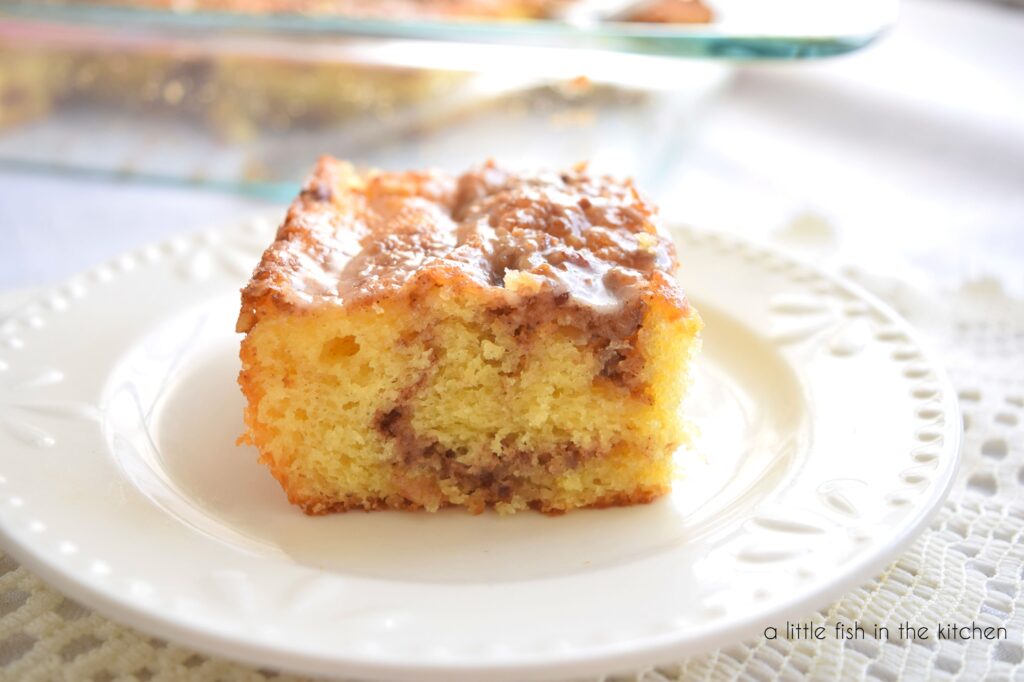 I sincerely think that this old-fashioned honey bun cake is a perfect make-ahead dessert for nearly every occasion. After a full year of uncertainty and a whole bunch of "new normal", life seems to be shifting once again and slowly, but surely (and happily) gathering with friends and family is becoming a thing again.
So, please keep this recipe in mind for your summer barbecues or your Christmas Eve dinner, and please share it with anyone who will enjoy it!
Take care my friends and happy eating! xo-M
Please check out one of my latest videos and subscribe to my YouTube channel!
Wouldn't you like to stay awhile? Sign-up here to receive all of my new posts in your inbox! Subscribe now and never miss a recipe or an update!
Be sure to Pin this recipe for later, y'all!!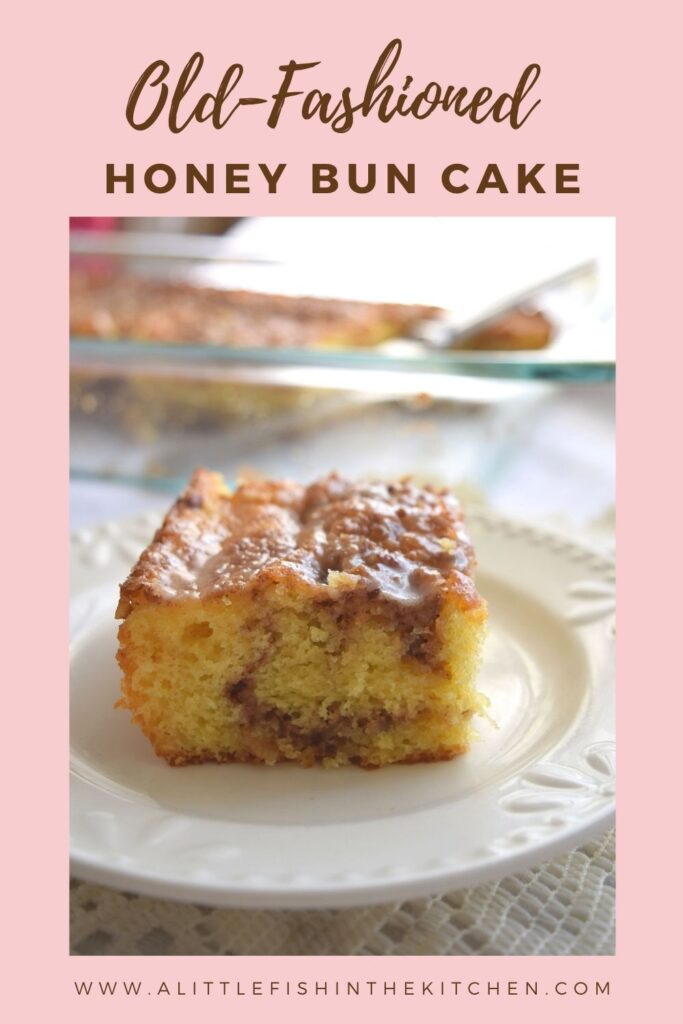 Old-Fashioned Honey Bun Cake
Course: Dessert
Cuisine: American
Difficulty: Easy
This honey bun cake is sure to become a family favorite. It's a fantastic dessert for any occasion!
Ingredients
3/4 cup light brown sugar

1 -1/2 teaspoons ground cinnamon

1/2 cup pecans, coarsely chopped (optional)

1 box (15.25 oz) classic yellow cake mix

4 large eggs

2/3 cup vegetable or canola oil

1/3 cup water

1 teaspoon pure vanilla extract

1 cup (8 oz) sour cream

Easy Vanilla Glaze

1 cup powdered sugar, sifted

2-1/2 tablespoons of milk or water

1 teaspoon pure vanilla extract
Directions
Pre-heat the oven to 350°. In a small bowl, combine the brown sugar, cinnamon, and chopped pecans (if you include pecans) and set the bowl aside.
In a large mixing bowl, combine the cake mix, eggs, oil, water, vanilla extract and sour cream. Mix well.
Coat a 9 x 13 baking dish with non-stick spray. Spread half of the cake batter into the greased baking dish. Evenly sprinkle one-half of the brown sugar mixture over the cake batter. Add the remaining cake batter to the pan and gently spread it over the first layer (it may cover the first layer completely, and that's okay!)
Top the cake batter with the remaining sugar mixture. Use the tip of a butter knife to gently swirl the cake batter and sugar mixture together (see recipe video below for guidance if needed)
Transfer the pan to the preheated oven and bake for 35-40 minutes or until a toothpick inserted into the middle of the cake comes out clean.
While the cake is still warm, top with Easy Vanilla Glaze (recipe follows). Spread glaze over the top of the cake as evenly as possible. Allow cake to cool completely and serve.
Enjoy!
For the Easy Vanilla Glaze
Combine powdered sugar, vanilla and milk (or water). Mix well with a small whisk.
Pour glaze over warm cake and spread over the top as evenly as possible.
Allow the cake to cool and enjoy!
Recipe Video
Notes
Recipe from A Little Fish in the Kitchen blog at www.alittlefishinthekitchen.com. All content is owned by Marcelle G. Bolton. Please contact the author for permission to republish.