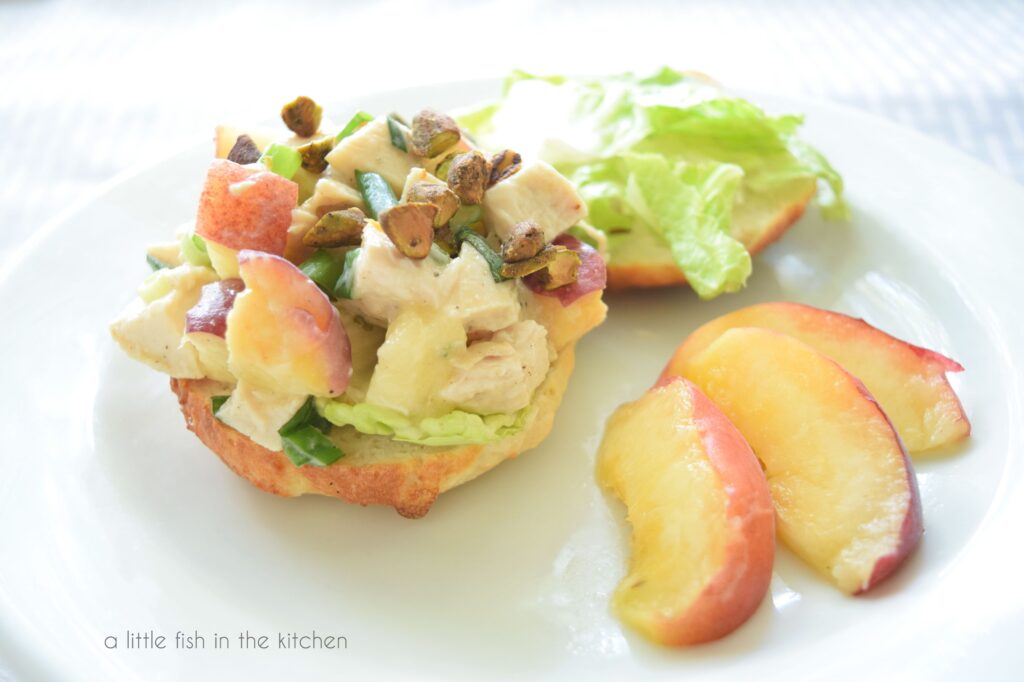 The summer of 2021 is proving to be a scorcher already, y'all! So, of course I've been super interested in preparing meals that let me keep my kitchen and home cool. Bowls full of creamy, chilled chicken or tuna salad are always welcome here, no matter the time of year, but they are probably in extra high demand during the warm summer months.
I think everyone has a favorite combination of ingredients to include in these types of meaty salads. For instance, I typically include apples in my tuna salad and we enjoy mandarin oranges and almonds mixed in with our chicken salad. But, really the possibilities are endless when it comes to whipping up a batch of either type of salad and we truly enjoy how versatile the dishes are.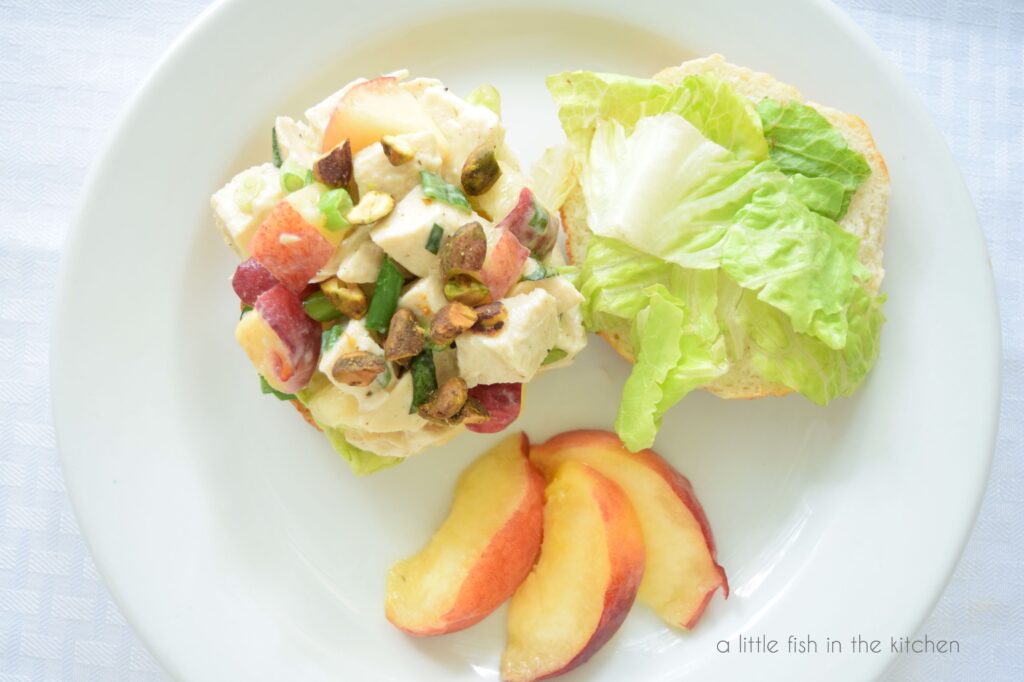 However, last week I decided to change up our usual orange-almond chicken salad recipe by mixing in some beautiful, seasonal peaches, fresh basil and some seasoned chopped pistachios. I was thrilled when this sassy new combination was a big hit with my family!
So, of course I had to take some pretty pictures and share all about this little flavor party with you all! We think this flavorful peach-pistachio chicken salad recipe is a keeper and it really showcases some of summer's most beautiful fruits and herbs.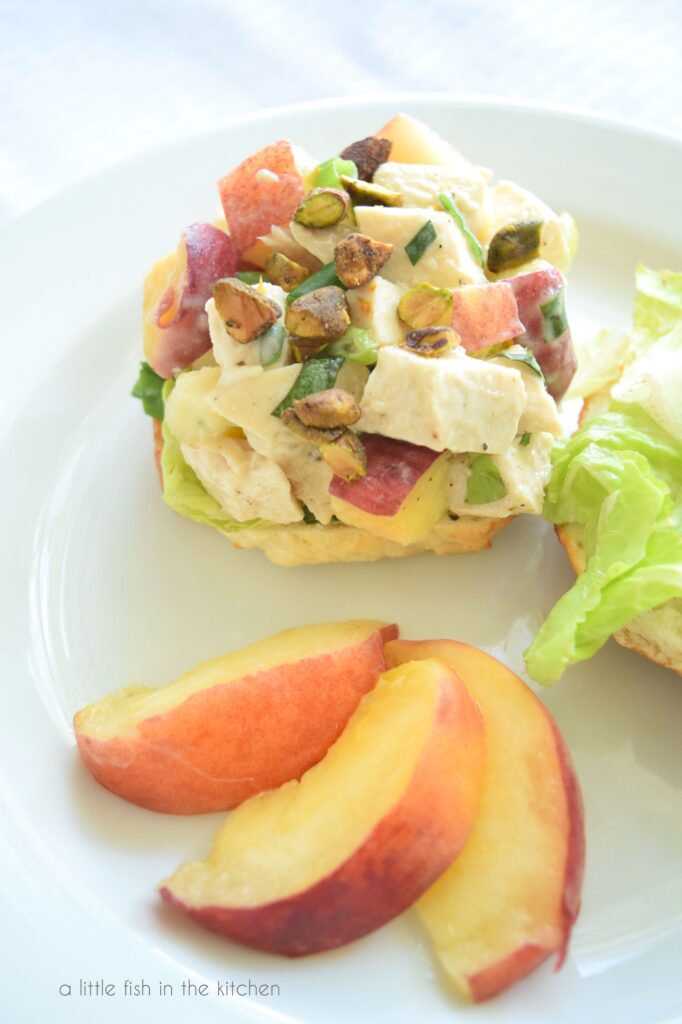 How to make peach-pistachio chicken salad.
All that you need for a batch of this lovely, summer chicken salad are cooked chicken (a store-bought rotisserie chicken is a perfect for this), ripe, fresh peaches, mayonnaise or salad dressing, Dijon mustard, fresh basil leaves, salt and pepper, and some seasoned shelled pistachios.
We love this dish, because it is so simple yet it packs some big flavors. We hope you love it as much as we do!
Happy eating, y'all…stay cool! xo -M
Share this recipe on Pinterest!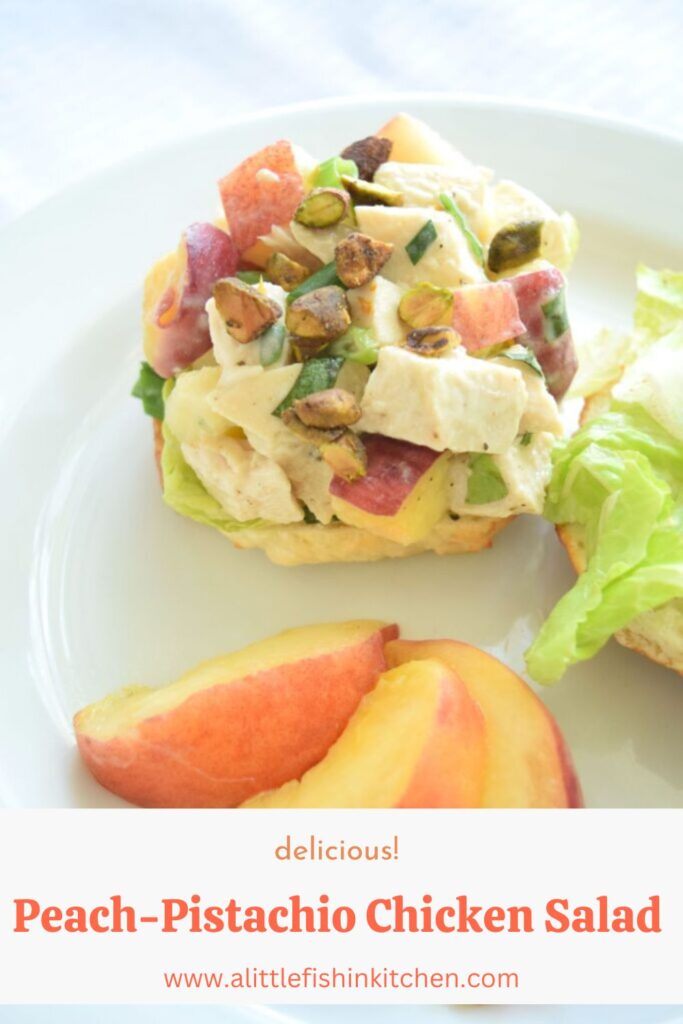 Please check out one of my latest recipe videos and subscribe to my YouTube channel!
Sign-up here to have all of my new posts sent right to your inbox! Subscribe now and never miss a recipe or an update!
Peach-Pistachio Chicken Salad
Course: Lunch, Dinner
Cuisine: American
Difficulty: Easy
This flavorful peach-pistachio chicken salad is a summertime favorite at my place. I love to fill plain bagels or croissants with this peach-pistachio chicken salad for sandwiches, but it's perfectly delicious to eat on it's own served on a bed of crisp lettuce!
Ingredients
3-1/2 cups cooked chicken, diced

1-2 large peaches, rinsed,
and chopped into bite-size pieces

2 green onions, sliced

4-5 leaves fresh basil, coarsely chopped

3 tablespoons mayo or salad dressing
(I used Miracle Whip Light)

1 teaspoon Dijon mustard

1/4 teaspoon salt, or to taste

1/4 teaspoon black pepper, or to taste

salt and pepper-flavored or lightly salted shelled pistachios,
coarsely chopped

Directions
In a large bowl, combine chopped chicken, peaches, basil and green onions and gently stir to combine the salad.
In another small bowl, combine the mayo or salad dressing, Dijon mustard and salt and pepper. Stir dressing to mix well and then transfer it to the bowl with the peach-chicken mixture. Gently toss the dressing into the chicken salad until all ingredients are evenly coated. Serve immediately or chill until ready to serve.
Top each individual helping with chopped pistachios just before serving. *see notes below or see full recipe video below for more details, if needed.
Recipe Video
Notes
* I don't recommend folding the chopped pistachios into the dressed chicken salad as they will become soggy if the salad is not served immediately. It's better to sprinkle them on top of individual servings at mealtime so they keep their lovely crunch!
Recipe from A Little Fish in the Kitchen blog at www.alittlefishinthekitchen.com. All content is owned by Marcelle G. Bolton. Please contact the author for permission to republish.