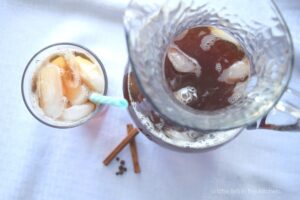 Is the the weather getting warm where you are yet? Our weather is becoming warmer by the day, although we've had a lucky string of fall-like days as of late…a.k.a the best weather of any season!  The most perfect days to be outdoors for me are the ones like we been experiencing: high afternoon temperatures in the mid-70's, breezy evenings in the 50's. The weather has been magical, especially for Texas in mid-April!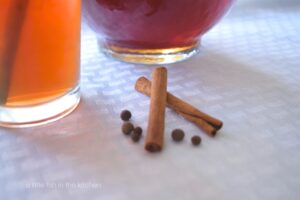 Of course, cool days make me want hot drinks and a freshly-brewed cup of coffee or a steamy cup of vanilla chai latte are my go-to toasty drinks any time of the day. Soon our dreamy, cool, crisp weather streak will end and the muggy, mosquito-slapping days of late spring and summer will set in. Cold drinks will be the way of the world and you'll find a chilled pitcher of iced tea readily available in our refrigerator at all times. 
I'm a huge fan of flavored iced teas and I often use flavored beverage syrups to flavor and sweeten my glasses of iced tea. I'm particularly fond of the raspberry and peach flavored syrups in my tea.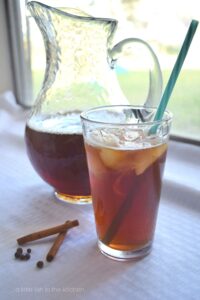 However, I've recently started experimenting with ways to flavor my tea using more natural ingredients and I feel like I've been successful with the recipe for this vanilla-spiced iced tea!  I used cinnamon sticks, whole all-spice and some vanilla extract to infuse some of my favorite flavors into this aromatic iced tea.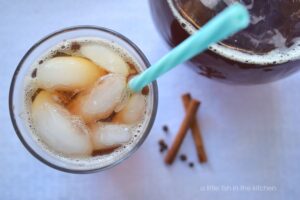 In general, I prefer iced tea to be unsweetened unless I'm using one of those syrups I talked about. However, I think the essence of the warm spices and the vanilla really pop when a measure of sweetness is added to the glass of this naturally flavored tea. Sometimes I used real cane sugar, but I also keep a stevia/monkfruit combination sweetener around for days when I'm trying cut down on my calorie intake.
I hope you enjoy it, however you serve it!
Here's my latest YouTube video, where you can watch me make a pitcher of this infused vanilla-spiced iced tea for you! Be sure to subscribe when you visit, I have lots of new recipe videos and vlogs coming up soon!
Please sign-up here to have all of my new posts sent straight to your inbox! Subscribe now and never miss a new recipe or an update!!
Vanilla-Spiced Iced Tea
Course: Drinks
Difficulty: Easy
Ingredients
2 quarts water

2 (3-inch) cinnamon sticks

6 whole all-spice

2 family-size tea bags

1-2 teaspoons, pure vanilla extract (to taste)

sweetener of your choice, to taste
Directions
Bring the first 4 ingredients to a boil in a large pot or Dutch oven and then reduce the heat. Allow pot to simmer for 5 minutes.
Remove pot from the heat completely, and add in the tea bags. Allow tea to steep for 8 minutes. Run tea through a strainer or use a slotted spoon to remove the whole spices and tea bags and discard them.
Stir in the vanilla extract and sweetener and stir. Fill a large pitcher with ice and transfer the vanilla-spiced iced tea to it. Chill until ready to serve.
Serve over ice and enjoy!
Notes
Recipe as published on A Little Fish in the Kitchen at www.alittlefishinthekitchen.com. All content is owned by Marcelle G. Bolton. Please contact the author for permission to republish.