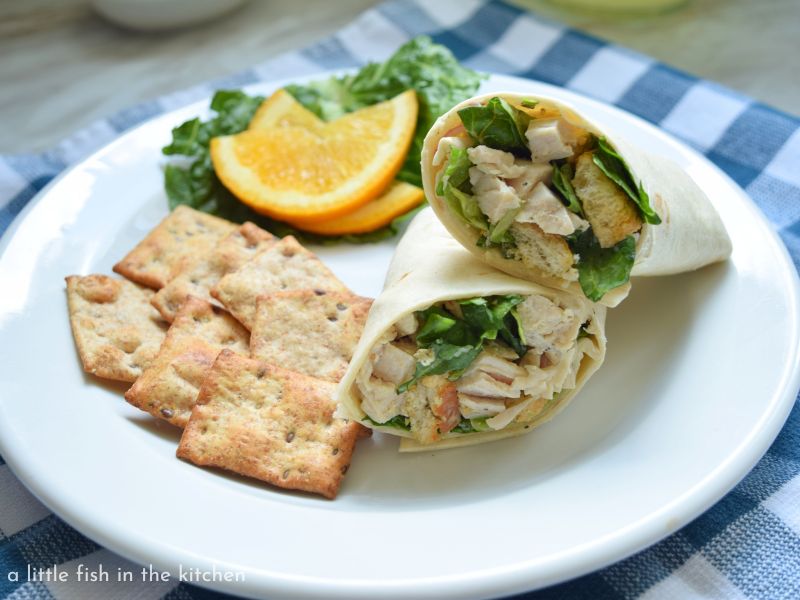 Wrap sandwiches of all kinds have been life savers for my family this summer, and these Easy Chicken Ceasar Wraps are one my favorite combinations. Really folks, I think this mealtime mishmash is a total winner!
I use a serving of simply made Ceasar salad and make it a bit heartier by plating it up in the form a wrap!!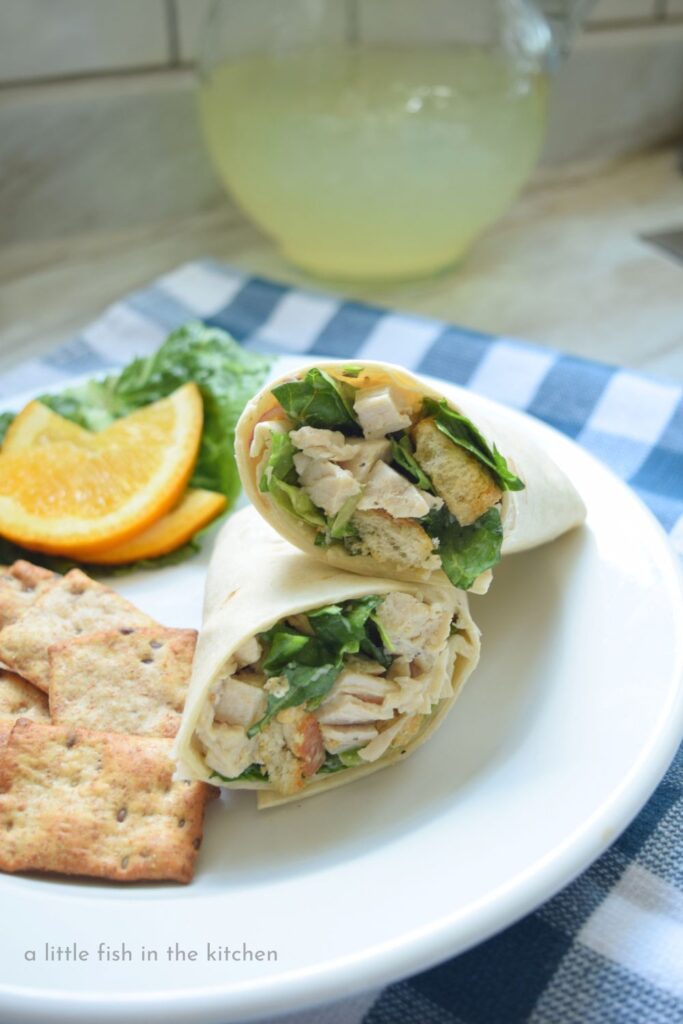 The crisp Romaine lettuce, crunchy croutons, seasoned chicken and rich salad dressing that make Ceasar salad a delicious classic, also make this simple sandwich feel like something really special. I prefer to use a measure of store-bought Ceasar salad dressing to keep things nice and no-fuss here, but you could certainly use homemade Ceasar dressing instead if you prefer it.
We've eaten quite a few of these in the past three months, and I always prepare chicken breast ahead of time just for this purpose, as well as a few others. I'll pre-season the chicken breast using our favorite Lemon and Herb Brine and it consistently makes the meat flavorful and moist; it's one of our favorite methods to prepare chicken breast. However, using deli-prepared rotisserie chicken would make this recipe almost effortless, and I completely understand that not heating up a thing is the preferable route during the crazy hot summer months, y'all!
As they are, these Easy Chicken Ceasar wraps are light, delicious and like most wrap sandwiches are, they're super kid -friendly too.
While these speedy wraps are ready to serve in just about 10 minutes, they are best eaten when freshly prepared or within an hour or two of doing so. Both the salad dressing and the croutons are tossed into the filling and as such they do not keep for long periods of time without becoming a bit soggy… just f.y.i.
So don't wait, y'all! Please do enjoy these little sammies immediately!!
If you give this recipe a whirl, I hope you'll agree that these make a refreshing and fast main dish for any day of the year, but I think this recipe really means a bunch when made on a ridiculously hot summer day. It just feels like a victory when I serve up something this fresh and flavorful to my family without having to heat up a thing!!
Happy eating, y'all!! xo -M
Be sure to save this recipe on Pinterest!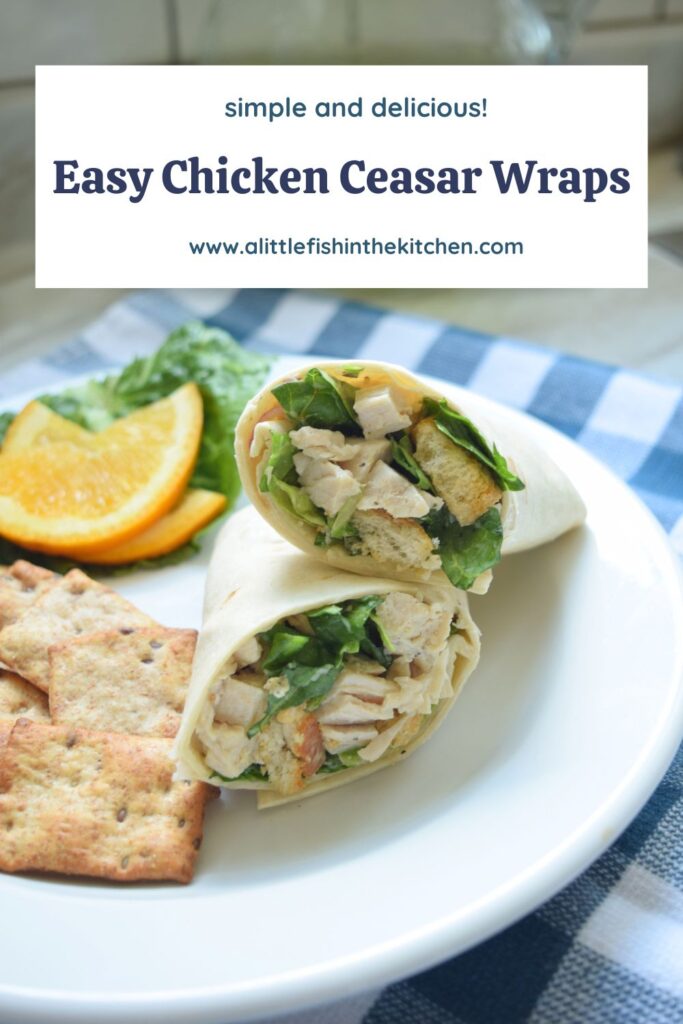 Check out one my latest cooking videos!! Be sure to subscribe to my YouTube channel so you'll never miss a new recipe or a live stream!
Please enter your email address below to have all my new posts sent right to your inbox! Subscribe now and never miss a recipe or an update!
Easy Chicken Ceasar Wraps
Course: Main
Cuisine: American
Difficulty: Easy
These easy Chicken Ceasar Wraps are ready to serve in about 10 minutes. Pair them up with pita chips, potato chips, store-prepared potato salad and/or fresh fruit for a satisfying, no-fuss meal in minutes! This recipe card is for a single wrap sandwich, please increase the ingredients to suit your needs.
Ingredients
1 cup chopped Romaine lettuce (thick center leaf stem removed)

1/3 cup cooked chicken, shredded or finely diced

1 tablespoon finely chopped red onion

2-3 grape tomatoes, sliced in half lengthwise (optional)

3- 4 seasoned salad croutons, cut in half

2-3 tablespoons prepared Ceasar salad dressing (I used Wishbone Light Ceasar dressing)

1 large (10-inch) burrito-size tortilla
Directions
In a medium-size bowl, combine the chopped Romaine, shredded chicken, red onions, and sliced grape tomatoes (if using them), and the croutons.
Add in the Ceasar salad dressing and use tongs to gently toss the salad. Transfer the prepared Ceasar salad to the center of the burrito-size tortilla.
Fold in the outter edges toward the center, and use your thumbs to fold one half of the tortilla right over the top of the filling. Tuck it under the filling and continue rolling until a wrap is formed. (Please watch the video below for a visual tutorial on how to make a wrap sandwich, if needed). Apply some slight pressure to the top and then transfer the wrap to the serving plate, seam down.
Use a sharp knife to slice the Chicken Ceasar Wrap in half on a slight bias (diagonally). Serve with chips, potato salad and fresh fruit! Enjoy!!
Recipe Video
Notes
These wraps are best eaten when freshly made, or within an hour or two of doing so. Please note that the salad dressing can cause the croutons to become soggy after an extended period of time.
Recipe from A Little Fish in the Kitchen blog at www.alittlefishinthekitchen.com. All content is owned by Marcelle G. Bolton. Please contact the author for permission to republish.