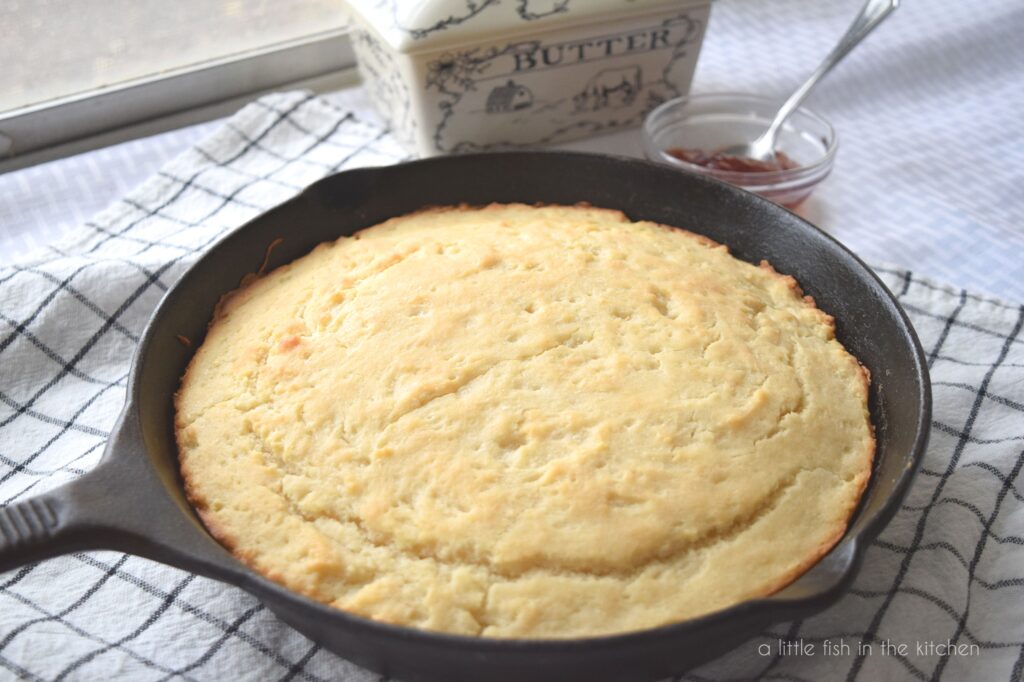 If you're looking to serve some warm bread on the side of any dish you could possibly be making, look no further than the recipe for this 3-Ingredient Skillet Biscuit Bread! I mostly serve this fantastically simple quick bread for breakfast.
I love to bake it fresh in the morning, especially on Sunday mornings, and serve it with butter, jam or honey. It's such a great morning treat, and we typically enjoy this biscuit bread served on a plate along with some buttery scrambled eggs. It's a fast, fresh breakfast and a tasty combination. However, some days I prefer to serve this old-fashioned skillet bread sliced into wedges, topped with crumbled breakfast sausage, and slathered in homemade country gravy. This has honestly become my family's favorite way to enjoy a plate of luscious biscuits and gravy.
If a big breakfast isn't your thing, no worries! You won't have to miss out on giving this tasty quick bread a try because this 3-Ingredient Skillet Biscuit Bread is also perfect served up on the side with supper! Serve it next to any dish that would pair up well with a batch of homemade biscuits.
This creamy Chicken Pot Pie Bubble Up Casserole, flavorful U.S. Senate Bean Soup, comforting Ground Turkey Stroganoff, smoky Old-Fashioned Ham and Potato Chowder, classic pot roast, and brown sugar meatloaf are a few good dishes that I personally like to serve this bread with. But, it'll work with any other comfort food classic you care to add this list!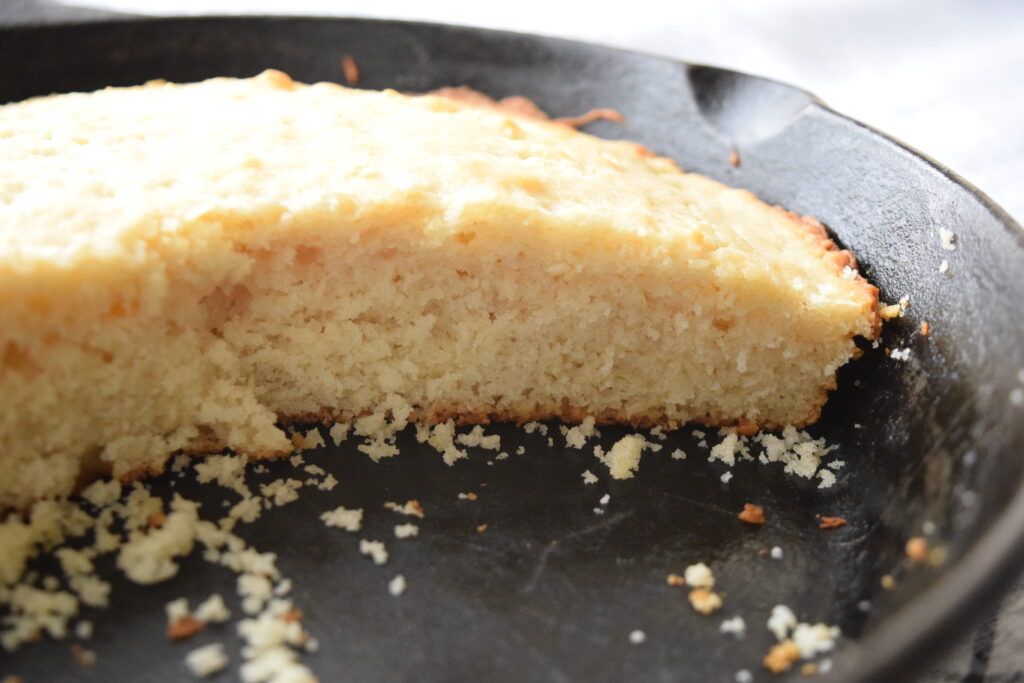 How to make 3-Ingredient Skillet Biscuit Bread
A measure of self-rising flour, vegetable oil and milk are the three pantry-staple ingredients that are needed to whip up a fresh batch of this skillet biscuit bread. After mixing everything together in one bowl, a thick batter will form. It bakes up perfectly in 20 minutes in a greased cast iron skillet. In my opinion, it comes out of the oven looking absolutely gorgeous and ready-to-serve! A rustic-looking cast iron skillet always makes for a perfect presentation.
If the top has not browned to your liking at the 20 minute mark, simply return the skillet to the oven and allow the bread to brown under the high heat of the broiler for about two minutes. The top will be perfectly golden brown after a minute or two under the broiler!
How will you serve this quick and tasty 3-Ingredient Skillet Biscuit Bread? Happy eating, y'all! xo- M
Please share this recipe on Pinterest!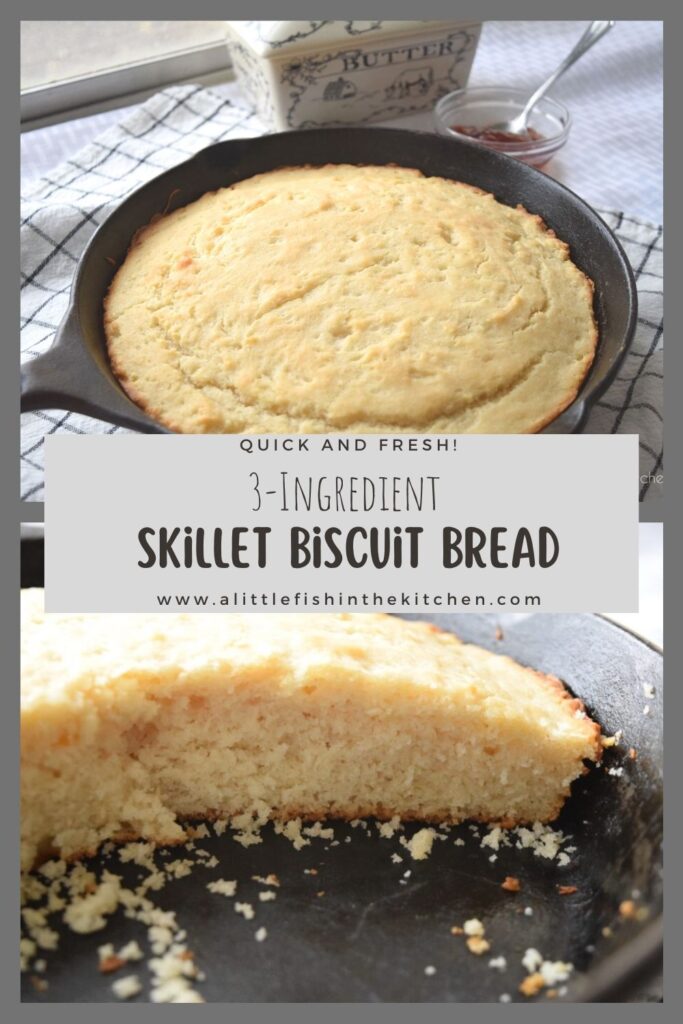 Enter your email address below to have all of my new posts sent right to your inbox! Subscribe now and never miss a recipe or an update!
Please watching on my latest videos and subscribe to my YouTube Channel for more recipes and live streams!
3-Ingredient Skillet Biscuit Bread
Course: Breakfast, Dinner
Cuisine: American
Difficulty: Easy
This 3-Ingredient Skillet Biscuit Bread is a fantastic way to get fresh, hot bread on the table in a snap. It's great for breakfast, lunch and dinner!
Ingredients
2 cups self-rising flour

1/2 cup vegetable oil

1 cup milk

2 tablespoons butter or milk (for brushing the top)
Directions
Pre-heat oven to 400℉ In a large mixing bowl, use a wooden spoon to gently combine all of the ingredients.
Generously grease a ten-inch cast iron skillet with butter or non-stick cooking spray. Transfer batter to the prepared skillet.
Use a pasty brush to gentle brush butter or extra milk on the top of the biscuit bread. Bake for 18 – 20 minutes or until biscuit bread appears done. If the top has not browned, switch the oven to the broil setting. Keep underneath the heat for one or two minutes to help the top to brown.
Remove pan from the oven and allow to cool for 10-15 minutes before serving. Enjoy!
Recipe Video
Notes
Recipe as published on A Little Fish in the Kitchen at www.alittlefishinthekitchen.com. All content is owned by Marcelle G. Bolton. Please contact the author for permission to republish.