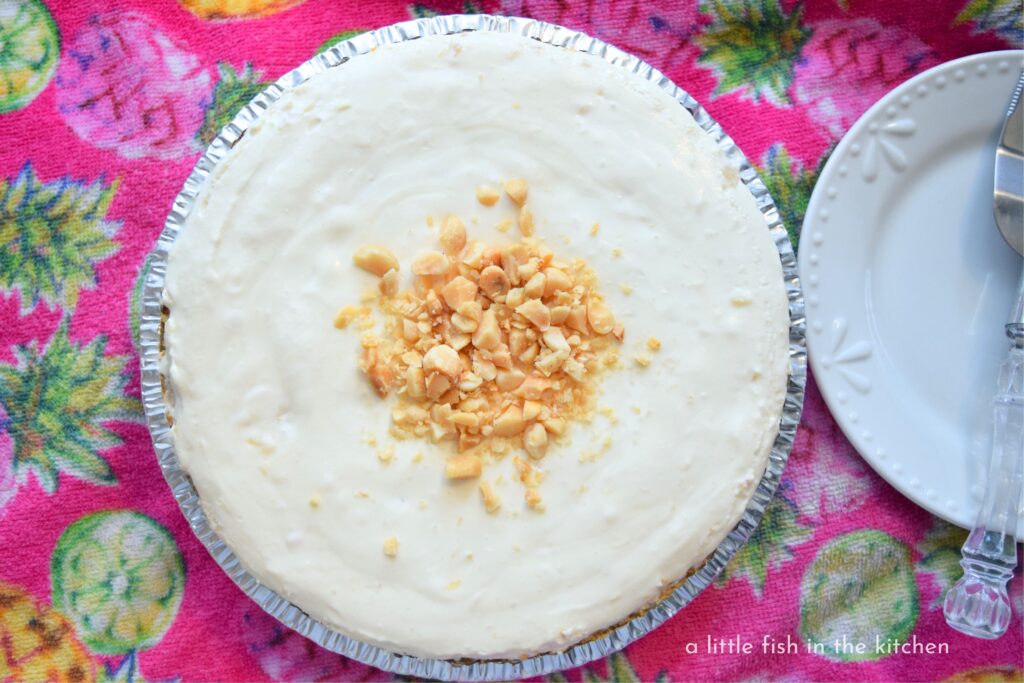 Here we all are in the throes of August 2021 and of course, it is blazing hot outside. I think now is the appropriate time for my annual gripe-about-the-heat post so… here. it. is.
Well, sort of anyway. This year I'm griping about the heat and my protest will be in the the form of a recipe for a delicious, cool, creamy, no-bake pie!!
I hope that's okay with y'all.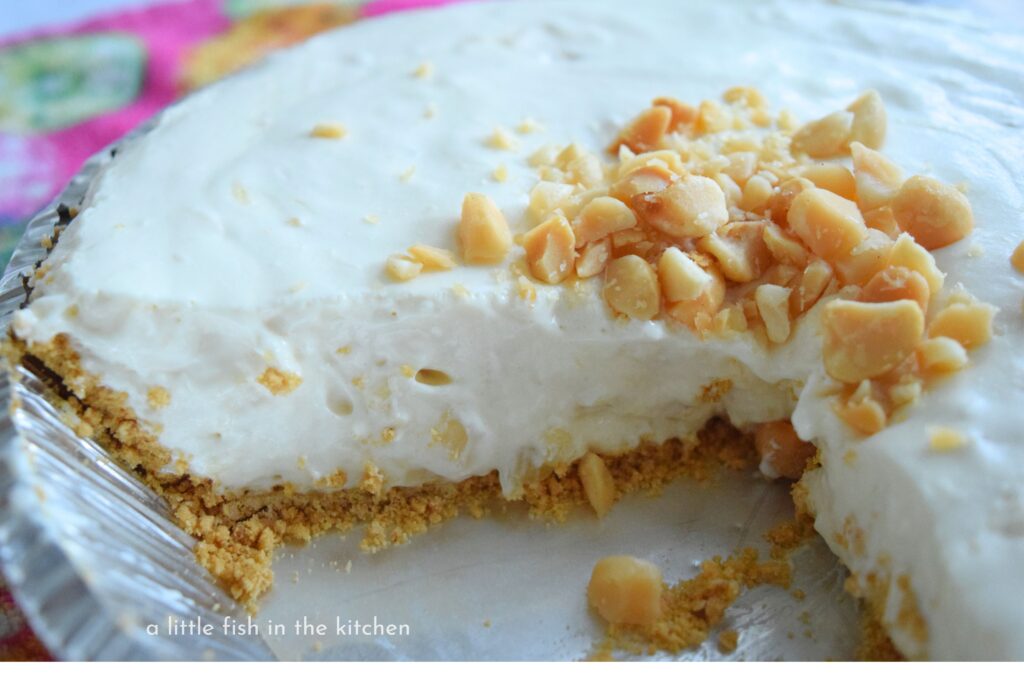 You see, I had every intention of baking a loaf of quick bread yesterday, peach pie quick bread to be specific, (recipe will be posted soon) but, it was just so darn hot, I didn't want to turn on the oven… at all! Nope, not even for forty five little minutes to bake us up something sweet for after dinner.
So, a quick decision was made and I whipped up this creamy pineapple pie instead. However, no one complained about it… because they were too busy eating it!!
Best of all my kitchen stayed cool and (mostly) clean. There were no cracker crumbs to sweep up because I let the Keebler elves make the graham cracker crust for me this time! No fuss, no muss, y'all.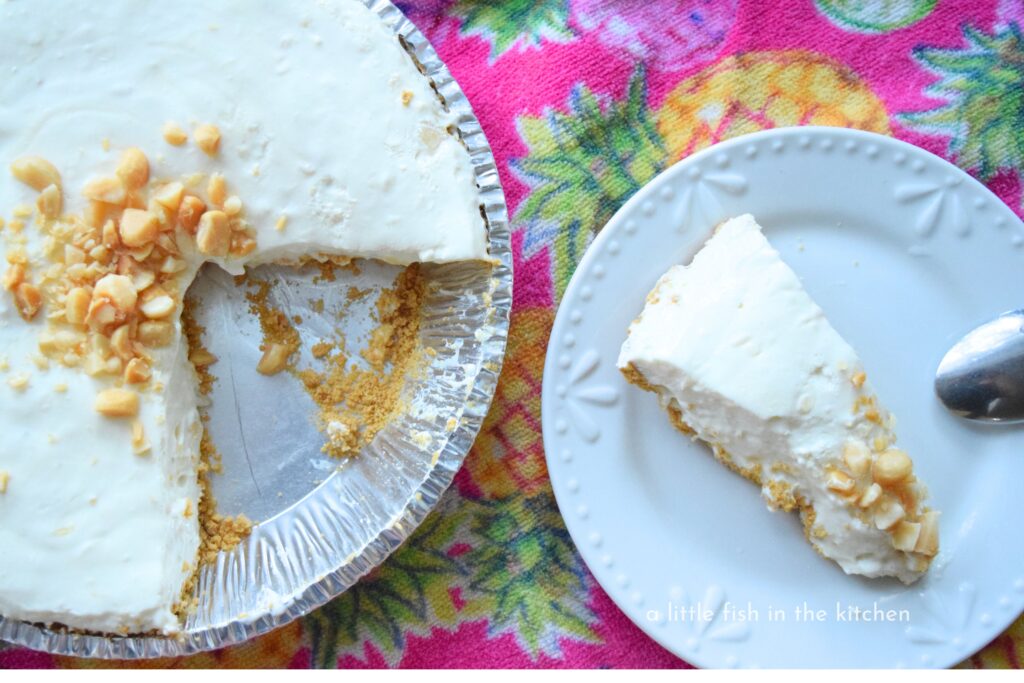 This simple dessert comes together in just minutes, however it needs about an hour to chill in the refrigerator so it can set up.
Ever have those days where you wish I could sit in the refrigerator for a while too? I totally get that.
I hope your family enjoys this easy, cool, dreamy pineapple pie as much as we did.
Stay cool and happy eating, y'all! xo -M
Please check out one of my latest videos and subscribe to my YouTube channel!
Be sure to sign up here to have all of my new posts sent straight to your inbox! Never miss a recipe or an update, subscribe now!!
Share this recipe with your friends and family on Pinterest!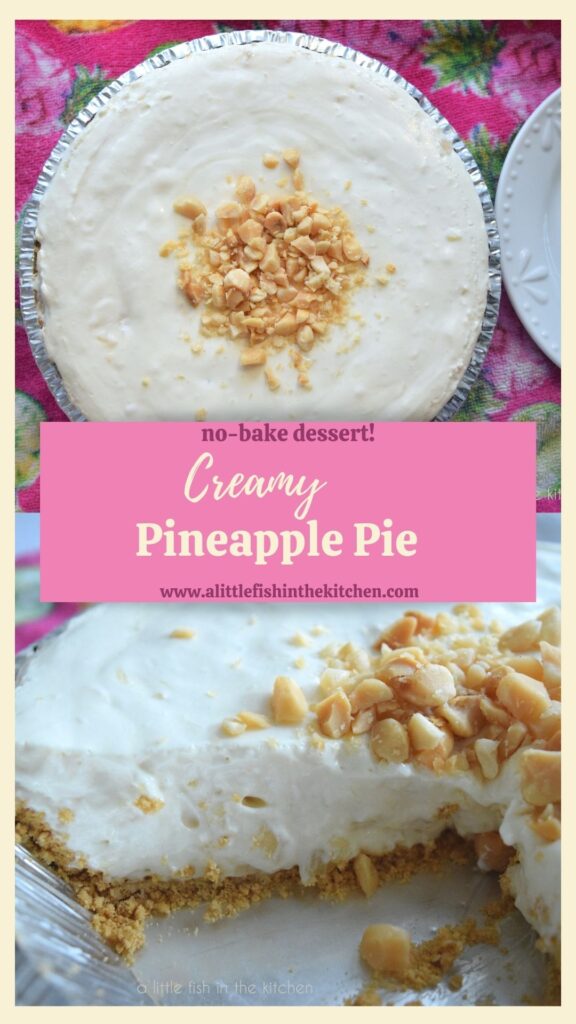 Creamy Pineapple Pie
Course: Dessert
Cuisine: American
Difficulty: Easy
This creamy pineapple pie is a dreamy way to polish off any summertime meal. It only takes a few minutes and five ingredients to create a cool, creamy dessert the whole family will love.
Ingredients
1 (8 oz) brick of cream cheese, room temperature
(I used fat free cream cheese)

1 (14 oz) can of sweetened condensed milk

2-3 tablespoons lemon juice, to taste

1 (8 oz) can crushed pineapple packed in juice, undrained

1 (8 oz) whipped topping
(I used fat free Cool Whip brand)

1 (9-inch) graham cracker crust

1- 2 tablespoons macadamia nuts, coarsely chopped, optional
(for garnish)
Directions
In a large mixing bowl, combine the softened cream cheese and the sweetened condensed milk with an electric hand mixer until smooth and creamy. Stir in the lemon juice.
Next, using a wooden spoon or silicon spatula, fold in the undrained crushed pineapple and then the whipped topping. Mix until all ingredients are well combined.
Transfer the creamy pineapple pie filling to the prepared graham cracker crust. All of the filling may not fit into the pie crust, store any excess pie filling in a storage bowl and reserve for another use *see notes or watch recipe video below
Place the creamy pineapple pie in the refrigerator, uncovered. Chill for 45 – 60 minutes or until set to to your preference. *see notes below
Enjoy!
Recipe Video
Notes
Any excess pie filling makes a delicious fruit dip, try it with fresh strawberries and graham crackers.
If the pie has difficulty setting up because of heat or humidity in your area, place the pie in the freezer for 15 to 20 minutes just before serving to give it a bit more body.
Recipe from A Little Fish in the Kitchen blog at www.alittlefishinthekitchen.com. All content is owned by Marcelle G. Bolton. Please contact the author for permission to republish.