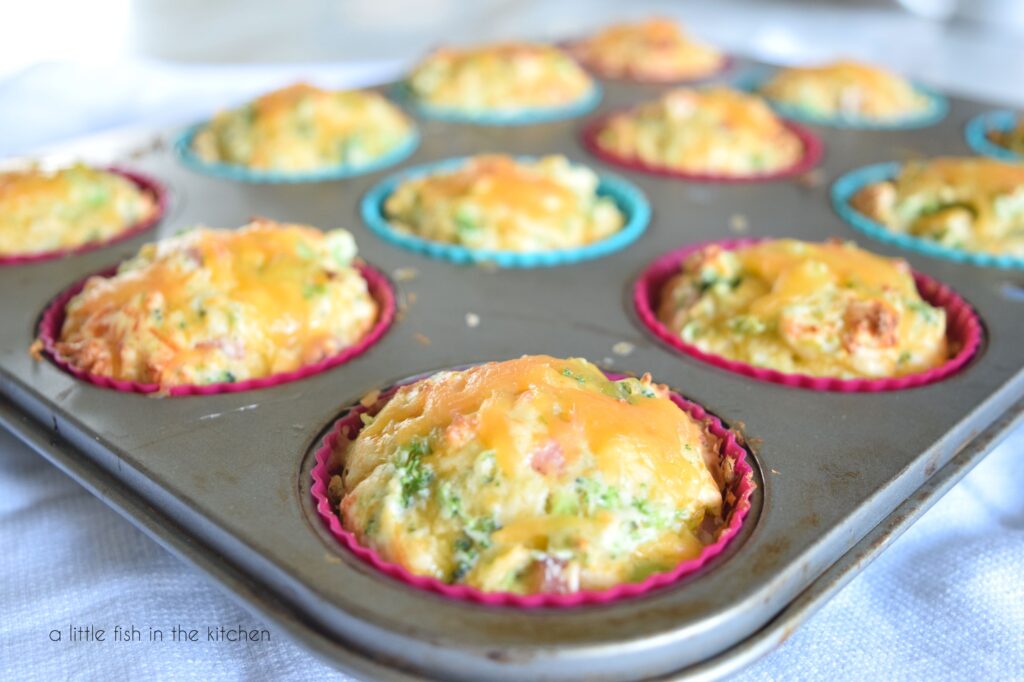 Muffins or mini-muffins are commonly served at breakfast or brunch menu events. Not only are they tasty, but they are a terrific and convenient menu choice for feeding a crowd.
I love a good, sweet muffin for breakfast with a fresh cup of coffee, like these Pumpkin-Apple Muffins or these moist Sweet Lemon Muffins. However, when I plan a brunch menu I really love to include a cheesy, savory muffin in the spread, and these delicious Ham, Cheddar and Broccoli Muffins are one of my go-to recipes!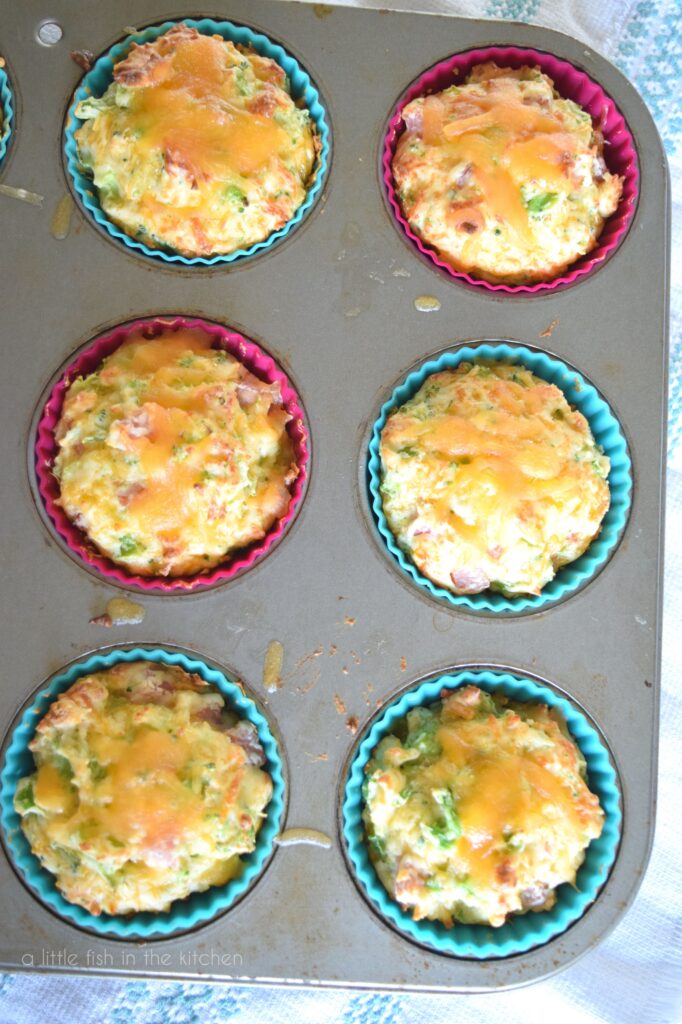 How to make ham, cheddar and broccoli muffins
This is a very simple recipe that's made with a measure of reduced-fat baking mix, frozen chopped broccoli, diced smoked ham, vegetable oil, milk, egg, and a bit of white pepper for an extra pop of seasoning.
Mixing these ingredients together results in a very thick, chunky batter that you will probably not have much faith in (I didn't the first time I made these!). But, fill up those muffin tins anyway and prepare for a moist, flavorful treat when these Ham, Cheddar and Broccoli Muffins come of the oven.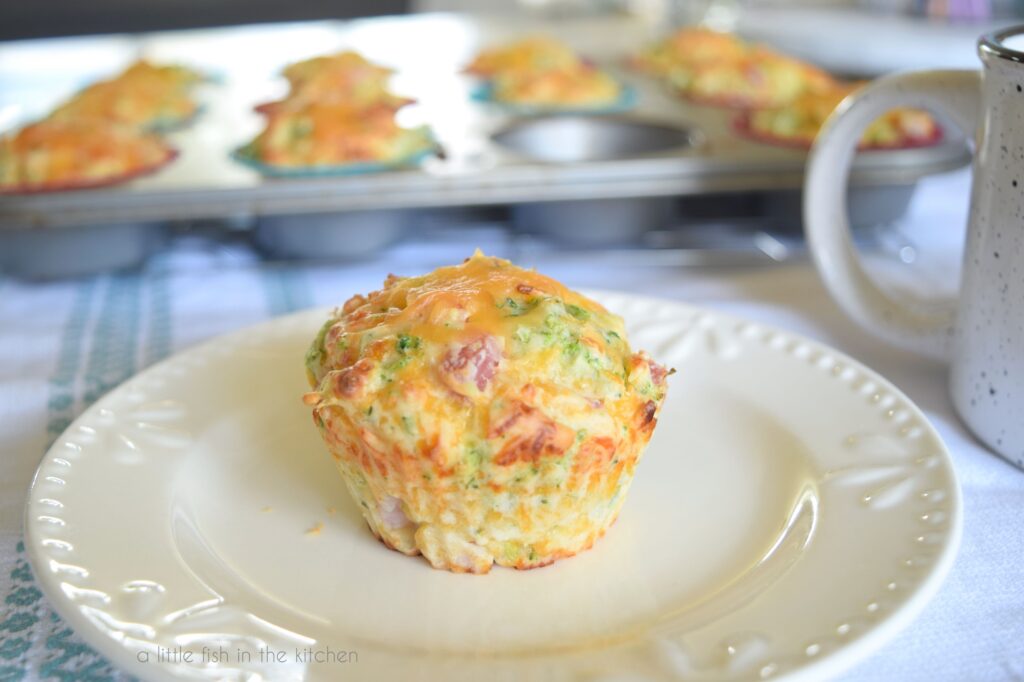 They really are a treat, too. Before writing this post, it had been quite some time since I had made a batch of these and we have been enjoyed them very much for our lunch this week.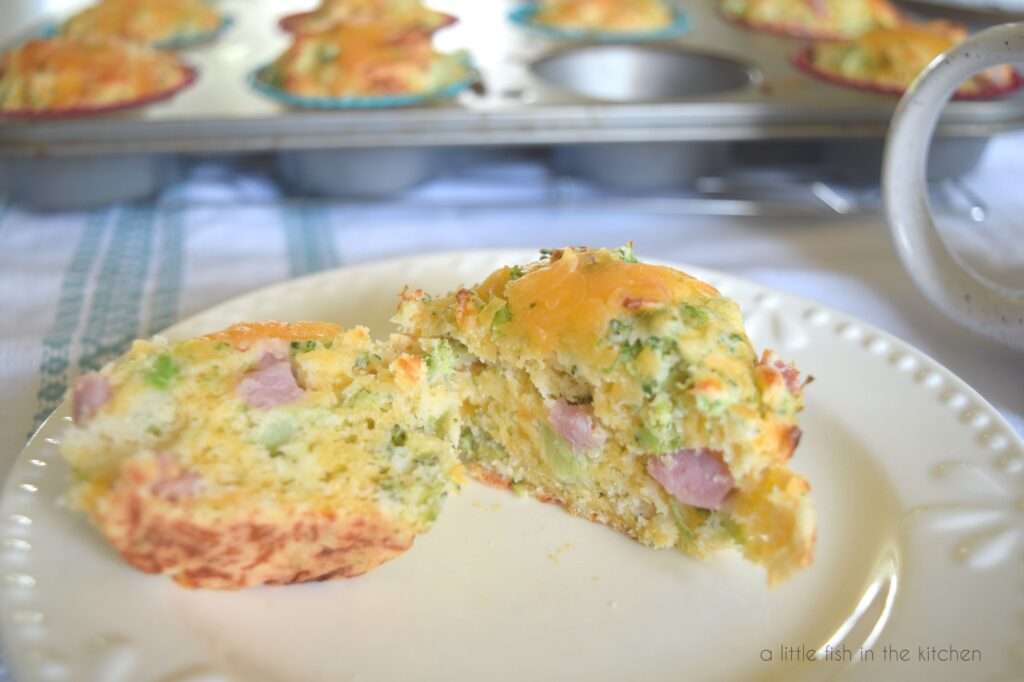 These muffins can be conveniently prepared the night before and stored in the refrigerator, and if there are any leftovers, they freeze well too.
These savory Ham, Cheddar and Broccoli Muffins are so well complemented by crisp, green leafy salad on the side and cup of hot tea! I hope you all enjoy them as much as we do!
Happy eating, friends! – M
Today is the last day #BrunchWeek 2022 so be sure to scroll down and check out the other delicious recipes from some talented food bloggers! I just know you'll be glad you did!
Be sure to enter your email address below to have all of my new posts sent right to your inbox. Subscribe now an never miss a recipe or an update!
Please watch one of my latest YouTube videos and subscribe to my channel for even more recipes and live streams!
Save this recipe on Pinterest!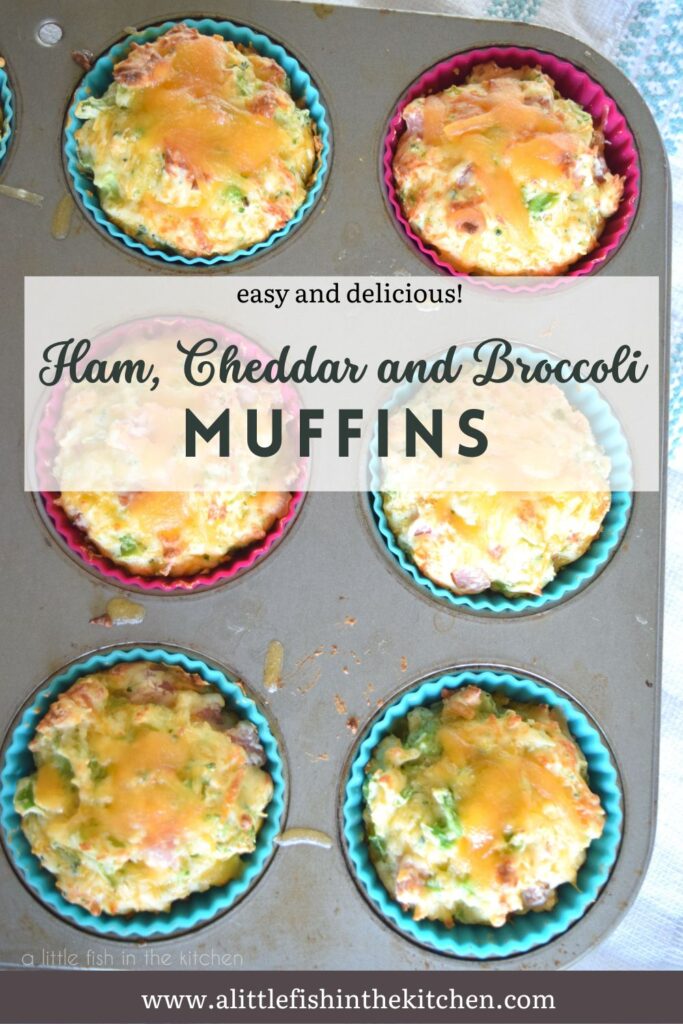 Friday #BrunchWeek Recipes
Beverages
Appetizers and Salads
Breads, Grains, and Cereals
Egg Dishes
Main Dishes
Desserts
Ham, Cheddar and Broccoli Muffins
Course: Breakfast, Brunch
Cuisine: American
Difficulty: Easy
These Ham, Cheddar, and Broccoli Muffins are well complemented by a crisp, garden salad and cup of your favorite hot tea!
Ingredients
1-1/2 cups reduced-fat all-purpose baking mix
(I used Bisquick Heart Smart brand)

1 (10 oz) package of frozen chopped broccoli, thawed,
well drained of water (see notes below)

1 cup finely chopped smoked ham or Canadian bacon

2 cups (8 oz) shredded reduced fat Cheddar cheese, divided

1/2 teaspoon ground white pepper

1 large egg, beaten

2 tablespoons vegetable oil or butter

1/2 cup milk (I used 1% milk)
Directions
Pre-heat the oven to 425°. Line a 12-cavity standard muffin pan with paper or silicon muffin liners and set it aside.
In a large mixing bowl, combine the chopped broccoli, ham, 1-3/4 cup shredded cheese, baking mix and white pepper. In another smaller bowl, stir the egg, milk, and oil until well combined. Add the milk mixture to the dry mixture in the large bowl. Stir until mixture is just moistened and a very thick batter forms.
Spoon muffin batter into prepared baking cups filling them to three-fourths full. Bake muffins for 15 minutes or until tops are a very light golden brown. Remove the pan from the oven and place on a cooling rack. Immediately top each hot muffin with a pinch of the reserved shredded cheddar cheese.
Let them stand 2 -3 minutes before removing them from the warm baking pan. Enjoy!
Recipe Video
Notes
Over a colander, squeeze thawed, chopped broccoli to remove excess water content and then let it rest in a paper towel-lined bowl until ready to use.
Recipe as published on A Little Fish in the Kitchen at www.alittlefishinthekitchen.com. All content is owned by Marcelle G. Bolton. Please contact the author for permission to republish.