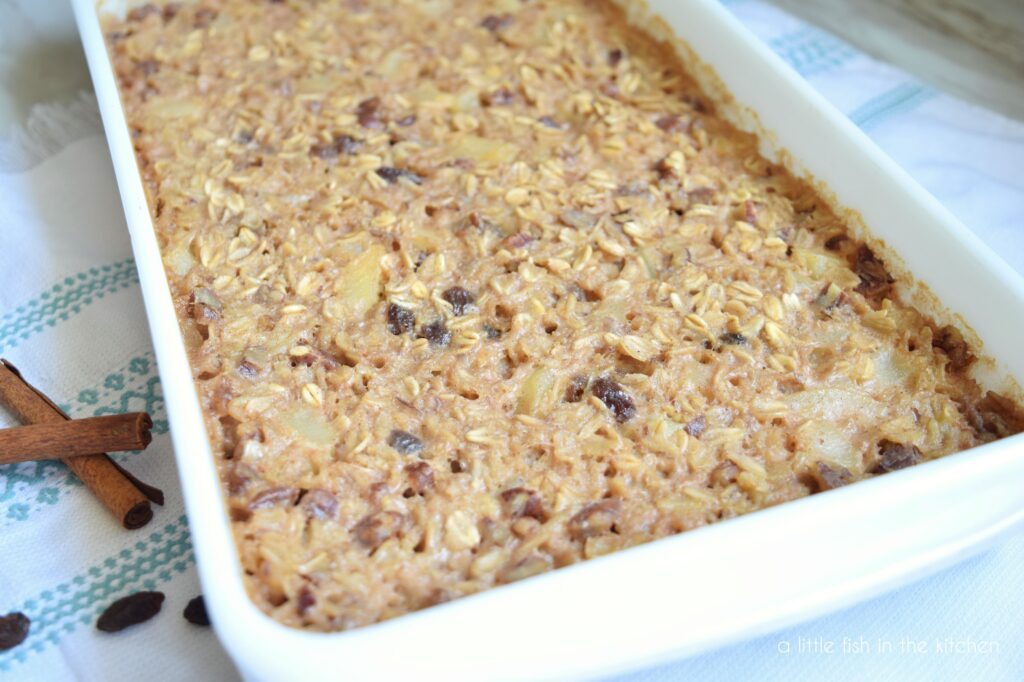 Baked oats will always be one of my favorite choices for a make-ahead breakfast. In fact, it's truly the first type of dish I think about when I'm tasked with cooking up with a make-ahead breakfast. Whether I'm cooking for just me and my little ol' family or to feed a crowd of hungry breakfast or brunch guests, baked oats is where it's at for me.
I've previously shared about my love for this type of comforting breakfast casserole before when I published the recipe for Spiced Brown Sugar Baked Oatmeal, and also these delicious Pumpkin Pie Baked Oats, this is one of our these fall seasonal favorites!
Now, I'm adding this batch of scrumptious Spiced Pear-Pecan Baked Oats to the playlist, and it just might be my favorite version of baked oatmeal that I've published so far! Pears are one one of my favorite fruits, and adding them along with a handful of earthy pecans into this breakfast casserole really makes it something special, in my opinion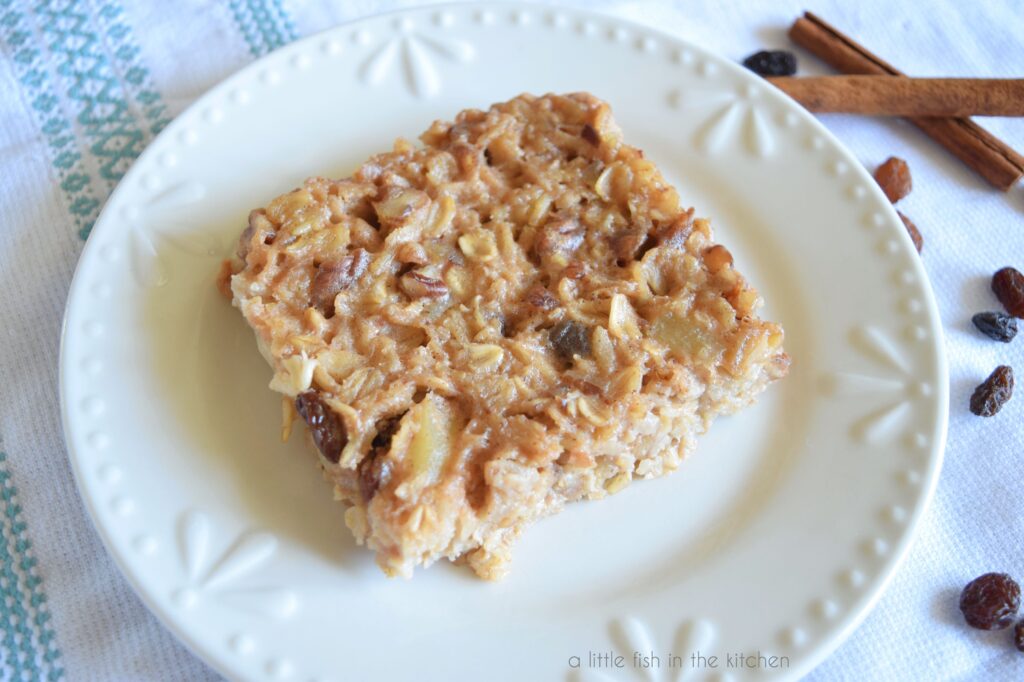 How to make spiced pear-pecan baked oatmeal
I've kept this casserole simple by using canned fruit as well as pantry staple ingredients and spices. All that is needed to whip up a batch of these Spiced Pear-Pecan Baked Oats are a measure of old-fashioned oats, milk, butter, canned pear halves and their juice, pecans, raisins, as well as cinnamon, ginger and a pinch of salt.
I tried something a little bit different with this recipe for baked oats and I did not add eggs into the mix. Without eggs added in the mix, this baked oatmeal had a slightly denser texture than other baked oatmeal recipes we've tried before. On the plate, it's definitely more like a bowl of warm oatmeal and less like a piece of cake. This Pear-Pecan Baked Oatmeal was totally creamy and delicious without eggs and we didn't really miss them.
However, I may make this breakfast casserole sometimes with two beaten eggs added into it just to add more protein into our breakfast. If you don't care to add eggs for some reason, I think adding a scoop of a quality vanilla-flavored protein powder into the mixing bowl would work well to pump up the protein value in this recipe as a morning meal.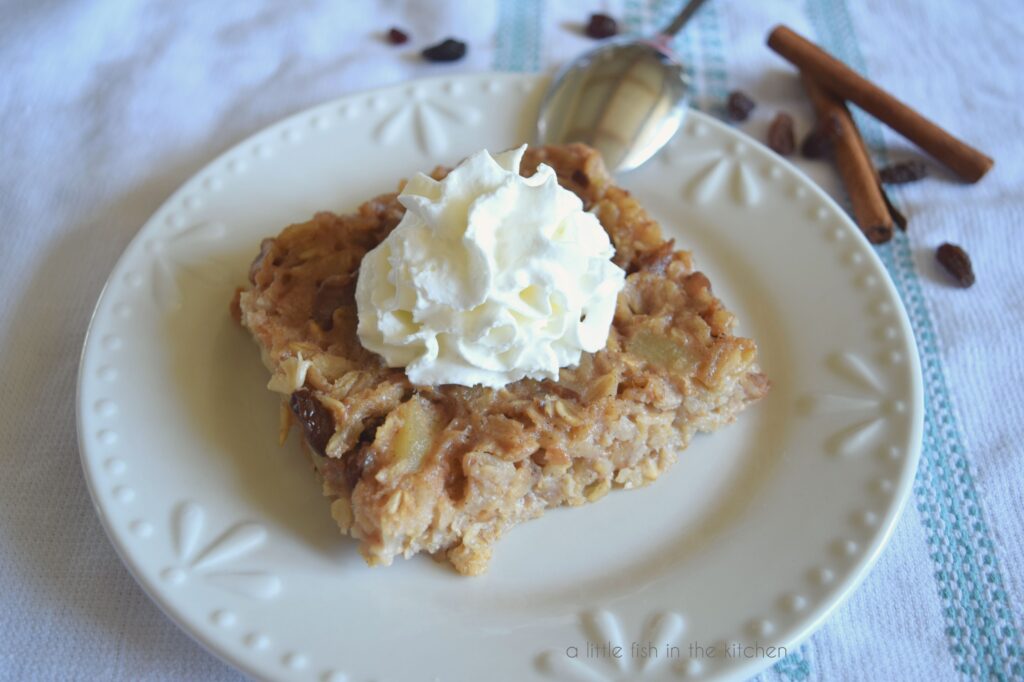 This Spiced Pear-Pecan Baked Oatmeal is hearty, rich, a little bit fruity, and so nicely spiced. Individual servings are delicious plain or served with a dollop of sweetened whipped cream on top!
Also, no one could blame you if you ate them warm, and served them with a scoop of vanilla ice cream as a dessert. I may have done this a time or two, myself, just sayin'…
Happy eating, y'all! – M
This week is #BrunchWeek and I'm sharing some fantastic recipes with a group of my very talented food blogging friends, keep scrolling and be sure to check out what recipe they've shared about today. I just know you'll find something new to try!
Please watch one of my latest cooking videos! Be sure to subscribe to my YouTube channel for even more recipes and live streams!
Don't forget to save this recipe on Pinterest!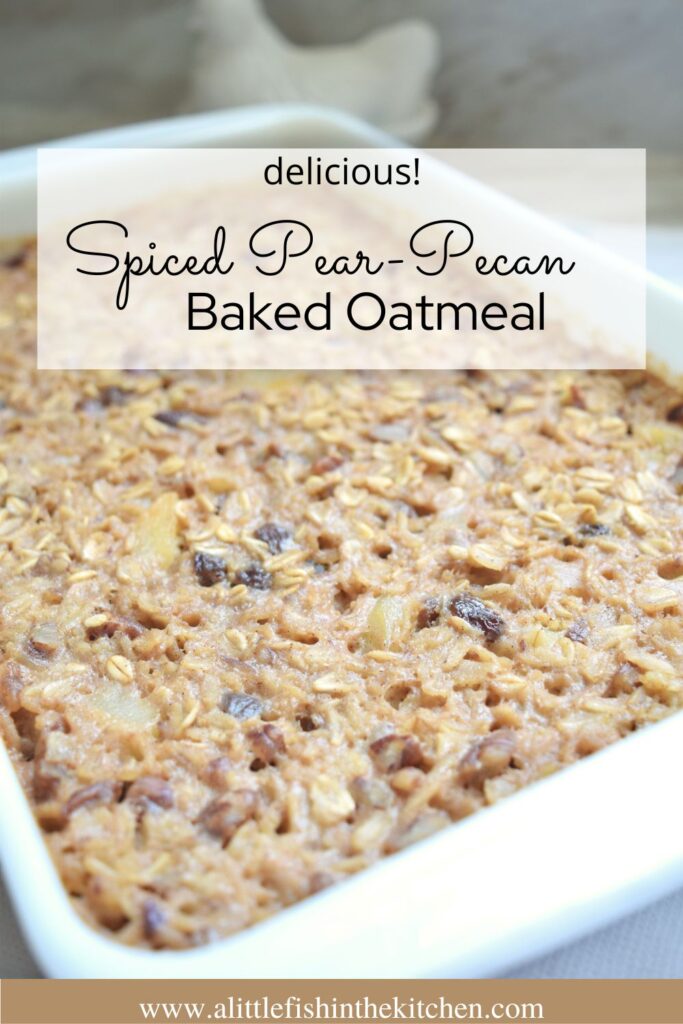 Be sure to enter your email address below to have all of my new posts sent right to your inbox. Subscribe now an never miss a recipe or an update!
Wednesday #BrunchWeek Recipes
Beverages
Appetizers and Salads
Breads, Grains, and Cereals
Egg Dishes
Spiced Pear-Pecan Baked Oatmeal
Course: Breakfast, Brunch
Cuisine: American
Difficulty: Easy
This Pear-Pecan Baked Oatmeal will steal the show at your next breakfast or brunch gathering. It's sweet, nicely spiced and perfect with whipped cream on top!
Ingredients
1 (15 oz) can pear halves in 100% juice, undrained

2 cups reduced fat milk (I used 1% milk)

2 tablespoons brown sugar

2 tablespoons sugar or sugar substitute
(I used Monkfruit in the Raw)

2 tablespoons salted butter

1/4 teaspoon salt

1 teaspoon ground cinnamon

1/4 teaspoon ground ginger

1-1/2 cups old-fashioned oats

1/2 cup chopped pecans

1/4 cup raisins
Directions
Grease a 9 x 13 inch baking dish with non-stick cooking spray and set it aside. Pre-heat the oven to 350°. Drain the canned pears, reserving all of the juice (should be a scant one cup of juice). Coarsely chop pears and set them aside.
Combine the butter and both sugars in a large sauce pan. Allow butter to melt and then immediately add the milk, reserved juice, salt, cinnamon and ginger. Stir milk mixture with a whisk to break up any clumps of cinnamon on top. Bring the pot to a boil. Add in the oats, pears, raisins and pecans. Stir and bring the pot back to a boil. Turn off the heat.
Transfer oat mixture to the prepared baking dish and bake for 20-23 minutes or until the oatmeal appears done.
Set on a rack to cool for 15- 20 minutes. Serve warm with whipped cream.
Notes
Recipe from A Little Fish in the Kitchen blog at www.alittlefishinthekitchen.com. All content is owned by Marcelle G. Bolton. Please contact the author for permission to republish.