Well, just like that, spring is here! And with the onset of springtime comes lemon-flavored-everything season, and I'm totally good with that.
I love the flavor of lemon in both sweet and savory dishes and I always keep fresh lemons in my fruit bowl. I also keep one of those cute, little, lemon-shaped bottles of lemon juice handy in my refrigerator, you know, in case of a citrus emergency.
Heck, I even like to add 2-3 slices of fresh lemon into every glass of iced tea and water that I drink, just because I enjoy the taste of it so much. In fact, most water I drink could likely be considered unsweetened lemonade!
Oh my goodness… now that I've brought it up, a pitcher of fresh, sweet lemonade, just sounds like heaven all of a sudden. Making a pitcher of homemade lemonade is now officially on my to-do list for next weekend!
These sweet lemon muffins with quick lemon glaze are sure to brighten up your day in more ways than one, y'all. A batch of these babies is a no-fuss, yet flavorful treat for all times of the day, and I sure hope you all enjoy them if you make some!
Don't forget to Pin this recipe for later, y'all!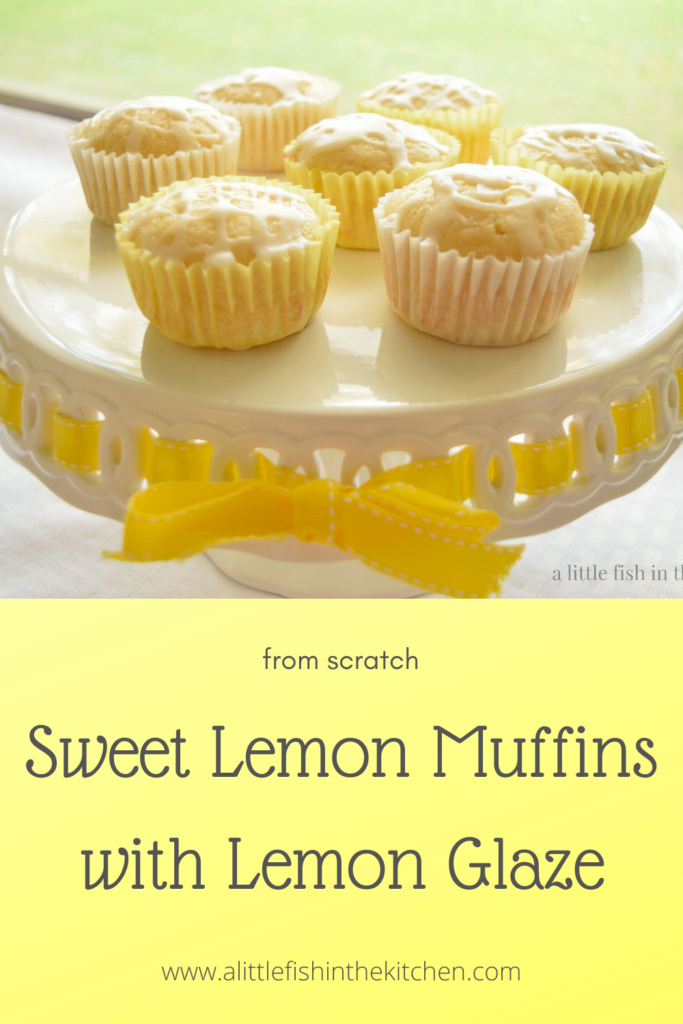 Be sure to check out my latest video for this recipe below. I have a very special guest join me in this one, so please enjoy! Also, don't forget to subscribe to my YouTube Channel while you are there, more recipe videos are coming up very, very soon!
Wouldn't you like to stay awhile? Please subscribe here to receive all of my upcoming posts straight to your inbox! Sign up now and you'll never miss a recipe!!
Sweet Lemon Muffins with Quick Lemon Glaze
Course: Breakfast, Dessert
Cuisine: American
Difficulty: Easy
These lemon muffins are so simple to make, but they pack some impressive lemon flavor. Perfect for so many occasions and they are sure to impress!
Ingredients
For the muffins:

1 1/2 cups all-purpose flour

3/4 cups sugar

1 teaspoon baking powder

1/4 teaspoon salt

5 tablespoon salted butter, melted and slightly cooled

2/3 cup buttermilk or milk

2 large eggs, beaten

1 teaspoon lemon extract

1 teaspoon vanilla extract

For the glaze:

1/2 cup powdered sugar, sifted

1-2 tablespoons lemon juice
Directions
Pre-heat your oven to 350°. Place paper liners in the cups of a standard muffin pan and set it aside.  In a medium-size bowl, mix flour, sugar, baking powder and salt together then set bowl aside.  In another small bowl, combine cooled, melted butter with milk, eggs and extracts.
Make a well in the center of your dry ingredients and using a wooden spoon, mix until a wet batter forms. (There may be a few small lumps and that's okay, they will work themselves out as the muffins bake.)
Fill the paper liners 2/3 of the way full with batter and place in the pre-heated oven. Bake for 15-18 minutes or until a toothpick inserted into the center of a muffin comes out clean. Remove baking pan from oven and allow muffins to cool completely on a rack.
Combine the sifted powdered sugar in and lemon juice in a small bowl and make the lemon glaze.  Use a decorating bottle or a spoon to drizzle the glaze over the cooled muffins. Allow the glaze just a few minutes to set up.
Serve with fresh brewed coffee or tea and enjoy!
Notes
Recipe as published on A Little Fish in the Kitchen at www.alittlefishinthekitchen.com. All content is owned by Marcelle G. Bolton. Please contact the author for permission to republish.