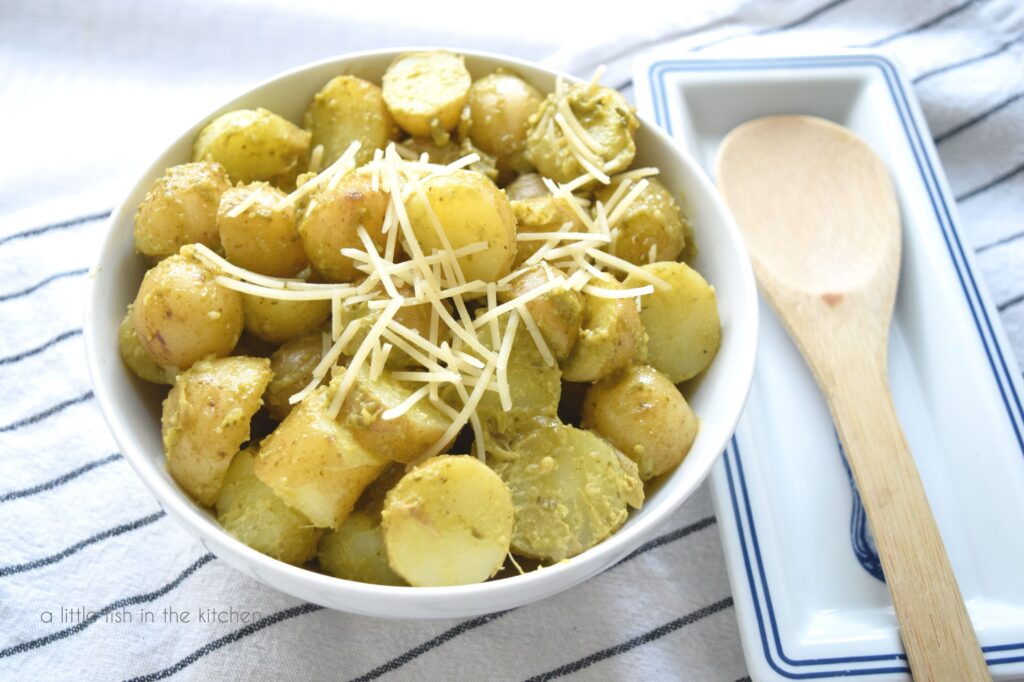 Well, it's officially summer for our family as the youngest child's school year is finally over!! (Woot!) The sassy 9-year-old was released one entire week later than her big brother this school year. They had to stay on board and make up time for some days missed due to inclement weather during the winter months.
As always, when summer break begins for the kids it's a relief to have some time at home that's not driven by anyone else's schedule, and we're looking forward to traveling a little bit over the next few months. I'm also grateful to have some time to catch up around the house, and to catch up here on this blog! You see, I have several recipes that I published You Tube videos for, but ultimately I didn't have the energy or time to create the corresponding written recipe posts here on Little Fish. I know, my bad.
For instance, the video for this crazy delicious Easy Pesto Potato Salad was published on YouTube in July of 2021, but I'm finally sharing the photos and recipe here on the blog now! Sometimes there just aren't enough hours in a day, y'all. That's just the darn-tootin' truth.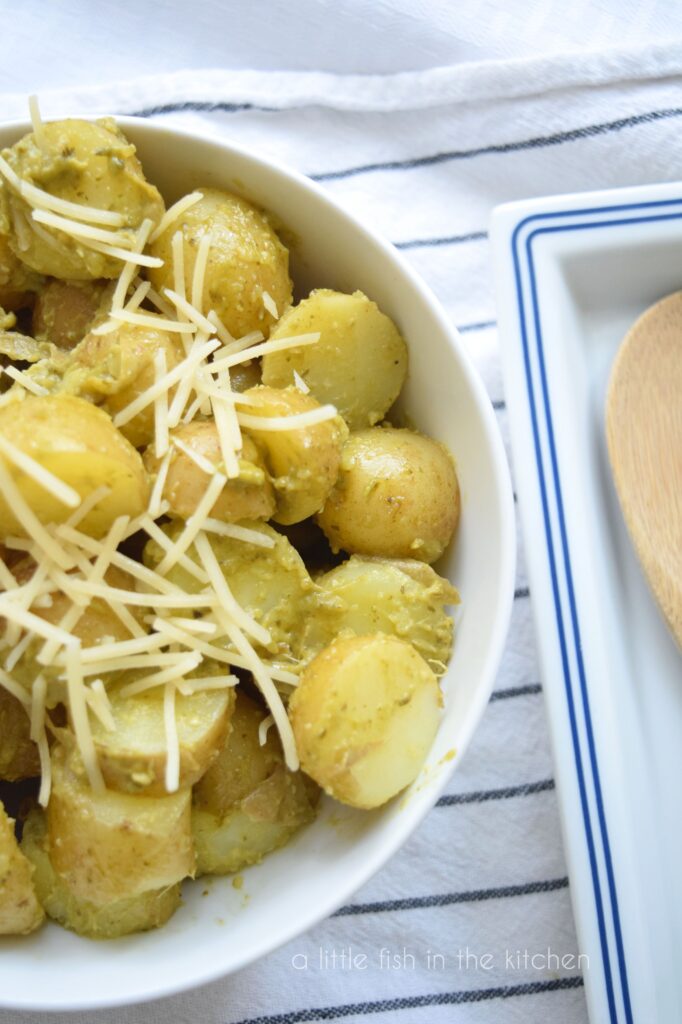 I'm sure we can all agree that time is just flying by, but I'm comforted by knowing that quick, but delicious recipes like this one will make the busy days a lot easier to handle. Once I tried this ingredient combination, I knew it was a keeper!
This time-saving, three-ingredient recipe comes together in about 30 minutes and it seriously goes with every protein under the sun.
How to make easy pesto potato salad
To make this flavorful potato salad, all that is needed are three ingredients: a bag of baby potatoes, prepared pesto, and grated Parmesan cheese. It also requires just a teensy bit of your time, and there's a minimal amount of prep work involved with this dish. In fact, the most labor intensive part of this entire recipe is slicing the baby potatoes into smaller pieces after they are cooked in salted water.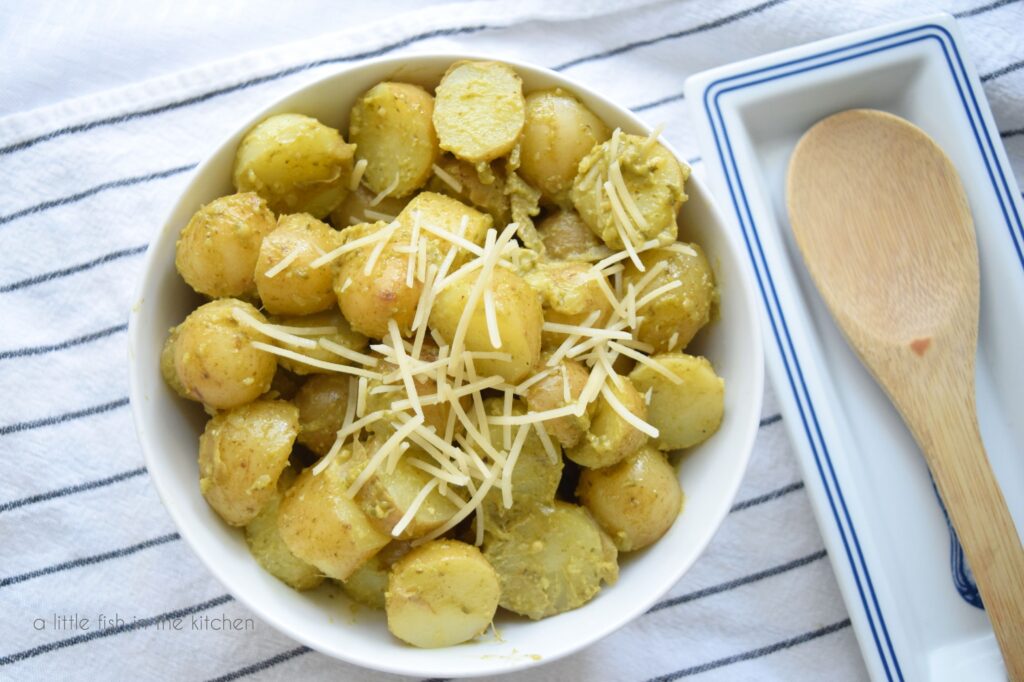 This Pesto Potato Salad recipe is almost shamefully simple to make, but I truly guarantee it's so tasty no one will care how much effort did not go into the creating this potato salad!
We also think it equally tasty served warm or chilled. What will you serve with this with?
Happy eating, y'all! xo – M
Share this recipe on Pinterest!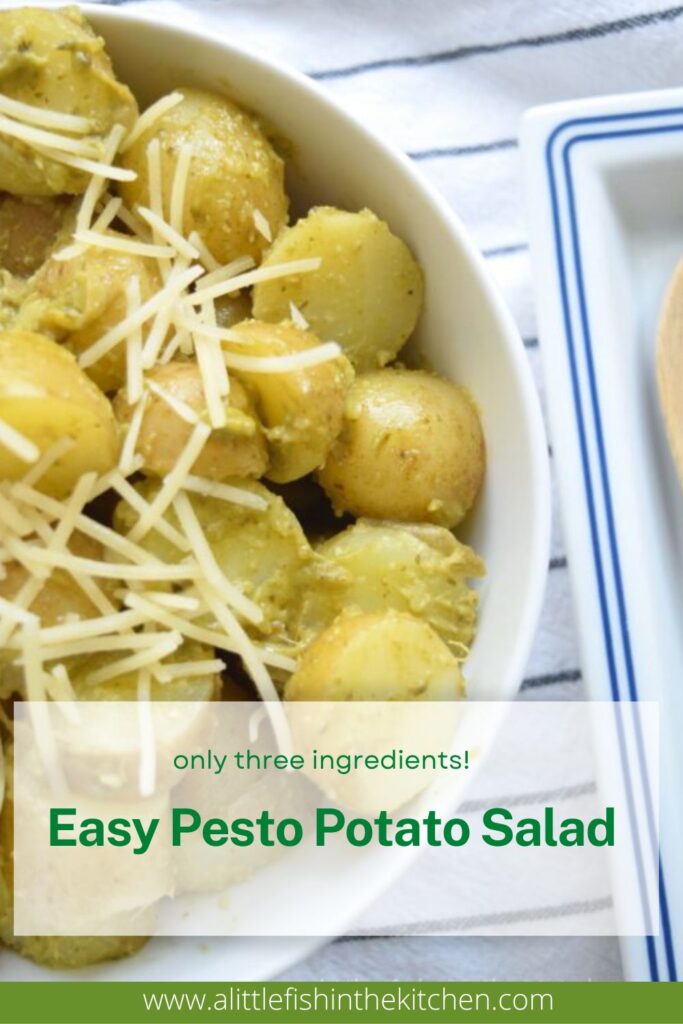 Check out one of my latest videos and subscribe to my YouTube Channel! See you there for more recipes and live streams!
Sign up here to have all of my new posts sent right to your inbox! Subscribe now and never miss a recipe or an update!
Pesto Potato Salad
Course: Sides
Cuisine: American
Difficulty: Easy
This three-ingredient Easy Pesto Potato Salad is packed with flavor and it's goes with everything.
Ingredients
(1.5 ounce) bag of baby Gold potatoes

3 tablespoon prepared pesto (I used Barilla Creamy Genovese Pesto)

1/4 – 1/3 cup grated Parmesan cheese, for garnish
Directions
Rinse the potatoes and set aside. In a large sauce pan, bring 5 cups of water to a rolling boil. Stir a generous 1/2 teaspoon of salt into the water. Add potatoes to the pot and reduce heat to a simmer.
Allow the potatoes to simmer, covered, for 15 minutes or until they are just fork tender. Using a colander, drain water from the potatoes and rinse immediately with cold water for 1- 2 minutes to stop the cooking process.
Once the potatoes are cool enough to handle, slice them in half (you can slice the larger ones into three pieces), Place the sliced potatoes in a medium-size mixing bowl.
Top potatoes with 2 -3 heaping tablespoons of prepared pesto and stir to coat potatoes evenly. Transfer Pesto Potato Salad to a serving bowl and garnish with grated Parmesan Cheese.
Serve Pesto Potato Salad warm or chilled as you prefer. Enjoy!
Recipe Video
Notes
Recipe as published on A Little Fish in the Kitchen at www.alittlefishinthekitchen.com. All content is owned by Marcelle G. Bolton. Please contact the author for permission to republish.