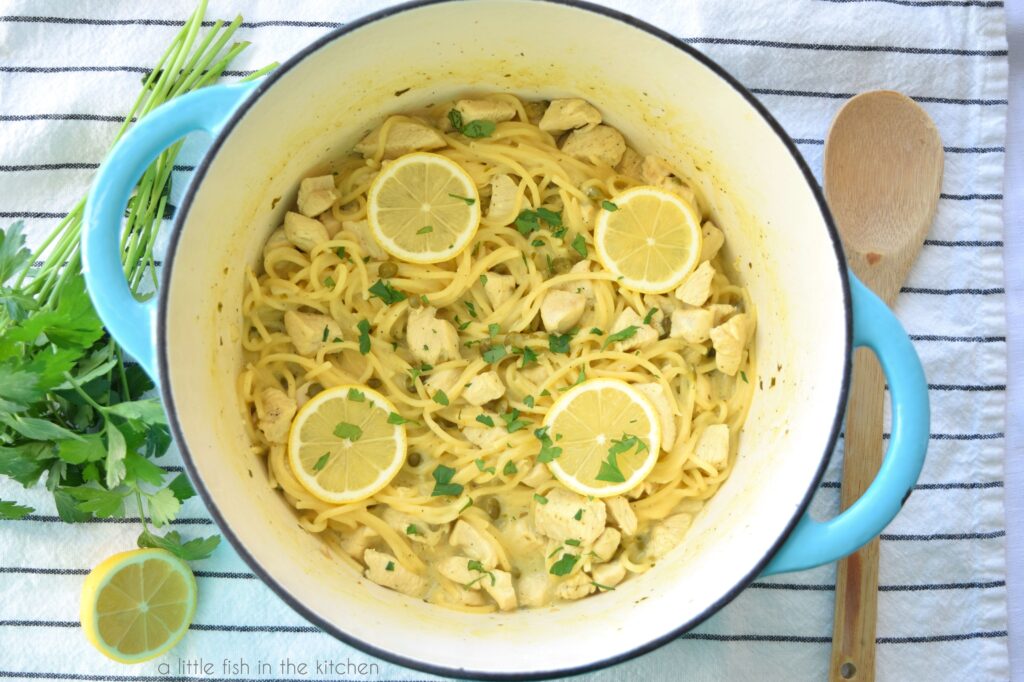 This quick, one-pot chicken piccata pasta skyrocketed to the top of our "family-favorite" meal list at my house recently.
So, of course, I had to write up a post and share it with you all here!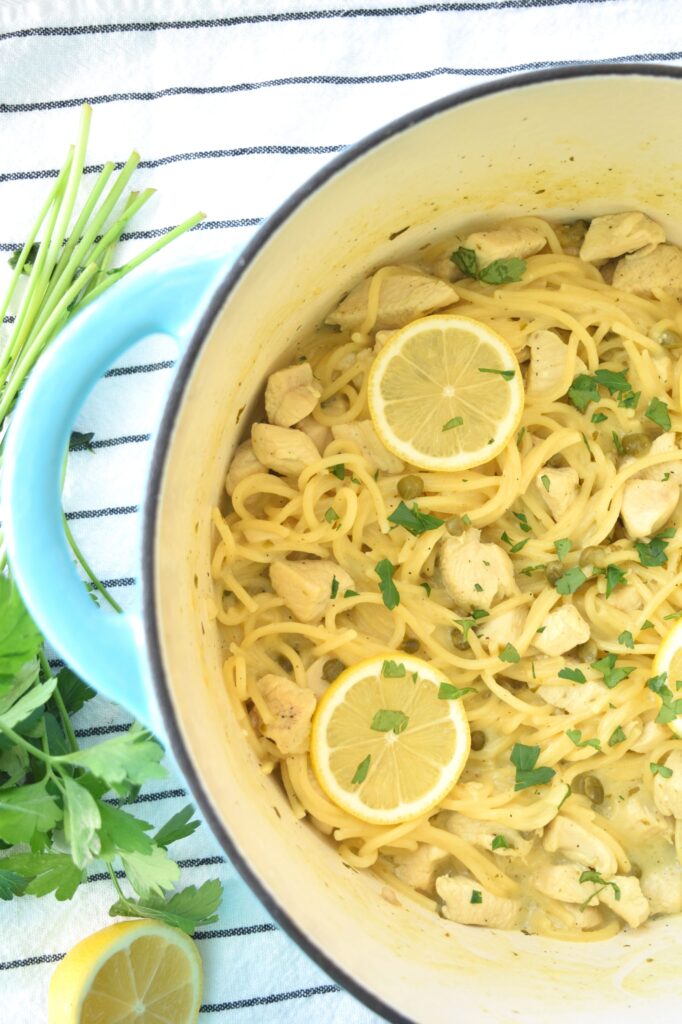 Lately, I've been increasing the number of recipes in my 30-minute meal category by leaps and bounds both here on the blog and on my YouTube channel. We stay so busy at my house most days, we'd likely be in a drive-thru line several times a week if it weren't for some of these fantastically quick recipes!
I recently shared about this spicy Beef Enchilada Pasta and this Old-Fashioned Potato and Ham Chowder here on the blog, along with a few other 30-minute meal recipe videos that I've shared on my YouTube channel. I recently shared recipe videos for a comforting Chicken Pot Pie Bubble Up Casserole as well as a flavorful Low-Carb Cauliflower Fried Rice with Chicken and a few more that I believe are wonderful recipes to have in your weeknight repertoire
I'm running a bit behind with what I've been able to get published here on the blog, however, so please stay tuned for many of those video recipes to be published here( in the very near future)!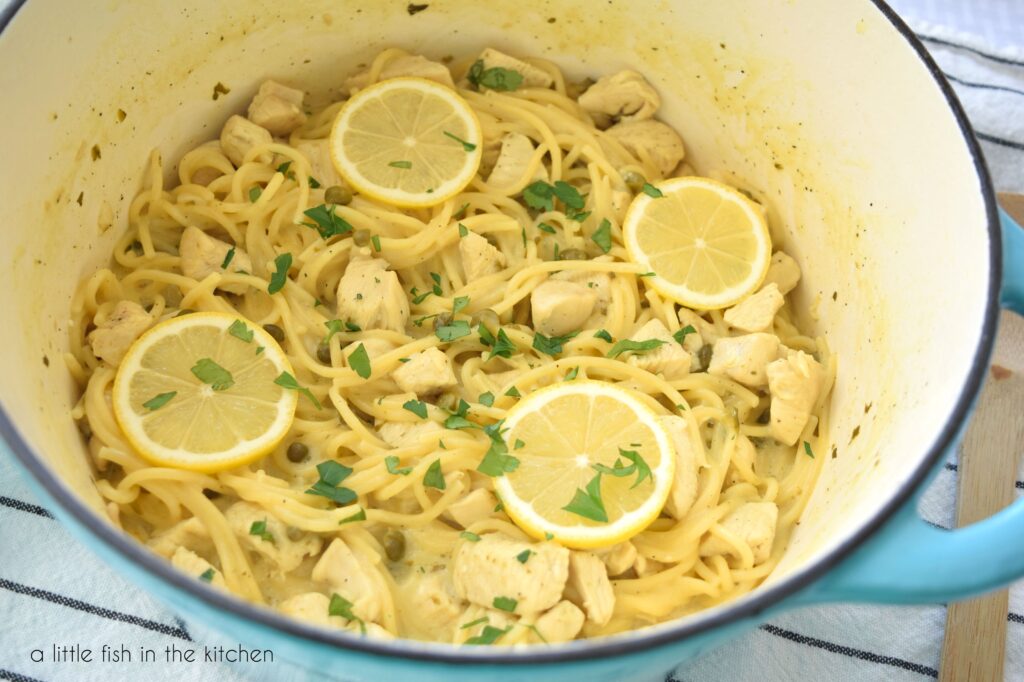 My kids love traditional chicken piccata served with pasta and some crusty, garlic bread when I make it for dinner. So, the familiar flavors of butter, lemon, garlic, and those deliciously briny capers that stand out in this one-pot chicken piccata pasta, were welcomed with open arms (and forks in hands!) by my crew.
This dish is ready to plate, start to finish, in 30 minutes and it's just packed with fantastic, comforting flavors. I sure hope you enjoy this meal as much as we do!!
Please remember, sharing is caring and happy eating, my friends! xo -M
You will definitely want to Pin this recipe for later, y'all!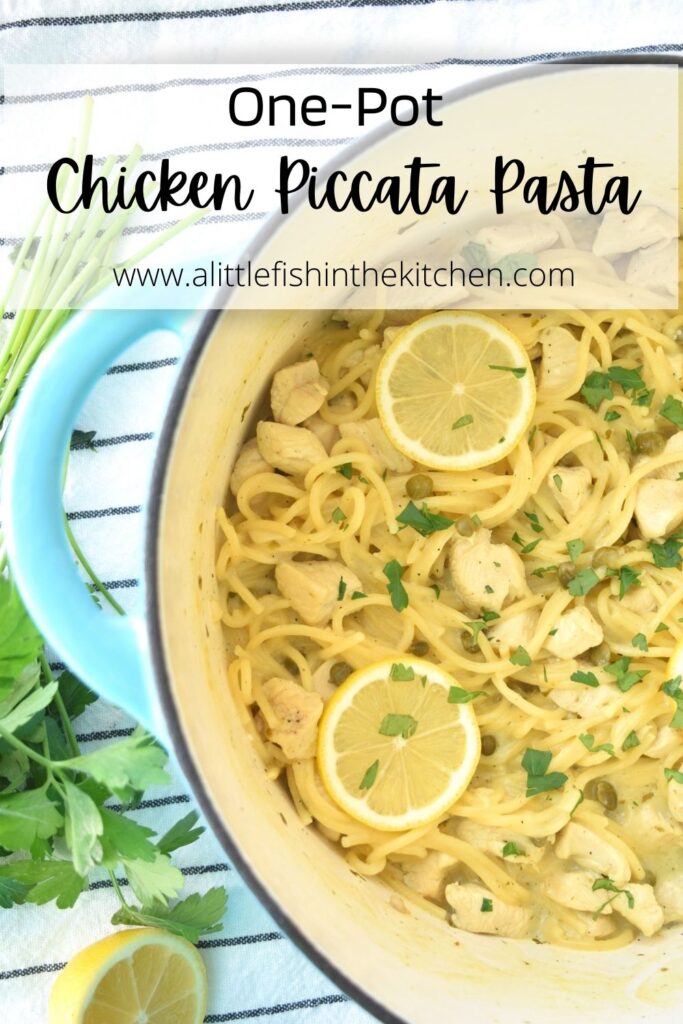 Please check out one of my latest videos!
Wouldn't you like to stay awhile? Sign-up here to receive all of my new posts in your inbox! Subscribe now and never miss a recipe or an update!
One-Pot Chicken Piccata Pasta
Course: Lunch, Dinner
Cuisine: Italian
Difficulty: Easy
If you love traditional chicken piccata, this quick, one-pot supper will be a comforting and convenient version to serve your family on a busy night!
Ingredients
1-2 tablespoons extra virgin olive oil


1 tablespoon salted butter

2 cups uncooked chicken breast, cut into bite-sized bits

1/4 teaspoon salt (to taste)

1/4 teaspoon ground black pepper (to taste)


2 medium cloves garlic, minced

3 cups chicken broth or 3 cups water with appropriate amount of chicken-flavored bouillion

2-3 tablespoons lemon juice

8 oz uncooked spaghetti, broken into smaller pieces or in half (or 8 oz pasta of your preference, rotini would be great!)

3 tablespoons capers, drained

1/3 – 1/2 cup half and half

fresh Italian parsley, coarsely chopped, for garnish (if desired)

fresh lemon slices, for garnish (if desired)
Directions
In a large Dutch oven, heat oil over medium heat. Add butter and then the uncooked chicken bits. Season the chicken with salt and pepper and then allow to cook for about 5 minutes, stirring often.
Add the minced garlic and stir. Next, add in the capers, chicken broth, and lemon juice and stir to combine. Add the broken spaghetti or pasta to the pot and stir once more. Cover the pot and bring the liquid to a boil. Remove the lid, reduce heat to simmer. Cook for 10- 12 minutes or until most of the broth is absorbed and the spaghetti is completely cooked (al dente).
Stir in the half and half and stir well. Bring the liquid just back to a boil and then remove the pot from the heat completely.
Serve warm with a side of crusty garlic bread slices or buttery bread sticks. Enjoy!
Recipe Video
Notes
Recipe from A Little Fish in the Kitchen blog at www.alittlefishinthekitchen.com. All content is owned by Marcelle G. Bolton. Please contact the author for permission to republish.