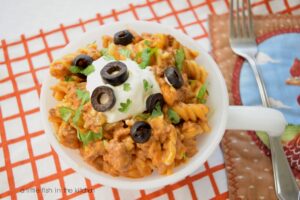 This beef enchilada pasta is our new favorite recipe in the quick and easy dinner category! It's ridiculously delicious, inexpensive to make and ready in right about 30 minutes! Seriously, what's not to love about all of that?!
Since we're talking about impressive recipe qualities, I'll just add that my finicky teenager asked me to make this for dinner two nights in a row! Now, that's got to tell you something about this simple skillet meal.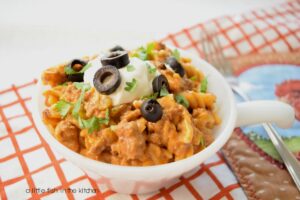 How to make beef enchilada pasta.
To make this one-pan wonder of a meal you will need: lean ground beef (or chicken or turkey, if you prefer), chopped onion, taco seasoning, pasta, diced green chilies, red enchilada sauce, sour cream, and a handful of cheddar or American cheese. For some folks, these ingredients will be pantry staple items, but I had to run out and grab a can of enchilada sauce just so we could try this recipe. As it turned out it was well worth the trip, because this recipe is ah-mazing!
Before we fell in love with this skillet meal, we didn't typically keep enchilada sauce in the cupboard, however, I'll be adding it to the grocery list much more often in the future. I've recently discovered a few other delicious uses for canned enchilada sauce, so do keep a lookout here on the blog for more easy recipes using my new favorite short-cut ingredient!
Meanwhile, happy eating, y'all! xo -M
Be sure to go grab my recipe for our favorite Tex-Mex taco seasoning while you are here!
Check out one of my latest videos!
Wouldn't you like to stay awhile? Sign-up here to receive all of my new posts in your inbox! Subscribe now and never miss a recipe or an update!
You will definitely want to Pin this recipe for later, y'all!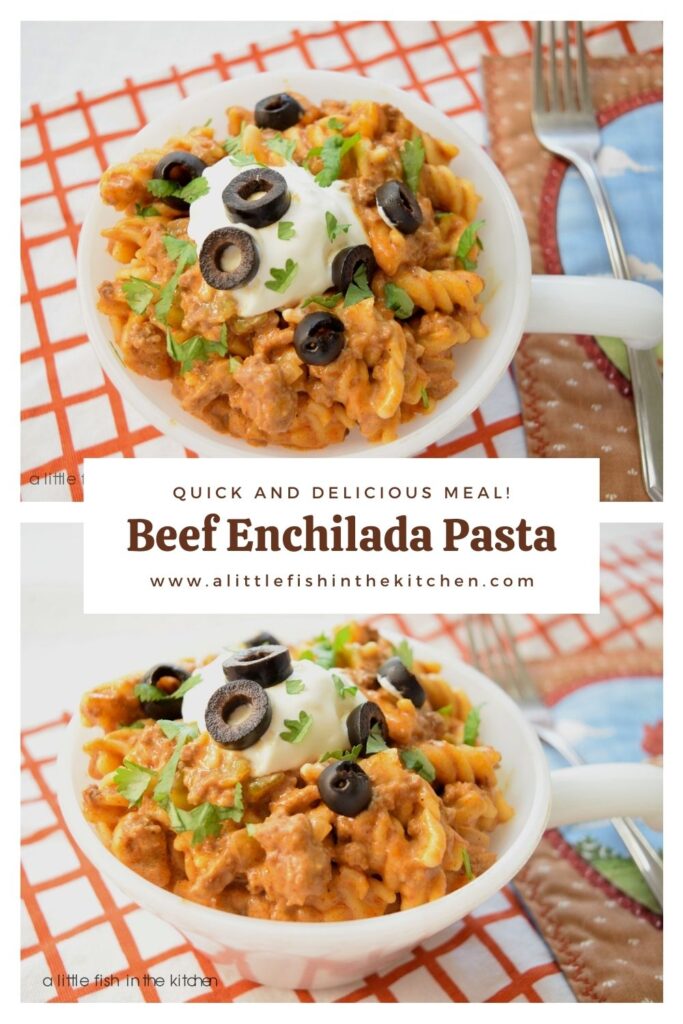 Beef Enchilada Pasta
Course: Lunch, Dinner
Cuisine: American
Difficulty: Easy
This beef enchilada pasta is a quick and delicious meal that's sure to impress even the pickiest family member! All the flavor of classic beef enchiladas, but without all the fuss!
Ingredients
1.15 pounds lean ground beef

1/3 cup coarsely chopped onion

1 tablespoon taco seasoning, packaged or homemade

1 (4 oz) can diced green chilies

1 (15 oz) can red enchilada sauce

2 cups chicken broth

2 cups pasta (rotini, penne or macaroni are great for this recipe)

1/2 cup sour cream

1/2 cup shredded cheddar or American cheese (or a blend of both)

optional ingredients for garnish: extra shredded cheese, chopped cilantro, sliced black olives, extra sour cream, hot sauce
Directions
In a large skillet, brown the ground beef. Drain drippings from the pan if they are excessive. Add the chopped onion to the skillet and cook until translucent. Next, add the taco seasoning and chopped green chilies into the meat mixture and stir.
Next, add the liquids, pour in the enchilada sauce, and the chicken broth. Stir and bring the skillet to a boil. Once the liquid is boiling, add the pasta to the skillet and stir. Bring the liquid back to a boil, stir, and cover the skillet. Reduce the heat to simmer until the pasta is tender (about 15 minutes). Be sure to stir at least once to keep the pasta from sticking.
Once pasta is tender, remove the skillet from the heat. Stir in the sour cream and the cheese and mix well.
Transfer the beef enchilada pasta to individual serving bowls and garnish with extra sour cream, shredded, sliced black olives, and chopped cilantro, if desired. Enjoy!
Recipe Video
Notes
Recipe slightly adapted from bettycrocker.com
Recipe from A Little Fish in the Kitchen blog at www.alittlefishinthekitchen.com. All content is owned by Marcelle G. Bolton. Please contact the author for permission to republish.