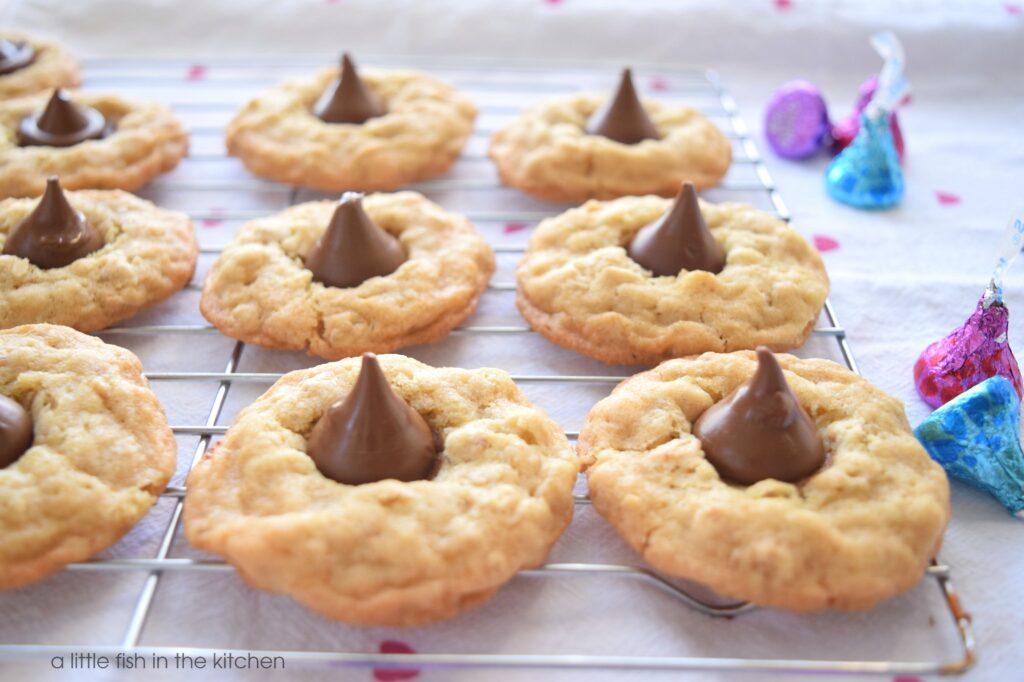 These buttery oatmeal kiss cookies are a delicious spin on the well-loved, classic peanut butter kiss cookies. In my opinion, these cookies are a real treat in every sense of the word! The recipe is easy and just a handful of ingredients are needed to whip up a batch in a jiffy. They're also delicious and super cute on a plate!
I'm not sure one could ask a cookie to do more.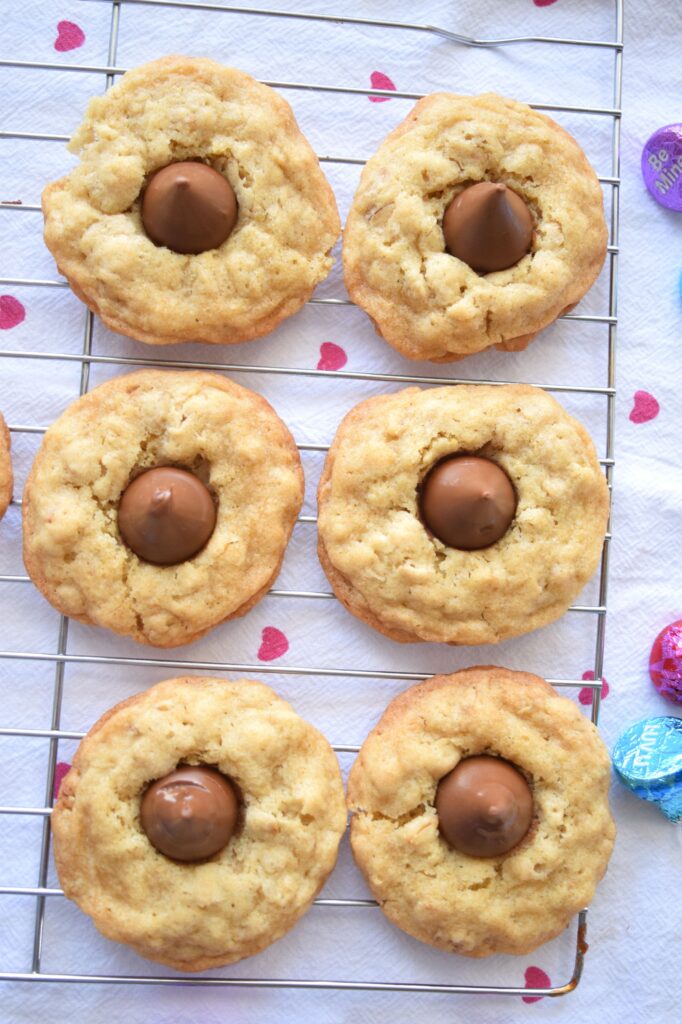 If you have followed me for a while, you will know that any baked goods made with healthier ingredients mixed in (such as oats!) have to pass a rigorous, kid-driven inspection at my house.
Well, I'm happy to report that these cookies not only passed that test with flying colors, but they were tasty enough to convince the pickiest 8 year-old-girl on the planet to ask for seconds!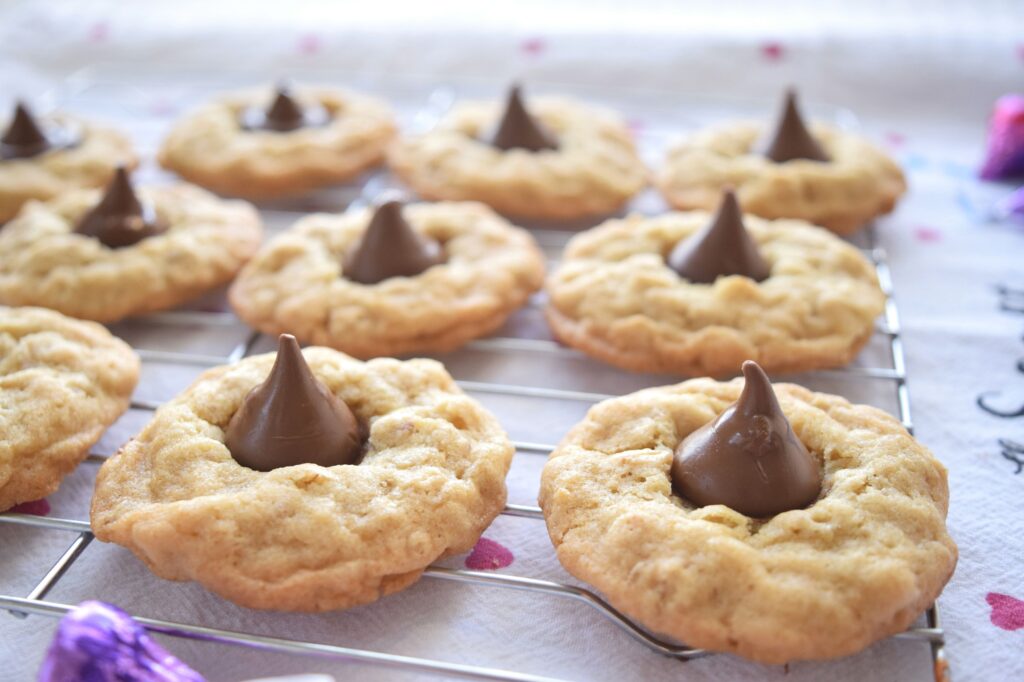 They are perfect for sharing, so please do share them with family, friends and neighbors. If you are planning to share, I'll just note here that these petite cookies are very lovely when packed up inside of holiday-themed treat boxes too… and Valentine's Day is just around the corner, y'all!
I sure hope you enjoy these oatmeal kiss cookies as much as we did! Happy baking, y'all! 🍪🥛
I'm celebrating National Oatmeal Month with a few of my talented blogger friend! Please keep scrolling to check out all of their delicious oatmeal recipes below!
Be sure to Pin this post for later!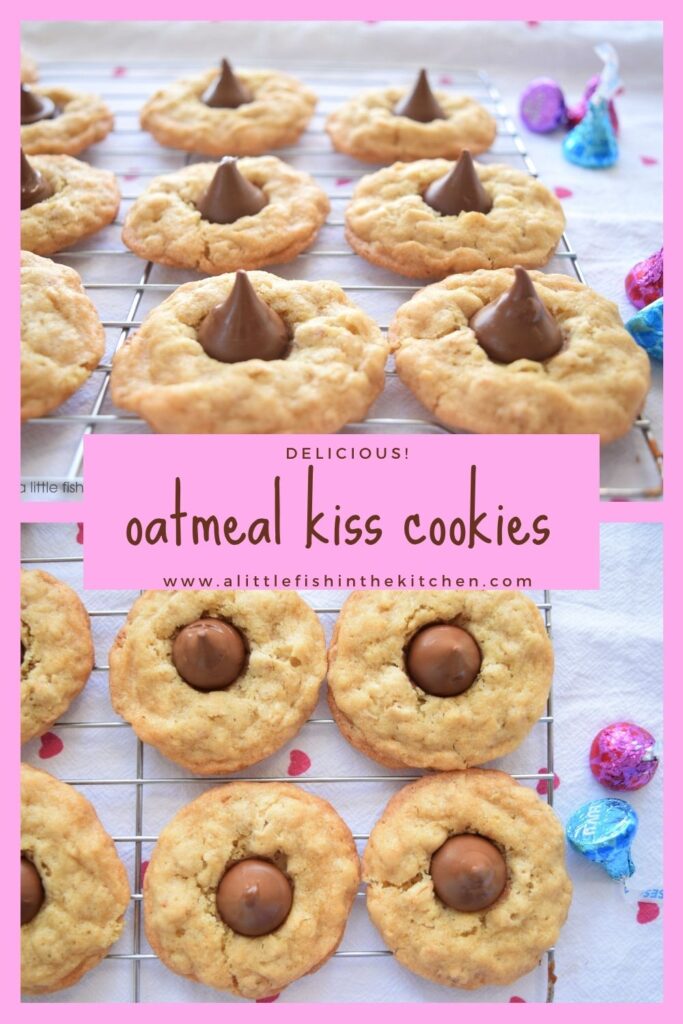 Here are some of my other oatmeal recipes you might enjoy:
Chewy Oatmeal Chocolate Chip Cookies
Creamy Vanilla Orange Overnight Oats
Spiced Brown Sugar Baked Oatmeal
Wouldn't you like to stay awhile? Sign up here to have all of my newest posts sent straight to your inbox! Never miss a recipe, event or an update, subscribe below!
Check out one of my latest videos!
Oatmeal Kiss Cookies
Course: Dessert, Snack
Cuisine: American
Difficulty: Easy
These tender oatmeal kiss cookies are a delicious doppelganger to their famous peanut butter cousins. This recipe makes around 6 dozen cookies. If you need fewer cookies cut the amounts on this ingredients list in half.
Ingredients
1 cup (two sticks) salted butter

1 cup light brown sugar

3/4 cup sugar

2 large egg

2 cups all-purpose flour

1 teaspoon baking soda

2 cups of old-fashioned oats

one (11 oz) bag Hershey's Kiss candies, unwrapped

Optional Add-Ins

3/4 cup finely chopped pecans or walnuts
Directions
Preheat the oven to 375° and prepare a cookie sheet with parchment paper or a silicon mat and set it aside. In a small bowl, combine the flour and the baking soda and set it aside.
In a large mixing bowl or in the bowl of a stand mixer, blend butter and sugars until light and fluffy. Add in the egg and beat well. Stir in the flour mixture into the butter mixture, one half at a time until a thick cookie dough forms.
Fold in the oats. Shape dough into 1-inch balls and place on the prepared cookie sheet. Leave space between the cookies as the dough will spread. Bake each pan of cookies for 10-12 minutes or the edges are lightly browned.
Remove the pan from the oven and place on a cooling rack; immediately press an unwrapped chocolate kiss candy on top of each cookie.
Allow cookies to cool for 15 to 20 minutes before serving. Enjoy!
Notes
Recipe from A Little Fish in the Kitchen blog at www.alittlefishinthekitchen.com. All content is owned by Marcelle G. Bolton. Please contact the author for permission to republish.
More National Oatmeal Month Recipes From Some Amazing Bloggers!