These cappuccino crinkles are just amazing little cookies.
They have a rich chocolate flavor with hints of coffee and cinnamon in every bite. They are also a little bit crunchy on the outside but soft and cake-like on the inside.
And I'm sorry to do this to you all, but they are also completely addictive.
Yep, my son has been hooked on cappuccino crinkles since he first tasted them at the tender age of 7 (okay, honestly we all are!) These "coffee cookies" ,as he calls them, are his still favorite cookie ever and he insists that Santa gets a few to munch on each year. I have no doubt that these little goodies help the big man along on his trek once he gets few of them in his jolly belly.
At this time of the year, cookies matter alot. Not just to Santa, but to your friends at your holiday cookie exchanges too! These cappuccino crinkles are pretty and flavorful and they are also sure to impress at all of your Christmas events!
The other Sunday Supper bloggers are sharing some of their favorite holiday cookies today too! So, please take a minute to browse through all of the other delicious cookie recipe posts below.
Cappuccino Crinkles printable recipe

Prep Time: 20 minutes
Cook Time: 15 minutes
Servings: 2 dozen
1/3 cup salted butter
1 cup packed light brown sugar
2/3 cup unsweetened cocoa powder
1 tablespoon instant expresso powder or instant coffee granules
1 teaspoon baking powder
1 teaspoon cinnamon
1 large egg
1/3 cup vanilla-flavored Greek yogurt
1-1/2 cups all-purpose flour
1/3 cup sugar (for rolling cookie dough in)
1. Preheat oven to 350 degrees. In a large bowl, beat the butter with an electric mixer for one minute. Add in the brown sugar, cocoa, coffee, baking powder and cinnamon. Mix until well-combined.
2. Beat in the egg and yogurt until combined. Add the flour, one half at a time. Cookie batter will become thick, and you may have to switch to mixing with a wooden spoon to get the batter together.
3. Pour the 1/3 cup sugar into a small bowl. Using a teaspoon, drop the cookie dough into the sugar and roll it into balls. Place the cookie dough balls onto an ungreased cookie sheet for 12 minutes or until the edges of the cookies are firm.
4. Transfer warm cookies to a rack to cool. Enjoy!
Sunday Supper's Best Cookie Exchange Recipes
Traditional and Tasty Cookies to Share
Fun and Festive Cookie Alternatives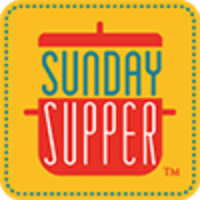 The Sunday Supper Movement is committed to bringing our readers delicious recipes that encourage them to gather and eat together around the family table. Search for your favorite ingredients on our Sunday Supper website. Also check out the Sunday Supper Pinterest boards for plenty more ideas and inspiration