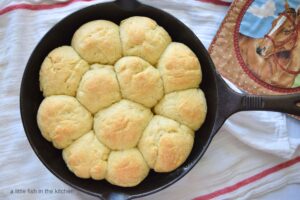 It's hard to believe, but Thanksgiving and Christmas will be here again soon. Of course, this time of the year and all the ongoing planning and preparation for these two "big feast" holidays is an exciting time for foodies and food bloggers, alike. I've already seen so many exciting posts and Pins for classic, holiday-time recipes floating around in my social media feeds.
Recipes for cookies, pies, glazed hams, stuffing and green bean casserole abound online at the moment.
Let's not forget about the holiday bread serving, shall we? At our house, it's just not a holiday meal without dinner rolls!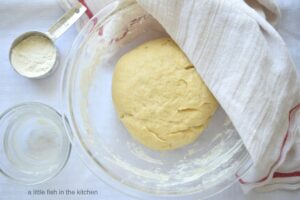 I absolutely love to bake my own sandwich bread when time permits, but I've put off learning to make certain specialty breads, like dinner rolls, for a long time. So, to be perfectly honest, the bread basket at our holiday meals is typically filled with store-bought dinner rolls that have been warmed up and well-buttered. And I don't think there's anything wrong with that. In fact, I'll give the the grocery store we visit most often some props because they really have a fantastic bakery!
However, I have vowed to make both of our holiday dinners this year completely scratch-made affairs. That's right, from the pie crusts to bread serving, I'm going to make it all from scratch! Now that my kids are a little bit bigger and much more independent, this is a commitment to myself and my family that I feel I can follow through with.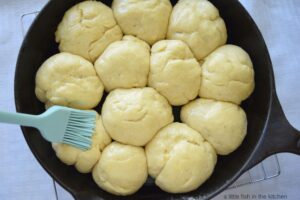 The part of this holiday scratch-baking undertaking that's intimidated me the most, by far, has been the decision to make homemade dinner rolls. So, I'm incredibly thankful that earlier this year, I was given this recipe for some crazy easy skillet dinner rolls and it's been a total attitude changer for me.
I tried this recipe for the first time back in April when I made a batch for our Easter lunch. I was so excited, and a bit apprehensive, to attempt them, but in the end they were very simple to make and they turned out terrific! I had a house that smelled like a comforting, busy bakery and a bunch of happy hearts and tummies at my table. It was a great day and a memorable meal.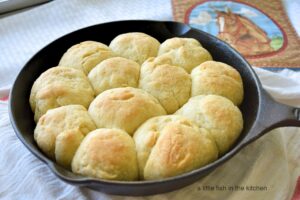 I've made these fresh-baked rolls several times since then with complete success. Nowadays, the thought of baking dinner rolls from scratch is a happy one, and when I serve these rolls my whole family looks forward to it. The original recipe I followed listed sugar as an ingredient, and the only adaptation I've made to it is to use honey as a sweetener instead. I just really love the flavor that honey lends to fresh-baked bread!
Another reason I love this recipe is because these rolls are baked in cast iron skillet, a.k.a. the ultimate baking dish! A well-seasoned cast iron skillet is a perfect, win-win vehicle for these fluffy, homemade dinner rolls. The rolls will bake up perfectly and evenly and be all set for a beautiful, rustic presentation too!
Here's my latest video where you can watch me make a batch of these simple skillet dinner rolls for you! Please remember to subscribe to my channel while you are there so you'll never miss a video recipe post!
Skillet Dinner Rolls
Course: Sides
Cuisine: American
Difficulty: Easy
Making homemade dinner rolls is easier than you may think! This recipe only has six ingredients and requires just a little bit of patience for the two rise times. Your guests will be so impressed when you serve them fresh-baked rolls perfectly nestled in a cast iron skillet! This is a must-have holiday recipe.
Ingredients
3 cups all-purpose flour

1 teaspoon salt

2-1/4 teaspoons (1 packet) instant rise yeast

1 cup warm water

3 tablespoons honey

1 tablespoon canola or vegetable oil

3-4 tablespoons salted butter, melted and slightly cooled

extra 1/2 cup flour for kneading
Directions
Combine flour, yeast and salt in a large mixing bowl.  In another small bowl, combine warm water, honey, oil and melted butter and stir.  
Make a well in the center of the flour mixture and pour the water/oil mixture into the bowl with the flour mixture. Use a wooden spoon and/or your hands to combine ingredients until a loose dough forms.
Turn the dough out onto a generously floured surface and knead until the dough becomes smooth (about 2 minutes). Place the dough ball into a lightly greased bowl, cover with a clean, dry tea towel and let rest 10 minutes. Lightly coat a 10-inch cast iron skillet with non-stick cooking spray and set it aside.
After the dough rests for 10 minutes, lightly punch down the dough ball and tear it into 12 even, ball-shaped pieces. Place the dough balls into the greased skillet (3 in the center of the skillet and 8 around the edge), and cover with a tea towel again. Allow the dough to rise for 30 minutes.
Pre-heat the oven to 350°. Brush melted butter onto tops of dough balls and place skillet into the warm oven. Allow rolls to bake for 10 minutes.
At the 10 minute mark, remove skillet from the oven and brush butter onto the rolls a second time. Return the rolls to the oven to bake for 10-15 more minutes, or until the tops are golden brown and the rolls appear done. (25 min total bake time) Remove skillet from the oven and cool rolls on a rack.
Serve with butter and enjoy!
Notes
Recipe as published on A Little Fish in the Kitchen at www.alittlefishinthekitchen.com. All content is owned by Marcelle G. Bolton. Please contact the author for permission to republish.
Be sure to sign up here to receive all my posts to your inbox! Never miss a recipe, subscribe!