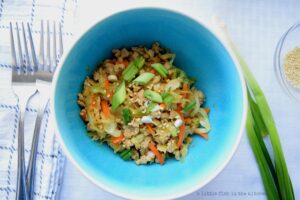 This recipe for egg roll in a bowl has quickly risen to the top of our  "favorite quick dinners" list! Not only is it super tasty, it's great for a few other reasons too. So, I'm just going to jot down a short list of things I love about this super simple supper right here: it's low-carb, it's gluten-free, it's light and healthy, (perhaps best of all) it's ready to serve in just minutes, and it's really tasty…oh wait, I mentioned that already… oh well!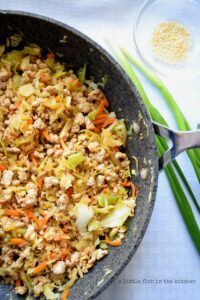 If you enjoy Asian-style food, especially egg rolls, you will love this dish, y'all. It honestly tastes just like the stuffing of a chicken or pork egg roll that comes with your favorite Chinese take-away dinner.
For convenience, I like to use pre-packaged cole slaw mix (just the shredded cabbage and carrots, no need for a dressing mix) as a time-saving short-cut when I make this dish. However, if you prefer to shred your own vegetables, you can certainly go that route too.
Feel free to add-in or take away from these ingredients as you prefer and you can whip up a vegetarian version using a ground meat substitute or toss in more veggies to fill up the skillet. I think chopped broccoli, chopped cauliflower, chickpeas, edamame, snow peas or thinly sliced bell peppers and onions would be great choices whip up a vegetarian egg roll in a bowl!
Let me know how you make it! Happy eating, y'all!
Here's my latest YouTube video where you can watch me make this whole recipe for you! I've have lots of videos coming up this year and I'm so excited to share on YouTube! So, be sure to subscribe to my channel so you won't miss a thing. I'd love to see you all there!
Sign up here to receive all of my posts right to your inbox! Subscribe now and never miss a new recipe or update!
Low-Carb Egg Roll In A Bowl
Course: Lunch, Dinner
Cuisine: Asian
Difficulty: Easy
This egg roll in a bowl really does taste just like the stuffing of an egg roll. Feel free to use your choice of ground meat for this recipe. Vegetarian? Just add in some chopped broccoli, cauliflower or thinly sliced bell peppers and onions to complete the meal!
Ingredients
1 lb ground pork, chicken or beef, as you prefer

2 medium cloves of garlic, minced

1 package (14 oz) cole slaw mix or shredded cabbage

3-4 tablespoons soy sauce (to taste)

1 tablespoon sesame oil


1 teaspoon ground ginger

1 generous pinch of ground black pepper

1-2 tablespoons Sriracha, to taste (optional)

2-3 green onions, sliced, for garnish

toasted sesame seeds, for garnish

3-4 hard boiled eggs, sliced or chopped, for garnish (optional)
Directions
Brown meat in a large skillet over medium heat. (refer to Note below about any rendered pan drippings)
Add garlic to the cooked meat and allow to cook for 1-2 minutes. Add in the shredded cabbage mixture, and use tongs to combine the veg with the warm meat. Allow the meat and vegetable mixture to cook for about 4 minutes, stirring often, or until the cabbage is nicely wilted.
Mix in the soy sauce, sesame oil, ginger and black pepper and toss evenly with the meat mixture.
Drizzle with sriracha, if desired and mix it into the egg roll in a bowl. Garnish as preferred with sliced green onions, toasted sesame seeds and a hard boiled egg.
Enjoy!
Notes
Leave the fat that renders as you cook the ground meat in the pan, it will help the cabbage wilt and add flavor. However, if the meat used renders an excessive amount of fat, you should drain some out leaving only a tablespoon or two worth of drippings.
Recipe as published on A Little Fish in the Kitchen at www.alittlefishinthekitchen.com. All content is owned by Marcelle G. Bolton. Please contact the author for permission to republish.