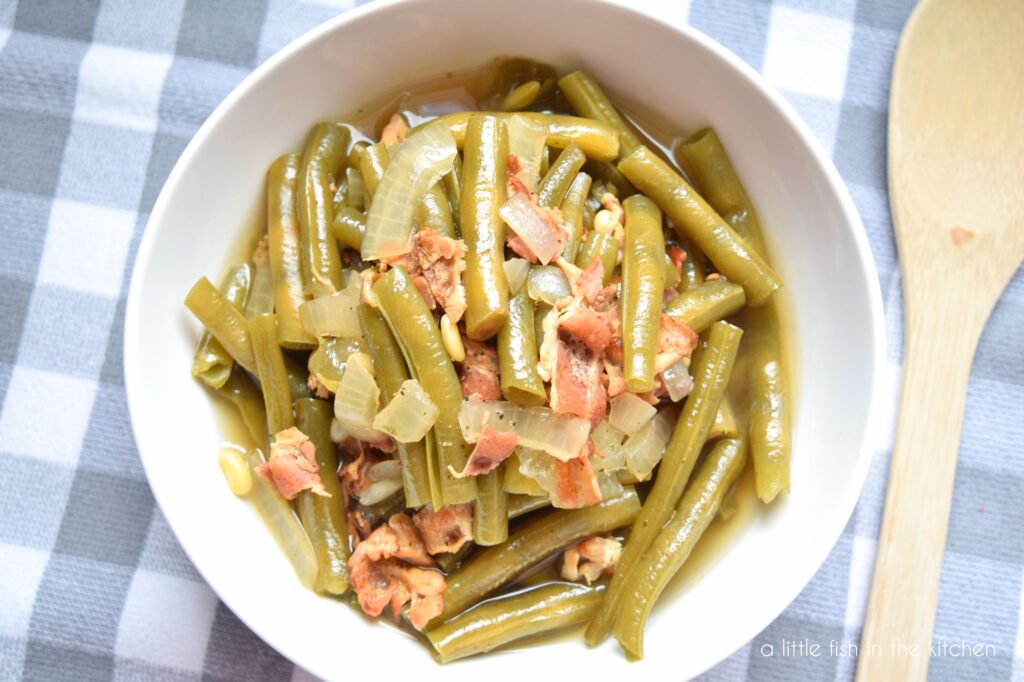 There are some big expectations when one says they are making a "pot of beans" in Texas.
In my experience, if any kind of get-together is being planned and a casual mention of the menu for the gathering comes up, it will go a little bit like this "We'll serve burgers (or brisket or fried fish or smoked chicken or fill-in-the-blank here…), and a big pot of beans..." Honestly, it's nearly inevitable that words "pot of beans" will roll off tongue right after the announcement of whatever the planned main dish may be for a party.
This may not seem important, but please don't be deceived by that seemingly innocent word syntax. That little cluster of words being cued up and placed in a tight second place position to the mention of a main course means just one thing, y'all… a pot of beans is a big deal!!
Now, let's switch gears here for a minute and think as a guest of any Texas barbecue party. As a barbecue supper guest, there is an unspoken, yet ever-present hankering for any pot of beans that's being offered up as side dish to be a complete and total flavor party. Nothing more, nothing less y'all.
Sure, the smoked chicken may have been delicious at a cookout, but a disappointing pot of beans will be mentioned first by guests on the car ride home. You can bet your buttons about that! And, yes, to dispell any befuddlement that might occur here, those high expectations supper guests will have apply to a pot of any kind of beans. You heard me… any!!
However, in this post I'm sharing about how I make THE BEST Southern-Style Green Beans specifically because they are one of my family's favorite side dishes of all time, and they are just gosh darn delicious.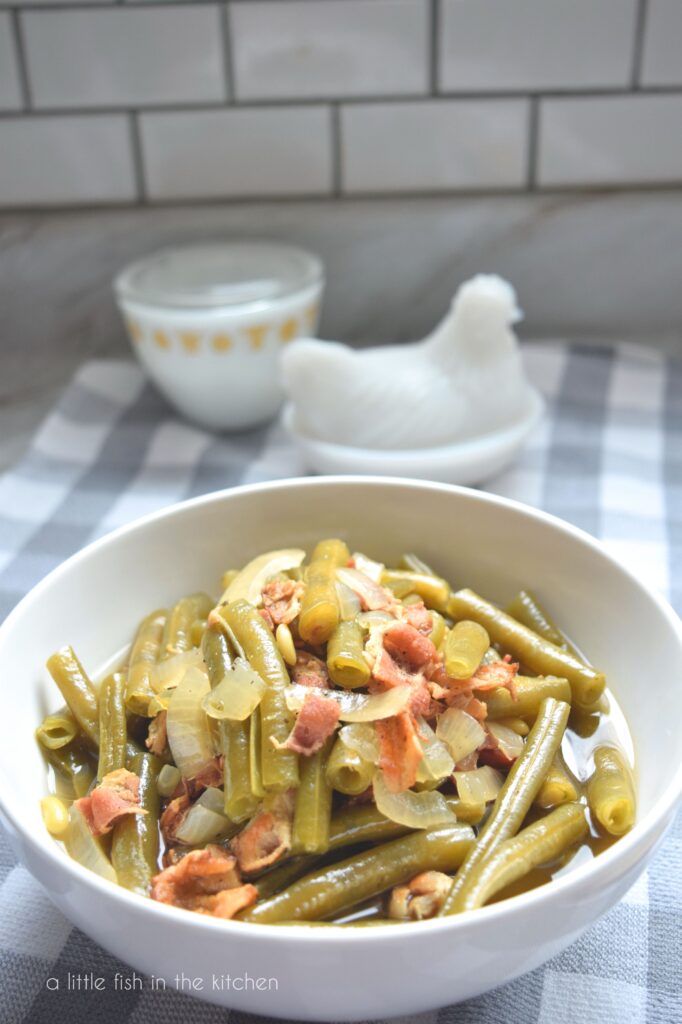 How to make the best Southern-Style Green Beans
This recipe is so simple that I know you may struggle to believe it can produce the best pot of green beans, but it truly does. I'll always stand by my belief that less is more with most things, including building up flavor in many recipes. To make these heavenly, country-style green beans I use fresh green beans, onion, crispy cooked bacon, water, chicken-flavored bouillion, black pepper, and one very special ingredient that cannot be skipped if you want to get this recipe right…. and that secret ingredient is time.
The old adage "all good things take time" is certainly true when it comes to a good pot of southern-style green beans, and at least two hours of simmering time is needed for this recipe. I also know that busy folks, myself included, don't always have time available to baby-sit anything cooking on the stove top for hours, so that's where a slow-cooker comes into play with this recipe. We'll just let that magical gadget do most of the work here!!
In my opinion, a slow-cooker is by far the best gadget for making any pot of beans. So, just pop one pound of trimmed green beans along with the other pantry staple ingredients into the crock and let them go, low and slow, into bacon-y, tender, green bean perfection.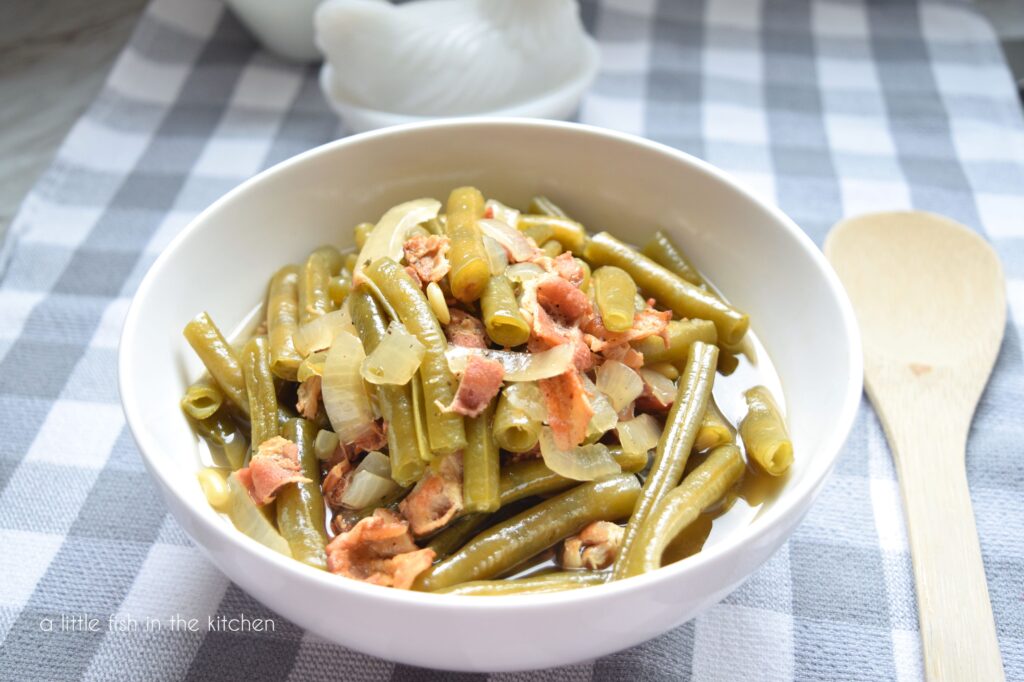 We actually make these beans very often and using my slow cooker makes that possible, especially on weeknights. These beans pair up so well with chicken made with my favorite Lemon-Herb Brine, King Ranch Chicken, or even this Easy Chicken Alfredo Bake. However, these beans are so scrumptious that we always make a pot of them for the holidays too. On those days, I just love using my slow cooker for beans because it frees up space on my stove top on those busy mornings.
In my house, it just wouldn't smell like Christmas Day without a pot of these heavenly Southern-Style Green Beans simmering away in the kitchen!
I hope you enjoy these simple, but delicious green beans if you try them, and I hope they make your next family supper something special.
Happy crocking, y'all!! 🥘💚
Check out one my latest videos on YouTube and subscribe to my channel for more recipes and live streams!
Save this recipe on Pinterest!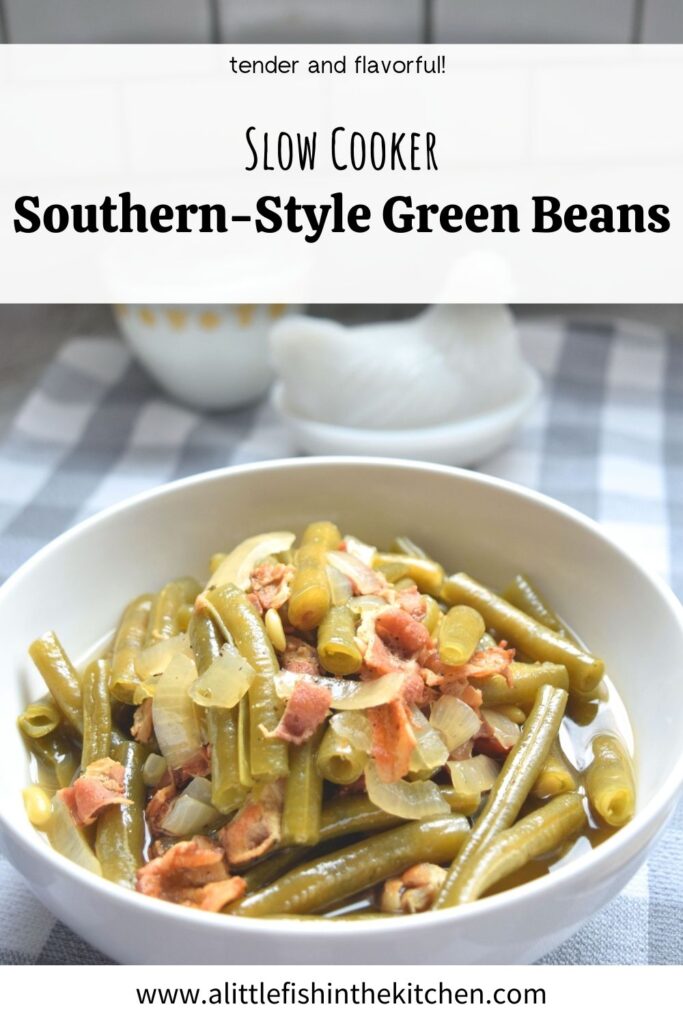 Slow Cooker Southern-Style Green Beans
Course: Sides
Cuisine: American
Difficulty: Easy
The big, bacon-y flavors one expects from a good pot of Southern-Style Green Beans can only be achieved by cooking them low and slow. I love to use my slower when I prepare these green beans to free up time and space in my kitchen. I truly think that a slow cooker is the perfect gadget for this making classic Southern recipe!
Ingredients
1 pound fresh green beans, rinsed and trimmed, (if using frozen green beans, it's best they are thawed)

4 slices crisp, cooked bacon, cut into bits

1/2 half of one medium onion, coarsely chopped

3 cups water (*see notes below)

3 – 3-1/2 teaspoons chicken-flavored bouillion powder (I use Knorr brand)

1/2 -1 teaspoon ground black pepper (to taste)
Directions
Place trimmed green beans, bacon bits, chopped onion, water, three teaspoons bouillion powder, and pepper into the crock of a slow cooker. Gently stir all ingredients to combine.
Cover the crock and let beans cook on high for one hour. At the one hour mark, taste broth and adjust seasonings by adding the remaining 1/2 teaspoon of bouillion powder, if needed, and stir. Cover and allow to cook for another one -two hours, as needed.
Transfer Slow Cooker Southern-Style Green Beans to a serving dish and enjoy!
Recipe Video
Notes
You can also use prepared chicken broth in this recipe in the same amount. Just be sure to taste and adjust your seasonings at the one hour mark while the beans are cooking. You will likely have to add a bit more salt at that time, if using chicken broth instead of bouillion.
This recipe can also be prepared in a Dutch-oven on the stove top, if you have free time to watch the pot.
Recipe from A Little Fish in the Kitchen blog at www.alittlefishinthekitchen.com. All content is owned by Marcelle G. Bolton. Please contact the author for permission to republish.