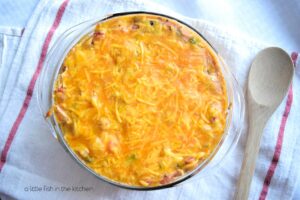 When it comes to comfort food and childhood memories of happy meals, the recipe for this King Ranch Chicken Casserole absolutely reigns supreme for me. My mom made a few other dishes that had us all excitedly waiting in the wings to eat, like this Old-Fashioned Potato Soup or this sweet, decadent Cinnamon Rice Pudding. But, as delicious as those oldie-but-goody recipes are, none of them created the type of dinnertime anticipation I felt waiting for this dish of cheesy goodness to be ready to serve.
In fact, I distinctly remember the thirty minutes of cook time needed to heat this casserole through seemed like eternal torture!
And, there's a good reason for that… this casserole is totally, flipping delicious.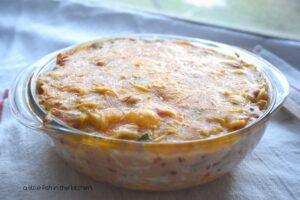 How to make King Ranch Chicken Casserole
To make this luscious, cheesy casserole you'll need a mixture of American and Cheddar cheese, one can each of cream of chicken and cream of mushroom condensed soups, two cans of diced tomatoes and green chilies, garlic powder, chili powder, and chopped onions and bell peppers.
Some recipes for this casserole also add a small can of cooked, sliced mushrooms or a measure of fresh, sliced fresh mushrooms into this dish. I have done this before myself, and while I find it to be a flavorful add-in, my kids are completely passive aggressive toward any dish containing mushrooms. So, I typically skip that ingredient to preserve the orbit in my house.
Y'all know I'm all about peace, love and dinnertime!!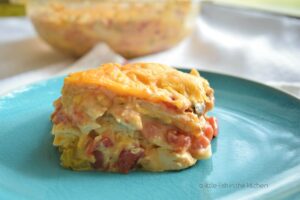 I associate this dish with special occasions as that's when it was typically served in my childhood home. My mom would often whip this King Ranch Chicken Casserole up for Christmas Eve or New Year's Eve along with her famous 7-layer salad as special treat for us five kids. This was also one of her favorite ways to use up left over turkey from Thanksgiving, and I often cook up this casserole for that very reason too.
I hope you enjoy this classic Texas fare as much as my family does!! This recipe is a keeper, so you'll definitely want to share the love! Please remember to share it with anyone who will enjoy it too! xo -M
Check out one of my latest cooking videos and subscribe to my YouTube channel! See you there for more recipes and livestreams!
Share this recipe on Pinterest!!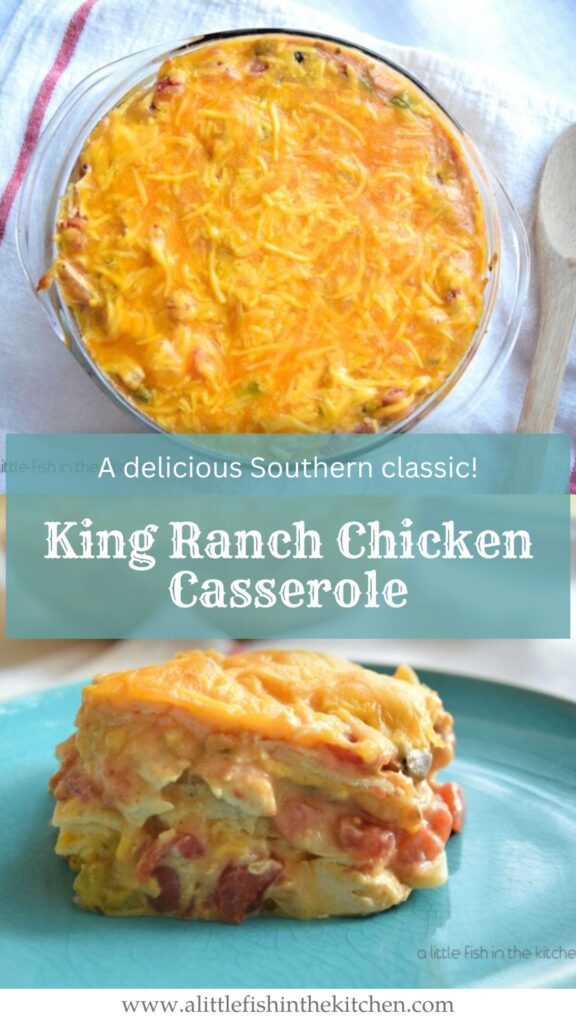 Sign up here to have all of my new posts sent right to your inbox! Subscribe now and never miss a recipe or an update!
King Ranch Chicken Casserole
Course: Main
Cuisine: American
Difficulty: Easy
This decadant, cheesy King Ranch Chicken Casserole is a family favorite recipe and a Southern fare classic! It's perfect to feed a crowd at a family gathering or to use up leftover roasted Turkey from Thanksgiving day! Be prepared because folks will ask for this recipe!
Ingredients
1 cup diced green bell pepper

3/4 cup diced yellow onion, coarsely chopped

2 (10 oz) cans mild or original heat Rotel tomatoes and chilies, undrained

1/4 teaspoon garlic powder

1 teaspoon chili powder

1 (10 oz) can cream of mushroom soup

1 (10 oz) can cream of chicken soup

2 cups cooked chicken, shredded or diced

1 cup shredded mild cheddar cheese

1 cup shredded American cheese

10 corn tortillas, torn or cut into strips or 1-inch size pieces
Directions
Preheat the oven to 350°. Combine the two types of shredded cheese in a bowl and set it aside.
In a large skillet, heat 2 tablespoon of olive oil. Add the chopped peppers and onions. Saute for 2 minutes. Add the channed tomatoes and chilies and both cans of soup to the skillet. Stir well to combine the mixture and heat it through. Add the chicken bits to the soup mixture and stir. Turn off the burner.
Using a 2-quart baking dish (**see notes below) layer a small handful of of the torn corn tortilla bits in the bottom of the dish (completely cover the bottom of the dish). Top the tortilla bits with 1-1/4 cup of the soup mixture. Top soup mixture with with a heaping half cup shredded cheeses. Top soup layer with another 1/2 cup or more of tortilla pieces, 1-1/4 cup of soup mixture, and 1/2 cup shredded cheese. Repeat layers, if necessary and top the casserole with remaining shredded cheese. (see recipe video below for a demonstration, if needed)
Place the King Ranch Chicken Casserole into the preheated oven for 30 minutes or until casserole appears to be heated through (soup mixture should be bubbling on the sides and cheese should be completely melted on the top).
Serve with a crisp green salad and homemade Ranch dressing. Enjoy!
Recipe Video
Notes
You can also use a 9 x 13 sized baking dish to make this recipe, if you prefer.
Recipe as published on A Little Fish in the Kitchen at www.alittlefishinthekitchen.com. All content is owned by Marcelle G. Bolton. Please contact the author for permission to republish.