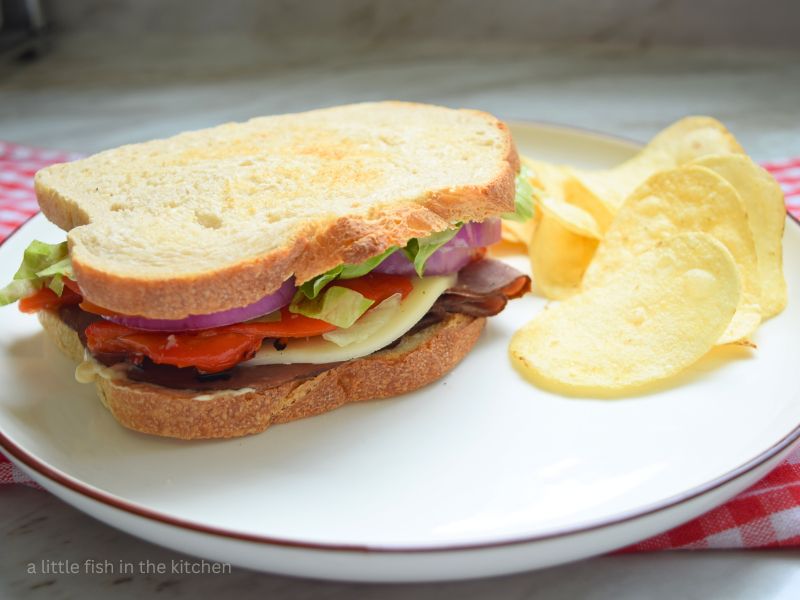 I love a good cold cut sandwich all year long, and sandwiches have always been a go-to, easy meal for me. I honestly always have some combination of sandwich fixin's in my refrigerator. However, during the warm summer months I tend to lean on simple sandwiches at mealtime for my family more often than I otherwise might.
There are many cold cut and cheese combinations I enjoy and in my opinion, a classic ham and cheese is really hard to beat. I think y'all should know that this Roast Beef and Red Pepper sandwich combination was born out of sheer desperation experimentation.
A few weeks ago, I wanted to put some pickle slices on the roast beef sandwich I made for lunch, and as my luck would have it we were completely out. We are big fans of the pickles sliced for sandwiches in a jar. Nonetheless, I really wanted to add a briny element to my sandwich, so I began scanning all the open glass bottles of this or that in my refrigerator door (I was hoping to find a stray pickle). As it turns out, the briny options I had on hand were capers (it was a no, just a little too much), or roasted red peppers (ding, ding… now this could work). I figured putting a few slivers of the those tasty peppers over my roast beef and provolone cheese was worth a shot.
The rest is sandwich-making history! While these flavorful sandwiches stuffed with layers of roast beef, roasted red peppers and other veggies are fairly new to my sandwich-making rotation, they have been a much-celebrated addition to it. Now it's a delicious option that's here to stay, and I'm sharing about it here so you all can try it too.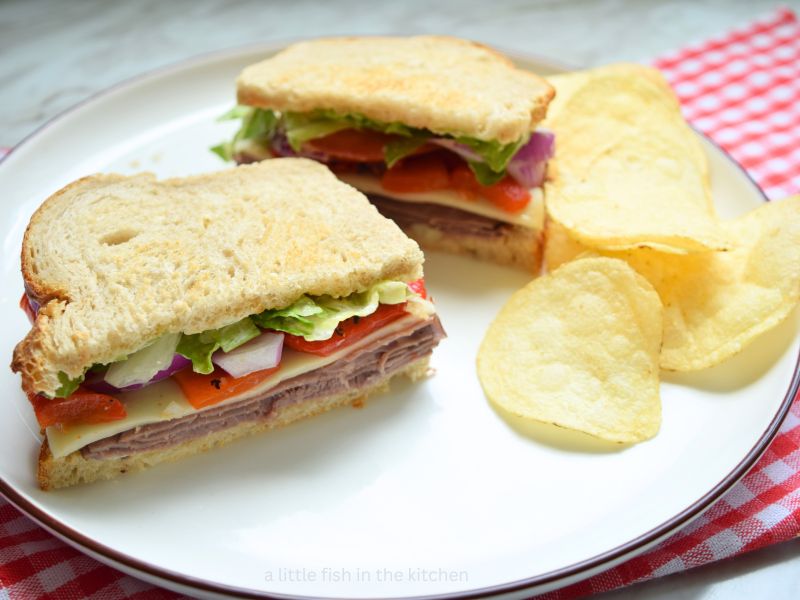 Y'all know I can be a bit obsess-y, and I'll just admit that I've been making this sandwich for myself a few times a week lately, and I may have even taken a special trips to the store to purchase more deli roast beef before I've run out!
Also, Evan recently returned from overseas and he was finally able to try one of these little sammies for himself. He was on orders in Germany for 5 weeks, and for the final two weeks of his trip, he had to hear me rave about this little sandwich I was eating nearly everyday. I would often bring it up after he told me (yet again) that he was sick of potatoes. As far as his German dining experiences went he enjoyed many meals he ate very much, but nearly all entrees he ordered, in every restaurant, came with a side of pomme frites. He was done with fried potatoes for a minute, y'all.
I'm not sorry to say that now he's caught up in this minor food obsession too.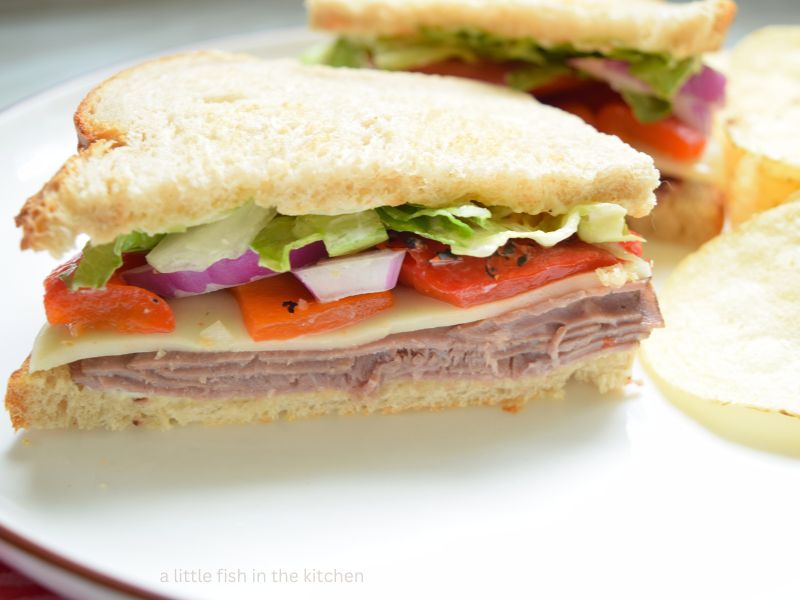 I feel that this sandwich is made special by it's layers of rich, savory ingredients including lightly toasted bread, a mayo-Dijon sandwich spread, seasoned, thinly sliced deli roast beef, and briny bits of roasted red peppers from a jar. The layers of fresh veggies add a mild sweetness and crunch to this sandwich I especially enjoy the sharpness of onion and crisp shredded lettuce.
I truly think there is a lovely balance to each bite, I hope you all enjoy it too!!
Other sandwich recipe you might enjoy
Save this recipe on Pinterest!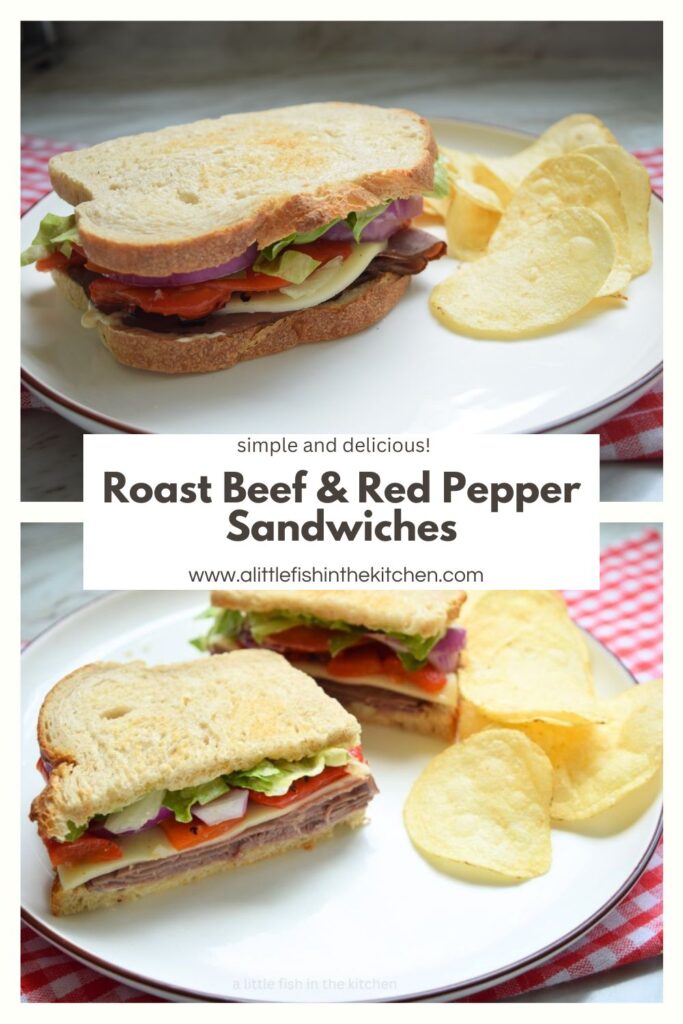 Sign up here to have all my new posts sent right to your email! Subscribe now and you'll never miss a new recipe or and update!
Roast Beef and Red Pepper Sandwiches
Course: Lunch, Dinner
Cuisine: American
Difficulty: Easy
These Roast Beef and Red Pepper Sandwiches are simple, but delicious. This sandwich is made special by it's layers of richly flavored ingredients. The briny roasted red peppers richly compliment a well-seasoned deli roast beef while the fresh veggies add balance and crispness to each bite. This sandwich will certainly kick your cold cut sandwich game up a notch!
Ingredients
2 tablespoon mayonnaise

1 teaspoon Dijon mustard

4 slices of thinly sliced roast beef deli meat, add more or less as you prefer

1 slice provolone cheese or another cheese of your preference (sharp cheddar, gouda, muenster or Swiss are good choices for this sandwich)

2-3 slices of roasted red pepper from a jar

thinly sliced red onion (use to your preference)

2 tomato slices

1/2 – 3/4 cup thinly sliced or chopped lettuce

2 pieces of your favorite sandwich bread, lightly toasted (I used freshly baked sourdough sandwich bread from my store bakery)
Directions
In a small bowl, combine mayo and mustard. Spread the mixture evenly onto both pieces of toast.
Layer ingredients in this order onto one slice of prepared toast: roast beef, cheese, roasted red pepper pieces, red onion tomatoes, lettuce. Top with the second slice of prepared toast.
Apply a small amount of pressure to the top of sandwich to bring it all together and slice in half with a sharp knife. (you can also refer to recipe video below for a complete tutorial on building this sandwich!)
Serve with chips, fries, fresh fruit, a side salad or a bowl of soup. Enjoy!!
Recipe Video
Notes
Recipe from A Little Fish in the Kitchen blog at www.alittlefishinthekitchen.com. All content is owned by Marcelle G. Bolton. Please contact the author for permission to republish.