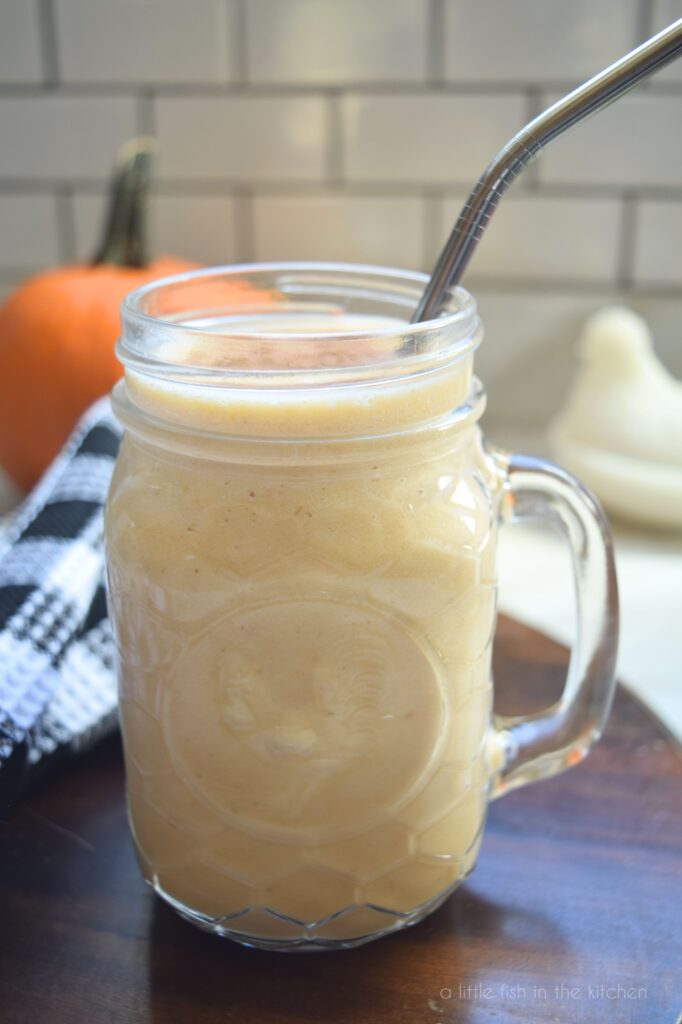 As my kids get a little bit older, breakfast tastes and preferences have been changing slightly at my house. Some changes are subtle, others not so much. Eggs served in every way possible are still in good standing with my crew, and all forms of sugary, carbohydrate-laden morning treats are still popular items on the breakfast rotation. Old-fashioned waffles, buttermilk pancakes, and skillet biscuit bread are comforting family favorites and I'm certain they will be forever.
Breakfast meats? You betcha! The aroma of smoky bacon and maple-flavored pork sausage frying up in a skillet will have the whole family milling about in the morning without any complaints at all until the end of time. At our table, where things have been sorely lacking at times is in the fresh fruit and vegetable intake department. Over the years, these two kids of mine have given me an exhausting run for my money when it comes to attempts to get them to eat fresh, whole foods.
Now, I'll give props where props are due on this subject! My teenage son has really branched out for the better in his eating habits lately, and he's even become quite the accomplished cook at just 15 (yes, I will take credit for that, thank you!). Over the last few months, he has surprised me at times with a bold display of total willingness to try new fruits, vegetables and dishes.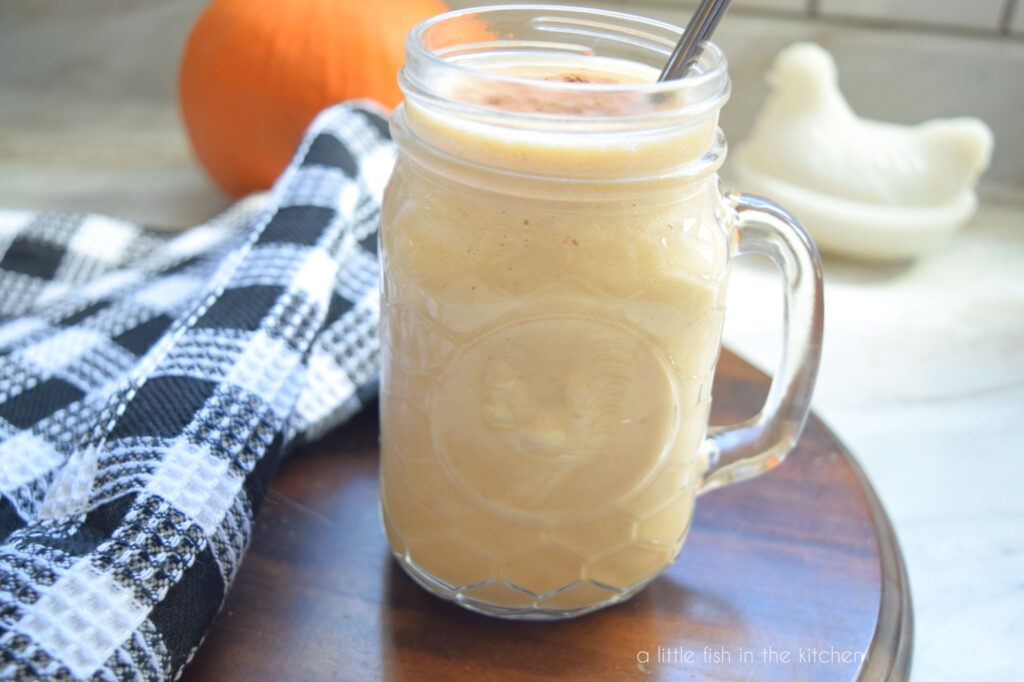 To that end, I also have to note here that he has several friends in high school who are vegan. These kids regularly and willingly fill themselves with fruit and vegetables in the cafeteria…right in front of his eyes. 👀 While he has yet to say he wants to give up on eating meat, vegan peer influence has been very good for him and his dietary choices in many respects. Now in his own way, he's trying his best to be a good influence on his baby sister. He tries to convince her to take a bite of this or that fresh ingredient, whatever it may be, when a moment presents itself.
But, y'all she's got a very strong personality… and she just likes what she likes!! And fresh fruit and vegetables are not what she likes!! Yes, the nine-year-old girl is famously stubborn, and it seems she's a much tougher nut to crack when it comes to trying new foods and dishes when compared to her big brother.
So, the concept of fruit smoothies for breakfast has been been one I've been anxiously awaiting to introduce for some time. Now that my children are ages 15 and 9, respectively, I figured the time is right to really push a healthier agenda at home. They are certainly much easier to reason with at the table these days, and I know they understand that their growing bodies need decent nutrition. Even if a bag of Cheetos seems so much more inviting than carrots and ranch dressing!
So far we've tried just a couple of combinations of fruit smoothies and the favorite shake so far is a blueberry bananas smoothie. But, for a festive, seasonal combination this delicious Pumpkin Maple Protein Smoothie has been popular too. Overall, I'm happy to report that, in general, smoothies as a concept have been a hit with my little family and I really wasn't sure how it would go. Whew!
I consider any opportunity to load my kids up with fresh fruit and vegetables a win. Even if said fruits and vegetables are put into the jar of a blender, pulsed and served in a delicious, creamy liquid form!
I hope you all enjoy this luscious, seasonal smoothie too!! Happy blending! xo -M
Be sure to share this recipe on Pinterest!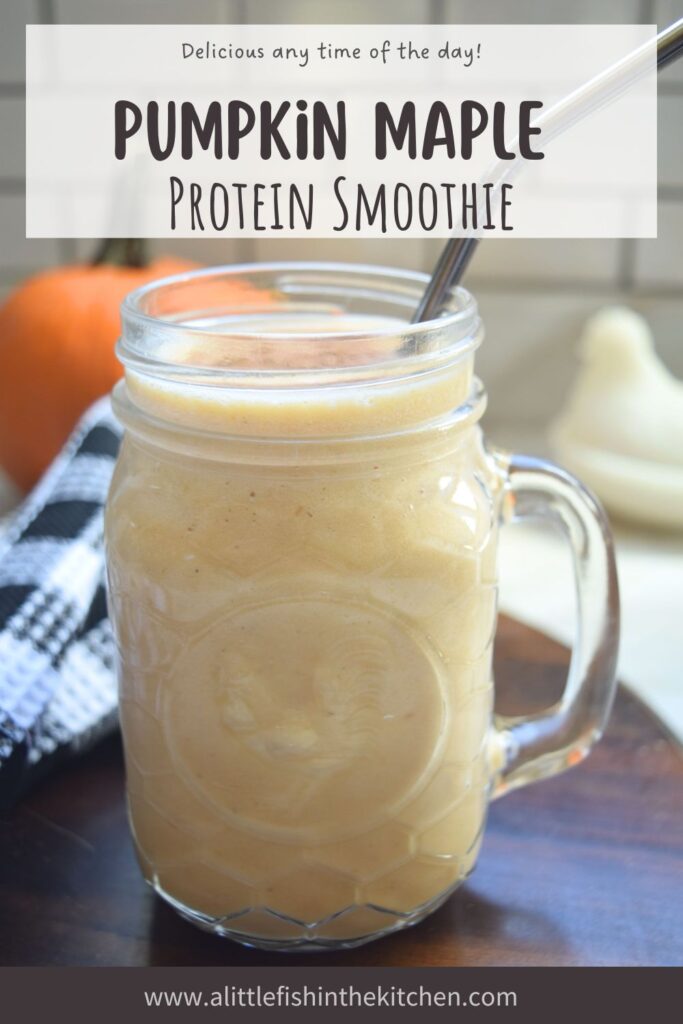 Check out on of my latest videos on You Tube! Be sure to subscribe to my channel for even more recipes and live streams!
Enter your email address below to have all of my new posts sent right to your inbox! Subscribe now, for free and never miss a recipe or an update!!
Pumpkin Maple Protein Smoothie
Course: breakfast, Snacks
Cuisine: American
Difficulty: Easy
This Pumpkin Maple Protein Smoothie is a delicious and nutritious treat any time of the day! The addition of protein powder also makes this smoothie a tasty and satisfying meal replacement option for breakfast or lunch.
Ingredients
1 medium banana

3 tablespoons pumpkin puree

1 scoop vanilla protein powder

1/2 – 1 teaspoon pumpkin pie spice (to taste)

3/4 cup unsweetened almond milk or another milk of your preference

2 teaspoons pure maple syrup or sugar-free maple-flavored syrup

1/2 cup ice
Directions
Add all ingredients into the jar of a personal-size or regular blender.
Blend until smooth (about 30-45 seconds). Enjoy!
Recipe Video
Notes
Recipe from A Little Fish in the Kitchen blog at www.alittlefishinthekitchen.com. All content is owned by Marcelle G. Bolton. Please contact the author for permission to republish.