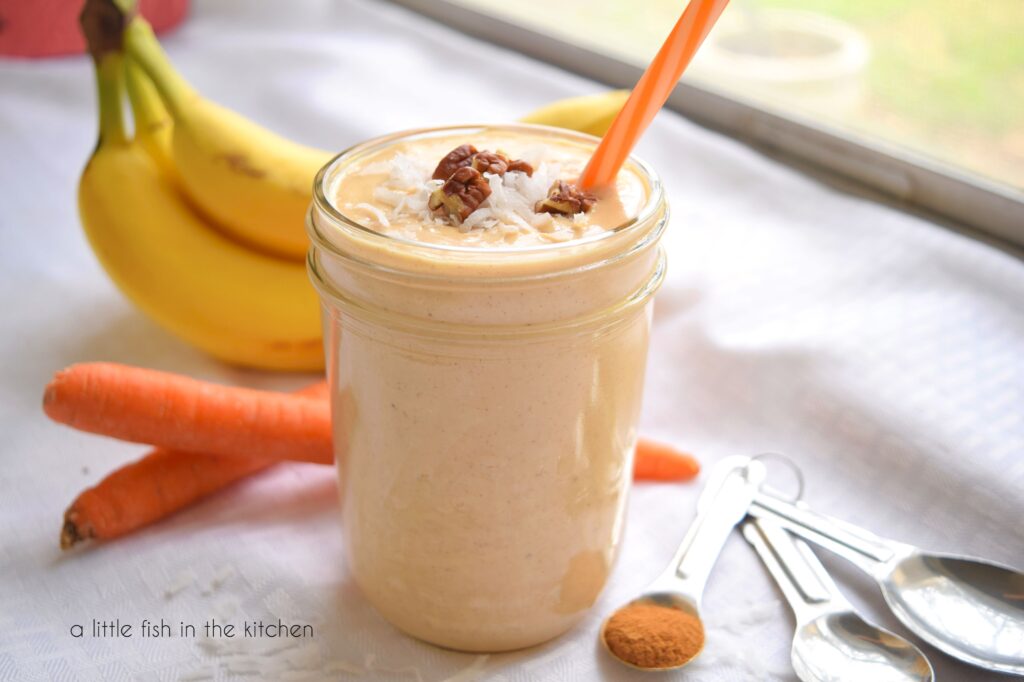 My friends, you are looking at my new favorite afternoon snack! I've honestly been enjoying one of these deliciously creamy Carrot Cake Smoothies daily for a little over a week now… and I'm not tiring of it yet.
In fact, I've already steamed more carrots so that I'm fully prepared to make more Carrot Cake Smoothies next week!
Yep, I think it's that good.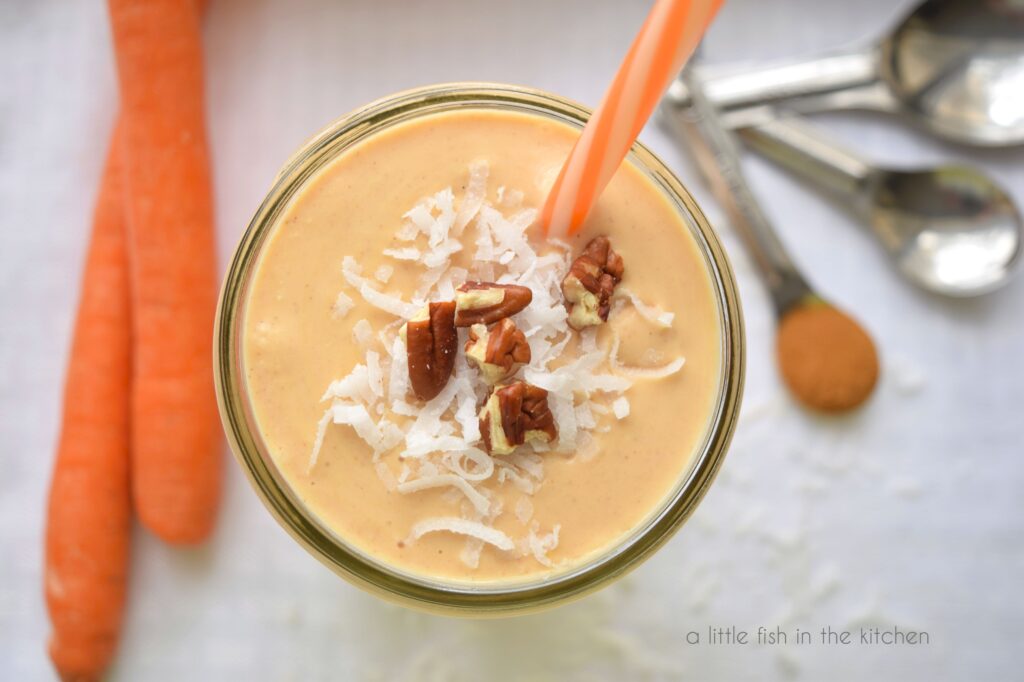 How to make a carrot cake smoothie.
This smoothie showcases some traditional ingredients that I would put in my scratch-made carrot cake such as carrots, sweetened coconut, crushed pineapple, milk, and cinnamon. It's also made with a frozen banana, orange juice, plain Greek yogurt, and hearty oats.
That shortlist of ingredients creates an eye-catching shake that is chockful of nutrition and a comforting sweet (but not too sweet) flavor!
If you need to keep things dairy-free, simply substitute in your favorite brands of non-dairy yogurt and non-dairy milk in the same portions as the dairy products listed in this recipe.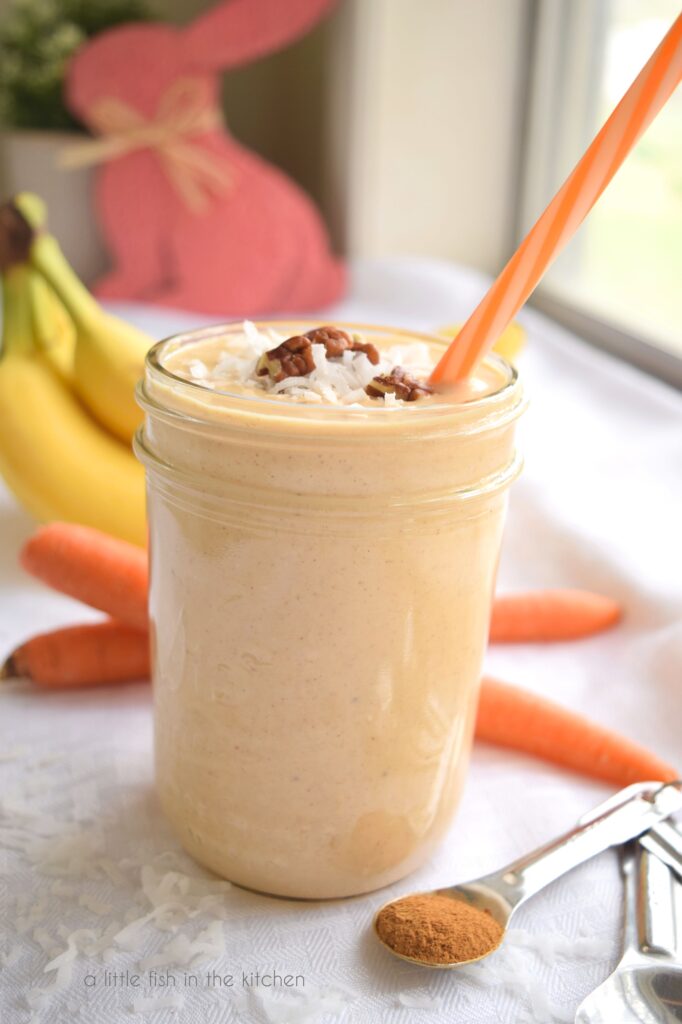 This smoothie has been a wonderful afternoon pick-me-up for me, and I truly look forward to it when 2:00 p.m. rolls around on the clock. It satisfies my maniac of a sweet tooth and gives me a nutritional boost all while keeping me full until dinnertime. It truly does it all, folks.
My sincere hope is that you will enjoy it too! xo -M
Y'all, don't forget to Pin this recipe for later!!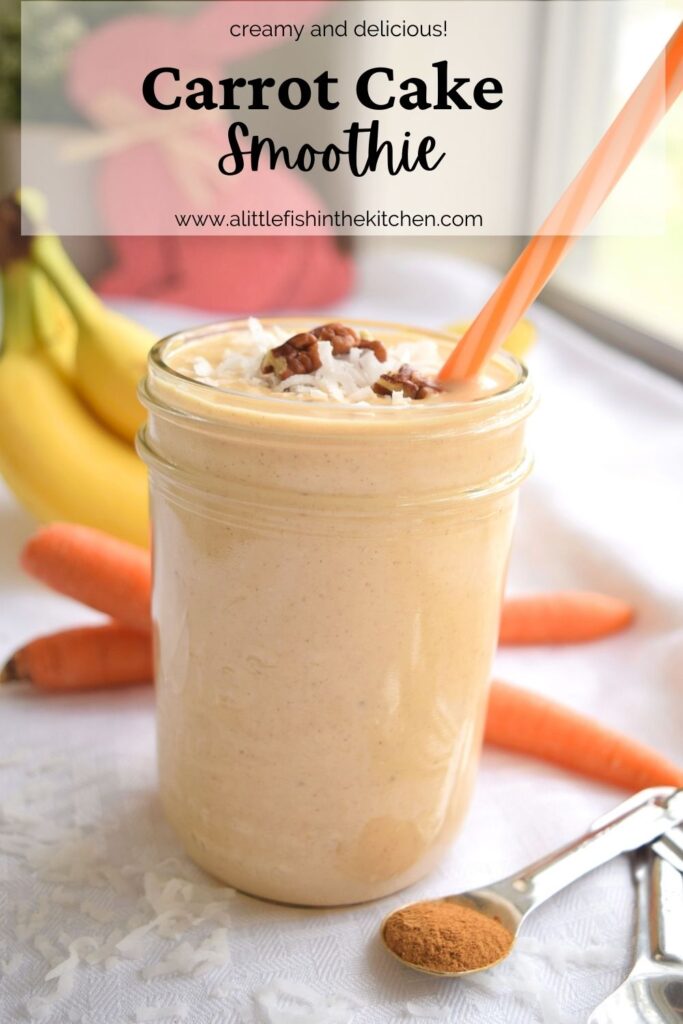 Wouldn't you like to stay awhile? Sign-up here to receive all of my new posts in your inbox! Subscribe now and never miss a recipe or an update!
Hey friends, check out one of my latest videos!
Carrot Cake Smoothie
Course: Breakfast, Dessert
Cuisine: American
Difficulty: Easy
This creamy Carrot Cake Smoothie features all the classic flavors of a luscious carrot cake without all the fuss (or guilt)! Enjoy!
Ingredients
1 medium banana, sliced and frozen

1/2 medium (1/4 cup) cooked or steamed carrot, sliced (please see notes below)

1/2 cup plain Greek yogurt (I used 0% milkfat)

1/2 cup low fat milk

1/2 cup orange juice

1/4 quick cooking oats

2 tablespoons crushed pineapple, chilled

2 tablespoons sweetened shredded coconut

2 teaspoons honey

1/4 teaspoon ground cinnamon

Optional ingredients for garnish

coarsely chopped pecans

extra sweetened shredded coconut

shredded carrots
Directions
Place all ingredients in a blender and blend until smooth!

Transfer to a tall (16 oz) drinking glass.
Enjoy!
Recipe Video
Notes
If you have a high-power blender this smoothie can be made using fresh slices of uncooked carrot. If you have a regular blender, steam the carrots and allow them to cool completely before making a Carrot Cake Smoothie.
Recipe from A Little Fish in the Kitchen blog at www.alittlefishinthekitchen.com. All content is owned by Marcelle G. Bolton. Please contact the author for permission to republish.