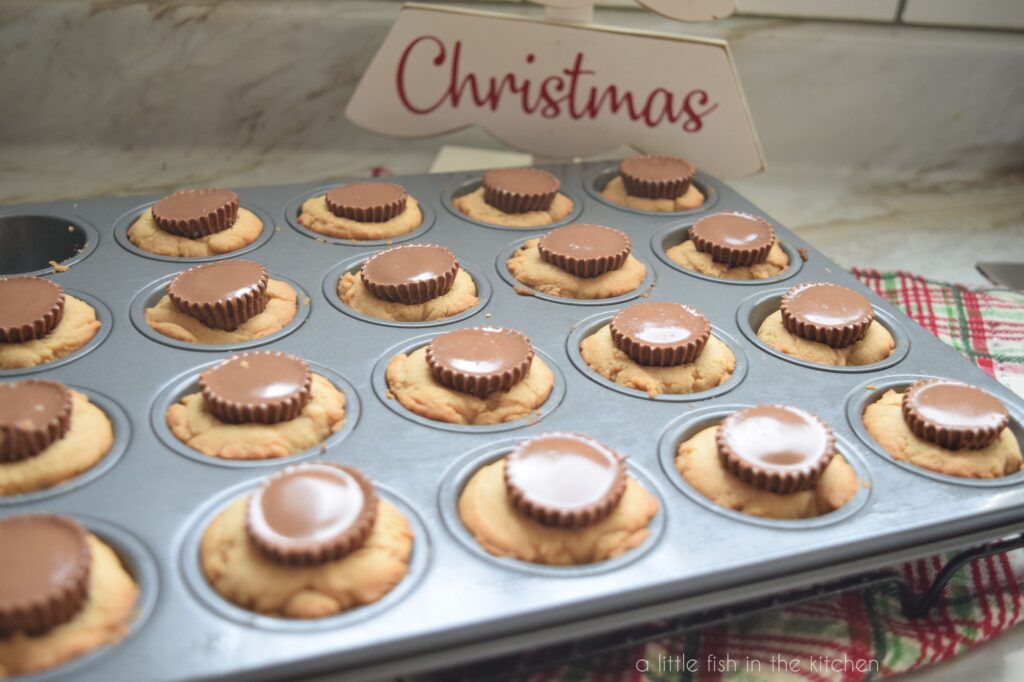 Before 2022 is too blurry in our rear-view mirror, I want to share about a cookie recipe that really made the recent holiday season for us. These Peanut Butter Cup Cookies are very possibly the ultimate peanut butter-chocolate combo cookies, and they are a bonafide family favorite in our house!
I've made these cookies for years, but they have always been more of a summer-y, spring-ish cookie treat for me. So, I tend to make them around Fourth of July and for Easter weekend. No matter when I whip up a batch, we always enjoy them… alot! However, I decided to make a batch to share on a cookie platter for Emery's 10th birthday back in December; I shared a little bit more about her party in my last post for this tasty Easy Cinnamon Mocha Latte. It was a Winter Wonderland-themed party, and a respectably-loaded cookie platter was just a must for the cake table at that little shindig!
We hosted her party just 8 days before Christmas, and these little cookie cups were a big hit with the party crowd. Once all the guests had gone home, only a few Peanut Butter Cup Cookies were leftover, but we all agreed that Santa just had to get a bite of one of these decadent cookies in 2022. Plus, we all just really wanted to indulge our respective sweethteeth with another batch!!
Traditionally, Santa's cookie platter at our house always includes some of these delicious Cappuccino Crinkles along with a random mix of some of our other favorite cookies. These Confetti Cake Mix Cookies with festive Christmas sprinkles mixed in, and comforting, spiced Chewy Molasses Cookies are always popular cookies choices for my family during the holidays.
While we love our traditional treats, we were all excited to be sharing some new and scrumptious confections with the Jolly Old Elf this past Christmas Eve. We left a small plate with some of these irresistible Peanut Butter Cup Cookies, as well as some colorful Classic Spritz Cookies to help him along on his trip this year!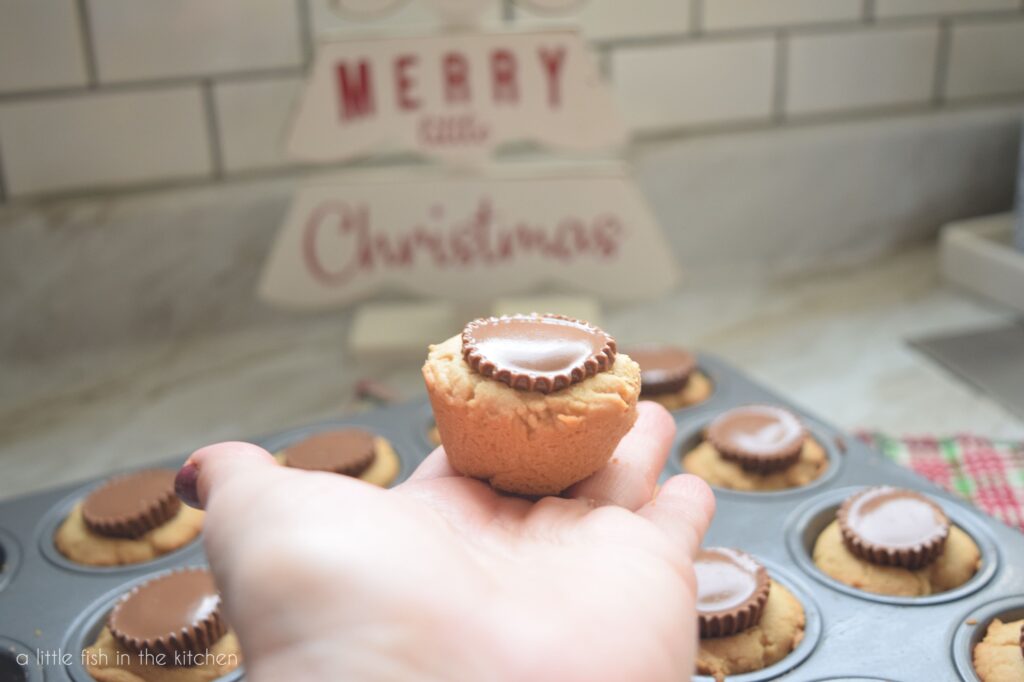 My babies are getting older and only the 10-year-old girl drives the excitement over Santa these days. The 15-year-old still gets surprise gifts from Santa too. However, while there's been no formal discussion about the subject of Santa's true identity, I have a feeling he's on to us. 😆 Now he's definitely humoring me. I'm simply holding on to these sweet, St. Nick traditions for as long as these bossy, big kids will let me. Even when the mystery over Santa is definitively solved around here one day, I take comfort in the fact that I will keep my kids baking all the good stuff with me as long as we can…forever, muah hahahaha! (⬅️menacing maternal laugh)!
Here a couple of pictures of Emery's Winter Wonderland cake I made for her party. As far as birthday party cakes go, it was actually very simple to make, but I do think the end result was quite eye-catching! I'll continue to stick by my mantra of "less is more" when decorating cakes and cookies!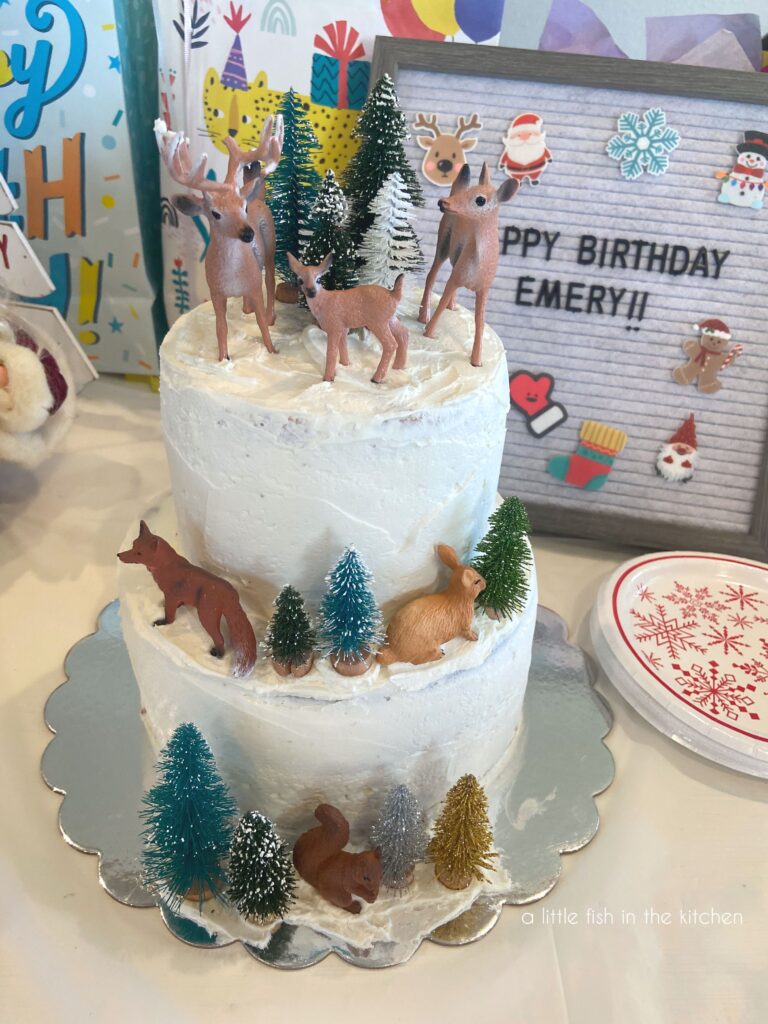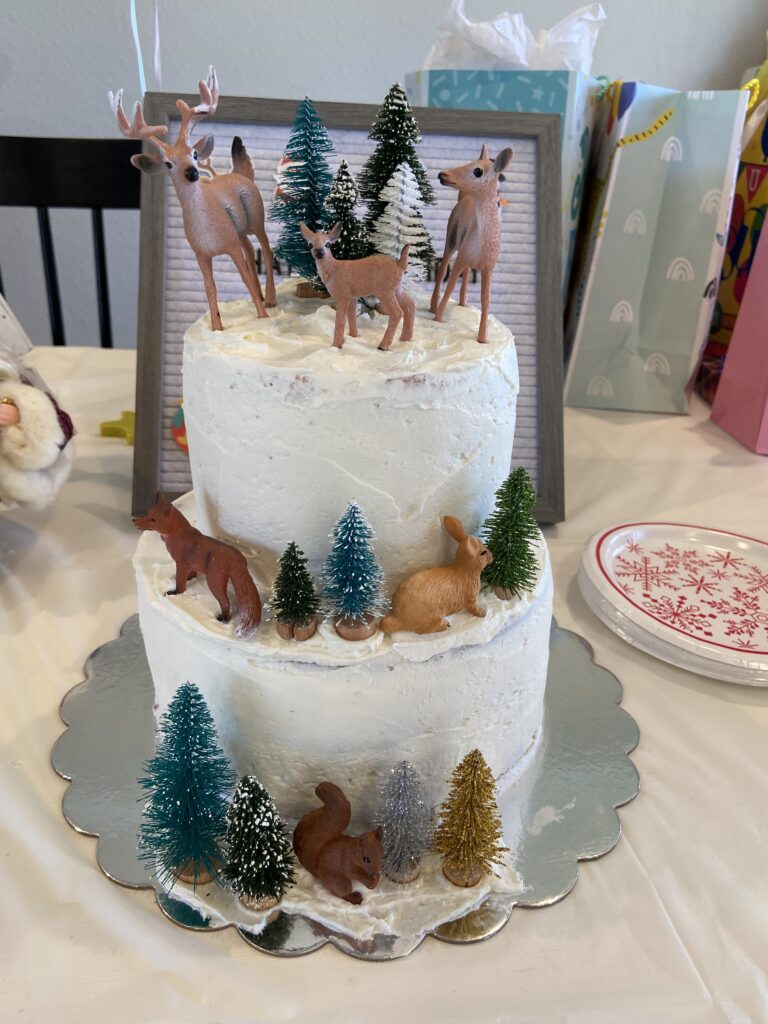 Because of all the crazy going on in the world and how isolated we were at times during the last 3 years, this was the first big birthday cake I've made for one of my kids in a while. It's still one of my favorite ways to do something a little special for them, and being inspired by their smiles has giving me so much motivation to learn in return in the last decade!
I hope you enjoy a little bite of heaven in the form of these Peanut Butter Cup Cookie as much as we do! Happy baking, my amazing friends! xo -M
Pin this recipe!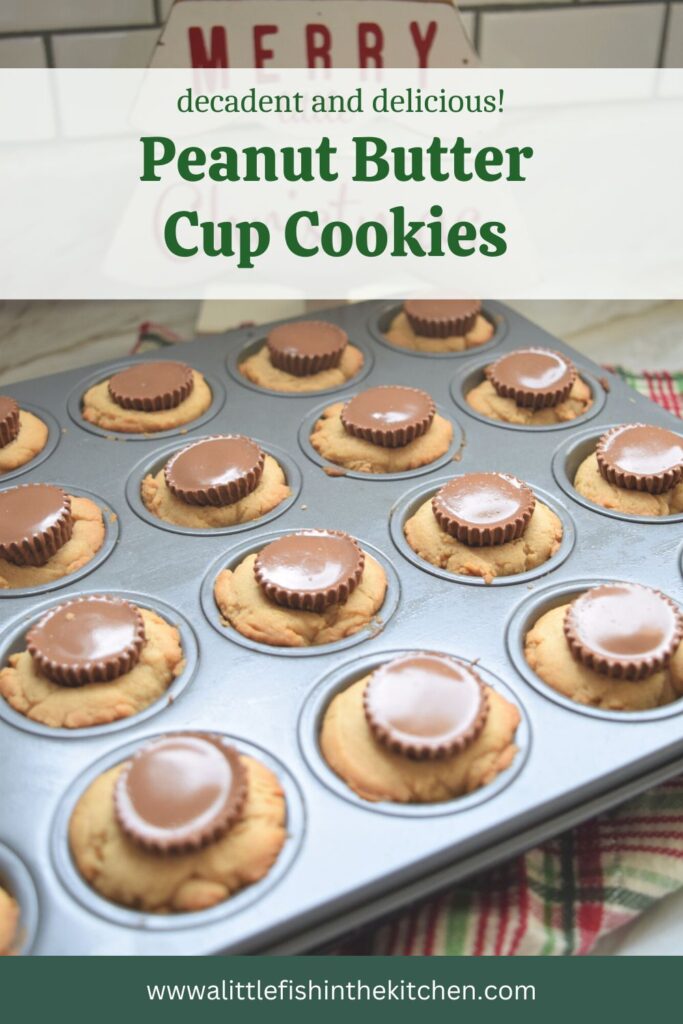 Check out one of my latest cooking videos and subscribe to my YouTube channel for even more recipes and live streams!
Enter your email address here so all of my new posts will be sent straight to your inbox! Subscribe now and never miss a post or an update!
Peanut Butter Cup Cookies
Course: Dessert
Cuisine: American
Difficulty: Easy
These decadent Peanut Butter Cookies Cups are truly the ultimate treats for peanut butter and chocolate fans! A soft, rich peanut butter cookie cup is filled with a delicious chocolate peanut butter cup candy! They are so delish and super cute on a platter!
Ingredients
1-1/2 cups all purpose flour

1/2 teaspoon baking powder

1/4 teaspoon baking soda

1 stick (1/2 cup) salted butter, room temperature

3/4 cup peanut butter (creamy or crunchy, your preference)

1/3 cup light brown sugar

1/2 cup sugar

1 large egg

1 teaspoon pure vanilla extract

35-40 miniature peanut butter chocolate cup candies (I used Reese's minis)
Directions
Pre-heat the oven to 350°. In the bowl of a stand mixer (or using a large bowl and a hand mixer or wooden spoon) cream softened butter and both sugars together until light and fluffy. Add in peanut butter and mix until all ingredients are well-combined.
Add the egg and vanilla extract to the bowl, mix until all ingredients are well-incorporated. Stir in the flour mixture, one half at a time. Mix just until a thick cookie batter forms.
Lightly grease a 24-cavity mini-muffin tin with non-stick cooking spray. Add 1 tablespoon of peanut butter cookie dough to prepared mini-muffin cavities. Using a silicon spatula or the back of a spoon to gently press the cookie dough into the cavities.
Bake peanut butter cookie cups for 9-11 minutes or until the edges of the cookie cups are very lightly browned. While the cookies cups are baking, unwrap several of the chocolate peanut butter candies so they are ready to be used.
Allow cookies to cool on a rack for 5 minutes and working quickly, gently press an unwrapped mini chocolate peanut butter cup into the center of each cookie cup. (see my recipe video below for the full peanut butter cup cookies recipe tutorial, if needed). Allow cookies to cool completely before serving.
Repeat the process as necessary. Store cooled cookies in an air tight container until ready to serve. Serve these delicious Peanut Butter Cup Cookies on a cute platter and enjoy!
Recipe Video
Notes
Recipe from A Little Fish in the Kitchen www.alittlefishinthekitchen.com. All content is owned by Marcelle G. Bolton. Please contact the author for permission to republish.