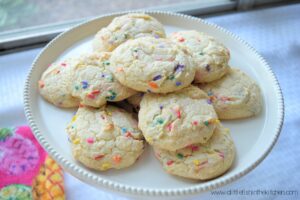 When I'm thinking about quick and easy desserts to whip up, the recipe for these confetti cake mix cookies is always one the first to come to mind. These soft, vanilla-flavored cookies are a seriously no-fuss answer to requests for a sweet treat from my family.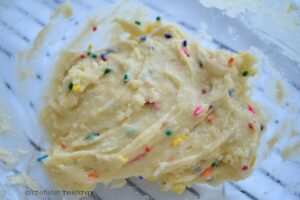 How to make confetti cake mix cookies.
All that is needed to make a batch of these pretty, little babies is a box of white (or yellow) cake mix, some oil, two large eggs, vanilla extract and a just a handful of colorful sprinkles. We are baking fanatics here and we always have sprinkles in the pantry (Okay, I might actually have a large tote filled with a small hoard of seasonal sprinkles… but, that discussion will have to wait for it's own post!)
However, if you don't have sprinkles around on the daily like me, don't sweat it. These chewy cake mix cookies are absolutely delicious without the sprinkles added in.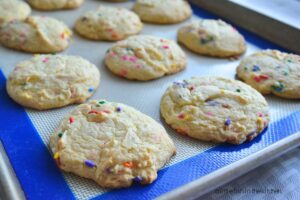 I'll also share with you all how much my kids love to make these with me. If you are looking for recipes that are suitable for children, cake mix cookies are always a perfect baking project for kiddos! Just a handful of ingredients make cake mix cookies a seriously straightforward recipe. Little ones will love to help you while you whip up a batch and bigger kids can make these independently!
Stay safe and stay well, my friends! Stay home!
Happy baking, y'all! xoxo – M
You'll definitely want to Pin this festive cookie recipe for later! These will be so cute served at your Easter lunch or at a unicorn-theme birthday party too!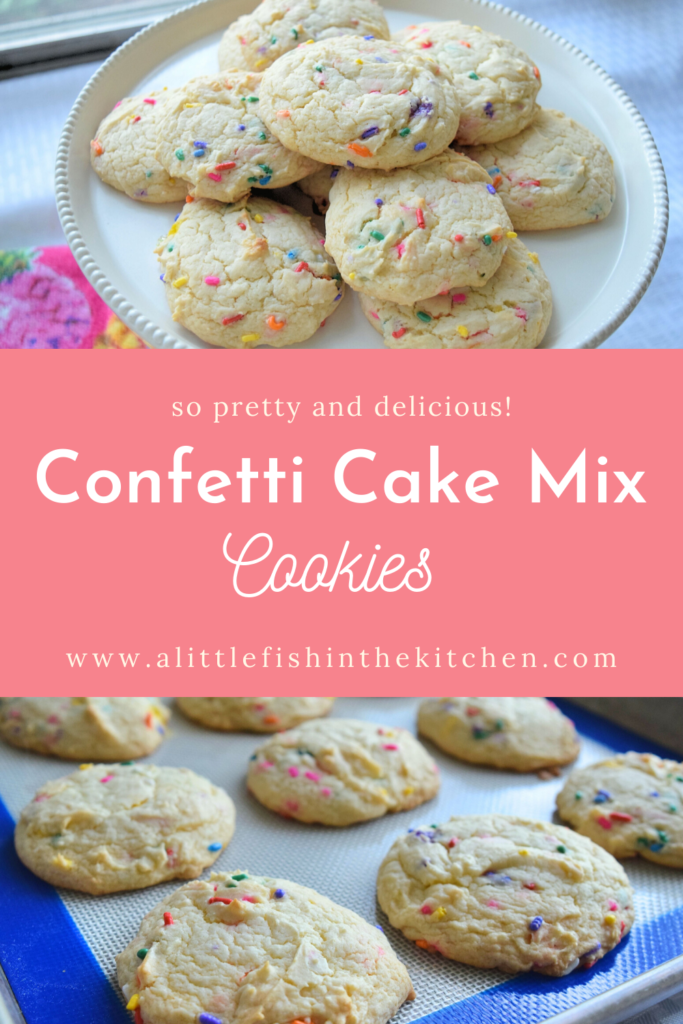 Here's my latest YouTube video where my daughter and I make a batch of these confetti cake mix cookies for you! Be sure to subscribe when you visit so you'll never miss a new video and all the fun over on my channel! See you there 🙂
Wouldn't you like to stay awhile? Be sure to sign up here to receive all of my posts right to your inbox! Subscribe now and never miss a post or an update!
Confetti Cake Mix Cookies
Course: Dessert
Cuisine: American
Difficulty: Easy
These no-fuss, vanilla-flavored confetti cake mix cookies are sure to be a new family favorite! These colorful cookies will be perfect addtion to your dessert table at your Spring fling or Easter gatherings!
Ingredients
One box (16.25 oz) white cake mix

1/3 cup canola or vegetable oil

2 large eggs

1 teaspoon vanilla extract

1/3 cup colorful sprinkles
Directions
Pre-heat the oven to 350°. Line a baking sheet with parchment paper or a silicon baking mat and set aside. Pour cake mix into a medium-size bowl.
In a smaller bowl beat the eggs. Next, add beaten eggs and oil to the dry cake mix and stir to form a thick cookie dough. Fold in the sprinkles.
Place heaping teaspoons of the confetti cookie batter onto the the prepared cookie sheet. The cookies will spread as they cook, so leave room between each cookie for baking.
Bake cookies for 12-13 minutes or until the edges are very lightly browned and they appear done.
Enjoy with glass of cold milk, fresh coffee or hot tea!
Notes
If you don't have sprinkles in your pantry, you can make these deliciously soft, vanilla-flavored cookies without them.
Recipe from A Little Fish in the Kitchen blog at www.alittlefishinthekitchen.com. All content is owned by Marcelle G. Bolton. Please contact the author for permission to republish.