Welcome to day two of #ChristmasSweetsWeek!! We have 12 bloggers sharing over 30 recipes to satisfy your sweet tooth cravings this holiday season. There are some giftable recipes, breakfast recipes, and delicious dessert recipes. Make sure to follow #ChristmasSweetsWeek on social media to see all of our delicious sweets.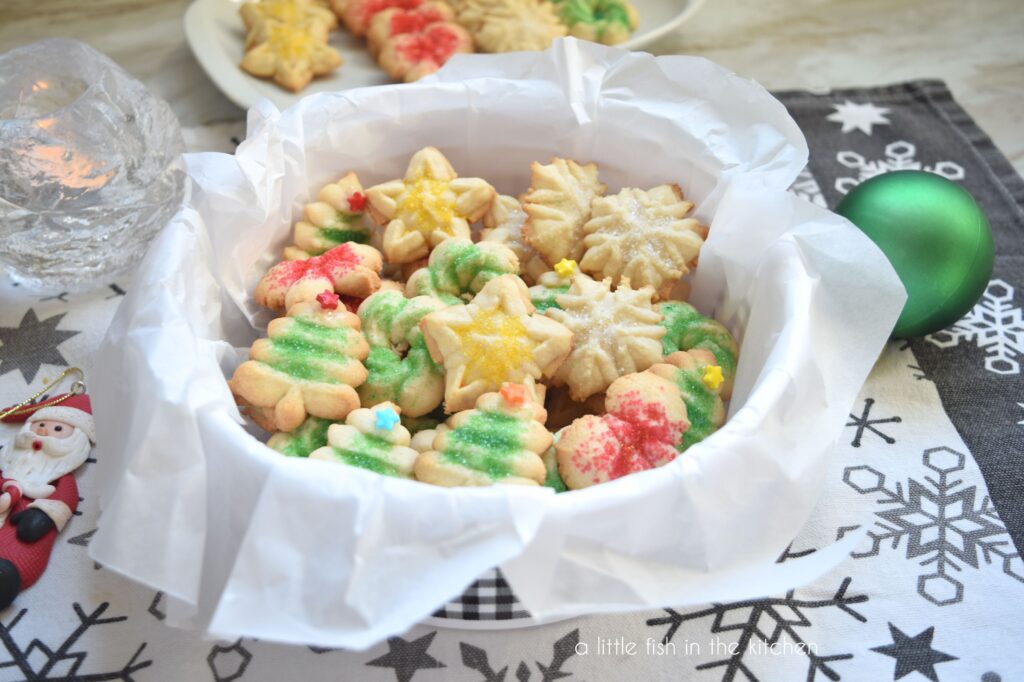 When it comes to holiday cookies, every family has their favorites and a batch or two of those cookies simply have to be made each Christmas season. For us, flavorful Cappuccino Crinkles are a traditional Christmas time treat. They are chocolately cookies with a crisp, sugar-coated exterior and a cake-like center that have been my son's favorite cookie ever since he was a little boy (he's 15 now!). He'll mention them by their correct name now, but when he was small he called them "coffee cookies" and he still looks forward to them every year! They are a must for Santa's plate at our house.
However, for my daughter it just doesn't get any more festive than a platter or a shiny tin filled with these Classic Spritz Cookies. I really can't blame her as they are just the cutest little cookies on the planet… and I know cute cookies, y'all. They are addicitively delicious too; no one will be able to just eat one!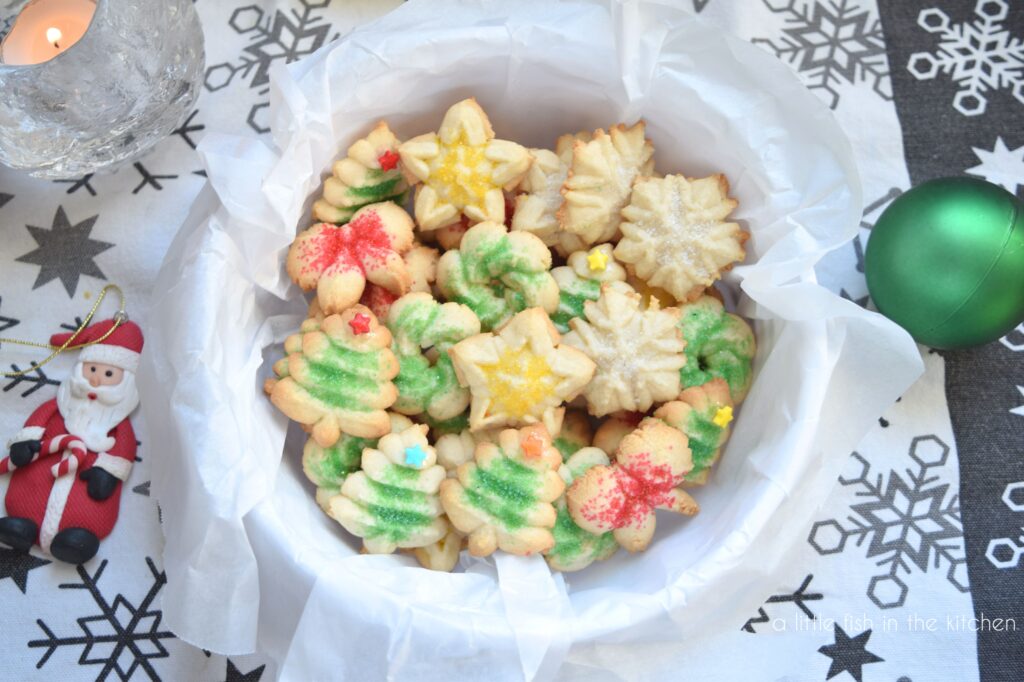 We usually make a huge batch of these cookies and then pack them into colorful holiday tins to share with our neighbors and friends. I'll dispatch the kids to go deliver them around our neighborhood and my little social butterfly looks forward to doing this and visiting with everyone. In fact, both of my kids associate baking spritz cookies with sharing, and they will automatically ask who we are taking them to when we make a batch. That association is an unexpected side effect of a Christmastime tradition that this mom thinks is pretty cool!
My daughter truly loves to help me make these petite treats… almost as much as she enjoys eating them! Watching me use the cookie press did add a bit of intrigue into the annual holiday cookie making madness for my kids when they were smaller. Special equipment always piques the curiosity of children and mine are no exception. Once they saw me using a cookie press, they just had to try it out for themselves. I'm grateful that the holiday spritz cookie baking process has not lost it's luster with them (especially that teenager!), and we all still think these are very fun to make.
I also love this recipe because I can make a gazillion (okay well, at least 6 dozen) of these spritz cookies in just slightly over an hour. The cookie press makes whipping up a batch of these buttery cookies super quick and easy. It's a wonderful feeling to make something so beautiful to share and in record time!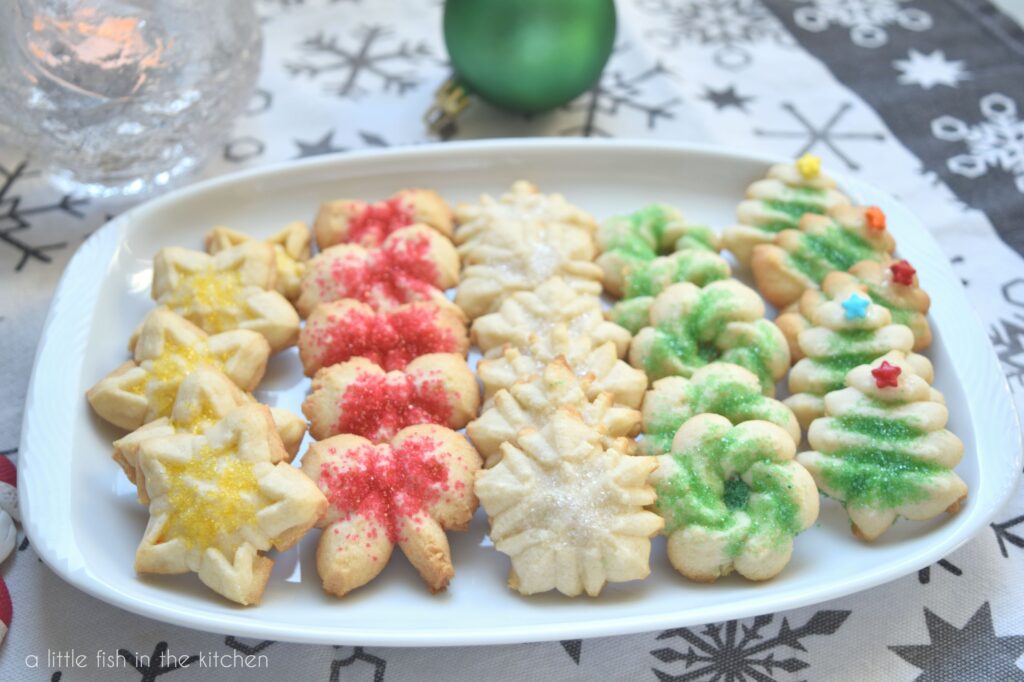 How to make classic spritz cookies
Traditional spritz cookies are basic butter cookies that are made with butter, sugar, egg, flour and either vanilla or almond extract. It is a very simple cookie batter that can be successfully made by hand or with a handheld mixer. However, I'll note here that this is a very thick batter, and for that reason, I prefer to use my stand mixer when I make these.
Although spritz cookies are very similar to sugar cookies flavor-wise, they are not rolled out and cut like sugar cookies. The batter is loaded into a mechanical dough press and formed into pretty shapes right on the baking sheet. It's magical!
Spritz cookies are slightly sweet, buttery and perfect just as they are, and they don't need decoration to be delicious. But, they certainly take on a new level of festiveness with a bit of brightly colored sugar sprinkled on top! We mostly keep our spritz cookies lovely and simple by just using colored sanding sugars and nonpareils for decoration. By doing so, we can make batches these cookies and have them ready to serve and share very quickly.
A word of cookie decorating caution: do not use large decorative sprinkles, such as sugar pearls, when you bake these or any other cookies for that matter. They will melt in the oven. Large decorative sprinkles are typically meant for cake decorating and should be applied after baking and cooling any baked goodies you wish to use them on. It's easy to apply the large decorator sprinkles by using a bit of store-bought decorative gel, corn syrup or icing to attach them. For instance, I applied the small decorative stars to the spritz cookie trees in my pictures after they were baked and completely cooled. To do this, I used a very small amount of light corn syrup as an edible glue. This works because sugar sticks to sugar very quickly and the corn syrup "glue" will dry completely clear as the cookies sit.
However, these Classic Spritz Cookies can also be decorated more elaborately with store-bought cookie icing or homemade royal icing. Decorating them with icing can make them so bright and beautiful, but icing them will add a considerable bit of time to preparing them. Obviously, the process of icing them itself takes time, and then the icing must be given several hours to dry before they are ready to handle and serve.
If your family has an annual cookie decorating event, and you've already set that time aside, please do bust out those piping bags. I'm certain your family will be delighted by decorating these tiny cookies with colorful icing!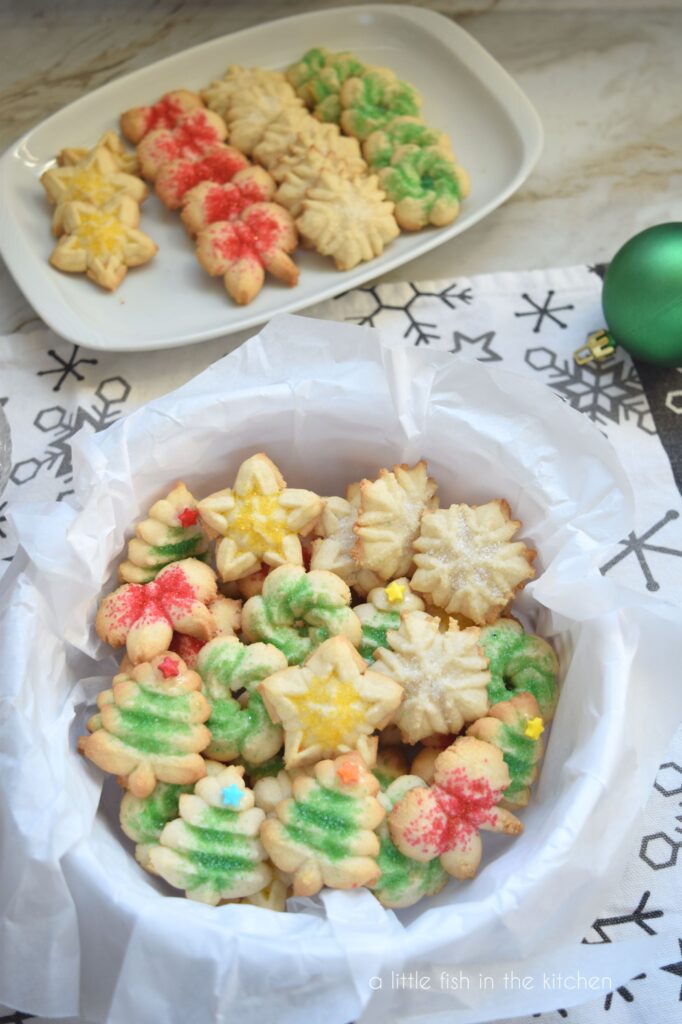 If you don't have a cookie press and you wish to buy one, you've got plenty of time to get one before Christmas. A cookie press is also a great gift to give to the bakers among your family and friends! I'll recommend this OXO Cookie Press Set , this set includes is the very press I use. This set includes the cookie press, 14 decorative disks as well as a handy storage case for the disks. It's a great way to get started into the world of spritz cookies. Also, this OXO Holiday Disk Set can also be purchased separately and just love the sweet little designs. In fact, I used a few of these holiday disks to create the cookies in this post!
Who will you share these Classic Spritz Cookies with?? Happy baking, y'all! 🎄🎅🌟
Christmas Sweets Week 2022 is here and I'm so fortunate to be sharing festive holiday-inspired recipes with some fantastic food bloggers this week! Be sure to check out our full list of delicious recipes below!
Y'all, Pin this recipe!!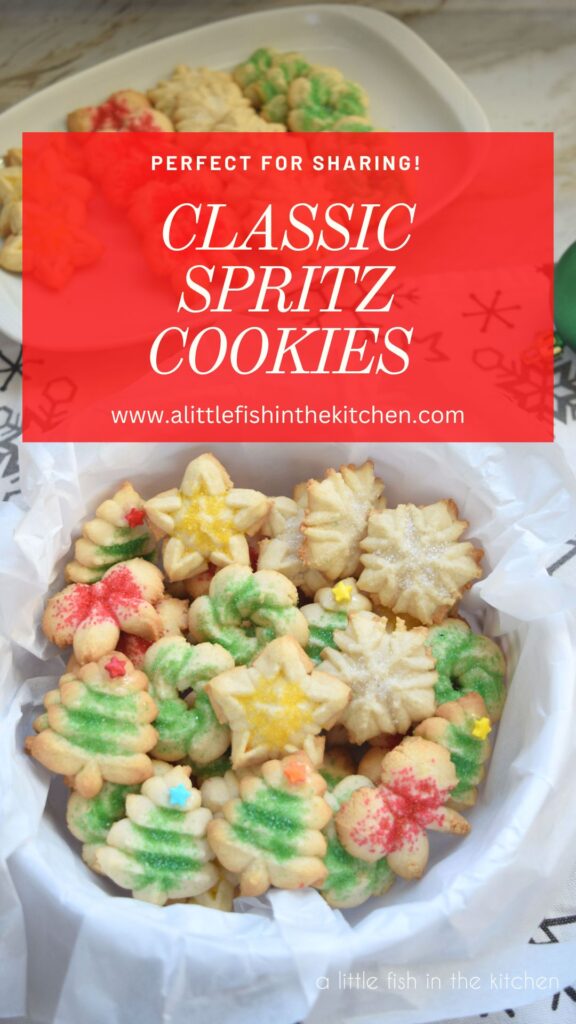 Check out one of my recent recipe videos and subscribe to my You Tube channel for more recipes and live streams!
Be sure to enter your email address below to have all of my new posts sent straight to your inbox! Subscribing is free! Never miss a recipe or an update, subscribe now!
Wednesday's Christmas Sweets Recipes
We will be pinning all recipes to the
#ChristmasSweeetsWeek
Pinterest board. Follow it to see all the delicious recipes!
Classic Spritz Cookies
Course: Dessert
Cuisine: Scandinavian
Difficulty: Easy
Classic Spritz Cookies are slightly sweet, buttery and perfect just as they are, and they don't need decoration to be delicious. But, they certainly take on a new level of festiveness with a bit of color sprinkled on top! These are the perfect holiday cookie for sharing!
Ingredients
3/4 cup salted butter

1 large egg

1 teaspoon vanilla extract or 1/2 teaspoon almond extract (your preference)

1/2 cup sugar

2 cups all-purpose flour

Suggested ingredients for spritz cookie decoration

seasonal colored sanding sugars

non pareils

store-bought cookie icing or homemade royal icing
Directions
Pre-heat the oven to 400°. Line one or two cookie sheets with a silicon mats (*see notes below) and set the pan(s) aside. Combine butter and sugar in the bowl of a stand mixer. Using the paddle attachment, beat butter and sugar on medium speed until light and fluffy (about 3 minutes).
Reduce mixer speed to low and add in the egg. Once the egg is completely mixed into the batter, add in one cup of flour. Once flour is absorbed into the butter mixtures, stop the mixer and scrape down the sides of the bowl and the paddle with a silicon spatula. Add in the last cup of flour and mix just until a thick cookie dough forms.
Affix your desired disk to your cookie press and use a small silicon spatula to transfer part of the batter to press. Press out the cookie onto the prepared baking pan.
If desired, lightly decorated the cookies with sanding sugar or nonpareils. Bake for 8 – 10 minutes or until the edges are lightly browned. Remove baking pan to a rack and allow cookies to cool slightly.
Transfer cooled cookies to a plate or platter and repeat the process until the dough is all gone!
Share and enjoy!
Notes
Recipe from A Little Fish in the Kitchen www.alittlefishinthekitchen.com. All content is owned by Marcelle G. Bolton. Please contact the author for permission to republish.