Today is the first day of our Holiday Side Dishes sharing event!! We will be sharing new recipes on Monday, Wednesday and Friday this week!! We hope you find some delicious inspiration for your holiday meals this season! Be sure to check out all the recipes linked below by several other talented food bloggers! Enjoy!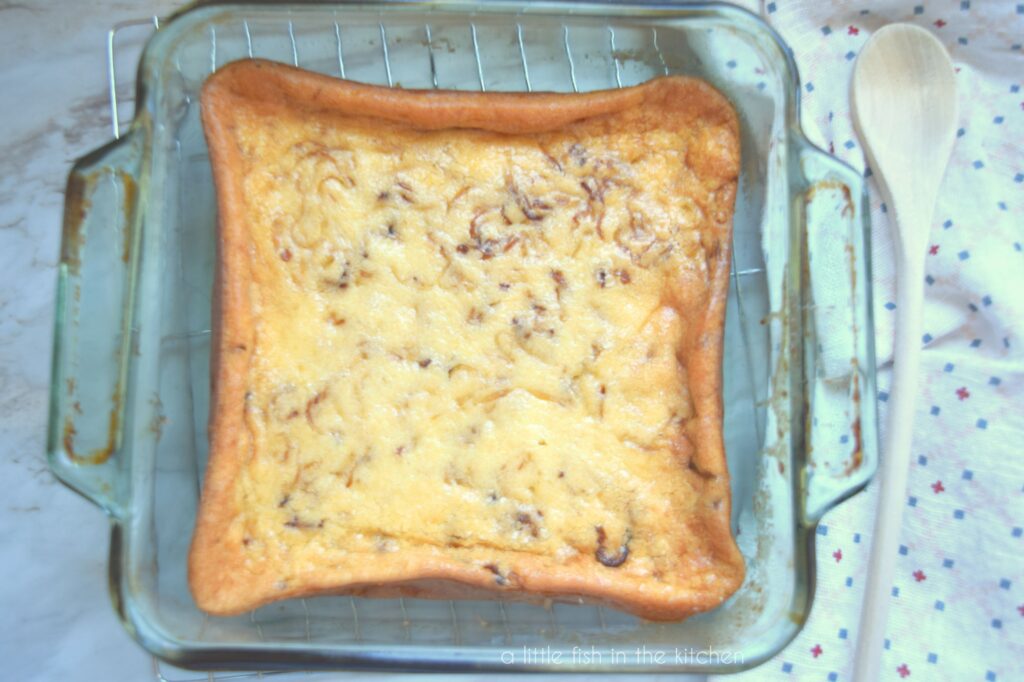 When I think of holiday meals and what to serve as side dishes, two of my favorite recipes for flavorful savory puddings always come to mind immediately! I don't make this simple Sweet Onion Pudding nearly as often as I do our family favorite Sweet and Spicy Corn Casserole, but when I do it's always the star of the show.
This Sweet Onion Pudding is delecate, delicious, and fantastically versatile; it pairs up nicely with beef, turkey, chicken, seafood, and even eggs.
If there are any leftover portions of this casserole, it's worth it to mention that it's even more tasty the next day. This savory pudding also makes a wonderful breakfast side dish when served along with eggs, sausage and/or crispy bacon.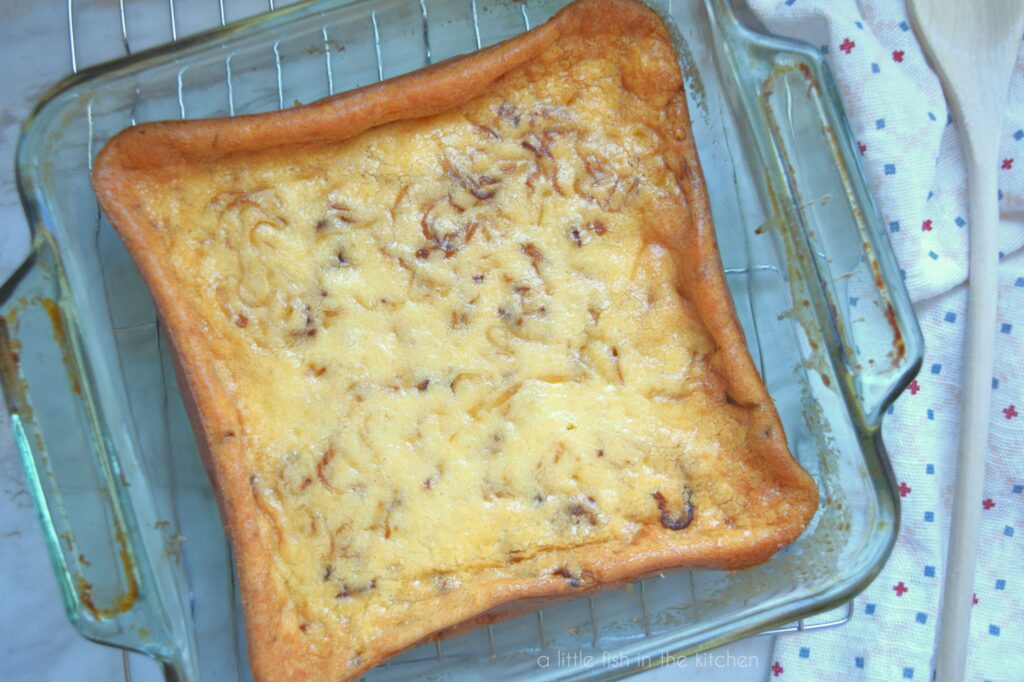 How to make southern sweet onion pudding
This casserole is made with simple ingredients; butter, onions, eggs, Parmesan cheese, whipping cream, self-rising flour, and sugar are bulk of the very short ingredient list. Also, there is a bit of prepwork involved to make this recipe as the onions must be finely sliced and caramelized in a skillet to acheive it's unique flavor. A seemingly crazy amount of sliced onions goes into this little bitty casserole, and one might think the flavor of all that sweet onion would be overwhelming. However, all that onion-y goodness is completely balanced by the airy texture and neutral flavor of the crumb that it's baked into. The flavors in this Sweet Onion Pudding are light, earthy, slighty sweet, and not all overpowering at all.
Caramelizing onions takes a bit of time, but all the amazing flavor that the process creates in this Sweet Onion Pudding makes the effort well worth it! To offset the preparation time involved with the caramelization process, the onions can be cooked the day before and stored in the refrigerator until you're ready to prepare the pudding.
I highly recommend using a mandoline to slice the onions for this recipe as consistently thin slices of onion will ensure that the light texture of this old-fashioned, savory pudding is just right.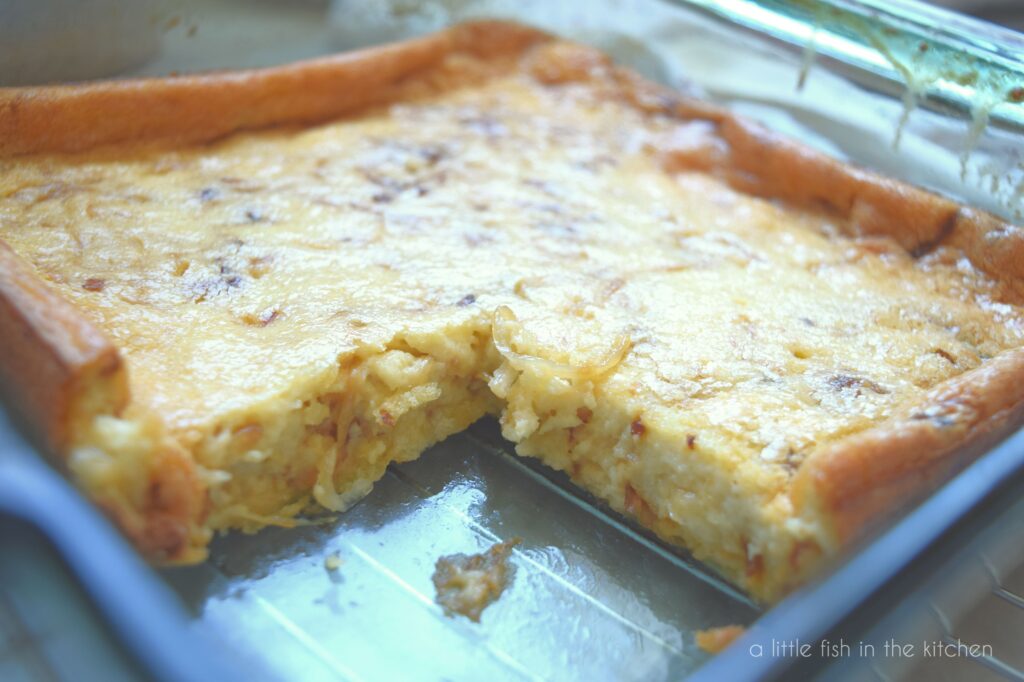 I really love this vintage recipe, and when I serve this dish it's a consistently impressive addition to the menu. I think it's absolutely perfect to serve at any holiday gathering or for any occasion where you want to treat your family and friends to something special and delicious!
How will you serve this Sweet Onion Pudding?? Happy eating and happy holidays, y'all!
Save this recipe on Pinterest!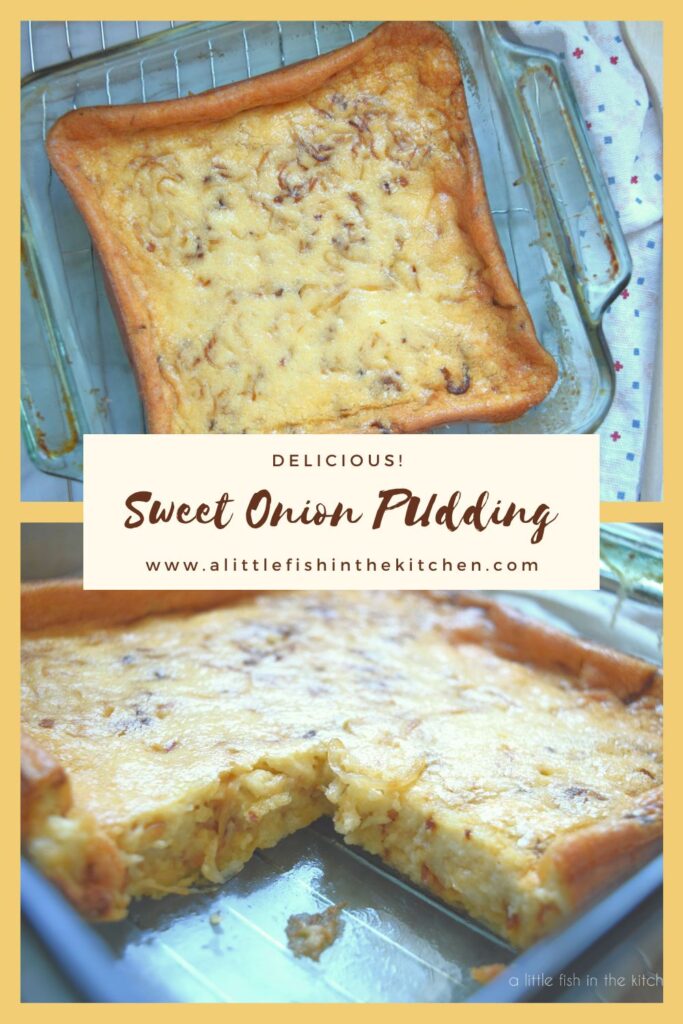 Enter your email address below to have all of my new posts sent right to your inbox! Subscribe now, for free and never miss a recipe or an update!!
Welcome to Holiday Side Dish Week 2022 hosted by Heather from Hezzi-D's Books and Cooks. This year we have over 45 side dishes to help you plan your holiday meals.
Monday Holiday Side Dish Recipes:
Sweet Onion Pudding
Course: holiday meals, side dishes
Cuisine: American
Difficulty: Easy
This versatile and delicious savory pudding makes an elegant side dish for a holiday meal, but it is easy enough to make for a weeknight supper too! It is a wonderful complement to any protein!
Ingredients
3 tablespoons salted butter

3 medium-size sweet yellow onions, thinly sliced (*see notes below)

3 large eggs, lightly beaten

1 cup heavy whipping cream

3 tablespoons grated Parmesan cheese (I used Kraft brand)

2 tablespoons self-rising flour (*see notes below)

1 tablespoon sugar

1/8 teaspoon ground white pepper

fresh thyme sprigs, for garnish if desired
Directions
Melt the butter in a large skillet over medium heat and add the sliced onions to the pan. Using tongs to move them around often, cook the onions for about 20 minutes or until they are caramel colored. Remove the pan from the heat and transfer to a cooling rack.
Preheat the oven to 350 °. Grease an 8 x 8 inch baking dish with non-stick cooking and set it aside. In a large bowl, use a whisk to mix the eggs, heavy cream and parmesan cheese together. In another small bowl, combine the flour, sugar and white pepper and stir well.
Gradually, add the flour mixture to the egg mixture and blend it with a whisk until well combined. Fold the caramelized onions into the batter; spoon evenly into the prepared baking dish.
Bake in the preheated oven for 20-25 minutes or until a toothpick inserted into the center comes out clean.
Garnish, with fresh thyme sprigs, if desired. Enjoy!
Notes
If you don't have self-rising flour on hand, substitute in 2 tablespoons all-purpose flour, 1/2 teaspoon baking power and 1/4 teaspoon of salt.
I highly recommend using a mandoline to slice the onions. Very thin slices of onion ensure a light and airy texture in this savory pudding.
Recipe from A Little Fish in the Kitchen blog at www.alittlefishinthekitchen.com. All content is owned by Marcelle G. Bolton. Please contact the author for permission to republish.