The list of condiments that my whole family agrees on is a short one. My son loves ketchup, but my daughter won't touch it. I love tangy salad dressing, like Miracle Whip, on my sandwiches but Evan prefers mayo. I like old-school, yellow mustard or spicy, brown mustard with hamburgers, Evan likes sweet, honey mustard. My kids won't even eat mustard… well, not on purpose anyway.  I had to get a bit sneaky back when I started making these tasty honey mustard chicken tenders, and thankfully, no one was the wiser because they're really good!
When it comes to salad dressings, I like balsamic vinaigrette or creamy blue cheese, but Evan will almost always choose a honey mustard-style dressing if there is one on the menu.
There is only one king of condiments around this house and that's this creamy, tangy, totally-addictive, buttermilk ranch dressing.  No kidding around, we all eat this stuff and we eat it often. This is absolutely a tried and true family favorite recipe.
The original recipe I used to make ranch dressing from scratch came from the Betty Crocker website. Since then, and after reading several versions in cookbooks and on other blogs, I've tweaked it to our preferences and added a bit more or less of this or that.
There's alway bunches of trial and error involved with trying to replicate a popular restaurant dish or a commercial food product. And more often than not, there's just a little something missing or somehow different from what you were craving in the final, experimental product.
I know that's been my experience with trying to make copy cat versions of certain restaurant menu items or store-bought foods. Overall, I've been happy with how many of my attempts to reproduce dishes turn out, though sometimes my efforts have ended in complete failure at times. Other times, we've enjoyed the homemade adaptation even more than the original.
But, when it comes to this recipe for homemade buttermilk ranch dressing, I can honestly say (and y'all know I don't get too highfalutin over much) it tastes just like the celebrated bottled stuff, but with an amazingly crisper and fresher taste.
This do-it-yourself salad dressing recipe has that unmistakable classic ranch dressing-flavor that we all recognize and love.
You can adapt this homemade buttermilk ranch dressing to make it a bit lighter in calories by subbing Greek yogurt, low-fat buttermilk and reduced-calorie mayo, if you prefer to.  This tangy buttermilk ranch dressing whips up in just minutes and only needs a half hour to chill before it's ready to serve.
It's important to remember though that unlike the commercially-made ranch dressings, this homemade buttermilk ranch dressing can't sit in the fridge for months on end; it's shelf life is only as good as the dairy products you use. Our jar of homemade ranch never lasts long enough to go bad, but a mason jar full of this salad dressing should be good in your fridge for up 2 – 3 weeks.
MY LATEST VIDEO!
You'll definitely want to Pin this one for later!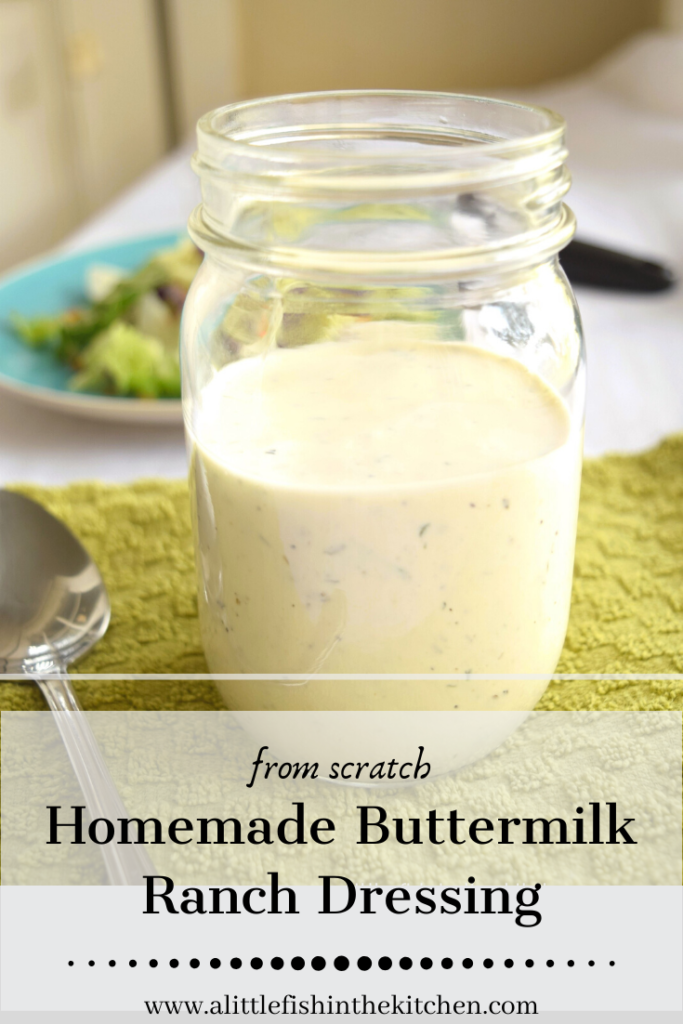 Homemade Buttermilk Ranch Dressing
Course: Salads
Cuisine: American
Difficulty: Easy
Skip the mystery ingredients and make this classic, creamy buttermilk ranch dressing at home! Perfect for your next crisp green salad or for dunking french fries and wings.
Ingredients
1/3 – 1/2 cup sour cream (add more or less depending on desired thickness)

1/2 cup mayonnaise

1/2 cup buttermilk

1/2 teaspoon dried dill weed

1/2 teaspoon dried parsley

1/4 teaspoon garlic powder

1/2 teaspoon onion powder

1/2 teaspoon sugar

1/4 – 1/2 teaspoon salt (to taste)

1/2 teaspoon coarsely ground black pepper

1-2 teaspoons lemon juice or white vinegar (to taste)
Directions
In a medium-sized bowl, mix all ingredients until well combined.
Transfer to a mason jar or another resealable container and chill for at least 30 minutes before serving.
Recipe Video
Notes
Homemade ranch dressing will keep in your fridge for 2 – 3 weeks

Recipe as published on A Little Fish in the Kitchen at www.alittlefishinthekitchen.com. All content is owned by Marcelle G. Bolton. Please contact the author for permission to republish.
Sign up here to receive all of my posts right to your inbox! Never miss a recipe, subscribe!