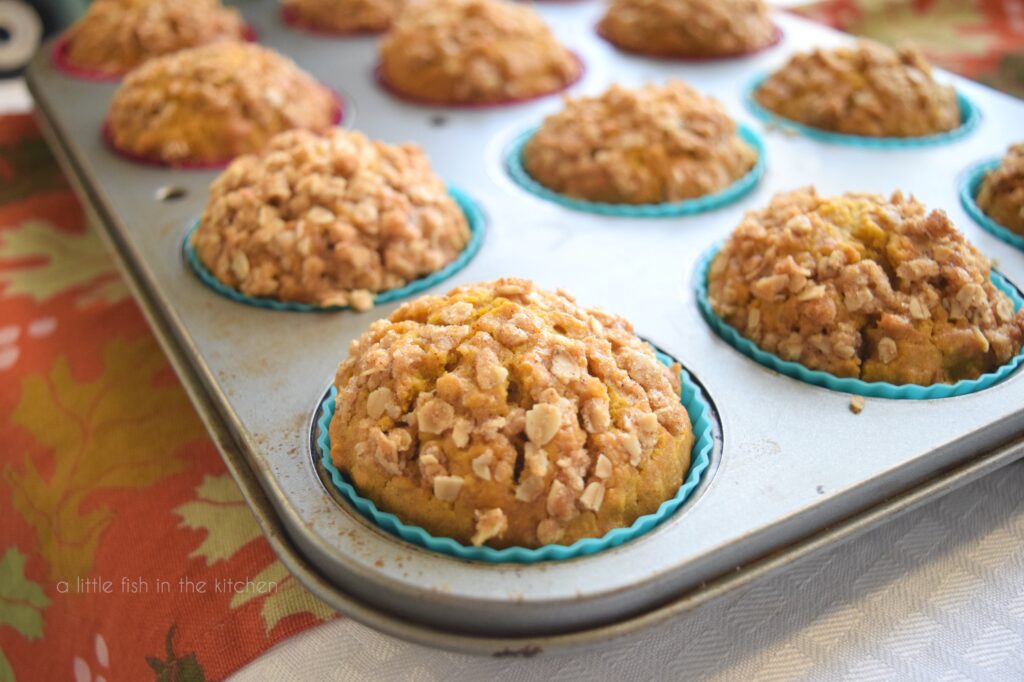 Pumpkin season is here, and we are celebrating our love of pumpkin with #PumpkinWeek hosted by Terri from Love and Confections and Christie from A Kitchen Hoor's Adventures. All week-long 13 bloggers will be sharing over 40 pumpkin-filled recipes for all your Autumn celebrations, including breakfasts, baked goods, savory pumpkin recipes, desserts, and drinks.
A fresh baked pan of streusel-topped muffins always looks so inviting, y'all. I don't know about you guys, but for me it's seriously hard to wait for them to cool down! These pumpkin oat streusel muffins certainly create that sort of anticipation while they are in the oven. Honestly, they are just a bunch of little beauties when they are done!
These muffins also smell like a little slice of autumn while they are baking and the gorgeous, crackled streusel topping demands attention right out of the oven. However, once you've eaten one of these pumpkin oat streusel muffins, it's the moist, orange-tinted crumb that will likely temp you into a second serving!
And, that's okay because these nicely spiced muffins are really made with some pretty healthy ingredients, in my opinion.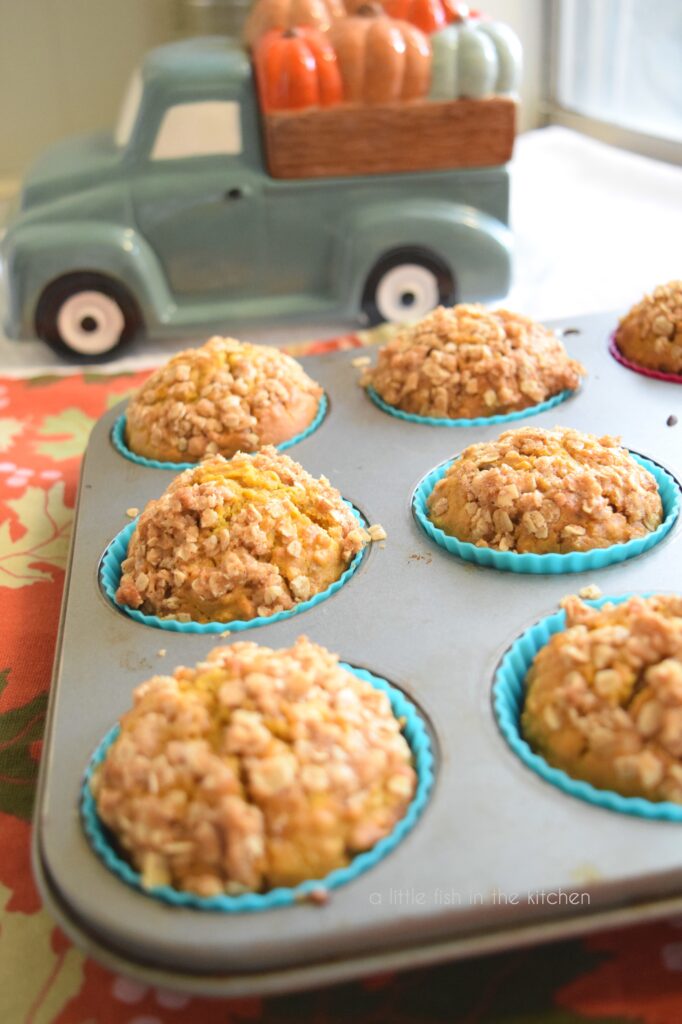 How to make pumpkin oat streusel muffins
These scratch-made muffins are packed with hearty oats, nutritious pumpkin puree, flavorful pecans, warm spices and a comforting mixture of white and brown sugars. They are moist and flavorful, and they are sweet, but not too sweet.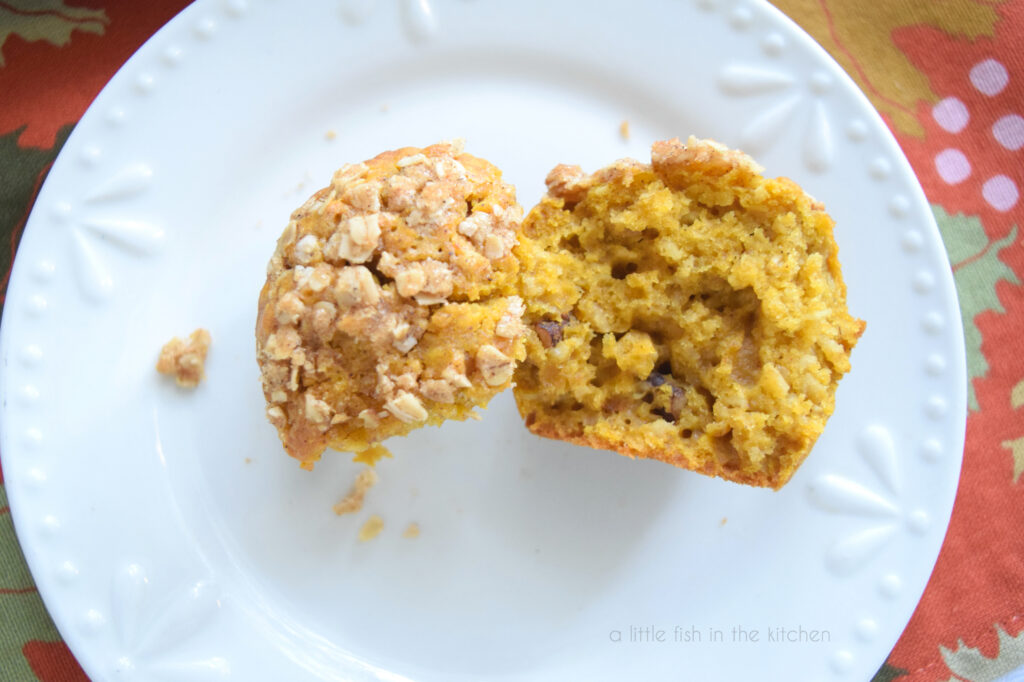 These are a fantastic treat for any time of the day, but when paired up with a fresh cup of coffee, they sure are delicious for breakfast!! In fact, they are my favorite breakfast at the moment… maybe they will be your new favorite too!
This is my second year participating in #Pumpkin Week! It's such an exciting time with the onset of autumn and the arrival of this delicious recipe sharing event! All week long, several of my talented blogging friends and I will be sharing some delicious pumpkin recipes to help you celebrate the flavors of fall. I will be sharing two more recipes this week, hope to see you back soon!
Be sure to check out all the other #PumpkinWeek recipes and blogs below, I just know you'll be glad you did.
Pin this recipe for later, y'all!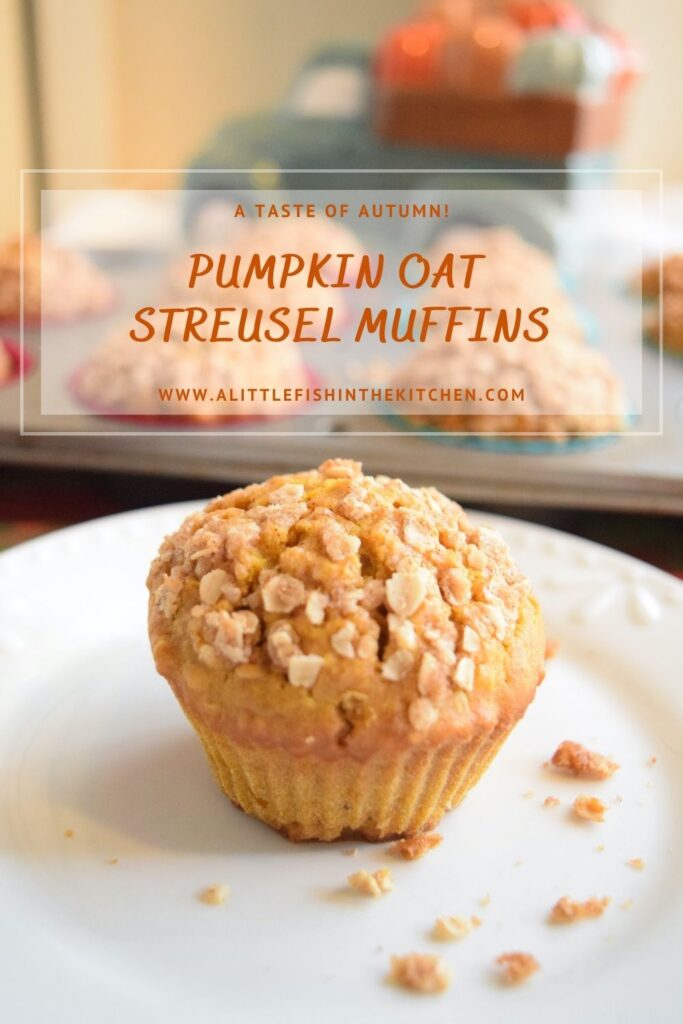 Never miss a recipe or an update! Subscribe to my mailing list below!
Please check out one of my latest YouTube videos and subscribe to my channel!
Pumpkin Oat Streusel Muffins
Course: Breakfast, Brunch
Cuisine: American
Difficulty: Easy
These pumpkin oat streusel muffins are sweet, but not too sweet. They are also packed with nutritious oats and pumpkin puree to help you start your day right!
Ingredients
for the streusel

1/4 cup quick cooking oats

1 tablespoon salted butter, melted

1/4 teaspoon pumpkin pie spice

2 tablespoons light brown sugar

for the muffins

1 cup quick cooking oats

1-1/2 cups all-purpose flour

2 teaspoons pumpkin pie spice

1 teaspoon ground cinnamon

1/3 cup light brown sugar

3 tablespoons sugar

1/2 cup toasted pecans, coarsely chopped

1 teaspoon baking powder

1/2 teaspoon baking soda

1/2 teaspoon salt

1 cup pumpkin puree

3/4 cup milk

1/3 cup vegetable or canola oil

1 egg, beaten
Directions
Preheat oven to 400ºF. Prepare twelve muffin cups with silicon or paper liners, or spray bottoms with non-stick cooking spray.
Prepare the streusel by combining all ingredients in a small bowl and set it aside.
In a large mixing bowl, combine the oats, flour, baking powder, baking soda, spices, sugars, and pecans. Stir well and set the bowl aside. In another small bowl, combine the pumpkin puree, milk, oil and egg. Stir well.
Make a well in the center of the dry ingredients and then pour in the wet mixture all at once. Using a wooden spoon, stir until the dry ingredients are just moistened (don't overmix the batter!)
Fill prepared muffin cups to nearly full and then sprinkle evenly with the prepared streusel. Very gently pat the streusel mix onto the muffin tops.
Bake for 20-25 minutes or until the muffins tops are lightly browned. Cool muffins on a rack for 10 minutes.
Serve warm and enjoy!
Notes
Recipe from A Little Fish in the Kitchen blog at www.alittlefishinthekitchen.com. All content is owned by Marcelle G. Bolton. Please contact the author for permission to republish.
More #PumpkinWeek Recipes Below:
Beverages
Breakfast and Breads
Mains, Salads, and Sides
Desserts
Did you miss a recipe? Head to the Pinterest board to find all the #PumpkinWeek recipes shared this week.